The High End Keeps Going Higher
For one of the longer months of the year, January came and went quickly it seemed. Many lovely days, a bit of good winter surf, and some big estate sales in Montecito as well. So far, this year we are seeing the same low available housing inventory as in months past and at the same time, we are seeing average prices continue to soar, pushing the entry price point for new home buyers even further out of reach. While there were only 13 homes sold in January 2022 in Montecito (in the Multiple Listing Service – MLS), which is slightly below average but not much, the prices for these sales are way, way up.
In January of this year, nearly always the slowest month of any year, we saw four homes sell over $10 million, which is roughly the number of homes +/- in that price range that might sell in an entire year in Montecito. Two of these over $10 million January sales were off market, meaning they were not being advertised at the time as for sale. A buyer found a seller, likely through an agent, and boom. One estate on Picacho (always a top selling street) was on and off market for a bit there and then sold quietly for $18,600,000.
The fourth over-$10 million sale had been on the market a few months (often a death blow for a listing's sales price potential), had fallen out of escrow once (another common reason a home gets passed over or under bid), then sold for more than the current asking price at the time of the sale.
The other under-$10 million sales in Montecito in January still reflect a well-banked buyers pool, with homes selling well over, or millions over, what a seller might have banked just two years back. One thing I keep repeating seems certain, the days of Montecito's housing market being undervalued are over. If you made your mark financially in this world (or your previous family members did), and you want to be in Montecito, buying an estate on a few acres is a great and impressive way to get settled in.
That's how they did it 100 years ago. And what they were building then are the estates people are often looking specifically to buy now. Case in point is the recent off market sale of an estate on East Valley Road. A Carleton Winslow home built in 1918 on nearly 10 acres in East Montecito that sold 5+/- years ago for $7 million just pulled in a whopping $17.5 million price off market. This sale, along with others, continues to prove that some buyers indeed prefer living in a home from a bygone era. After all, isn't that Europe? Paris? Countries where the buildings people live in are often hundreds of years old.
While I'm not focusing much on the under-$10 million January sales in Montecito, I will say that all the sales prices exceeded my expectations of what to expect even six months ago. A cottage on a busy street selling 20% over asking and in the $2 millions as an example. Homes way up in the hills selling near $10 million when two years ago it might have been $6 or $7. Other homes in town, on busy streets, going in the $4's and $5's that would have been in the $3's and $4's just 18 months ago or less. And now, people are buying very much equally in all price ranges. This is the main difference in our recent market vs. any market in the past. Approximately 50% of all home sales in Montecito each year "pre-pandemic" were under $3,000,000. This month, only three out of 13 sales in the MLS were under $3,000,000, less than 25% of homes sold. This is the new norm. Entry-level fixer homes on prime streets on an acre or so are no longer under $3,000,000.
So in keeping with buyers' clear interests (the over $10,000,000 market making up 30% of all sales), here are four homes over $10 million looking for a worthy buyer.
2150 Ortega Ranch Lane – $10,950,000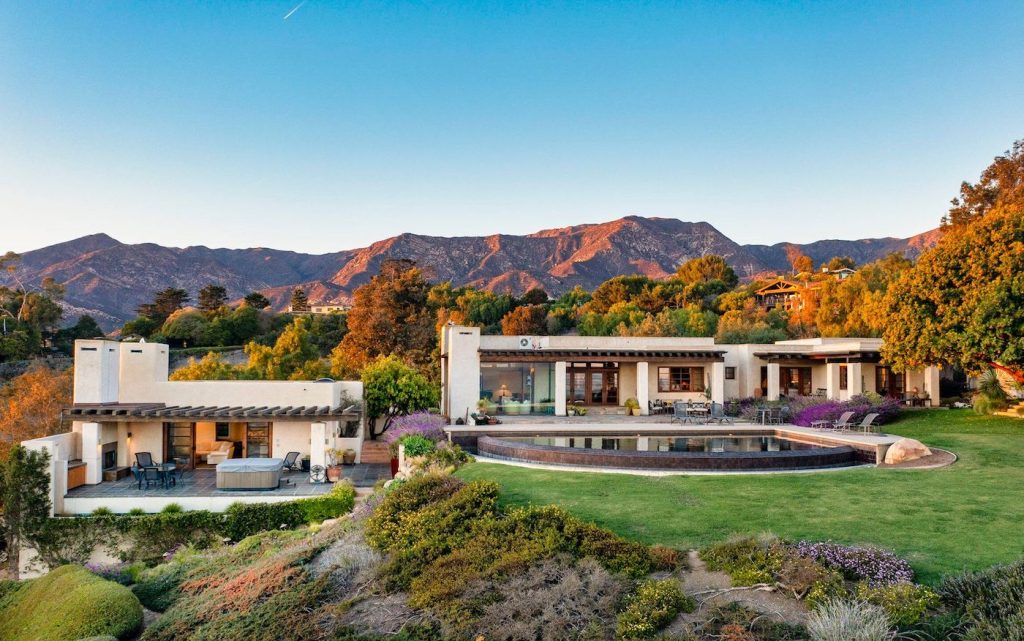 Majestically positioned at the end of a private lane, Ventana de Paraiso commands a most coveted location on Ortega Ridge. With intoxicating views of the ocean and mountains plus five acres as your playground, this legacy property is a unique compound on the Central Coast. Subtle and versatile, this 7,500+/- square foot architectural statement complements the land and location with a sense of ease and permanence and was recently reduced in price, making it a better buy now than it was last week.
The dramatic living room, glass-enclosed family room, open-plan kitchen, and dining room all lead to patios, landscaped grounds, and the infinity pool. A separate one-bedroom guesthouse is nearby, providing a private retreat and featuring a lower-level entertainment area that is the ultimate destination for games, movies, relaxing, and fitness. A private resort for family and friends, with room for orchard, cars, animals, and more.
1027 Cima Linda Lane – $15,900,000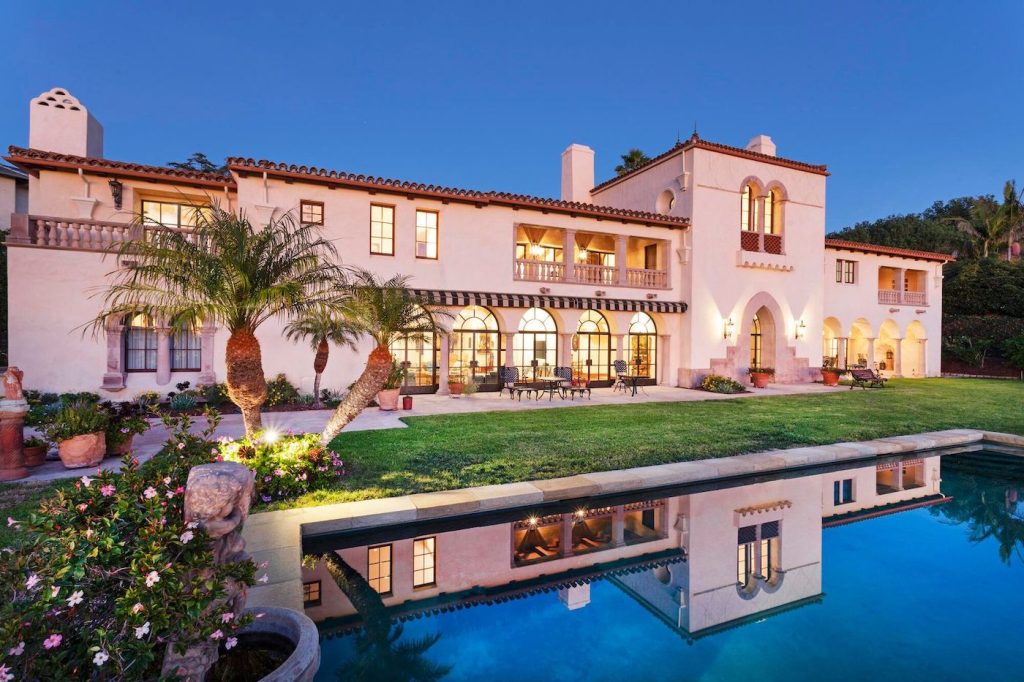 This is a significantly sized, elegant Mediterranean estate home that boasts spectacular ocean, city, mountain, and harbor views and she just hit the market this past week. Offering sunset views and resting on almost two acres, this remodeled home includes four bedrooms and four and a half bathrooms in the two-story, 8,493 square foot main house.
The one-bedroom, one-bathroom guest pavilion offers hardwood and stone floors throughout and a blend of modern elegance with casual indoor-outdoor living. Metal framed French doors with sweeping ocean views open to covered loggias, terraces, pool, and lush gardens. Additional selling features include a ground floor bedroom, low-traffic street, elaborate exterior staircases, hardscape, and an impressive approach, all in a close to town and beach location.
2692 Sycamore Canyon Road – $16,850,000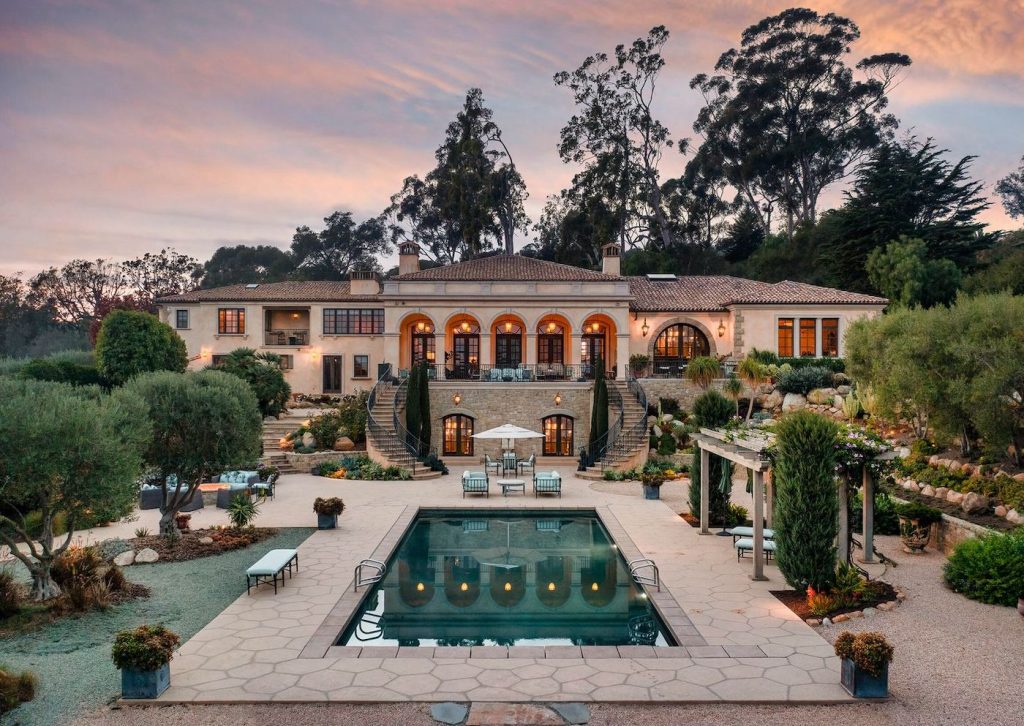 Timeless design and lovely ocean and mountain views are yours from this nearly 10,000-square-foot Montecito estate that rests on 2.4 conveniently located acres. With a youthful energy permeating throughout the residence and a nod to historic architecture, old and new coexist in a seamless blend to provide a backdrop for life at the highest level.
Taking full advantage of the Mediterranean climate and exceptional location, the property was designed for today's lifestyle with indoor and outdoor rooms that flow together to create a compound for generations to enjoy. There are seven bedroom suites, a guesthouse with kitchen and bath, and an additional cabana plus bonus room that offers a multitude of uses.
Drenched in sunlight, the residence lives like a resort, with an oversized pool, expansive terraces, patios, fire pit, exquisite gardens, and more, all within the Cold Spring School District.
888 Lilac Drive – $33,500,000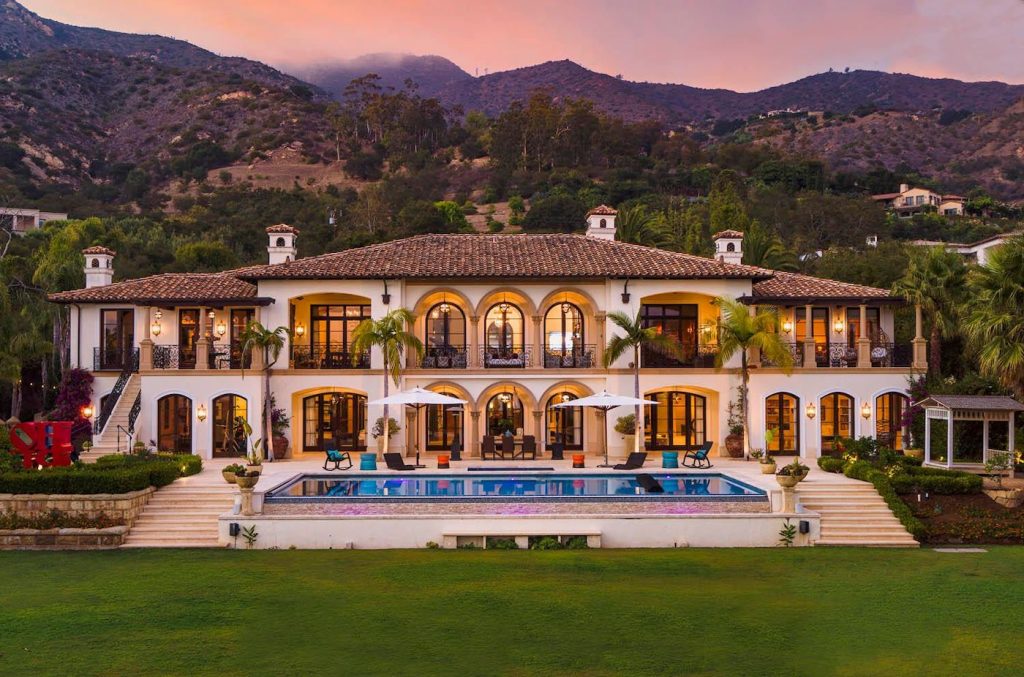 Vast ocean views, level grounds, luxe amenities, and incredible design coalesce at this iconic Montecito property. Flexible spaces both inside and out make this an intimate home for two, yet can easily accommodate crowds of over 200. Public spaces blend seamlessly and open to the view and lush grounds beyond. A main level primary suite offers a restful way to begin and end each day while the five additional bedroom suites are perfect for family and guests.
With over 13,500 square feet of living space there is a gym, theater, bar, game room, pool, guesthouse, and five-car garage, allowing you to function full time on site, whether working, playing, or entertaining. Living off the grid has never been more chic. Solar, a generator, greywater irrigation system, private well, organic vegetable beds and citrus orchards, chicken coops, and secret gardens define sustainable sensibility. GFA, radiant, ceiling fans, and A/C keep your temperature balanced as you gaze out over the embodiment of your life's accomplishments. Certainly, a lottery house for those who dream and located within the Montecito Union School District.
You might also be interested in...