Leaving a Legacy at the Library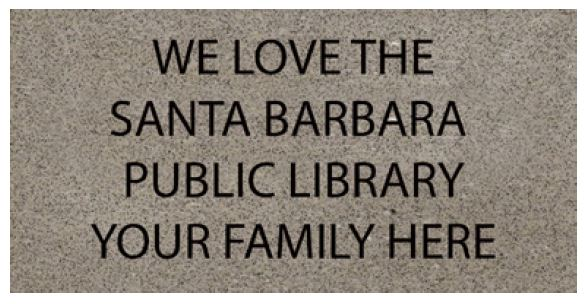 The magic of the printed word is its lasting legacy. Books help preserve the wisdom of the past for the future, and if that is the case, then libraries can conjure all kinds of enduring impressions with the collective knowledge they contain.
Of course, public libraries are more than just a collection of books – these institutions provide free internet and computer services, educational outreach for learners of all ages, and countless other ways of supporting the community – and now the community has the opportunity to help both support the Santa Barbara Public Library and become part of its legacy.
Families, businesses, or just bibliophiles can sponsor a brick in the courtyard with their own inscription for the ages. The Buy-a-Brick initiative is part of the Library Plaza Campaign that will rejuvenate the 10,000-square-foot space between the library and the Santa Barbara Museum of Art. The campaign was launched in October 2020 with the goal of raising the $5 million this project would require. The expansion will be aimed towards programmable space that can help host entertainment and educational content while helping craft better cohesion for the Cultural Arts District as a whole – this includes the other historic spaces in the area like the Lobero and Granada theaters.
The Santa Barbara Public Library Foundation – which helps support the library's large-scale initiatives – has made 250 bricks available for sponsorship that will help provide a communal foundation for the new courtyard space.
"The hope is that families and children and visitors to Santa Barbara step on these bricks – or go down this path where the bricks will be lined – and see our community and feel how much we care for our library," says Foundation Director Lauren Trujillo.
With 250 bricks originally available, there are now less than 100 left and the bricks are moving quickly. "It's such a metaphorical concept – building, community, and leaving steps for the future," adds Trujillo. "We want to make sure everyone has an opportunity to leave a legacy at the library."
There are two options for inscription sizes: a $1,000 brick has a 1" text height (4 rows of 16 characters or 64 total characters) and a $500 brick comes with a 3/4" text height (1 row of 16 characters).
"It's really about the community and these stories and the emotions that these bring forward," Trujillo states. From a widower sharing their partner's poem to parents wanting to celebrate their daughter's love for the library and high school graduation – which had to be virtual – with something more concrete, everyone has found a meaningful reason for their brick.
In addition to individuals and families, local businesses and organizations have expressed their support with a brick. Naturally, book clubs and worms have joined in the fun with inscriptions celebrating all things literary and library, featuring quotes such as "Let your dreams become reality in a library" or "Books place the world at your fingertips." Others have expressed their fondness for the area with a simple, "We love SB."
Whether it is memorializing a loved one, honoring literature, or even as a Valentine's Day gift that won't wilt, there are many reasons to Buy-a-Brick. Help leave your own legacy as we build a greater one for the library.
Visit sblibraryfoundation.org/buy_a_brick or call 805.689.2448 for more information and to purchase a brick
You might also be interested in...