Congressman Carbajal Talks Policy, Democracy, and Coming of Age in the People's House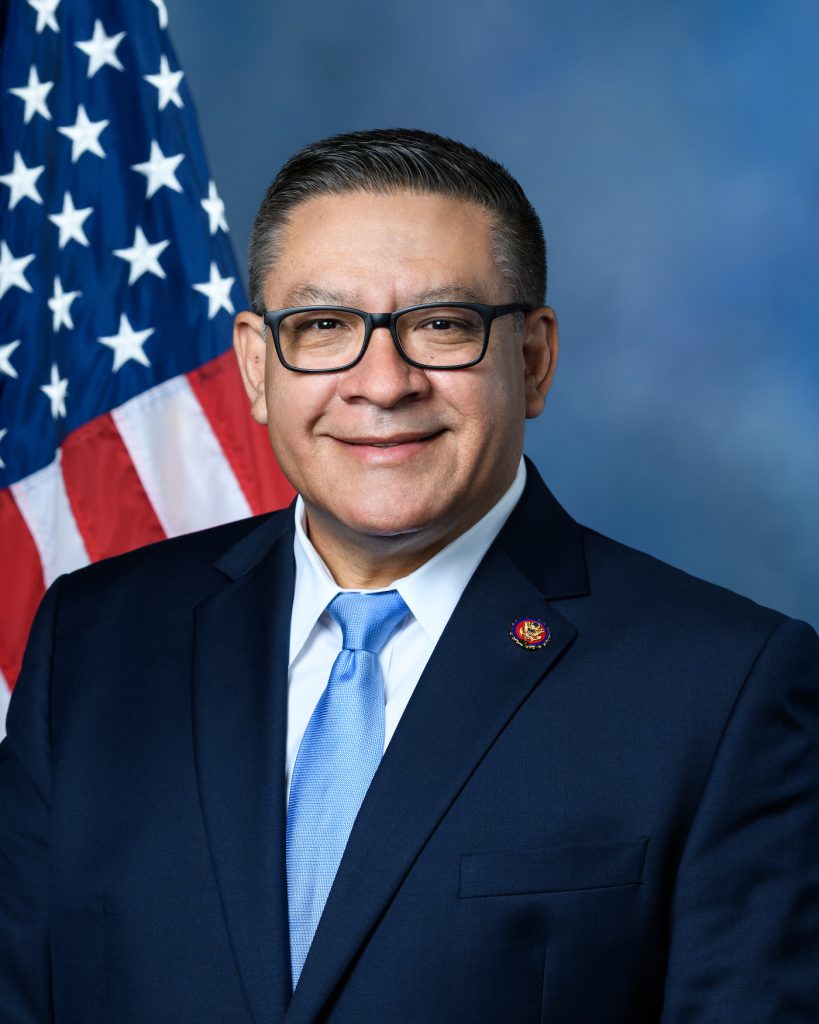 The last time I sat face-to-face with Congressman Salud Carbajal was in September of 2020, when we were all optimistic that the pandemic's end was in sight. That was three years into his stint in Congress. And as honored as he was to be representing this district in the People's House, he nonetheless seemed burdened as he worked to get his footing during a time of extreme partisan politics, and an increasingly divided nation. He'd gone from being a big fish in a small pond, serving comfortably in the powerful position of County Supervisor – a position he still references wistfully – to being a small fish in a big pond, forced into perpetual reelection mode and the need to constantly do the thing he likes least – fundraising. 
Today Congressman Carbajal seems different – less tentative than the freshman congressman who sat down with me at my home just 18 months ago.
Five years into his job and with a far better understanding of the ins-and-outs of the complicated bicameral system in which he must maneuver (and finally knowing where the bathrooms are in our nation's Capitol), the man who arrived at our Journal office seemed a little more confident and a lot more serious – like a leader who understands exactly where we are as a country and as a democracy and just how real the threats are that we face.
Our conversation began with Congressman Carbajal (somewhat) jokingly referencing Henry Kissinger, who was said to have begun a meeting with a group of reporters by saying: "You have questions for my answers?"
We both laughed at the former Secretary of State's clever quip, though it was painfully clear to both of us that the issues facing our community, our country, and our world are far from funny. So we immediately settled into a more sobering conversation about where things are, and what our Congressman is doing to try to move the stubborn needle on some of the important issues.
Still, and always, Salud Carbajal is a glass-half-full kind of guy; and so despite the gravity that permeates his work, his eternal optimism pervaded our hour-plus-long back and forth.
Q. So, are you having fun yet?
A. That's a strong word. It's taken me this long, third term, fifth year, to finally feel comfortable in the job because first term you're learning how it works, where the restrooms are, how to facilitate getting to where you need to go, how the hearings work, how the sausage is done, authorizing versus appropriating. What's the difference, leadership, and how leverage works.
Second term I started really digging in and being a more effective representative.
Now, I feel like I'm coming into my own, comfortable and clear about how I can continue to be more effective, but it still doesn't take away from the fact that I come from local government. Local government's awesome. The supervisors, there's five members. You only need two more votes, but it's better to have four or five votes than three, because then it's not polarizing.
Do you miss being our County Supervisor?
Hell yes, I miss it.
Well, there's a seat opening up.
Other people, as you know, are vying for that. As a matter of fact, I've talked to someone recently, she's asked me for my endorsement. So, I'm giving it serious consideration.
(I know he's referring to School Board Member Laura Capps who just last week announced her candidacy for Gregg Hart's 2nd District Supervisor seat, so I goad him on a bit.)
Would you like to make an endorsement announcement right now?
I'm close to making an endorsement, but let me call you if I'm ready.
(Always a careful politician, I didn't really expect him to declare anything then and there, but I did, in fact, receive word from Congressman Carbajal on Monday that he is officially endorsing Laura Capps for the 2nd District Supervisor seat.)
I know what it feels like to serve locally, to work collaboratively, and to get stuff done. I worked across the aisle to do all these wonderful things. On some things we could have done even more, I look back and I kick myself… I'll give you one example, the foster care task force that you worked on, I regret that… It was a great report you wrote. It shed light on a lot of things. Certain things just didn't make it to the finish line unless somebody champions it to the end. But I miss that in local government; you could roll up your sleeves. There's less bureaucracy. It's easier to move the ball forward and get things done and it's not so partisan.
Even in Congress, you've made it a priority to engage in bipartisan efforts to pass legislation.
Yes, I have. For instance, the bipartisan infrastructure bill that just got passed. It was the bipartisan Problem Solvers Caucus that I belong to that put forward the framework. That was the basis for the final product that was approved.
How will that impact Santa Barbara?
I'll give you an example, for transit here in the district, there was 60 million dollars needed for transit alone. Over five years. Public transit. Roads, bridges, waterworks, water recycling. Here's a chance to look at what infrastructure projects they can do, in addition to partnering with the city on the desal water… there's been talk about doing more water recycling, whether it's for potable purposes or not. Here's a chance to look at how infrastructure funding from the Fed could assist.
It may not be the entire funding price tag, but it could complement. So, it's going to help roads, broadband. One of the big questions is we're almost at the finish line for highway 101. There's still the last phase. How can this infrastructure money help?
And today I was on a call with the White House. Mitch Landrieu is the point person President Biden put as the head of the bipartisan infrastructure law, to make sure the money gets out, and I said, you know what, mayors and municipalities and supervisors, they're telling me that they want to know, what, when, where, how?… Timelines, where is the money flowing?
Let's talk about the big picture. All we hear is the country is so divided. Is that your perspective?
That's been the case for years as you know, but more so after January 6th. And then we have a former president who continues to defend these things… and it continues.
Is there more bipartisan work going on behind the scenes than people are aware of?
Yes, but it's fleeting. I belong to three groups: the Climate Solutions Caucus, which doesn't meet as often as it should… Then I'm part of the Problem Solvers Caucus. We meet every freaking week, sometimes more… and we talk about what we could do together, what we can move forward, where we could find common ground. And that's made up of about 58 members, half Republicans, half Democrats. And there's a group in the Senate that meets with us. And they're the ones that you see when something happens like on voter rights now, notwithstanding the filibuster, can we muster enough votes to at least stop what almost happened (on January 6th) with the pressure on the Vice President, and to make it clear that that game can't be played?
And then there's the For Country Caucus made up of veterans, half Democrats, half Republicans.
And we look at bills that we can co-sponsor together and move the ball forward on. Like the Global War on Terrorism Museum that we're trying to get put somewhere on the Mall [in Washington] but besides that, we also work on veterans legislation and other legislation.
You have always been a big supporter of veterans. What are you doing now in that regard?
Well, I'll tell you, for the past 62 years, there's one bill that passes every year without question, it's the National Defense Authorization Act. The NDAA… and the American people don't even realize it. It passes every year on a bipartisan basis out of the House Armed Services Committee. And it's such a big bill that sometimes you try to put in some of your bills that otherwise haven't been able to move forward on a stand-alone… We had a transportation bill that moved forward, the Coast Guard reauthorization, we were able to put in my bill that included the Conception fire safeguards, Coast Guard, measures that needed to take place to improve safety. We stuck it in a year ago in the NDAA. It passed into law and all that stuff is now being implemented… This past NDAA, I advocated for the safeguard program. And there's the fire guard, which requires the DOD to share with Cal Fire and fire departments, satellite technology that we otherwise use for national security to detect and understand fire so that our firefighters can fight fires more effectively. And we authorized it for five years. I'd like to do it permanently, but I take my blessing of getting over the finish line for five years and then we'll work on getting it done permanently in the future.
My first bill, which was the California Clean Coast Act to stop future offshore oil drilling. Guess what? The Build Back Better Act that I'll talk to you about in a few, it's in there to stop drilling off, not only our coast, but most of the coasts of the United States. That's why I'm so pissed that we haven't been able to get it together… It's been a real disappointment. And it makes us Democrats look like a bunch of idiots.
So where are we with Build Back Better?
I want to touch base on two things in answering your question. Don't forget that up until when former President Trump left the White House, the Problem Solvers Caucus also put forward the last economic relief package that he didn't want to sign, but ultimately signed. Discussions between Democrats and Republicans imploded. And it was our Caucus plan that we put forward, that was used as the foundation for that economic relief package. So fast forward, we have the insurrection, a sitting president trying to instigate a violent coup against the legislative branch of government. And now…
Fast forward, Biden finally gets the keys from Trump after the 20th… We eventually pass the American Rescue Plan, which continues to put money forward to lift everyone up, our businesses, entertainment venues, schools, vaccines, continues to put money forward for the Child Tax Credit, really lift people up and make sure that we were coming out of this pandemic.
Obviously, Omicron hit and put us back. Then, we were successful with the bipartisan infrastructure proposal. And those were all significant wins. What overshadowed that, was the democratic process and the bickering between Democrats on sequencing of when the infrastructure bill would go in relation to the Build Back Better Act because moderates wanted the bipartisan infrastructure bill to just get off the blocks. The Senate was on board, the House was on board, sent it to the President for a signature. The progressives were concerned that if you didn't tie them together and sequence them at the same time, there wouldn't be an interest to move forward Build Back Better. Some might say they were right. Some would say-
That great is the enemy of good.
Yes. That great is the enemy of good. Maybe we should have just gone with it. Demonstrated the momentum, the success, celebrated a big victory, forget this infighting that overshadowed everything. And then to top it off, we weren't able to get together and finalize the Build Back Better Act proposal because it was all polarized. It exacerbated the polarization, not only amongst Democrats, but with the two key people, Senator Kyrsten Sinema and Senator Joe Manchin, but mostly Manchin.
And then we were in limbo. Personally, I think that right now Manchin will come to the table and say what he's wanting to live with or not. And we will not squander an opportunity.
What about voting rights legislation?
The other thing that's going on is we've seen since the insurrection that many Republican legislators and governors have been passing massive voter suppression laws. Some people say, "No, they're not. They're only doing this." But you start looking at them, they're voter suppression laws.
Yet Sinema and Manchin are saying, "We're not going to water down the filibuster." People have been working on them to look at maybe a modification for at least democracy and voter rights because it's so important to try to get them to look at modifying the rules to provide an exemption for the filibuster. That's one route.
The other route that is now taken on legs by moderate senators is… they have come to agree and understand what was attempted by Trump in the Congress to not certifying the Electoral College votes, that that was a real danger and should be further. Safeguards against that must be clarified and codified in law. What the Vice President can do or cannot do. And what is the procedure? So that the same b——t that happened under Trump and his cronies is absolutely out the window.
Biden's approval rating is quite low at the moment. Is that deserved?
I would say no, but that is speaking as a Democrat. But I think we Democrats exacerbated an environment that did not allow for the celebration of some really significant accomplishments. The American Rescue Plan, which really helped us get to where we're at today in opening the economy, opening businesses… the reason you and I are sitting here and people are functioning is because the American Rescue Plan really gave us the final shot in the arm we needed to have our schools open, the resources, the mental health counselors, and the vaccines. Is it perfect? Now the big issue is testing, but are things at least better than they were before? Absolutely. We have plenty of vaccine. And then you add to that 1.2 trillion of infrastructure resources, that's going to modernize our infrastructure and create jobs. We Democrats have squandered the accomplishment which has been overshadowed by our infighting… And it was a real blunder. And I think it's unfair for Biden, because Biden was robbed of a victory lap. And to be able to give that message to the American people.
What do you think is going to happen come the midterm elections?
I think, Gwyn, what's happened is that people are really scared that our democracy, as resilient as it proved after January 6th, people also came to understand its fragility. And the real danger and the big lie continues, by former President Trump and his allies, without evidence. And after 60 courts of Republican and Democrat judges appointed by Trump all said there was no evidence, it's all BS, it's a big lie. And still, 70 or 80% of Republicans have embraced that narrative and still embrace Trump. It's mind boggling to rational people.
You allude to the fragility of our democracy. Will you talk for a moment about that?
Regarding our democracy, we were able to see how resilient it is and at the same time how fragile it is because we are learning now through the January 6th Commission, the actual overt strategy, not just encouraging people to go and instigate and engage in violence, but the great lengths that former President Trump and his allies were going to use the military to confiscate voting machines, to falsify the electors that would basically create fraud and steal the election. This was a concerted multifaceted strategy.
I'm hoping that as this information comes out, that people will have a greater allegiance to our democracy and our country than to a figure, Donald Trump. Because if they don't, I think they are creating an untenable situation and unstable future for our democracy. That is dangerous and be careful because when you get there, it could be too late.
Well, we certainly have examples of that in our history.
Yeah. Exactly.
Any thoughts on the Supreme Court?
Well, we can start with women's rights where we're seeing a lot of threat to Roe versus Wade and women's reproductive healthcare, access to healthcare and abortion. Mississippi and Texas are where the cases originated. President Biden formed a commission to look at this whole issue and provide recommendations on the expanding of the membership of the Supreme Court.
Where do you stand on that?
I think it's worth considering. I want to wait until the commission report comes forward, but in our constitution, I believe there is no specific number that constitutes the Supreme Court. And I think if the Supreme Court proves that it's politically and ideologically driven, versus the rule of law and the precedent by which our Supreme Court has operated under, and helped form decisions, then I think it's not only going to undermine its credibility and its integrity, but certainly the American people are not going to stand for a Supreme Court that is not willing to do what's best for the American people, and the stability of the rule of law. And I think then I'm going to be open to expanding it. And if it's done, it needs to be done soon.
What are your thoughts about the midterm election?
I don't need to tell you what people are saying could happen. I will tell you that I hope that we are able to move forward, Build Back Better 2.0 in some form, we're able to get our messaging put together to get that out. Our infrastructure bill, our American Rescue Plan, and remind the American people of the prosperity we're enjoying and how it relates to that; we're hoping the supply chain is able to settle down and bring down the inflation that we hope is transitory. We think it is.
If those issues get resolved, and we're able to get the message out, I think the American people will respond.
We think our friends on the other side are their own worst enemy, and we hope that as long as they continue doing what they continue to do best, to self-implode, we should be able to mitigate that trend somewhat. That's my hope.
Is the two-party system working?
It's all I've known in my lifetime. But certainly, you look at parliamentarian systems of government where you have more than two parties. Certainly, another party would add to the competition of ideas, a little bit more differentiation than just Democrats and Republicans… Third parties could be good for our democracy. We've seen it pop up and it challenges the status quo.
We're coming up on almost two years since George Floyd's murder. Where do you think things are?
Well, the House passed the George Floyd Justice and Policing Act, I think some substantial progress came out of that. It went to the Senate. There was an effort in the Senate to reach a compromise. The big issue was qualified immunity. There was a compromise being worked on in the Senate, but it never went anywhere.
We still have till the end of this year to see if anything moves forward. But in light of the fact that it's an election year, it's challenging to be optimistic, especially when you have the filibuster. Unless there's a renewed interest and momentum in the Senate, regrettably, I'm afraid that it may not move forward. Just like many other things are not going to move forward because you need to overcome the filibuster. So it goes back to the whole filibuster discussion. And that goes back to the Supreme Court on another matter. So it's more complicated than meets the eye.
What are your three top priorities?
Provide economic opportunities and prosperity to my constituents and Americans across the country. To address climate change. It's a big crisis. We need to address it from multiple standpoints. We have drought, fires, sea levels that are rising. It's impacting our public health. Those are all impacts of the climate crisis. And what I would say lastly is, I'm going to break it into two issues: improve our access and affordability of our healthcare system, prescription drugs, healthcare premiums. You said three, but I'm going to throw in my fourth.
Go for it.
My fourth is make sure our education system K through 12 and higher education continues to be the envy of the world by making it more accessible, doubling financial aid, minimizing student loan debt, and making sure our K through 12 education system continues to grow in a way that educates our people in a manner that continues to rebuild a middle class in our country.
Let's talk about the middle class in our country. As a parent who's about to send her daughter to college, our family falls where many do, in that we make too much to get support but the fat checks we need to write are crushing.
So you have to take on student debt, right?
Right. So here's my question… Why isn't student debt deductible?
That's a good question. As a matter of fact, you just gave me an idea.
It seems like there are these two extremes: proposals to make college free or leave things as they are. But isn't there a middle ground in which families could deduct tuition? That would make a huge difference to so many families.
Well, I'm going to explore that. I think it's a wonderful concept. Every time I come here, I leave with at least one good thing. I'm going to pursue this… It's a great concept. I like it. I like it.
Great. So can we go back for a moment to the issue of climate change. Are you encouraged by what's being done?
I'm encouraged but not satisfied. If you look at the Build Back Better Act, which hasn't gone anywhere, half a trillion dollars was focused on climate change investments, tax credits, energy credits, more infrastructure charging stations, you name it. It was going to be big. It's still not completely off the table. It may not be an overwhelming vote, but it might be significant.
So I haven't lost hope that Build Back Better 2.0 in some form will continue to add to that. The infrastructure bill that we passed is the greenest infrastructure bill ever passed, charging stations. It is really a very green bill. So am I encouraged? Yes. And we went back into the climate accord. Is it perfect? Could we do more? Could we set higher baselines in many respects? Yes… If we really see climate change and global warming as the crisis that it is, we need to understand the sense of urgency and kick ourselves in the rear and continue to be passionate advocates and not stop here. But the real threat at the ballot box in upcoming elections, is we know what happened in the previous four years, we stopped and went backwards. There were executive orders that were passed. Certain regulatory frameworks were taken out. States like California that wanted their waiver for car emissions technology was being appealed. EPA regulations for methane for power plants were being pushed back.
This Biden administration came in. Some of that damage was addressed, with these investments we're trying to move the ball forward on. But if things change in the next election or future elections, so dramatically… It's going to come to a standstill again because we're going to have a divided government. But this administration right now is making investments in moving the ball forward.
Do you feel like Biden has done anything to improve our standing in the world?
Absolutely. Can he do more? Yes. But has he? Yes. I think he could do more.
Like what?
I think on climate, just getting back into the [Paris] Accord wasn't good enough. I think he could have taken some bolder steps. I think when it comes to NATO, I think just saying America's back isn't good enough. I think we need to demonstrate leadership by identifying a number of measures where we are strengthening our NATO relationships that were greatly devastated, as was the whole North American Treaty organization to the point where people lost faith in the United States. So just saying we're back isn't good enough. What else can we do to shore that up? I think we need to be asking those questions… Yes. He's made significant gains, but can we do more? Yes.
Can we talk about what's going on in Ukraine right now?
I have to tread lightly here – because I've had a number of secret briefings. All I can tell you is that what you're reading in the news is quite concerning. And I think the United States, like our allies, is working frantically to try to stop what seems to be inevitable. But these are complicated issues because Ukraine is not a member of NATO yet. That's what irks Putin, that they could become members and they're inching their way towards that. Members of NATO are afforded certain assurances and allied support and not being a member of NATO puts you in a less than optimal position to be supported by NATO and the United States.
But you've still got to push back because you can't just let Putin run amuck unfettered and do these things because they have implications for other foreign policy like Taiwan and China. There's more than meets the eye. But what I will say is that I think this is something we really need to make sure we are working on with NATO in thwarting Putin's ambitions because of the implications this could have for the future of Europe, and for foreign policy in other parts of the world.
Is there anything you want to tell your constituents as you seek reelection in November?
First of all, I want to thank them for having placed their faith and confidence in me and electing me to be their representative. I feel that I've been an accessible, hardworking, effective representative, a good listener to make sure that in Washington, I represent the priorities of the Central Coast and the issues that are important to my constituents, as best as I can. Whether it's trying to reduce healthcare costs, promoting better opportunities for families, childcare, tax credits, what we have in the Build Back Better Act that hasn't come to be yet. Infrastructure I've heard over and over again, and it's a bipartisan issue. Why can't you guys get your act together? I'm proud to have been part of that bipartisan effort… all those bipartisan economic relief packages during the pandemic that brought economic relief and support for the Central Coast. I'm proud of the American Rescue Plan that was mostly done by Democrats, that continued that relief and economic support for the Central Coast.
So COVID relief, infrastructure, healthcare issues that are important to the Central Coast, and addressing climate change. My bills, whether it's a California Clean Coast Act, or the Central Coast Heritage Protection Act to address climate change. I believe that I've been effective and I've been aggressive in moving forward in addressing these priorities and issues and challenges for the Central Coast.
Santa Barbara is in the top three counties per capita in California in terms of poverty. What can you say about that?
Well, that's an issue when you look at our economics both locally and nationwide. You see that income has grown for the top 1%, the wealthiest corporations and individuals in our country, whereas income has gone down for middle class, working families over the years, and what this Build Back Better Act would do is address many of those inequalities. It reduces some of the costs for families that they have day in and day out.
What are the biggest costs to families? Lodging, whether a mortgage or rent. And childcare, up to $1,000 per child. And education as well. I have a bill called the Degrees Not Debt Act that would double the PE grant so that individuals can get higher financial aid. I'm also a proponent that we need to forgive and address the burden of student loan debt to a great extent, maybe not completely, but significantly.
And to the extent it's not forgiven, make it tax deductible. I know I'm a broken record about this.
Oh I'm definitely going to look into the tax deductibility. I think it's a great concept. But I think that through the American Rescue Plan, we provided a lot of money for food banks. We provided a lot of resources to address rental and mortgage relief, childcare, things that impacted families' economic standing. So I would say when you consider poverty, school lunches, some children go to school and their only good lunch is in school.
Through the USDA and the Farm Bill I've been working on making sure that those programs continue robustly; when schools needed a waiver for their meals to continue, when the schools closed, I led an effort with one of my Republican colleagues to get the USDA secretary to issue those waivers successfully. I think when we look at poverty, you've got to look at a roof over your head, healthcare, basic essentials, like food. Maslow's hierarchy of needs. Much of my legislation has really focused on alleviating some of those challenges of poverty in our Central Coast.
Last question: vaccine mandates. Do you support it across the board?
I do under the guidelines of the CDC, because they are the experts. And I think that we are trying to open up our economy and our society. And those that don't want to get vaccinated, are the roadblock for the most part, to our being able to open up our economies and our institutions. You can't have it both ways. If you don't want to get vaccinated, then get tested every day before you come into the public domain. Period. Because you can't have it both ways.
I served in the Marine Corps. I had to get vaccinated to serve because of where I might be going. I had to wear a gas mask where maybe sometimes I didn't want to wear it, because it was a nuisance, but I did it for the greater good. I did it because I have a responsibility to my fellow men and women who serve with me, so that we could accomplish a mission to support our democracy and the defense of our country.
All we're asking is that people give a little bit for their fellow citizens. That's it. It's not about their personal freedoms. It's about unity and collaboration and working together. It's about our public health.
When people pass the plate in church, what are they doing? They're giving to someone they don't know, who's not in their family, simply because it serves a public good. We're really not asking anyone to do something more than that.
Gwyn Lurie is the CEO and Editor-in-chief of the Montecito Journal Media Group.
You might also be interested in...