Let's Go Dutch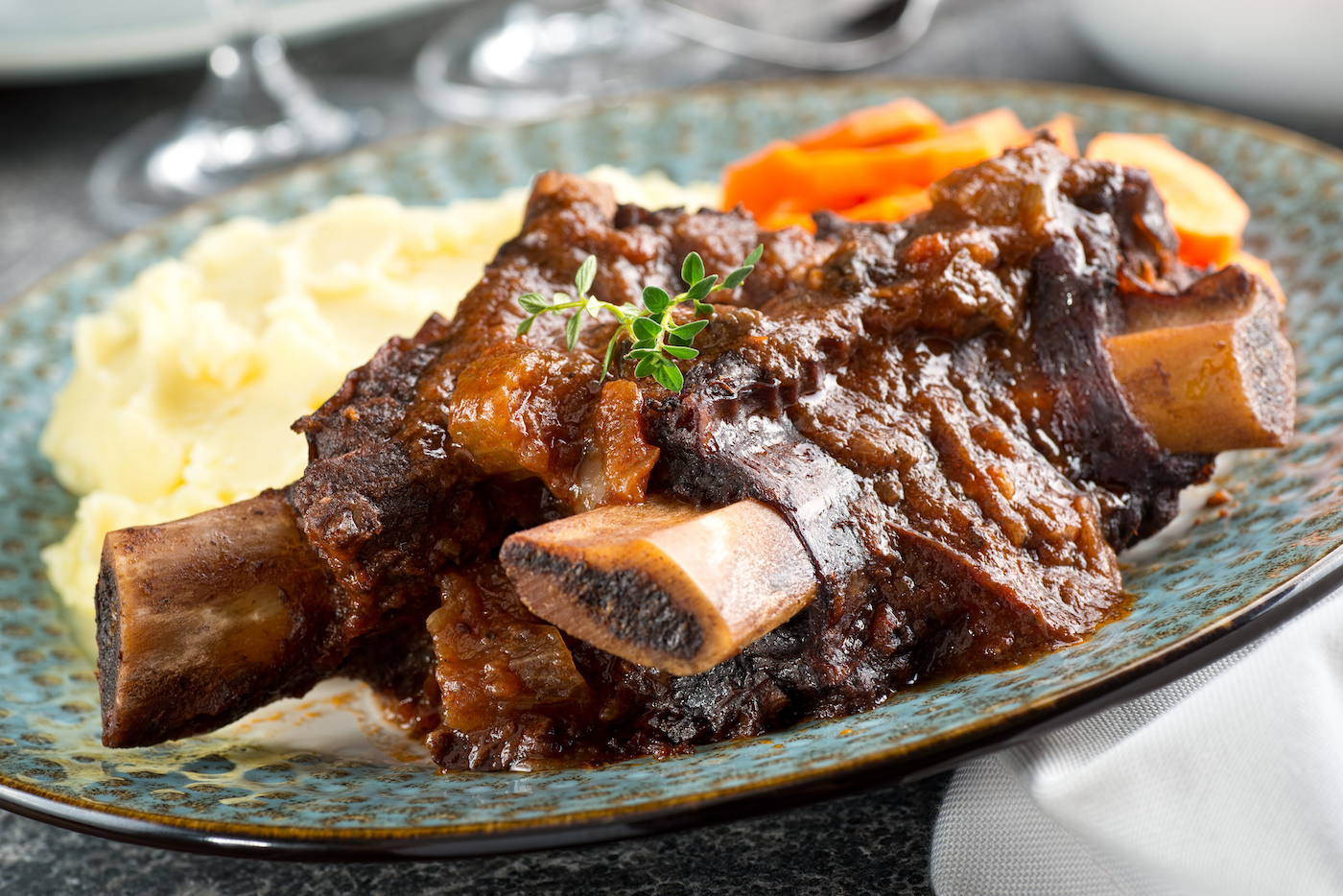 If you're craving hearty stews, meaty braises, or golden fried chicken, then maybe it's time to buy a Dutch oven, a most versatile piece of cookware with the deep interior, heavy bottom, and tight lid that will take your winter meals to new and tantalizing heights.
Enameled cast-iron, these heavy-duty pots are all-purpose: they can sauté, simmer, braise, sear, fry, and even bake bread and pizza. Their weight keeps low temperatures even during long cooking times; their tight-fitting lids keep moisture in.
Dutch ovens are ideal for soups, stews, and braises that marinate and tenderize tough cuts of meat, yielding the classic "fall off the bone" tenderness that can't be obtained using other cooking methods. Some of the best meats for browning and braising include fatty beef short ribs, beef chuck, pork shoulder, lamb shanks, and oxtails.
Seafood, poultry, and various fowl make superb stews and soups.
On many occasions I have enjoyed memorable home-cooked meals produced with this sturdy home appliance at friends' homes. I had experienced the awe and ecstasy of first smelling and then tasting from a Dutch oven, but never had a strong desire to purchase one.
Was I truly content with relying on a slow cooker or did I simply feel that if I splurged, I'd feel naggingly obligated to produce gourmet meals with it?
A new wave of Omicron had me reconsidering my desire to keep my meal making simple.
On a recent visit to Williams-Sonoma at La Cumbre Plaza, I casually browsed the selection. There was an abundance of sizes and color options to choose from by a handful of reputable brands – from Le Creuset and Lodge Blacklock to Finex and Staub (priced from $199 to $580, with lifetime warranties). I carefully selected a 5.5-quart Staub (pronounced stobe) vessel with a modern design and earthy hue. I also discovered an impressive collection of Staub – including a beautiful tagine for one-pot cooking – while shopping for pantry essentials at Field + Fort.
With an inaugural recipe in mind, I went to work: Poulet Vallée d'Auge, a rich and creamy poultry recipe named for a rural region in Normandy known for its apples. Both rustic and gourmet, it's essentially a chicken casserole with a cream sauce made with apple brandy, caramelized apples, leeks, and shallots. For this recipe, an amiable butcher at Gelson's recommended a pack of quartered raw chicken that could be used for frying or stewing.
At home, I fried the apples in butter, removed and set them aside; I added olive oil and butter to the pot and browned the chicken parts in batches, then minced and sautéed the shallots and leeks. The recipe doesn't require confidence but rather a certain level of skill, particularly when using a lighter to flambé the leeks and shallots.
After the blue-yellow flames flicker out (and the alcohol burns off), an ambrosial aroma permeates the air. Apple cider is added and brought to a boil, then the chicken stock, chicken, caramelized apples, a couple of bay leaves, and fresh thyme are added to the pot and simmered for 25 minutes. During that time you sauté cremini mushrooms, set them aside and then whip together a crème fraîche (with egg yolk) mixture then gently fold them into the chicken stew, producing one of the most extraordinary dishes ever created.
Here are a few delectable recipes published in Bon Appétit for your Dutch oven adventures.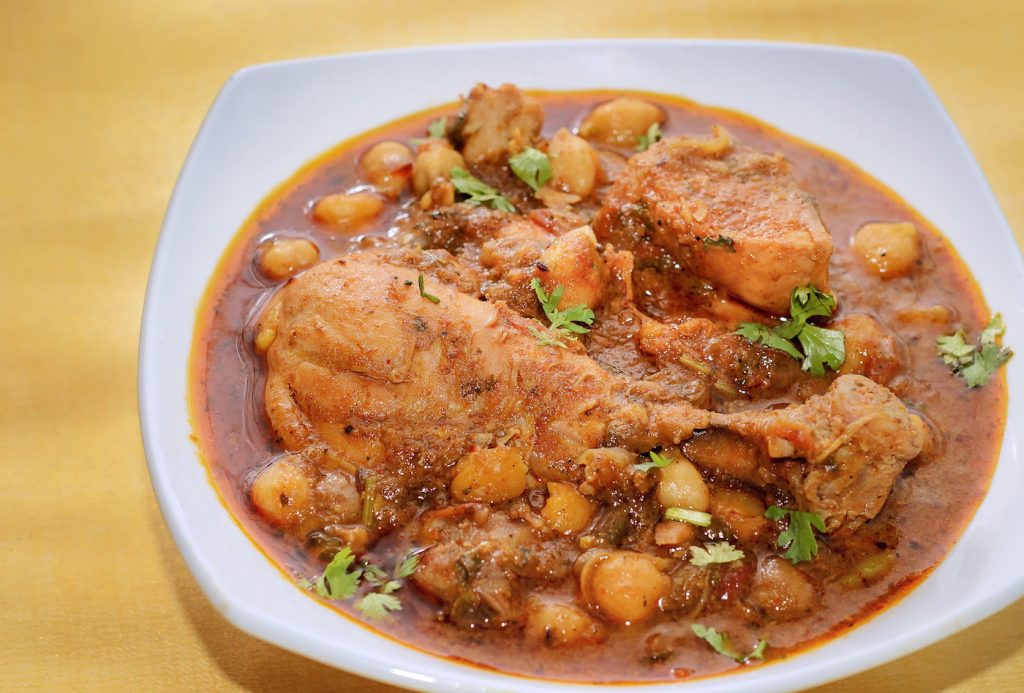 Poulet Vallée d'Auge
Ingredients: 8 Servings
5 tablespoon unsalted butter, divided
3 firm, tart apples (such as Pink Lady or Braeburn; about 1 lb.), peeled, cored, quartered
1 tablespoon olive oil
2 3½–4-lb. chickens, quartered
Kosher salt and freshly ground black pepper
1 leek, white and pale-green parts only, halved lengthwise, sliced crosswise ¼" thick
2 shallots, finely chopped
¼ cup Calvados (apple brandy)
¾ cup apple cider
4 sprigs thyme
2 bay leaves
½ cup low-sodium chicken broth
½ pound cremini mushrooms, trimmed, halved
½ cup crème fraîche
1 large egg yolk
Preparation
Heat 2 Tbsp. butter in a large, heavy pot over medium heat. Add apples and cook, turning occasionally, until golden in spots, 10-12 minutes. Transfer apples to a plate and set aside.
2. Increase heat to medium-high and add oil and 1 Tbsp. butter to pot. Season chicken with salt and pepper and, working in batches, cook until browned, about 5 minutes per side. Transfer chicken to another plate; set aside.
3. Add leek and shallots to pot; cook, stirring often, until softened, about 4 minutes. Remove pot from heat, add Calvados brandy, and ignite with a long match or long-reach lighter. After flames die down, return pot to heat and add cider. Bring to a boil, reduce heat, and simmer until slightly reduced, about 3 minutes.
4. Return reserved chicken to pot and add thyme, bay leaves, and broth. Bring to a boil; reduce heat, cover pot, and simmer, adding reserved apples back to pot halfway through, until chicken is cooked through, 20-25 minutes.
5. Meanwhile, heat remaining 2 Tbsp. butter in a large skillet over medium-high heat. Add mushrooms and cook, tossing occasionally, until browned and softened, 6-8 minutes; season with salt and pepper. Transfer mushrooms to a plate.
6. Whisk crème fraîche and egg yolk in a small bowl. Using a slotted spoon, transfer chicken, and apples to a baking sheet and remove pot from heat. Whisk crème fraîche mixture into cooking liquid in pot. Gently mix in chicken, apples, and mushrooms.
Do ahead: Chicken and apples can be cooked one day ahead. Cover and chill. Cook mushrooms and finish sauce just before serving.
Citrus and Chile-Braised Short Ribs
Ingredients: 8 Servings
8 5-6" English-style bone-in beef short ribs (about 6 pounds)
Kosher salt and freshly ground black pepper
2 tablespoons vegetable oil
2 medium onions, chopped
2 heads of garlic, halved crosswise
4 celery stalks, chopped
2 medium carrots, peeled, chopped
2 tablespoons tomato paste
1 teaspoon coriander seeds
1 teaspoon cumin seeds
6 chiles de árbol, or 1 teaspoon crushed red pepper flakes, plus 1 chile, for serving
4 sprigs oregano
4 wide strips orange zest, plus some thin strips for serving
1 cup plus 2 tablespoons fresh orange juice
2 limes, halved
½ cup fresh cilantro leaves with tender stems
Preparation
Season short ribs with salt and pepper. Place on a rimmed baking sheet and chill, uncovered, at least 2 hours (ribs are even better if you can do this a day ahead).
2. Preheat oven to 325 degrees. Heat oil in a large, heavy pot over medium. Working in batches, cook short ribs until evenly browned, about 5 minutes on each side. Transfer to a platter; pour off pan drippings between batches.
3. Wipe out any burned bits from pot, but leave the golden-brown pieces (doing this will keep the finished sauce from tasting bitter). Place onions, garlic, celery, carrots, tomato paste, coriander seeds, cumin seeds, and chiles or red pepper flakes in pot; season with salt and pepper and stir to coat. Increase heat to medium-high and cook, stirring often, until vegetables are softened, tomato paste is slightly darkened in color, and spices are fragrant, 10-12 minutes.
4. Add oregano, wide strips of orange zest, 1 cup orange juice, and 6 cups water to pot, scraping up any browned bits; season with salt and pepper. Add ribs with any juices accumulated on the platter, making sure they're completely submerged. Cover pot and braise ribs in the oven until meat is tender and falling off the bone, 4-5 hours.
5. Carefully transfer ribs to a platter. Strain braising liquid into a large bowl, then return to pot. Bring to a boil, then reduce heat and simmer until reduced by half (it will be thickened but still saucy). Return short ribs to pot and turn to coat.
6. To serve, drizzle short ribs with remaining 2 tablespoons orange juice and squeeze limes and crush remaining chile over. Top with cilantro and thin strips of orange zest.
Do ahead: Short ribs can be braised 5 days ahead. Let cool; cover and chill in strained braising liquid.
Indian-Spiced Chicken with Chickpeas
Golden and fragrant, this dish is a meal on its own, or it can be served with steamed basmati rice or warm flatbread.
Ingredients: 6 Servings
1 tablespoon vegetable oil
6 bone-in chicken legs (thigh and drumstick), skin removed
Kosher salt
1 tablespoon unsalted butter
2 large onions, thinly sliced
4 garlic cloves, chopped
1 1/2 tablespoons grated peeled ginger
2 teaspoons ground coriander
2 teaspoons ground cumin
2 teaspoons ground turmeric
1/4 teaspoon cayenne pepper
1 15-ounce can chickpeas, rinsed
2 cups (or more) low-sodium chicken broth
5 ounces baby spinach (about 8 lightly packed cups)
1/4 cup Greek yogurt
1/4 cup fresh cilantro leaves with tender stems
Preparation
Place a rack in lower third of oven; preheat to 325°. Heat oil in a large heavy pot over medium-high heat. Season chicken with salt. Working in batches, cook chicken, reducing heat as needed to prevent over-browning, until golden brown on all sides, 8-10 minutes per batch. Transfer to a plate.
2. Add butter and onions to drippings in Dutch oven; season with salt. Cook, stirring often, until onions are soft and golden brown, 10-15 minutes.
3. Stir in garlic, ginger, coriander, cumin, turmeric, and cayenne. Cook, stirring constantly, until spices are fragrant, about 1 minute. Stir in chickpeas and 2 cups broth. Return chicken and any accumulated juices to pot. Add more broth if needed to cover chicken about three-fourths of the way up. Bring to a simmer. Cover pot and transfer to oven. Braise chicken until fork-tender, 45-55 minutes. 
Do ahead: Chicken can be made 3 days ahead. Let cool slightly, then chill, uncovered, until cold. Cover and keep chilled. Rewarm before continuing.
4. Using tongs and a slotted spoon, transfer chicken to a platter and cover with foil to keep warm. Add spinach to pot, cover, and remove from heat. Let stand until spinach is wilted, 5-7 minutes.
5. Stir yogurt into cooking liquid. Season with salt. Return chicken to pot. Warm over low heat (do not boil or yogurt may curdle).
6. Transfer chicken to a large deep platter. Pour spinach and chickpea sauce over. Sprinkle with cilantro.
Creamy Seafood Bisque
Ingredients: 8 Servings
1/2 cup butter, cubed
1 medium red onion, chopped
1 cup sliced fresh mushrooms
2 garlic cloves, minced
1/2 cup all-purpose flour
1 teaspoon salt
1 teaspoon coarsely ground pepper
2 tablespoons tomato paste
1 carton (32 ounces) chicken broth
2 cups whole baby clams, drained
1/2 pound uncooked medium shrimp, peeled and deveined
2 cups lump crabmeat, drained
2 cups heavy whipping cream
1/2 cup shredded Parmesan cheese
2 green onions, thinly sliced
Preparation
In a Dutch oven, heat butter over medium-high heat. Add red onion and mushrooms; saute for 4-5 minutes or until tender. Add garlic; cook 1 minute longer. Stir in the flour, salt, and pepper until blended; add tomato paste. Gradually whisk in broth; bring to a boil. Reduce heat; cover and simmer for 5 minutes.
2. Add clams and shrimp; return to a boil. Reduce heat; simmer, uncovered, 5-10 minutes longer or until shrimp turn pink, stirring occasionally. Stir in crab and cream; heat through (do not boil). Serve with cheese and green onions.
You might also be interested in...