CAMA Comeback Kicks Off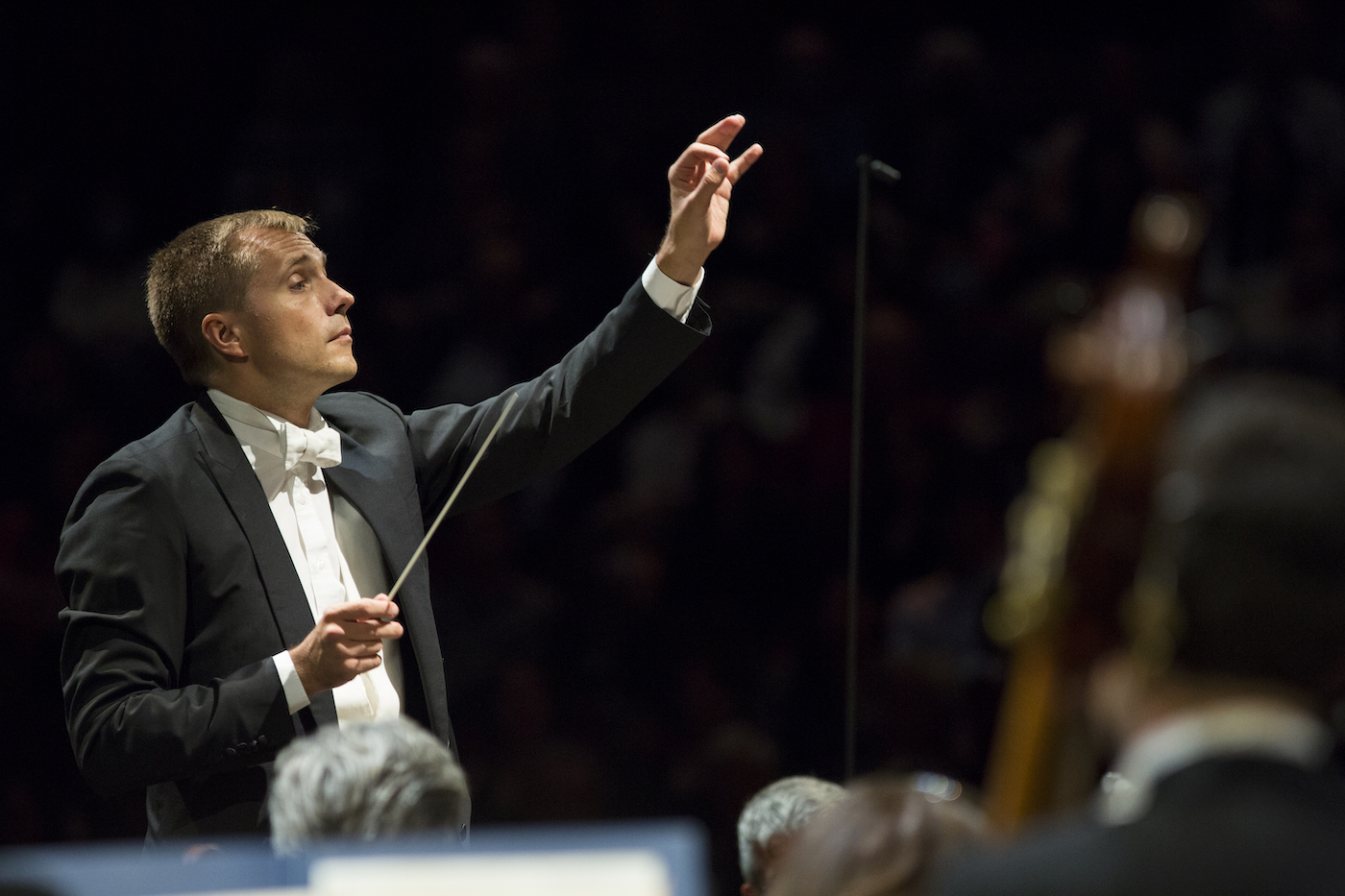 CAMA – Community Arts Music Association – kicked off its 103rd season with its first performance in 22 months at the Granada with one of the world's leading orchestras, the 75-year-old Royal Philharmonic from London under the trusty baton of Russian music director Vasily Petrenko, who took charge less than a year ago.
Our tony town was the first stop of a 14-city U.S. tour, which will culminate in New York at Carnegie Hall. It was the orchestra's 13th performance in Santa Barbara, second only to that of the Los Angeles Philharmonic.
British composer Benjamin Britten's Four Sea Interludes from Peter Grimes kicked off the superb show, wrapping with Edward Elgar's Enigma Variations.
But the undoubted highlight was Tchaikovsky's Piano Concerto No. 1 in B-flat Minor brilliantly performed by Russian-American keyboardist Olga Kern in her fourth CAMA concert.
A Gold Medal winner at the Van Cliburn International Piano Competition in Fort Worth, Texas, she was the first woman to do so in more than 30 years.
A Piece of History
The Beverly Hills estate of the late acting legend Kirk Douglas was snapped up within a month of going on the market for $9.015 million, $750,000 more than the $7.495 million asking price.
The four-bedroom, five-bathroom 4,648 sq. ft. home where Kirk and his wife, Anne, lived for three decades, is in the Flats neighborhood on a lot of less than four tenths of an acre.
Built in 1921, the estate also has a two-story studio that adds an extra bedroom and two additional baths to the property.
It also has its own backyard Walk of Fame – 22 stones signed by many Hollywood stars including Frank Sinatra, Dean Martin, Ronald Reagan, Lucille Ball, Elizabeth Taylor, and Barbra Streisand.
Kirk, who also owned a home in Montecito, died in 2020 aged 103 and Anne died in April 2021, at 102.
Going, Going, Gone
Carpinteria actor Ashton Kutcher and his wife, Mila Kunis, have sold their first marital home in Beverly Hills for $10.35 million.
Kutcher, 43, and the actress, 38, originally put the mansion on the market for $13.995 million in May, 2020, which means they sold it for $3.605 million less than the original asking price.
The 7,351 sq. ft. home, which has five bedrooms and five and a half bathrooms, was purchased by the tony twosome in 2014 for $10.2 million.
The couple reduced the price from $13.995 million to $12.25 million, then $11.3 million before selling at $10.35 million for the final purchase price.
The Life of Sidney
Oprah Winfrey is executive producing a documentary for Apple on the late actor Sidney Poitier, who just died aged 94.
It has been in production for more than a year, I learn. The project comes from Harpo Productions and Network Entertainment, with Reggie Hudlin as director.
Poitier, who was knighted by Queen Elizabeth and in 2009 received the Presidential Medal of Freedom from Barack Obama, was the first black man to win a Best Actor Oscar for 1964's Lilies of the Field.
He additionally earned two further Academy Award nominations, ten Golden Globe nods, and two Primetime Emmy Awards nominations.
Hello, Commander
Longtime Santa Ynez Valley resident Bernie Taupin, best known for his long running and fruitful collaboration with piano man Sir Elton John, has been made a Commander of the British Empire – CBE – in Queen Elizabeth's New Year honors list.
Taupin, 71, received his award for his services to music.
He famously rewrote the 1973 hit "Candle in the Wind" as "Goodbye England's Rose," which Elton memorably performed at Princess Diana's funeral in 1997 at London's Westminster Abbey.
Last year another local British rocker, Alan Parsons, received the Order of the British Empire – OBE – in the monarch's birthday honors list.
Call for Talent
Ensemble Theatre Company is now accepting applications for its fifth annual Young Playwrights' Festival for aspiring writers aged 14 to 19.
The four-month-long program provides writers a safe and nurturing environment in which to learn the craft of playwriting.
As part of the process, the participants develop a 10-minute play that is subsequently presented with professional directors and actors for a public audience.
The free program, made possible through a grant from the National Endowment for the Arts, accepts up to 10 students from Santa Barbara County.
The deadline is January 29. Applications are online at https://etcsb.org/education/young-playwrights-festival.
Remembering Grace
On a personal note, I remember Grace Mirabella, former editor-in-chief of Vogue, who died at her Manhattan home at the age of 91.
Mirabella ran the Conde Nast glossy from 1971 through 1988 when my former New York Magazine colleague Anna Wintour stepped into the role.
Her tenure at Vogue's helm saw circulation rocket from 400,000 to 1.2 million.
Mirabella, who started working at the fashion magazine in the 1960's under the legendary Diana Vreeland, then landed her own women's glossy, Mirabella, at the invitation of media mogul Rupert Murdoch, which ran from 1989 until 2000.
A charming lady of great vision.
Sightings
Back to the Future actor Christopher Lloyd picking up his New York Times at Pierre Lafond… Former Dallas Cowboys quarterback Troy Aikman at the Rosewood Miramar… Modern Family actor Jesse Tyler Ferguson noshing at the Honor Bar
Pip! Pip! Be safe, wear a mask when needed and get vaccinated.
You might also be interested in...