The Transformative Power of Education
"Compassionate, distinguished, and exemplary are three words that embody the many contributions Janet Garufis has made to our community and our university. We are grateful to be able to rely on her wisdom and her commitment to our mission of lifelong learning, social justice, and advancement for individuals, organizations, communities, and society. It is with great honor that we will confer an honorary doctorate of humane letters to signify the immense impact she has had on Fielding Graduate University."
– Dr. Katrina Rogers, President of Fielding Graduate University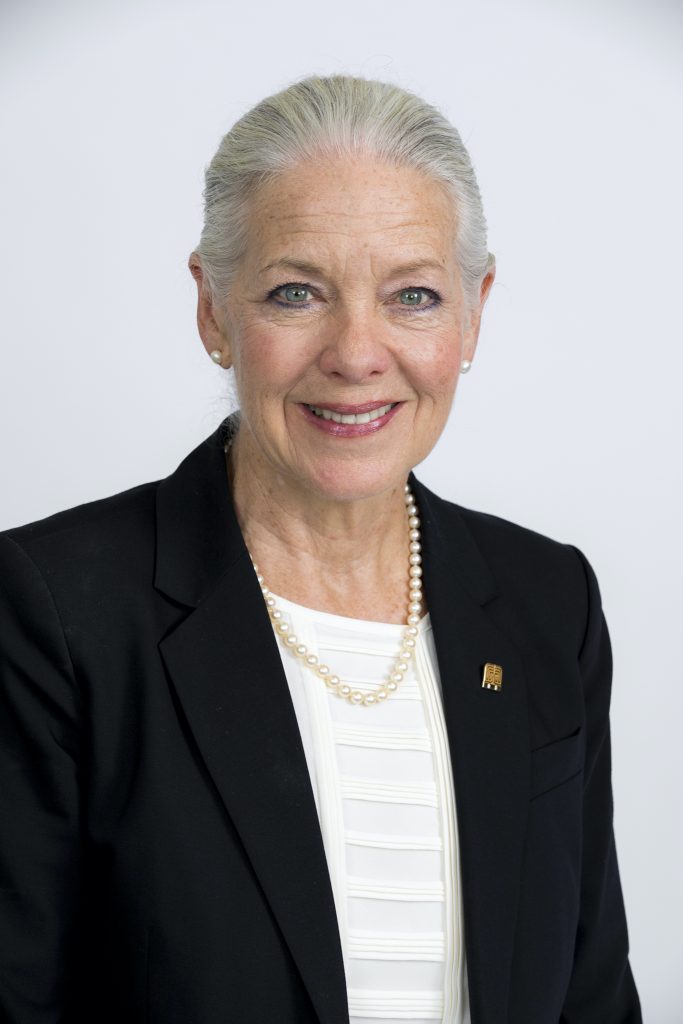 On January 15, 2022, Janet Garufis will be awarded Fielding Graduate University's Honorary Degree of Doctor of Philosophy in Humane Letters. To mark the occasion, Garufis has created the Janet Garufis Endowed Scholarship in Leadership, supporting students who reside in Santa Barbara and Ventura counties in doctoral and master's degree programs in Fielding's School of Leadership Studies.
During her exemplary service to Fielding as a member of the Board of Trustees, Garufis dedicated her time and compassion, while also providing impactful leadership to many other civic and nonprofit organizations throughout our community. She joined Montecito Bank & Trust in 2004, was appointed President and CEO in 2006 and has served in her current role as the Chairman and CEO since 2017.
Below are excerpts from a recent conversation with Garufis about her experiences as a lifelong learner and her insights for today's graduating students.
Q. Given all the causes and organizations you are a part of — why did you choose to devote your time to Fielding Graduate University? And why has education been a focus for you?
A. As a lifelong learner, I deeply value the transformative power of education. Over my lifetime, when I felt the need to make change, education provided an opportunity to reevaluate my goals, reframe my thinking about what was possible, and basically, to reinvent myself. When you reach a point in your life when you're feeling stuck or when your work no longer provides sufficient emotional reward, educational opportunities can open whole new worlds. Education can provide the curious mind unlimited outlets for discovery and experimentation.
When Fielding approached me to join their Board of Trustees, they were seeking a community member who could help them establish stronger ties to the Santa Barbara community. I was very intrigued by the Fielding distance learning model that provided mid-career professionals an avenue to continue their education. Because of my interest in education, my recent experience as a returning graduate student and my community experience, it felt like a very good fit and a way I could add value.
How has education impacted your life?
The impact of education begins with my mother's story. She was the youngest of seven children from a family of very modest means. At the age of 16, during her junior year of high school, she contracted polio. Thankfully, she was a survivor but after months of rehabilitation, she had some residual challenges. My grandmother, who had a sixth-grade education, decided that given her daughter's disability she couldn't count on marriage and needed to be able to make a living to support herself. Her brothers were college educated during their years in seminary. A college education was the answer. She wrote a letter to the Sisters of the Immaculate Heart College, emphasizing that they were a good Catholic family, and made the case for her daughter to attend on a full scholarship. The good Sisters agreed. My mother earned a degree in sociology which led to a successful 48-year career as a social worker, culminating with her service as the Deputy Director of the Department of Public Social Service in Los Angeles. And along the way, she married and had a family.
For me and my sister, college was always part of our expected educational path. I put myself through school, working as a teller for Security Pacific Bank, and had planned on graduate school and becoming a college literature professor. But when I graduated from college, those jobs were impacted and nearly impossible to count on. So, I interviewed for the Security Pacific Management Training program and took a different path. When I decided I would make banking my career, I had the opportunity to attend the Pacific Coast Graduate School of Bank Management in Seattle (which I managed to complete shortly after my second child was born). Fielding's distance learning model would have been so much more accommodating than the annual two-week on campus immersion program over three years.
Later, as the banking industry continued to evolve away from the relationship-based business that I had spent more than 30 rewarding years enjoying, I decided it was time for a change. I retired early and my interest in literature guided me to return to grad school to earn a Master's in English and then ultimately to move to Santa Barbara to pursue a doctoral degree. After completing my program of study and before I submitted my dissertation proposal, my family circumstances required that I put my studies on hold and return to banking to support my husband who had become seriously ill. Although I didn't earn my Ph.D., my pursuit of education here in Santa Barbara put me on a path that has become the great reward of my career as the Chairman and CEO of Montecito Bank & Trust. My work allows me to not only use all of my business and leadership experience but also to be a part of our extraordinary community in so many rewarding ways.
As I think about my story, I saw coming to Santa Barbara to earn a Ph.D. and teach as the opportunity for me to reinvent myself for the next chapter of my life, a new career, and a new way to hopefully bring value to my work and the people I was working with. I worked hard to build that path and was disappointed when it didn't work out as I had planned. And yet, I have the most rewarding work I have ever done; I feel that I am able to add value in so many ways, and now, coming full circle, I am so honored to be acknowledged in this extraordinary way by Fielding. This honorary degree is not the way I'd planned to earn a Ph.D., but it is, in many ways, all the more meaningful to me – to be recognized for doing what I love to do.
If you could wave a magic wand and pursue a degree from Fielding, which area of study would you choose?
I would definitely choose a degree in psychology. I am eternally fascinated by people, their behaviors, the choices they make, and why they make those choices.
Why is it important to you to establish a scholarship for students in Fielding's School of Leadership Studies?
Making a scholarship possible is a way to invest in the potential of a deserving student and provide a huge vote of confidence in their ability to succeed. I was a scholarship student from a middle-class family. Both my parents worked, which allowed my sister and me to attend Catholic schools instead of public. I expected to attend the local Catholic high school, but, as an eighth grader, my teacher encouraged me (and my parents) to pursue a path I didn't even know existed. After taking the entrance exam to a private girls' college preparatory school and interviewing with the principal, I was granted a four-year scholarship to attend Marymount High School in Los Angeles. To earn that privilege, I needed to maintain a B average. As a shy, young girl, Marymount gave me a safe space to explore what was possible and to begin to build confidence in my ability to excel as a scholar and to lead others. It also exposed me to experiences, people, places, and opportunities that I would likely never have otherwise known. I will never know the generous people who made my high school education possible, but I feel certain that they believed deeply in education as empowerment and opportunity, and I will always be grateful.
For me, the scholarship I received meant that I couldn't let those generous donors down. It motivated me to keep pursuing my education, to keep being the best I could be because somebody I didn't even know made it possible for me to be there. I believe that's true for all recipients of scholarships: to know that there are people out there who believe that "you can do it," can make all the difference.
For more information on the Janet Garufis Endowed Scholarship in Leadership please visit giving.fielding.edu.
You might also be interested in...