Sip Without the Buzz: Santa Barbara's Miller Family Launches Alcohol-Free Wines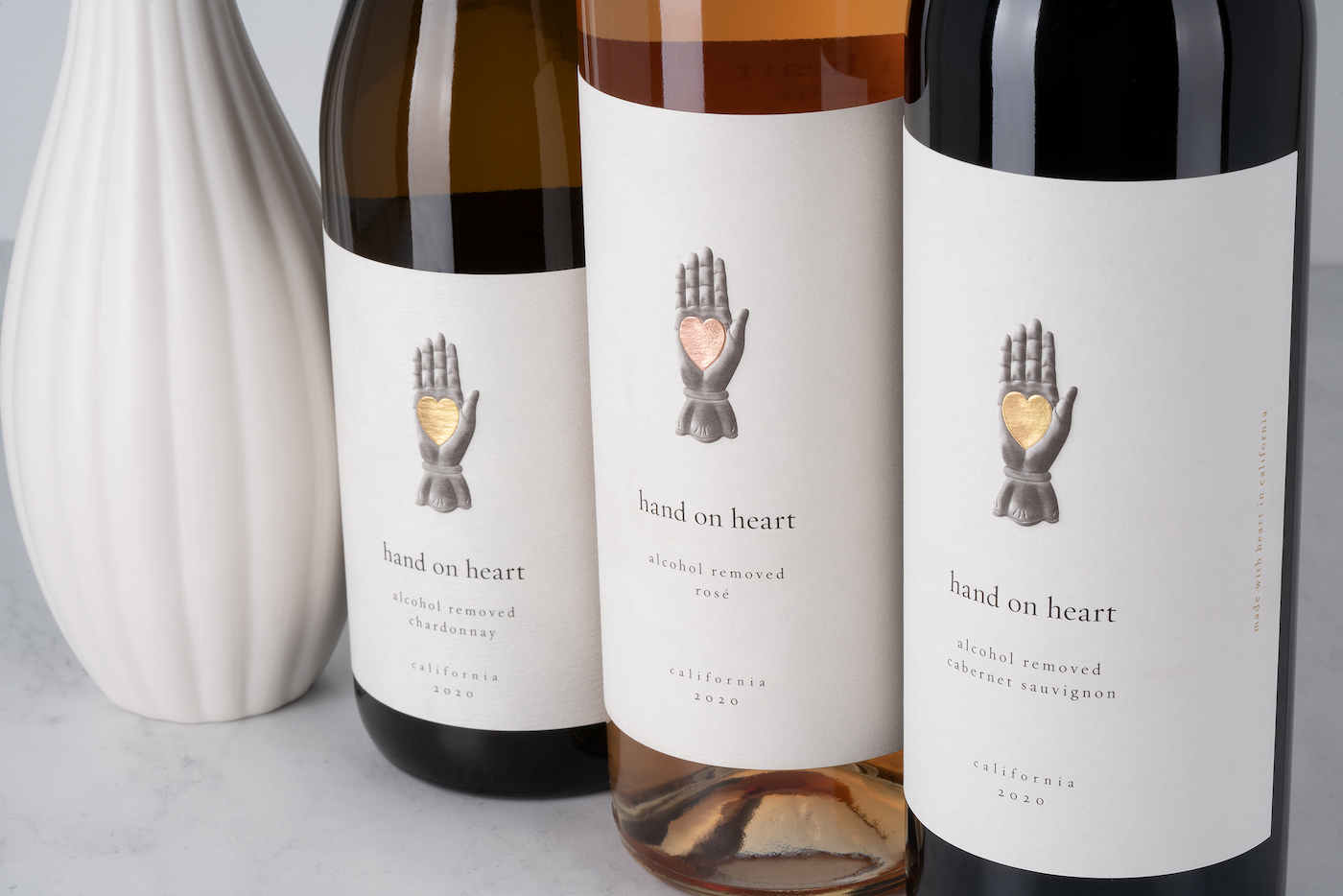 One of Santa Barbara's most prolific wine producers just expanded its impressive portfolio. Miller Family Wine Company, with brands from high-end Bien Nacido to mainstream Butternut, premiered the Hand on Heart label earlier this month. What makes these wines unique is the alcohol – there isn't any.
Hand on Heart inaugural wines, with a launch that coincides with Dry January, include a rosé, a chardonnay, and a cabernet sauvignon, all made with grapes grown throughout California, all from the 2020 vintage, all under screwcap and all priced at $15.
"Our target audience are those I call the sober curious," says marketing director Tommy Gaeta. It's the regular drinker, actually, but who may be trying to cut back on drinking, who might be on a wellness kick, or who might just be looking for something different. As we recalibrate our approach to wine and to drinking overall, "more important than the buzz is the ceremony of it all, the ritual," continues Gaeta. "There's a functional benefit to wine, yes, but there's an emotional benefit, too. Having wine with dinner is part of a routine, an emotional signifier."
To that end, the Hand on Heart wines do fit the bill. Winemaker Jonathan Nagy approaches these wines as carefully as the myriad other labels he directs. "If too much alcohol in a wine is seen as a flaw," he says, "then absence of alcohol, if apparent, is also a flaw."
And therein lies the real challenge in making a wine that has no booze but also has merit. Alcohol adds complexity to wine. "It's amazing how much alcohol provides to the flavor and the palate-feel of a wine," insists Nagy. "We really needed to work on flavor and acidity and mouthfeel." There were myriad iterations, actually, and over several years. The Millers already were contemplating alcohol-free wines when Nagy – formerly at Byron – joined the company in 2019. "We did do a lot of variations, a lot of trials," he recalls, "and finally we did get to a place where we were comfortable that they were wine-like."
The process of removing alcohol from wine is an interesting one. Nagy makes the real wines first – the rosé, chard, and cab were all aged in oak barrels for 10 months – and then ships them to BevZero in Santa Rosa, a beverages solutions company that uses state-of-the-art equipment to de-alcoholize wine. Their spinning cone column operates at high pressure and low temperatures, and it basically takes the wine apart. Inside the tall column, dozens of upside-down cones repeatedly spin the wine as it falls. As the "body" of the wine falls, vapor that contains aroma and flavor molecules rise up. That vapor is condensed into a clear liquid and separated out. Alcohol is separated out in the process, too. And with that alcohol gone, the condensed vapor is added back into the "body," basically recreating the original wine, minus the booze.
So what is the experience of that new wine, with flavors and aromas, but with no alcohol, like? My experience was that the flavors are the biggest deviation from the original. The chardonnay and the cabernet sauvignon don't have the typicity of flavor that I would associate with those varietals. That's just me. Both are zingy, with citrus notes on the chard and a plum compote aspect to the cabernet.
Where there's real merit here is in the aromas, especially with the chardonnay, which gives off lots of apricot and white peach; the cab nose is more muted, but there are jammy overtones. The mouth feel is a win, too – both are supple yet bouncy. And the structure of the wines makes them a solid match for a meal.
That food angle, actually, is one that the Millers are really pushing, and one that they are emphasizing with an endorsement from restaurateur, TV chef, and Santa Barbara resident Cat Cora. The gourmand, who describes the wines as "vibrant" and "complex" in a press release, provides recipes online to match each wine: garlic mushroom pasta and lamb chops to match the cabernet sauvignon, cedar plan salmon and paella for the chardonnay, and Greek stuffed eggplant and a peach panzanella salad with burrata and bacon with the rosé. Find them at handonheartwine.com.
By my account, this is the second foray into alcohol-free wine in Santa Barbara County. We reported last May that Dave Potter, the winemaker behind the Municipal Winemakers and Potek labels, launched January Zero Percent Drinks, also to offer wine drinkers an interesting alcohol-free alternative. The Juniper Grenache is made with grenache grapes and infused with juniper berries, laurel leaves, black tea, and angelica root. The Manzanilla Chardonnay is steeped in chamomile flowers, Meyer lemons, cinnamon sticks, and red peppercorns. Potter's technique to avoid booze is different: he cold-presses the grape juice at below 32 degrees to prevent fermentation. Both beverages retail for $17 at municipalwinemakers.com.
Cheers!
Gabe is the wine columnist for the Montecito Journal and has been covering the Santa Barbara County wine and food scene for more than 20 years. His storytelling approach aims at making the culinary industries more accessible to consumers and at highlighting the personalities behind the labels. A former morning weatherman for Santa Barbara's KEYT-TV, Gabe is also the senior editor for the global travel media company Travelzoo, covering destinations and travel trends as a contributor for network TV stations, radio, and major print publications across the country.
You might also be interested in...