'Four Years Later, We Remember'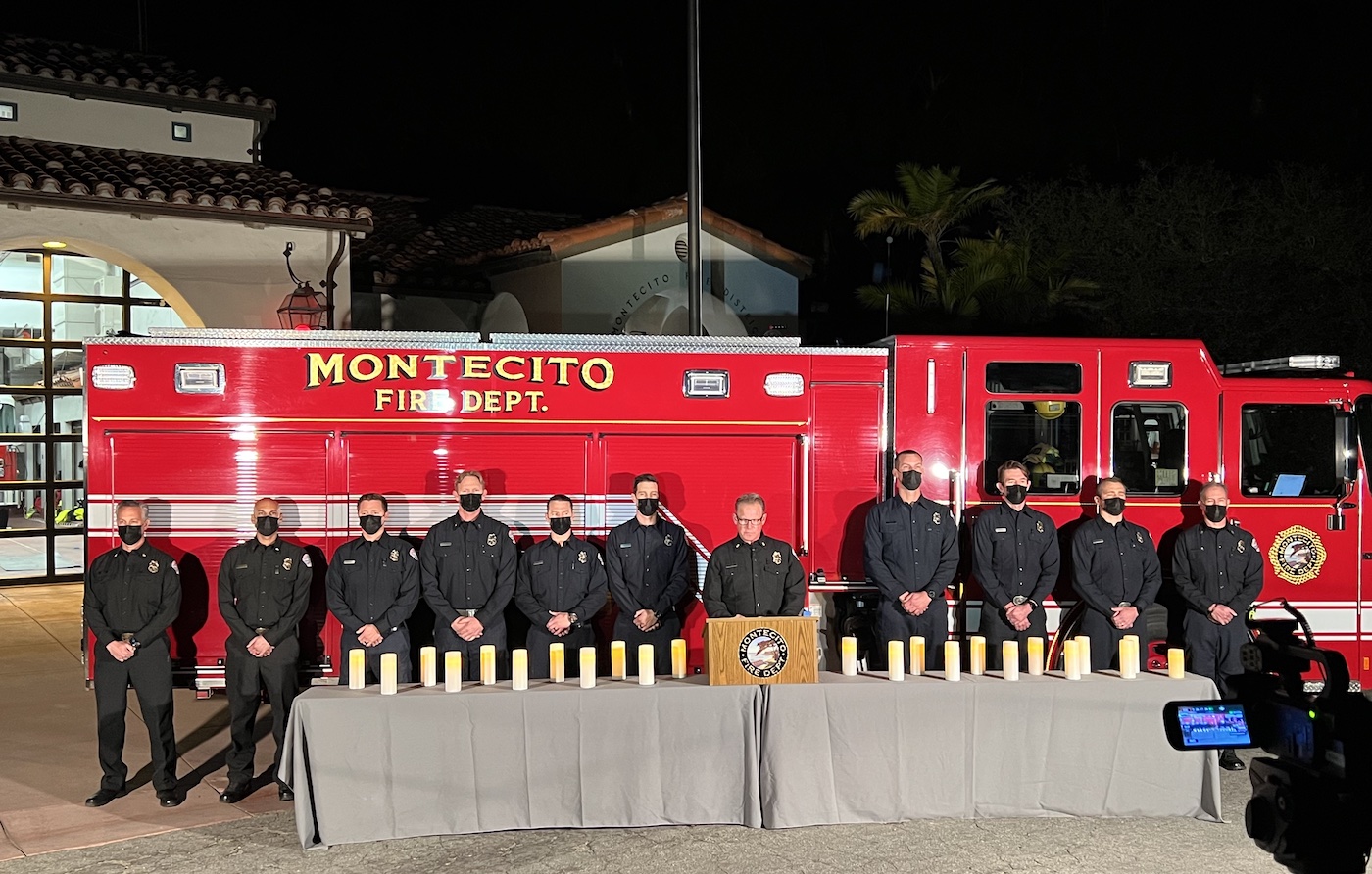 On January 9, a community-building memorial was held across Montecito to remember and honor the victims and survivors of the 1/9 Debris Flow. A partnership between the Santa Barbara Bucket Brigade, Montecito Association, Montecito Fire Protection District, and Westmont organized the event — and it followed the template the organizations created in 2021, for safety during the pandemic.
During the test before the event, the searchlight was lining up perfectly with the moon:
It felt like a nod of benevolence. A similar thing happened at the first memorial, held in 2019 in Manning Park. The rain had come down all night, and day, and we worried we'd have to cancel. But a double rainbow broke out over Manning Park around 2 pm, and the volunteers all felt in that moment that we were being encouraged to go ahead.
Sunday's event opened at 6:30 pm live on Zoom, YouTube, and KEYT with Montecito Fire Chief Kevin Taylor delivering a compassionate and inclusive speech to commemorate the experience of the Montecito community and its losses on that morning. He noted how we've come together since then, that "2018 taught us that solidarity, cooperating, caring, and compassion are the cornerstones to rebuilding a resilient community in the wake of tragedy; this remains true today."
He closed with an uplifting message that we are loved and cared for in our Montecito community. Montecito firefighters then lit and placed 23 candles, for each of the 23 individuals that lost their lives that morning in the Debris Flow.
The Chief then called for a moment of silence. Afterwards, the night sky was filled with a searchlight shining up from Montecito Union and the sounds of bells ringing across the community. Montecito Fire, Montecito Union School, All Saints-by-the-Sea, Our Lady of Mount Carmel, Cold Spring School, and El Montecito all rang their bells 23 times in honor of those lost the morning of 1/9.
Remembrance events can bring up difficult emotions. There is support for you from the county's Community Wellness Team. If you'd like to talk to someone, please call (805) 364-2750.
You can watch the event video on Westmont's YouTube channel or on KEYT's live streaming site.
You might also be interested in...