A Nice Throwback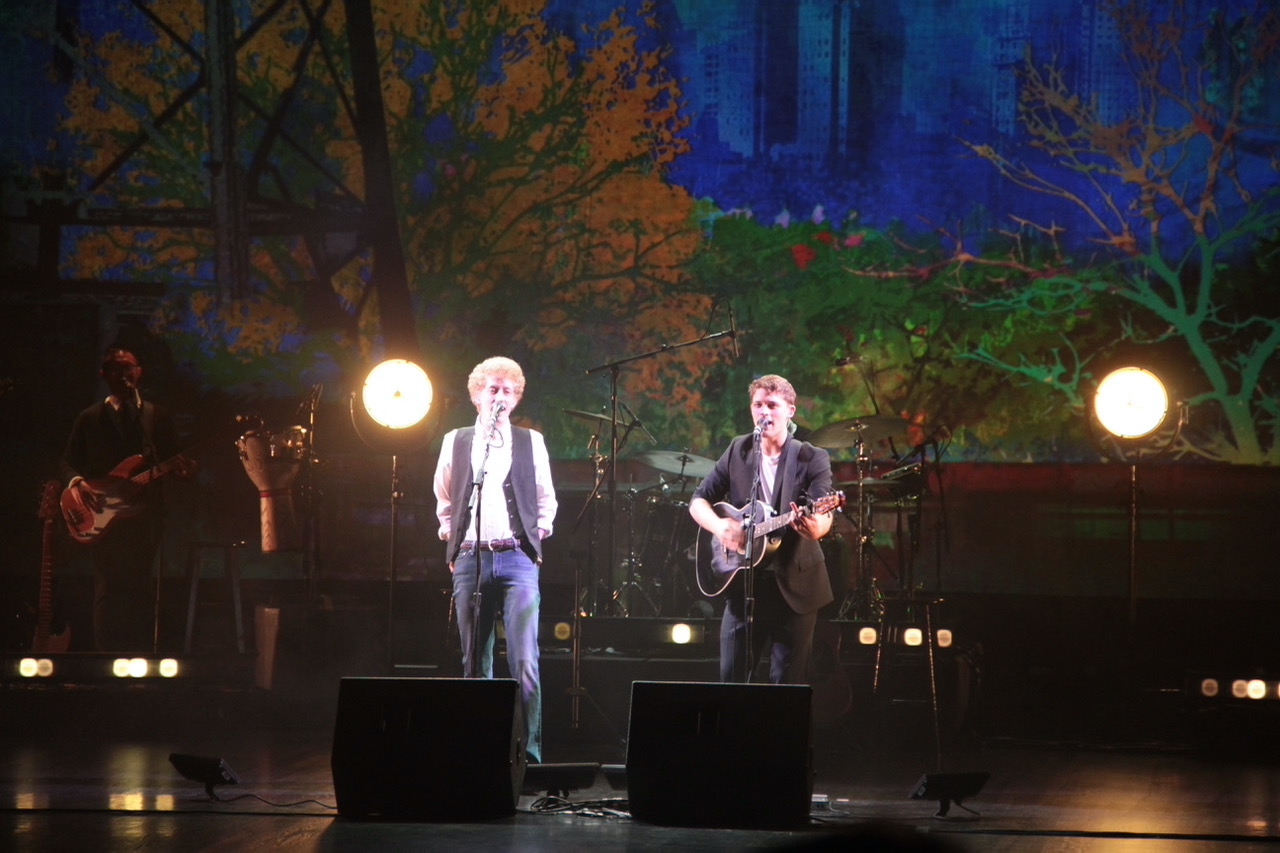 The Sound of Silence pervaded the venerable 1,500 seat Granada Theatre when the Theatre Guild staged the highly entertaining Simon & Garfunkel Story.
Creatively staged with videos and photographic backdrops from the 1950s to the 1980s, two talented doppelgängers, Taylor Bloom as Paul Simon and Ben Cooley as Garfunkel, played the dynamic musical duo, who started life as Tom and Jerry, in the late '50s, to perfection.
The sell-out show was created eight years ago by Broadway actor Dean Elliott, who played Simon for the first 18 months of the production.
During their meteoric careers, which started when they met both playing characters in a school play of Alice in Wonderland as children, the tony twosome sold more than 100 million albums before splitting in 1970 and reuniting for a concert on Central Park's Great Lawn in New York watched by more than 500,000 fans in 1981.
The two hour-long show contained all the favorites including "Mrs. Robinson," "Cecilia," "Scarborough Fair," "Homeward Bound," and wrapping with "Bridge Over Troubled Water."
I last saw Art Garfunkel sing with his then seven-year-old mini-me lookalike son when Princess Yasmin Khan, daughter of the late actress Rita Hayworth, invited me to her Alzheimer's Association gala at New York's Waldorf-Astoria in 1997.
It was quite a show…
Proud Pops
Despite the deepening personal rift between Montecito-based Prince Harry and the British Royal Family, his father, Prince Charles, has clearly offered the Duke of Sussex an olive branch of sorts.
The Prince of Wales says he is "proud" that Harry, 37, along with his brother, Prince William, 39, have recognized the threat of global warming and commended their commitment to green causes.
Charles, 73, made his comments in an essay about climate change in Newsweek.
"My younger son, Harry, has passionately highlighted the impact of climate change, especially in relation to Africa, and committed his charity to being net zero."
Setting the Bar High
Carpinteria Oscar-winning actor Kevin Costner's series Yellowstone has set new ratings records with its fourth season finale, netting more than 11 million viewers.
The drama takes a break from the usual New York City and Los Angeles locales to focus on a real American family in Montana who are fighting to protect their cattle ranch from land-grabbing interlopers.
The Paramount series, which first aired in 2018, has beaten cable TV mainstays with an average of more than seven million viewers last month.
On January 2 it became the best watched show on TV since The Walking Dead Season 8 premiere on AMC in October 2017, which drew 11.4 million viewers. Yellowstone's finale was watched by 10.3 million people, while the Paramount Network's encores brought the figure to more than 11 million viewers — 81% higher than the Season 3 finale of 5.2 million.
A Memorable New Year
Santa Barbara warbler Katy Perry, 37, whose $168 million residency debut I watched at Resorts World in Las Vegas last month, welcomed 2022 in grand style with a psychedelic Playland bash with sharks and dancing toy soldiers.
She was joined in the fun by Nicky Hilton Rothschild and fashion designer Diane von Furstenberg at Wally's in the $4.6 billion hotel and casino complex.
When the clock struck midnight, 50 confetti cannons marked the moment with her fiancé British actor Orlando Bloom, 44, giving her a big smooch having just come out of a 10-day quarantine at their Montecito estate after being diagnosed with COVID.
A New Venture
Montecito actress Gwyneth Paltrow is broadening her empire and partnering with athletic-wear brand Copper Fit.
The 49-year-old Oscar winner just posted a video for the company in which she performs some of her favorite stretching and workout routines.
The Iron Man star says the line she is creating with the brand is her "personal take" on a line of copper-infused compression products.
"They've really inspired me to support the way women work and live," she twitters.
Making a Return
Former Santa Barbara actor Michael Imperioli is returning to the cable TV giant HBO more than two decades after his breakthrough role on The Sopranos.
Michael, 55, has signed on for another series regular role in Season 2 of The White Lotus, a social satire series set in Hawaii.
During his time in our Eden by the Beach he was a regular volunteer at the Rescue Mission's Thanksgiving Feast, along with yours truly and loyal lenswoman Priscilla.
Remembering Sidney
I remember Sidney Poitier, the first black actor to win an Oscar, who died at his Los Angeles home aged 94.
Over the years I met him many times, particularly at La Goulue, a Eurofluff eatery on Madison Avenue near my Manhattan apartment opposite artist Andy Warhol's townhouse and at the Polo Lounge at the Beverly Hills Hotel.
We last met at Wolfgang Puck's achingly trendy Beverly Hills eatery Spago, when he was dining with another old friend, Barbara Davis, widow of oil tycoon Marvin Davis, who John Forsythe played in the hit TV series Dynasty.
Poitier was an elegant and distinguished man, who in 1974 received an honorary knighthood from Queen Elizabeth and the Presidential Medal of Freedom from Barack Obama in 2009 and will forever be known for his roles in films like In The Heat of the Night, Guess Who's Coming To Dinner with Katharine Hepburn, Spencer Tracy, and 1967's To Sir, with Love.
A Hollywood legend not to be forgotten.
Sightings
British singer Adele, who just bought Sylvester Stallone's Beverly Hills estate for $58 million, shopping up a storm at Peregrine Galleries on Coast Village Road… Actor Ryan Gosling checking out the Montecito Country Mart… Oprah's beau Stedman Graham picking up his Montecito Journal at Pierre Lafond.
Pip! Pip! Be safe, wear a mask when needed and get vaccinated.
You might also be interested in...