Ringing in the New Year!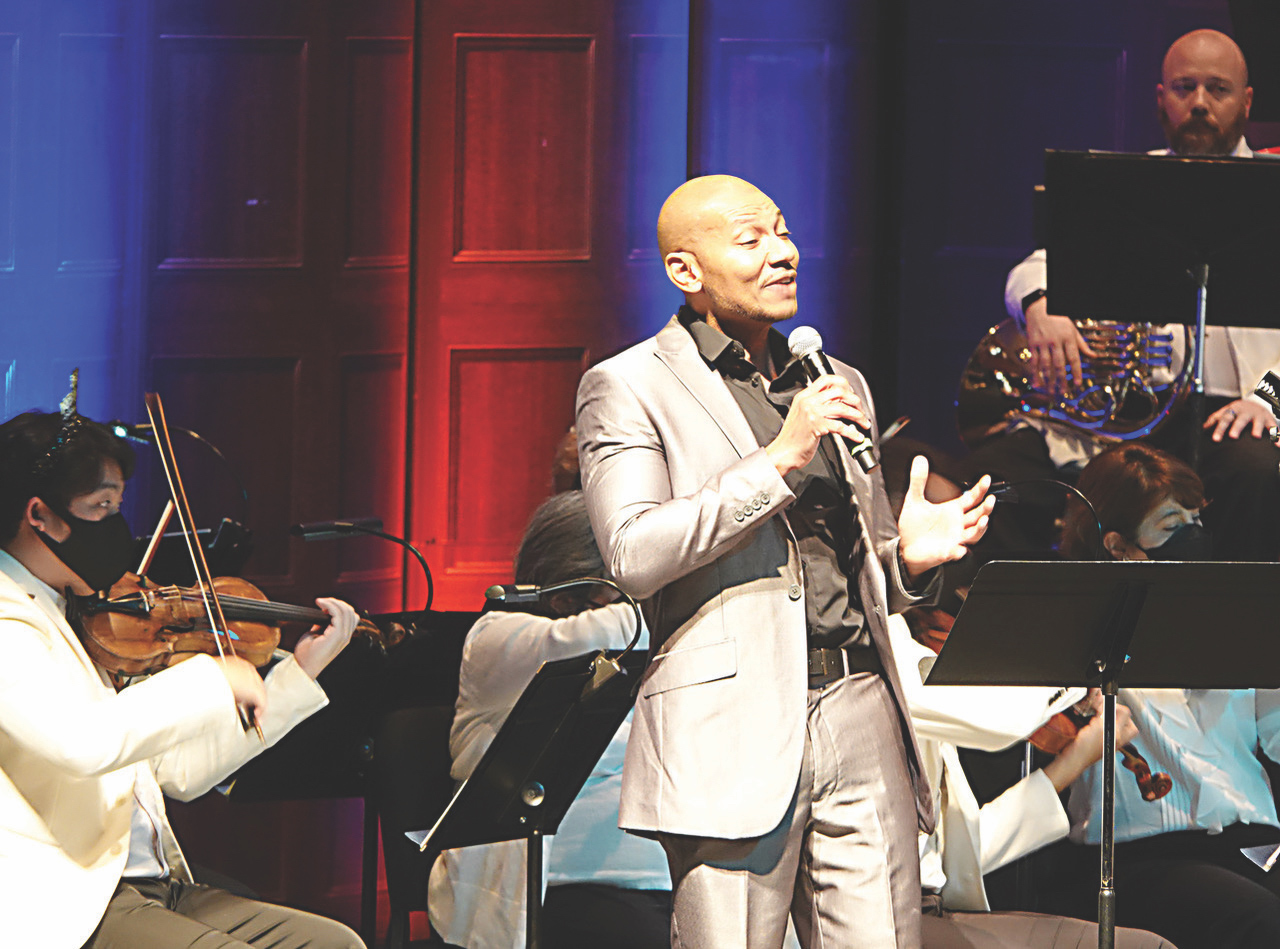 Santa Barbara Symphony returned to its popular New Year's Eve tradition at the Granada to dazzle the audience with the music of Gershwin, movie classics, Andrew Lloyd Webber, Motown, Broadway, and other celebratory symphonic favorites while donning party hats and quaffing champagne.
Regular Pops conductor Bob Bernhardt, celebrating his 40th anniversary with the Louisville Orchestra, was replaced at the last minute by Opera SB artistic director Kostis Protopapas, who was joined by acclaimed former L.A. Opera baritone Cedric Berry, symphony pianist Natasha Kislenko, and the full orchestra for a two-hour show guaranteed to get the audience singing and dancing in their seats.
"Santa Barbara is really ready to celebrate!" enthused Kathryn Martin, president and CEO. "I can think of no better way to come together, safely, and say goodbye to a year of big challenges, and celebrate the possibilities of 2022! It was electrifying."
Local philanthropist Robert Weinman, in a shimmering jacket that would have put Liberace to shame and Elton John spectacles, also took a turn on the podium with an armed forces salute with former and current members of the Army, Marines, Navy, Coast Guard, and Air Force standing as their anthems were played.
A glorious way to welcome in 2022.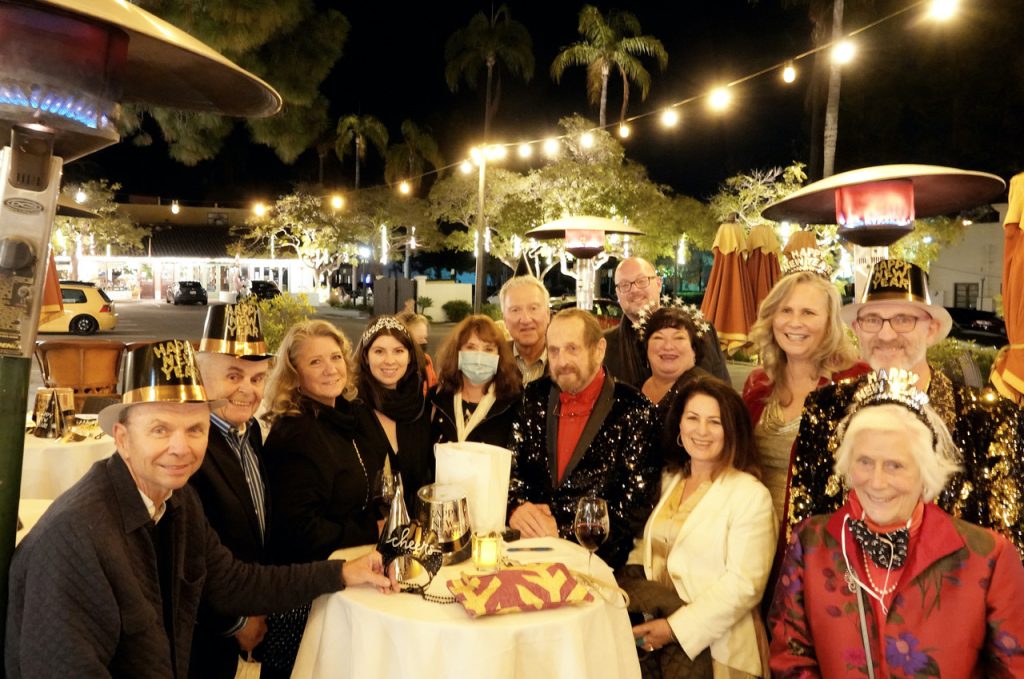 'Mungerville' Grows
Montecito billionaire Charlie Munger, 97, has paid $11 million for a 4,657-square-foot house on a quarter of an acre in Sea Meadow, affectionately known as Mungerville.
The four-bedroom, five-bath French-Normandy style property, built in 1992 and totally renovated, last sold in November 2020, when it fetched $7.3 million.
It is just 700 feet from the beach in the 22-acre development Munger, a partner with Warren Buffett in Berkshire Hathaway, built in 1989 and known for its collection of luxury estates near the Rosewood Miramar.
Munger is estimated to be worth $2.4 billion by Forbes.
Welcome Back
As usual, tout le monde was at the New Year's Day lunch thrown by affable gardening guru George Schoellkopf and international artist Gerald Incandela at their magnificent Summerland aerie.
After a three-year absence the tony twosome, who fly between their estates here and in Washington, Connecticut, kicked off 2022 in splendiferous style with free-flowing Bordeaux and Moet champagne, beef brisket that took three days to prepare in the baronial kitchen, English trifle (a particular favorite), tiramisu, and persimmon pudding.
It was quite the turnout with Larry Feinberg and Starr Siegele, Robyn Geddes, Allan Glaser, Mary Dorra, Barbara Woods, Anne Towbes, Jennifer Hale, Nick Fuchs, Trish Reynales, and Sandy Knox-Johnston.
Always a cracking start to the New Year!
Primo Premiere
It was a double celebration when Santa Barbara rocker Alan Parsons celebrated the 23rd anniversary of his half-century and the world premiere of his new documentary, The Never Ending Show: Live in the Netherlands, at the historic Alcazar Theatre in Carpinteria.
The 337-seat, 94-year-old venue was socially gridlocked for the champagne-fueled bash with the original concert being filmed at the Tivoli theater in Utrecht in May 2019. It coincides with Alan's new album release of the same name.
After the energized film, Alan and members of his talented band, The Live Project, played on stage which only ramped up the wave of unbridled enthusiasm.
Among the throng of fans turning out were Gretchen Lieff and Miles Hartfeld, Arlene Montesano, the ubiquitous KEYT-TV reporter John Palminteri, winemaker Fred Brander, and Ralph and Diana MacFarlane.
A delightful evening in a charming venue…
Welcome Back, Batman
More than three decades after being the first big screen Batman, Montecito actor Michael Keaton is once again donning the cowl and cape.
Michael, 70, has signed on to return at the Cape Crusader in Warner Bros. and HBO Max's Batgirl movie.
He will star alongside In The Heights actress Leslie Grace as the total character, with filming already underway in London.
Keaton played the first Dark Knight on the big screen in 1989's Batman, which he reprised in 1992's Batman Returns.
Quite the Flip
Cartoonist Berkeley Breathed, 64, who created the enduring 1980's comic strip "Bloom County" which at its peak was published in 1,200 newspapers around the world, is parting with his longtime Santa Barbara home for $6.8 million.
The four-bedroom, four-bathroom aerie on an expansive 25-acre estate above the Santa Barbara Polo & Racquet Club has 360-degree views in every direction.
The Pulitzer Prize-winner bought the estate in 1997 for $1.135 million before razing the original property to build the current south-western-inspired 6,063-square-foot home.
The estate also has a home theater, a guest house, and a writer's cabin.
A Royal Chat
Michelle Ruiz, a contributing editor at Vogue and writer for Vanity Fair who also writes for the New York Times Book Review and the Wall Street Journal,is penning a feature on my neighbors, Prince Harry and Meghan Markle, for a new Florida glossy, Palmer, based in Palm Beach, Florida.
We spent an hour on the phone with me giving my observations on the Duke and Duchess of Sussex and the comparison to be drawn with the late Duke and Duchess of Windsor, another member of the British Royal Family who also gave up everything to marry an American divorcee.
Well, That Was Quick
Maroon 5 rocker Adam Levine, who snapped up a 1923-built Montecito estate near singer Katy Perry on Park Lane for $22.7 million, earlier this year has flipped it for $28.5 million.
The Mediterranean-style property, El Mirador, on five acres was designed by George Washington Smith. There are five bedrooms in the main residence for a total of nine, 11 bathrooms and 12,653 square feet of living space.
Other amenities include a theater, a wine cellar, and a tennis court.
Levine, 42, and his former model wife Behati Prinsloo, spent less than three months at the property.
Sightings
Meghan Markle, bodyguard in tow, shopping at Pierre Lafond in the Upper Village and perusing the racks at Poppy and Hudson Grace at the Montecito Country Mart… Actor Jordan Peele lunching at Olio e Limone… Local warbler Katy Perry's father Keith Hudson noshing at Ca'Dario
Pip! Pip! Be safe, wear a mask when needed and get vaccinated.
And Happy New Year!
From musings on the Royals to celebrity real estate deals, Richard Mineards is our man on the society scene and has been for more than a decade
You might also be interested in...