A Unique Cover for a Unique Year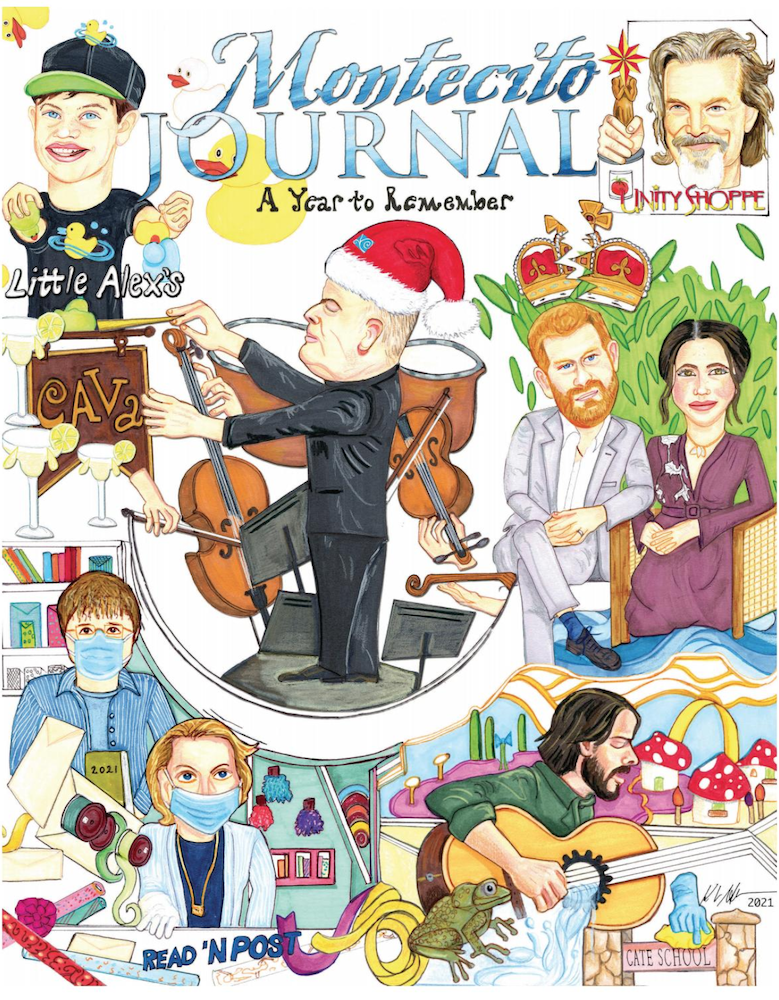 How do you blend businesses closing, a school scandal, a royal interview, the return of in-person events, and an inclusive playground?
You just ask artist extraordinaire Karen Folsom to take on the project.
On the cover, you will find a playful moment with 13-year-old entrepreneur Marco DiPadova (upper left), the return of live concerts at Music Academy of the West (center), and Oprah Winfrey's sit-down with Prince Harry and Meghan Markle (lower right).
We can truly say that none of them have ever been in the same photo before.
There's also more sobering news depicted in our final issue of the year, including the closure of a trio of businesses, as well as the ongoing controversy at Cate School due to allegations of sexual misconduct by faculty.
But we bring it all back to positivity with a little love thrown toward musician and community staple Glen Phillips, as well as Gwendolyn's Playground, an epic playground on the way to our little slice of paradise.
We thought we'd give you something memorable to close out the year.
Can't wait to see what our 2022 illustration might look like . . .
About the Cover Artist
Karen Folsom is a Santa Barbara-based illustrator and commissioned portrait artist, working with both individuals and businesses, including publishing, new and electronic media, institutions, and foundations.
Karen's work includes concept and editorial illustrations, portraits, children's books, book covers, murals and other promotional materials.
You can visit her website at kgfolsart.com, where you'll find caricatures of former President Donald Trump, Dr. Anthony Fauci, and politician Nancy Pelosi, as well as an incredible array of portraits.
Elsewhere in This Week's Issue
Make sure to flip to page 33 to begin our "Year in Review" experience, kicking off with a handful of remembrances of those we lost over the past 12 months, while continuing with standout real estate transactions in Montecito, our top stories of the year, what you were reading online at MontecitoJournal.net, and in typical New Year's fashion, capping off your experience with some reflections on wine.
2021, at least you weren't 2020.
See you in the new year everyone!
You might also be interested in...