Exotic Petits Gâteaux and Lemon Raspberry Kisses: These are a Few of Pâtissiere Alessia Guehr's Favorite Things
It all started with a desire for a well-made cappuccino. I was headed to a work meeting and needed a quick jolt of caffeine. I crossed the street and followed my curiosity to the French-inspired bakery that opened last summer adjacent to the Presidio. That morning, the first of my many visits to Alessia Patisserie & Cafe located downtown on Canon Perdido Street, there were businessmen in blue jeans, families pushing strollers, and ladies who brunch during the week.
On entering, I noticed a long line of customers: All eyes were on the pastry case, a caisson of chocolates, truffles, tarts, and a smorgasbord of pastries ranging from exotic fruits petits gâteaux, Paris-Brest (a French dessert made of choux pastry and cream filling), cranberry orange éclairs and milk chocolate chai s'mores cruffins, among other decadent selections.
A young woman dressed in a black short-sleeve chef's shirt and pinstripe blue apron with her hair pulled up came out of the kitchen and busily began filling the case with melt-in-your-mouth gems like individual lemon-raspberry meringue tarts with buttery crusts, cloud-like puffs of choux with a heavenly silken gianduja mousse inside, and ambrosial lemon mousse cakes with raspberry cremeux, dipped in white chocolate with pistachios.
The busy bee was Alessia Guehr, a second-generation pâtissiere and Santa Barbara native. Taking over the space previously occupied by Me So Hungry, Guehr unveiled the cafe in July with a neo-classic interior design and French-inspired pastries. It's a spacious and elegant boutique displaying a rotating case of roughly 18 cakes and tarts and 25 breakfast pastries.
A chef's uniform is like a second skin for Guehr, who got her start in the kitchen of her parents' restaurants. Her father, Norbert Schulz, is a classically trained master chef, who, with his wife Brigitte Guehr, conceived some of the most memorable dining establishments in the area. Some of Guehr's early kitchen memories include helping her dad torch crème brûlées. In her teens, she landed a summer helper job at the Biltmore Four Seasons Resort, where she worked for nearly a decade.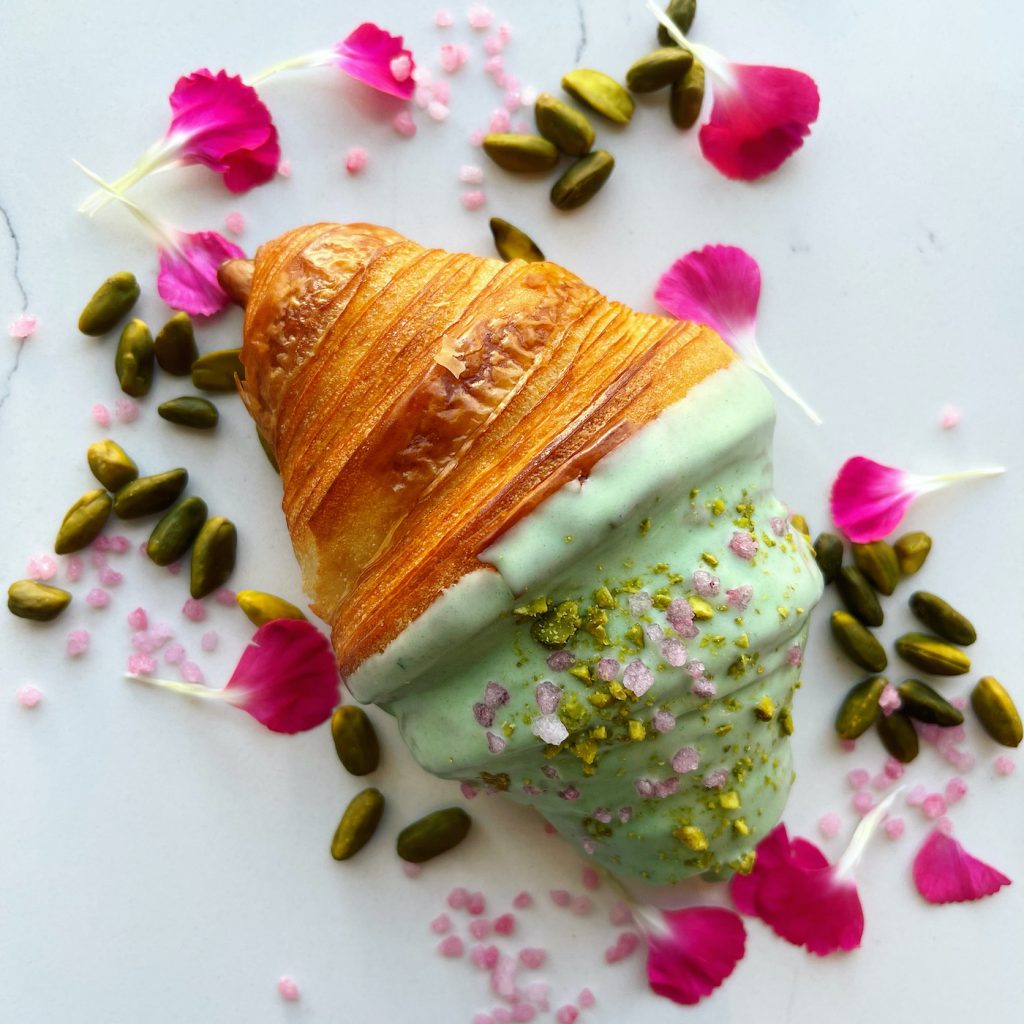 "My mentor at Four Seasons was Don Hall," she said. "He really fostered a learning relationship and taught me a lot of techniques and methods I use today."
Guehr held pastry chef positions at Thomas Keller's Bouchon and Le Marais Bakery in San Francisco before returning to Santa Barbara to help her father open The Nook in the Funk Zone. When the eatery shuttered earlier this year, Guehr decided it was time to open her own place. She had imagined a mix of a European bakery and a pastry shop and called it Alessia Patisserie & Cafe.
Inside, the decor offers signature touches that are just as impressive as the sweets on display: cream and mocha-colored leaf wall covering, crystal gumdrop chandeliers, bronzy chocolate brown high back banquettes, white leather chairs and marble table tops set with tiny bouquets of fresh cut flowers. There is a bar in the front section with a view of the Presidio. The dining room is bright and spacious with seating for 27, and the patio accommodates up to 20.
But diners don't just come for the view. They crave the buttery croissants, plain or dipped in flavors such as baklava, chocolate peppermint, pistachio creme or chocolate gianduja (an Italian hazelnut spread), to name a few.
Guehr offers an artisanal approach to her pastries, especially danishes, with savory and sweet options such as black truffles, ricotta, caramelized onions and chanterelles or vanilla custard filling, topped with freshly glazed blueberries.
While the pastries are delectable, the desserts are in the realm of the divine.
The candy bar is a four-layer cake with a crunchy hazelnut chocolate base and a layer of salted caramel covered with chocolate brownie cake and topped with chocolate mousse and milk chocolate chantilly. It's cut into bars, then dipped in milk chocolate. Chocolate feathers and edible gold leaf are added as a final touch. 
"When you build a dessert, you want to have different textures and break it up a little bit so it's more enjoyable," Guehr said.
"The elements we're going for are sweet, salty, bitter, texture and crunch," affable assistant pastry chef Jordan Pilarski chimed in. Pilarski studied baking at Johnson & Wales University in Providence, Rhode Island, and worked for Ritz-Carlton for several years before joining forces with Guehr to oversee the baking and pastry production.
Both use their imagination to update house classics such as éclairs and fruit tarts, occasionally pushing new flavor combinations. Each creation has its own intricate layers of delicacy and richness from natural fruit flavors. Pastries and plated desserts range in price from $8 to $15.
For the lemon raspberry tart, Pilarski bakes a lemon madeleine cake with lemon curd and raspberry jam inside a vanilla tart shell. He then places the tart on a turntable and pipes it with Swiss meringue. When you cut the dessert in half it looks like a psychedelic Hershey's Kiss.
For the holidays, Pilarski reimagined a Santa's Hat in a neoclassical style. He infuses the citrus cheesecake mousse-filled pastry with red berry jelly and pistachio sable and adds a vanilla marshmallow pom pom for holiday pizazz.
Besides pastries and desserts, the cafe offers a rotating menu of French-inspired breakfast and lunch classics such as quiche ($14.50), croque monsieur ($16.50) and salmon Niçoise ($22), as well as original dishes inspired by European tastes, such as Blue Crab crêpe with lemon hollandaise ($24), duck confit with cinnamon-walnut bread, sauteed mushrooms, onion jam, arugula and dijonnaise ($19.50) and smashed avocado with pickled red onion, cucumber, microgreens, cherry tomato, French feta and soft boiled egg on whole grain toast ($15.50).
Guehr collaborates with consulting chef Leonard Gensolin, formerly of Four Seasons Resort The Biltmore, on the menu.
"I design the menu and he executes it. We bring the five-star experience to a local bakery."
Alessia Patisserie & Cafe
Open for breakfast and lunch Tuesday through Friday 7 am to 3:30 pm. Weekend brunch from 8 am to 3 pm. 134 East Canon Perdido Street, (805) 679-5900, alessiapatisserie.com.     
You might also be interested in...