Our Town's 19th Annual Celebration of School Holiday Concerts
'Tis the season to celebrate the plethora of annual holiday concerts at schools around Montecito, with many restricted in-person events held outside due to ongoing concerns over COVID-19.
Here is Part I of our roundup from Santa and me:
Cate School
Cate School's motto is "Servons" (we serve), which is noted in its holiday tradition of sponsoring local families in Carpinteria for its annual Holiday Cheer program. Cate received a wish list from the families in the Carpinteria program. Members of the school's varsity basketball teams collect donations from campus dorms, which are combined with faculty and parent contributions. The money is used to purchase the needed items such as clothes, books, household items, groceries, and gift cards. Direct delivery to the families will be led by Will Holmes, Cate Community Engagement lead, and student helpers — all using strict COVID precautions.
On Saturday, December 4, Cate students volunteered at Girls Inc. Carpinteria, assisting with painting, landscaping, and organizing for the Girls Inc.'s Holiday Cheer Program.
Students Lylie Bechtel and Tatiana von Bothmer organized a clothing swap, offering students a chance to swap, exchange, or donate clothes, culminating in half a dozen large bags of clothes donated to the Transition House of Santa Barbara.
Pre-Thanksgiving break, student Ellie Tunnell led Cate's food drive in Carpinteria that generated 400 pounds of food to support the "kitchenless" during the holidays. Tunnell works with Santa Barbara Food Rescue to redistribute food waste at Cate to local nonprofits.
Musically, December 12 saw the Cate Jazz Big Band performance and an open mic Holiday Coffee House on campus. On December 13, the school held its annual Winter By Candlelight concert in the school chapel, returning after a two-year hiatus. All events were for students, faculty, and staff only.
Cold Spring School
Cold Spring School's Winter Sing (fourth through sixth grades) was held outside to family and friends on December 10 at 9 am. It was the top of the pops, delivering an upbeat program selection, a seamless performance on key, and a Fosse-esque choreography in perfect time. The students only had five weeks to learn and rehearse the show, make their own ukuleles, create props, and learn to dance with snow from a snow machine. Sound amplification was professional, along with their three-piece band: Bryan Smith on drums, Jim Rankin on bass, and Jay Real on keys. Huge nod to music director Sara DiSalvo, with Katie Szopa and Anya McCue for choreography. Program highlights were the fifth grade playing their ukuleles and singing to "Christmas Jig," "Light the Candles," "Blitzen's Boogie" with Broadway choreography, and "Winter Fantasy" during the finale with real snow.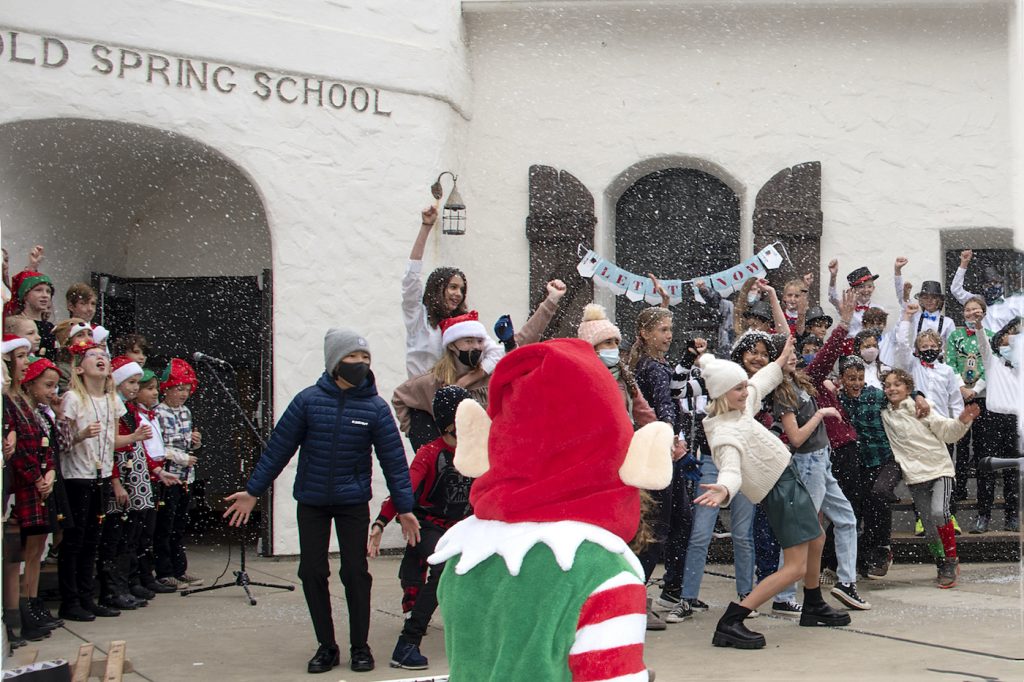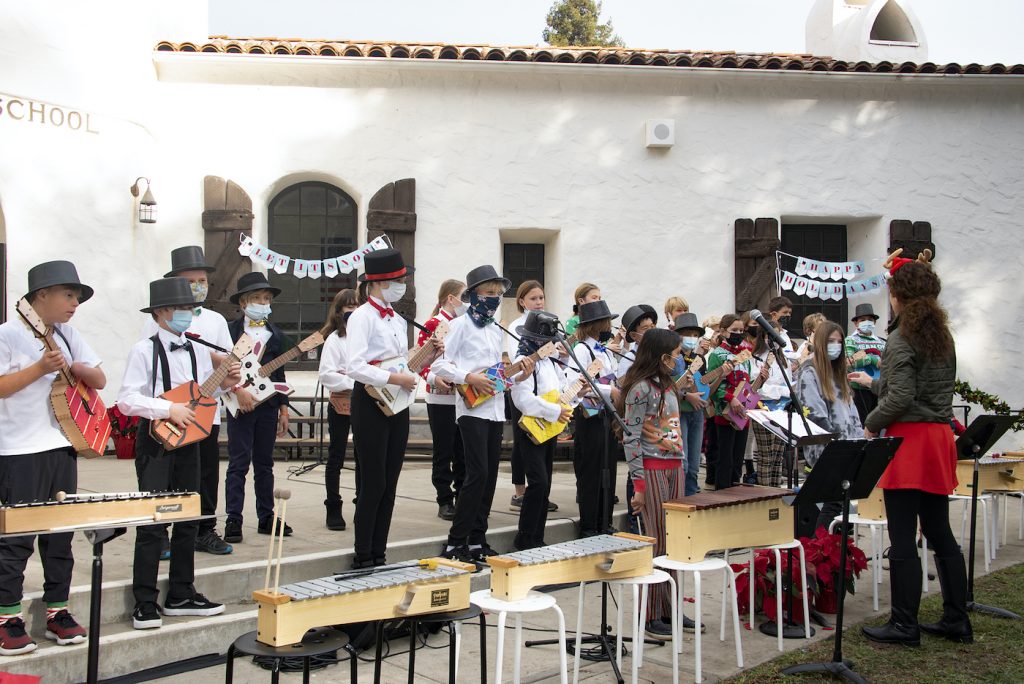 Montecito Union School
Montecito Union School opted to professionally video their Winter Sing and Strings Ensemble concerts over two days outside on school campus, to send to MUS families to view over the holiday. It was a closed set, so I talked with Music Director Pam Herzog and Strings Director Ron Zecher for the program highlights and for a few behind-the-scenes photos. The Strings Ensemble program (second grade) performed "Blast Off," "Rolling Along," and "Good King Wenceslas." The third grade performed "Grade Dreidl," "Jingle Bells," and "English Round." The MUS String Orchestra performed "Caravan of Kings," "Dreidl Adventure," and "Bile 'Em Cabbage Down." 
Herzog's MUS chorale program included their annual favorites, "Listen," "Sambalelé, "Balafon and Two-Three, "I Got Rhythm, "Cookie Baking Song, "Sleigh Ride, "Make a Little Music for Hanukkah," "Ding Dong Merrily on High," and "Hot Chocolate." The kindergarten and first graders performed choreography to two songs.
"We are grateful to Performance Memories for capturing and filming our concert which will allow our families to enjoy the music over the winter break," Herzog said.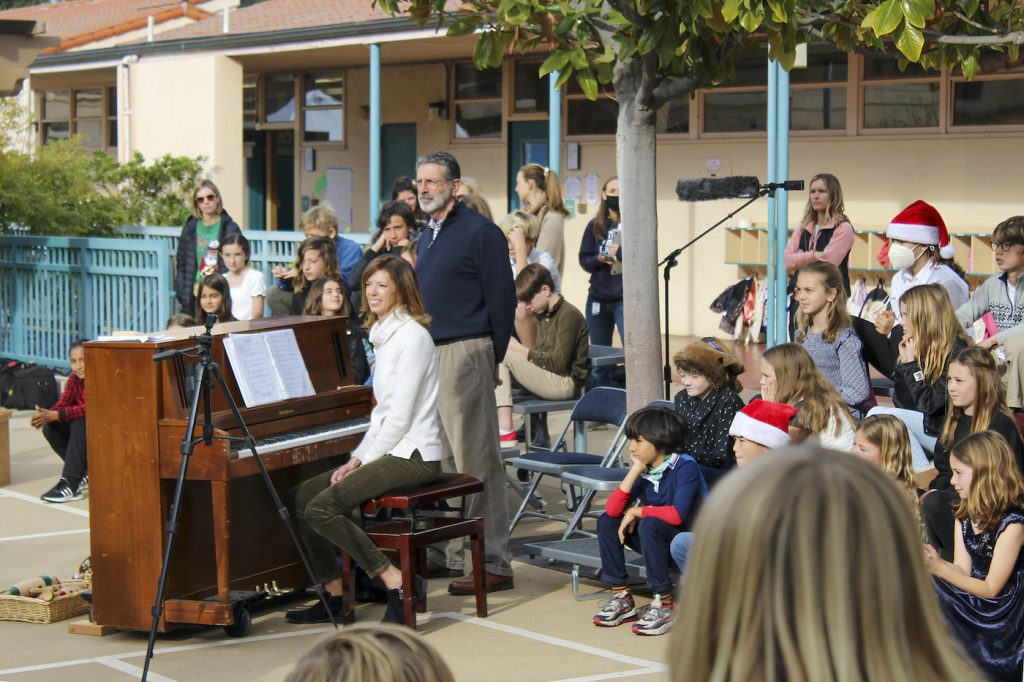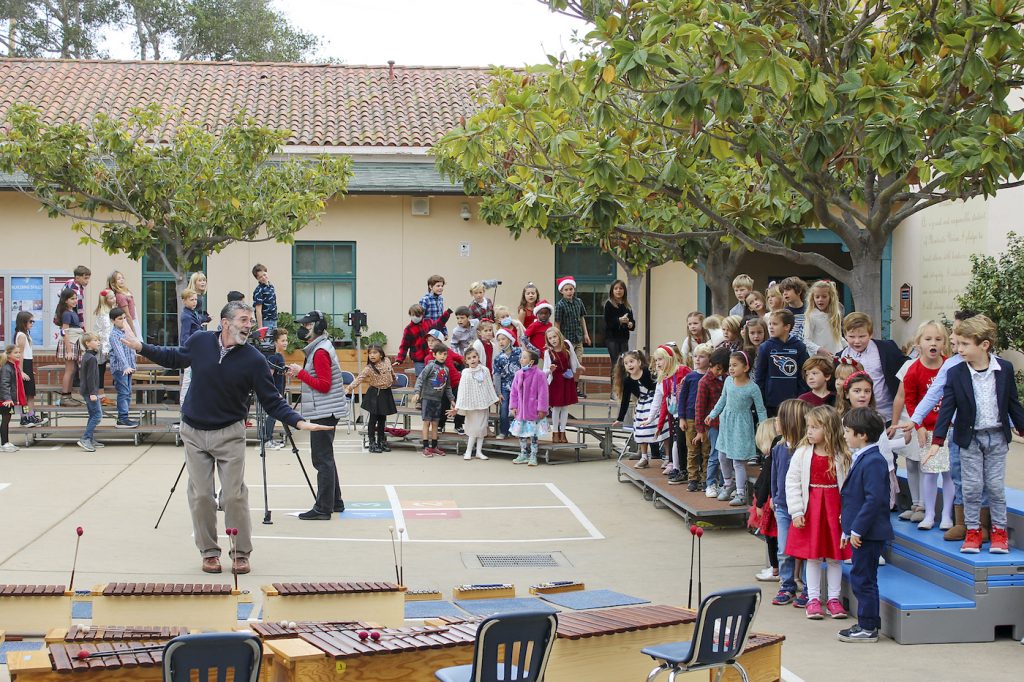 Laguna Blanca Lower School
Laguna Blanca Lower School held their winter concert outside at its Montecito campus on December 9 at 6 pm. To pay respect to the prior landowners, the event started with a Chumash prayer and song by Mia and Keli Lopez and Spenser Jaimes. The ambitious program had close to 30 songs, and lasted two hours. The songs were led by music instructor Molly Markstrum, with program highlights including "Jingle Bells," "Watch the Stars," and audience participation during "Frosty the Snowman" with attendees wearing black top hats.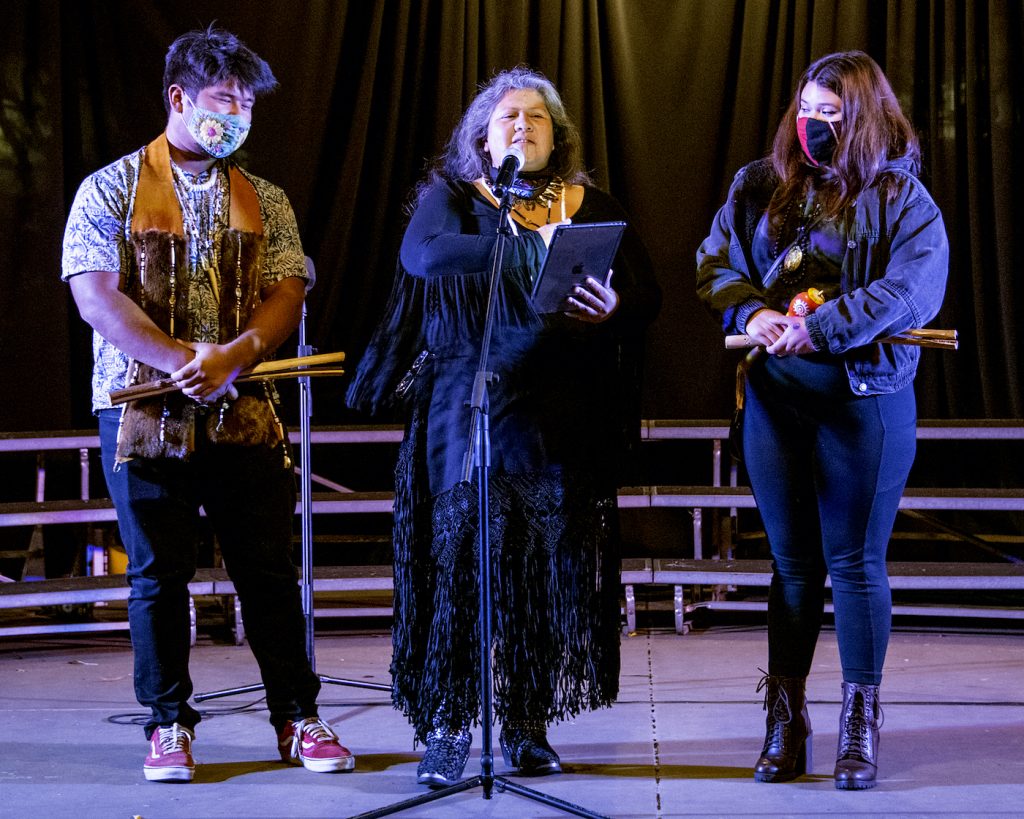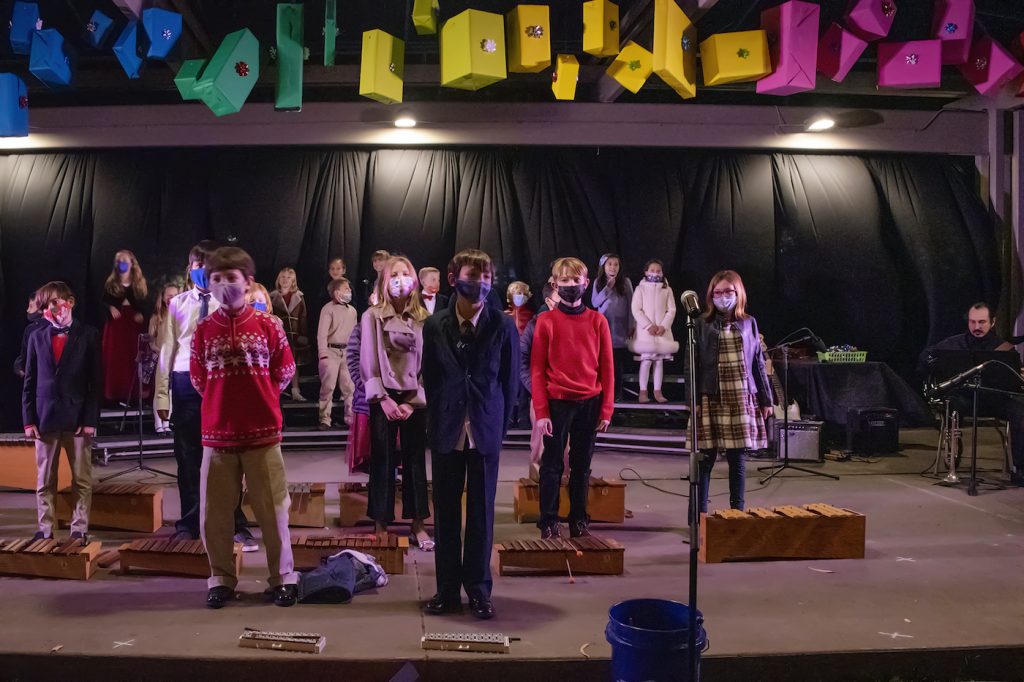 You might also be interested in...