Montecito Trails Replaces Bridge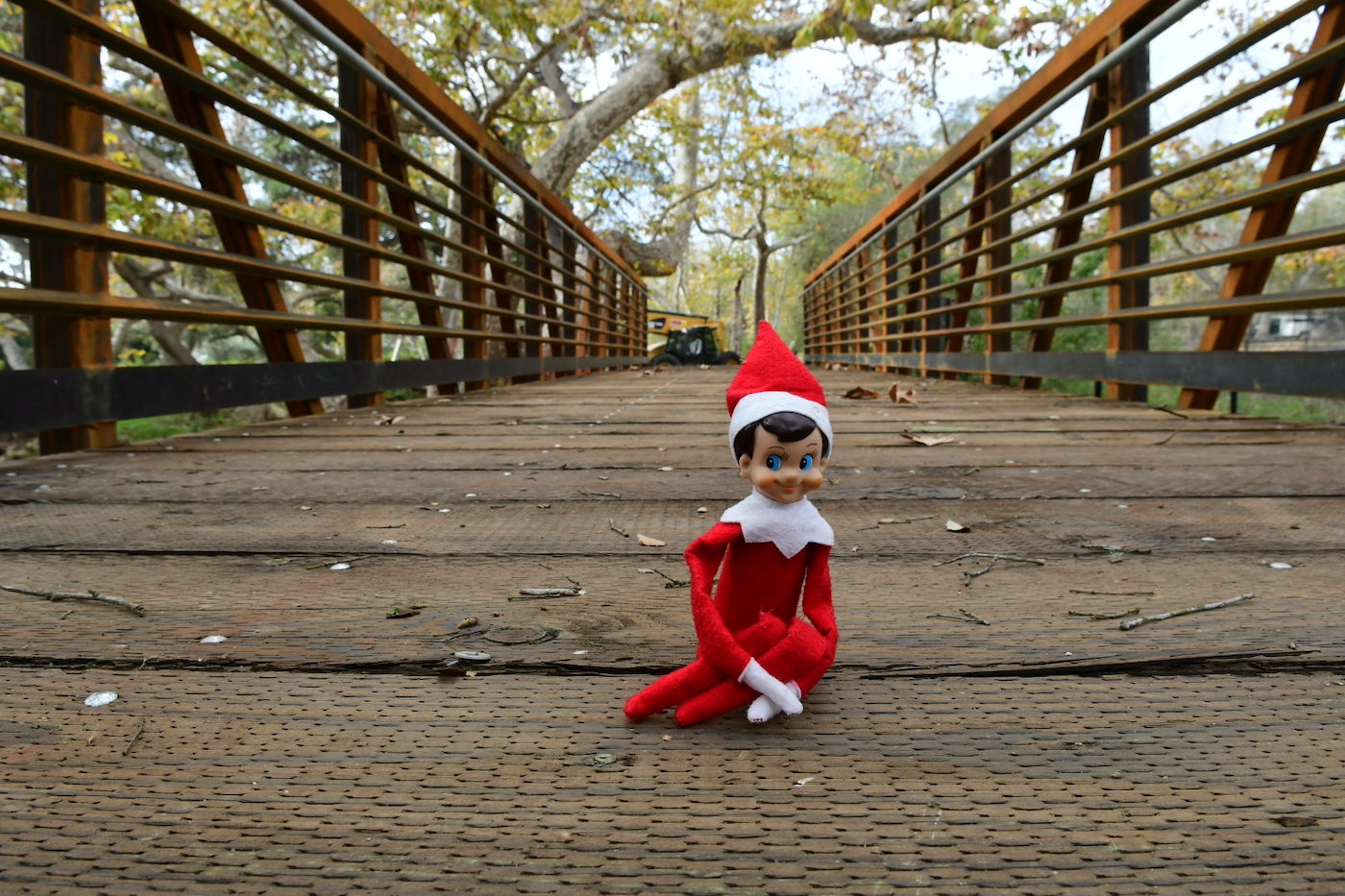 Last week was an exciting moment for the Montecito Trails Foundation as well as the community at large: the last of the bridges to be damaged or destroyed in the 1/9 Debris Flow was replaced, a project nearly four years in the making.
"In order to create the best access for the public, we needed to replace this bridge," said MTF president Ashlee Mayfield. The walking bridge was swept away during the debris flow, as water raged down Montecito Creek.
Because the bridge is partially on private property and part of the "Casa Dorinda Open Space" aka the Peter Bakewell Trail, the bridge was not eligible for FEMA funding. MTF vowed to fund the replacement of the bridge, which is often used by kids walking to Montecito Union School.
"It's highly used, and the temporary path that we created through the Casa Dorinda entrance felt like an imposition. It was really important to get this bridge back," Mayfield said.
The bridge was designed by Peter Lapidus, and was installed last week. The cost to replace the bridge was $65,000. For more information about Montecito Trails Foundation, visit www.montecitotrailsfoundation.info.
Montecito Association Discusses Crime
At their monthly board meeting earlier this week, the Montecito Association Board of Directors received a briefing from Santa Barbara County Sheriff Lieutenant Butch Arnoldi, who reported crime numbers for the Montecito area over the last year.
Overall, while the number of certain crimes are down over pre-pandemic years, there has been a rash of residential burglaries in the past several months; many of these brazen burglaries have resulted in losses of millions of dollars of jewelry, cash, and other valuable items.
There have been 31 residential and commercial burglaries so far this year, compared to 13 in 2020 and 36 in 2019. Arnoldi said the residential crimes have run the gamut from occurring in broad daylight while homeowners are gone running errands, to happening at night when homes are unoccupied, to "inside" jobs where people who are familiar with the home are committing the crime. For the most part, the perpetrators of these crimes are from outside the area, and they seem to be targeting homes all over Montecito.
Just in the month of November, there were residential burglaries on Paso Robles, Stonehouse Lane, Torito, two on Ortega Ridge, and two on Santa Rosa Lane. One of these burglaries resulted in the loss of more than 16 watches, including one valued at $500,000. Other crimes reported in Montecito in November include stolen property at Loon Point, multiple DUI arrests, attempted burglary on Buena Vista, golf cart stolen at the Rosewood Miramar Beach, packages stolen from a FedEx driver on East Mountain Drive, catalytic converter theft on Eucalyptus Lane and San Leandro Lane, and a drug arrest from a suspicious vehicle near Edgecliff Lane.
Also this year there have been nine assaults, 36 thefts from vehicles, and 14 DUIs, as well as two cars stolen. Arnoldi says calls for service have gone down considerably, while some neighborhoods are reporting on social media sites like NextDoor that crime has seemingly increased. There are even some reports that thieves are casing neighborhoods by using drones.
Arnoldi says the number one thing people can do is to "see something, say something." If a vehicle or a person looks like they are out of place in the neighborhood, call authorities. Other ways to deter crime include keeping doors and windows locked at all times (especially the door from the garage to the house), increase lighting outside, installing security systems, not keeping extra house keys in vehicles, registering your vehicle to a PO box or business instead of residence, and having listing photos and floorplans removed from the local multiple listing service as soon as possible after the sale of your home.
The consensus at the meeting was that criminals are getting creative and as brazen as ever, and residents should be on alert. Members of the MA Board discussed a neighborhood watch, which will be further discussed at a future meeting. Santa Barbara Sheriff's Office non-emergency dispatch number is 805-683-2724. For an in-progress emergency dial 911.
During Community Reports, Fire Chief Kevin Taylor said that fire season has officially ended, and that this recent storm brought more than six inches of rain to the front country. Despite two hours of high intensity rainfall, the flood control systems in Montecito functioned as intended.
Montecito Water District GM Nick Turner said the storm brought enough rain that irrigation is not needed through the rest of the year.
"It will take much more than this storm to get us out of the extreme drought," he said.
Turner also said that there has been a downward trend in water use thanks to voluntary customer conservation, and he hopes that trend will continue. Deliveries of desalinated water will begin on January 1. The 50-year desal agreement with the city of Santa Barbara will provide the District with 1,430 acre feet of water per year.
For more information about the Montecito Association, visit www.montecitoassociation.org.
You might also be interested in...