A Beautiful Night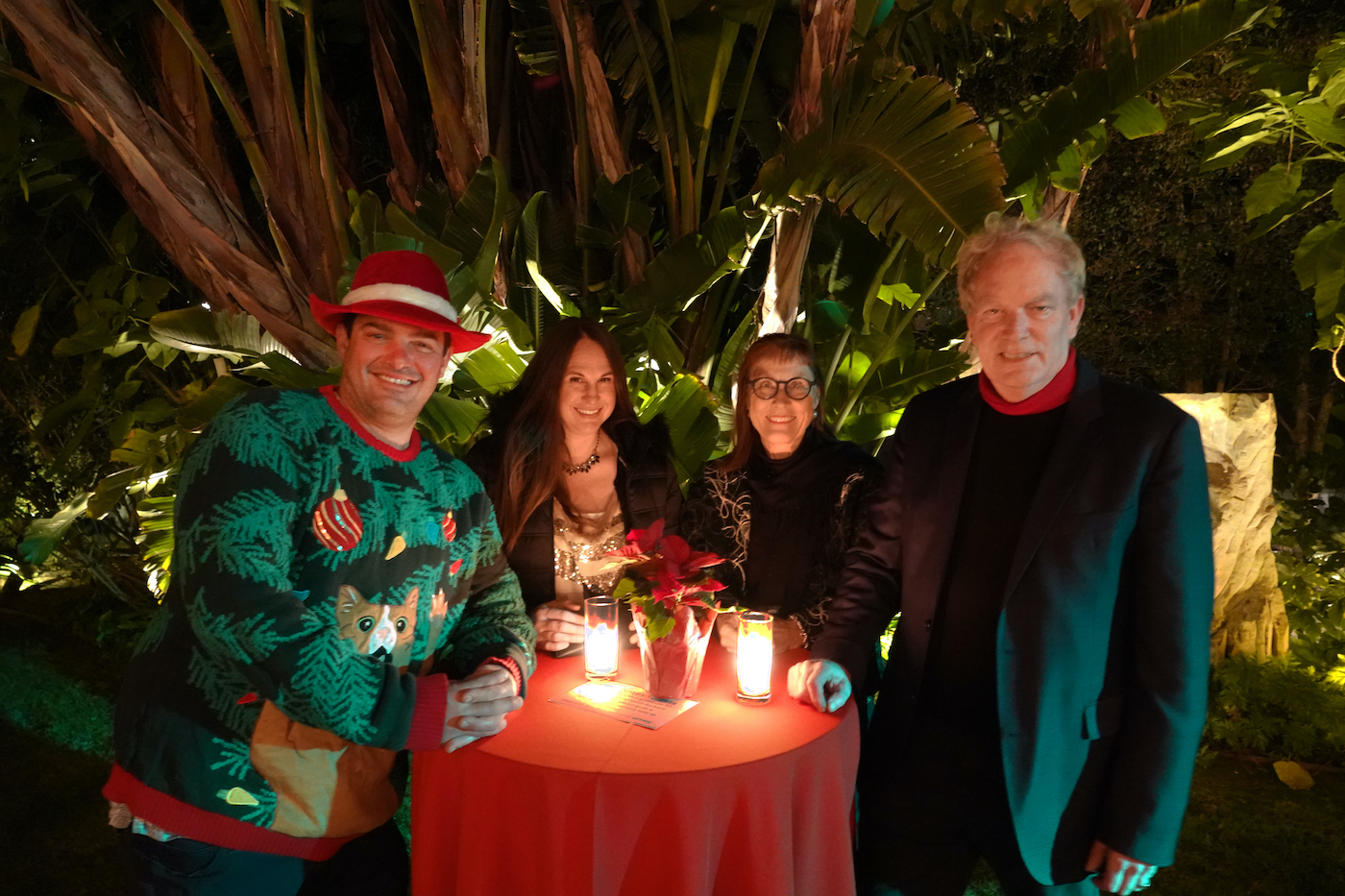 Santa Barbara Beautiful celebrated Christmas with a boffo beano for 90 guests at the Mesa estate of new board member Santa Barbara County architect Robert Ooley.
The 56-year-old organization gives out grants between $50,000 and $100,000 annually to help beautify our Eden by the Beach.
"We are thrilled to be doing this," gushed president Deborah Schwartz. "It has obviously been a challenge, but now we have a newly bonded board that is looking to the future."
The band Together Again entertained, with DJ Delusa.
Among those noshing on the Lorraine Lim-catered comestibles were Gregg Hart, Carole Ann Bottoms, Kim Hunter, Lauren Trujillo, Nicole Hernandez, and Cassandra Ensberg.
A beautiful bunch, indeed.
History Made
Santa Barbara Historical Museum hosted its annual Yuletide bash for 250 guests, with the Westmont Chamber Singers warbling traditional carols and the band, Element, providing some high velocity contemporary sound.
"We are all so glad to be back meeting each other face to face after the pandemic restrictions," says Dacia Harwood, museum director.
Pizzas and tacos were provided by Santa Barbara Woodfire Catering, while Anna's Bakery in Goleta took care of the individually wrapped plated desserts.
Among the tony throng turning out to celebrate were George Leis, Gretchen Lieff and Miles Hartfeld, Rick Oshay, Jeremy Lindaman, Kathi Brewster, Bill Burtness, Luke Swetland, Diane Dodds Reichert, fun-loving Franciscan friar Larry Gosselin, Bill and Kristin Reynolds, Kevin and Sheila Snow, Carol Wathen, and Evie Sullivan.
A Home of Legends
The Beverly Hills home owned by legendary actor Kirk Douglas and his wife, Ann, is on the market for $7,495,000.
The tony twosome, who died within months of each other in 2020 and 2021, both aged more than 100, split their time between their 4,468-square-foot, four-bedroom, five-bath Big Orange estate and their home in Montecito, just a tiara's toss from the Upper Village.
The Los Angeles home boasts a personal Hollywood Walk of Fame in the garden with steppingstones personally signed by a host of iconic films stars, including President Ronald Reagan, Frank Sinatra, Roger Moore, Jane Fonda, and Robert Taylor.
The one-story traditional residence was built in 1921. The 15,503-square-foot lot also includes a two-story detached guest house, pool, and spa.
On the Market
The Washington, D.C. home of culinary goddess Julia Child, where she whipped up some of her most famous dishes that appeared in her classic book, Mastering the Art of French Cooking, has hit the market for $3.5 million.
The 3,150-square-foot clapboard house in the exclusive suburb of Georgetown was Julia's home from 1948 to 1959. During that time, she also lived with her husband, Paul, in Paris, where she began her legendary journey to culinary fame.
The three-bedroom, three-and-a-half bath property has been restored and renovated by its current owner, who bought the two-story home in 2015 for $935,000.
Julia spent the last chapter of her colorful life at Casa Dorinda in Montecito until her death in 2004 at age 91.
A pioneer of TV culinary shows, her program The French Chef debuted in 1963.
Supersized
Superyacht construction is at an all-time high.
This year saw a 25% increase in mega yacht orders with a record 1,200 boats commissioned, smashing the prior record of 1,000 commissions in 2009, according to the latest edition of Global Order Book.
Orders of smaller boats — 78 feet to 98 feet — have driven the surge with more than 400 commissions, a rise of 30.5% year on year.
Commissions for superyachts — described as leisure boats with an average length of 98 feet to 148 feet — were also up by 28% and 10.5% for boats over 328 feet.
Italy topped the table with 523 orders.
Don't Be Silly
Former Montecito funnyman John Cleese, 82, whose "Ministry of Silly Walks" sketch in Monty Python in 1969 is the stuff of comic legend, says it would be impossible for him now.
Speaking on BBC Radio's "Private Passions," John, who now has two artificial hips, an artificial knee, and a badly infected left big toe, says a reprise is out of the question.
RIP, Charlotte
On a personal note, I mark the move to more heavenly pastures of Charlotte Mailliard, the long reigning chief of San Francisco protocol and unofficial aide to 10 mayors, who has died aged 88 at her Stanford University home.
I first met Charlotte, a Texan, when he was deputy chief of protocol under Cyril Magnin, whose family founded the Joseph Magnin department store chain, when she married real estate developer Melvin Swig, owner of Nob Hill's Fairmont Hotel, where I used to bunk when I was regular on the ABC affiliate, KGO's new a.m. show Good Morning Bay Area, flying out from my Manhattan home every ten days.
In February, Charlotte lost her third husband, former U.S. Secretary of State George Shultz, who died at the age of 100.
One of my abiding memories is the time she threw a charity fundraising lunch in the park in Union Square in front of the Westin St. Francis hotel. The vagrants hanging out did not take kindly to the city's swells invading their locale and started throwing old soda cans and anything else they could get their hands on.
The likes of legendary Chronicle columnist Herb Caen and I had to flee the scene to avoid injury.
Charlotte was a gracious and delightful lady who did innumerable things for Baghdad by the Bay, her adopted home.
Sightings
Beach Boy Bruce Johnston at the Montecito Country Mart… New York Yankees slugger Giancarlo Stanton at the Rosewood Miramar… Winemaker Fred Brander getting his Java jolt at the Pierre Lafond.
Pip! Pip! Be safe, wear a mask when needed, and get vaccinated.
You might also be interested in...