Montecito Market Update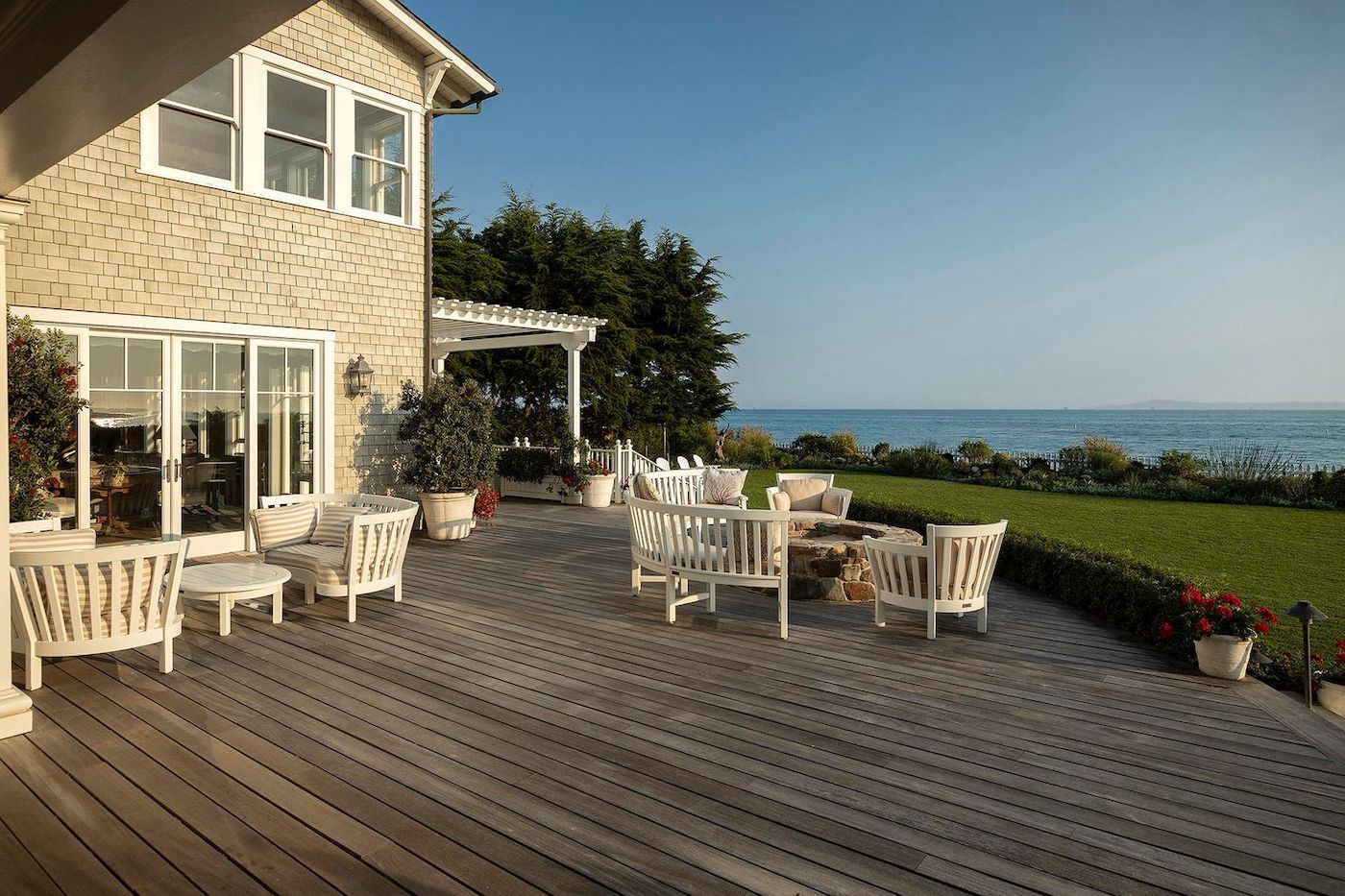 As we head into the holiday season, the Montecito real estate market has slowed considerably; as of press time there have been just 39 sales so far in Q4, compared to 99 sales in the same time period last year. Q3 saw a slowdown as well, with 82 sales from July through September, compared to 127 in Q3 last year. Typically in Q3 (the summer months), we see about 50 sales in Montecito. Year-to-date, there have been 319 sales of homes, condos, land, and estates, compared to 328 sales during the same timeframe last year.
Looking at sales prices, median sales price is up about 5%: $4,475,000, compared to $3,062,500 in 2020. Average sales price is $5,849,000, up from $4.1 million in 2020, year-to-date. Sales in Montecito have been diverse, from a $669,000 adobe on Coyote Road to the legacy sale of 1.13 acres on Fernald Point for $45 million, which sold off market in March. 1104 Channel Drive also sold, for an impressive $31.25 million after being on and off the market since 2016.
Listings: A Winter Cool Down
As is expected when the weather cools and we approach the holidays, we are seeing a drastic lack of inventory in the Montecito market, along with the greater Santa Barbara County market. As of this writing there are currently 45 active properties in Montecito, as well as five additional listings currently in escrow. There are two properties marked "Coming Soon" in the Santa Barbara MLS in Montecito.
There are currently about 177 active listings total from Goleta to Carpinteria, including homes, condos, and PUDs. 43 of these are currently pending. This translates to just a 1.1-month supply of homes if no other homes are to come on the market. (A six-month supply is considered a balanced market; fewer than six months is considered a sellers' market and over six months is considered a buyers' market.) Last year at this time we had a two-month supply of homes. In a typical year, we'd have about 350 homes available to purchase in the month of November. With only 177 current listings, we are still dealing with a staggering lack of inventory, which continues to put upward pressure on our prices.
Higher End Homes Selling
The sale of ultra-high-end homes has been nothing short of staggering this year. Since January 1, we've seen the sale of 37 homes of more than $10 million. Last year that number was 13. In 2020, three of those sales were more than the $30 million mark; this year just two exceeded $30 million. In the $20M range, we saw a significant sale in Ennisbrook on Las Entradas Drive, a view property designed by George Washington Smith on Park Lane, a 3.5-acre estate on Picacho Lane, and a cluster of sales near the beach on Channel Drive.
Montecito's Hedgerow continues to be a hot spot for those looking for the quintessential Montecito home. There were over a dozen sales in this area, ranging in price from about $3 million to nearly $12 million. A notable home on Mimosa Lane was listed for sale in both 2020 and 2021. In 2020, it was listed before the pandemic began, for just under $9 million, and didn't sell. It was relisted in early 2021 for $11.5 million and sold quickly for over asking, closing at $11.7 million. Further proof that the pandemic changed our market temperature significantly.
South Santa Barbara County
Looking at the entire South Santa Barbara County market, the emerging data shows a big difference between November 2021 and November 2020 in number of units sold (93 homes/PUDs in 2021 versus 147 in 2020), median sold price ($1.905 million in 2021 versus $1.725 million in 2020), average sold price ($3 million in 2021 versus $2.5 million in 2020), and average days on market (25 in 2021 versus 40 in 2020). Number of pending sales is also down: there are currently 98 homes in escrow versus 133 at the same time last year.
To get a better perspective, let's look at 2019, which we can consider a more "typical" year as it was before the pandemic. In 2019 we had 81 sales in November, the median sold price was $1.27 million, and the average days on market was 51 days. At the end of November 2019 we had 94 pending sales. In terms of number of sales, we are shifting back to pre-pandemic numbers, but in terms of property values, we are still at an all-time high, with a median sales price of $1.9 million and an average sales price of $3.1 million.
The number of total sold properties (not including condos) in the Santa Barbara South Coast is up 19.8% from last year: 1,438 compared to 1,200 in 2020, year-to-date. This is the highest number of sales we've ever seen year to date.
The condo stats in the South County tell a similar story: units sold are up from 429 to 521; median sales price is up 15% to $836,000 from $725,000 last year; average sales price is up 6% to $1.06 million from $937,000; and days on market is down, from 32 days in 2020 to 25 days this year.
Another phenomenon we've seen at an unprecedented rate this year: both our median sales and average sales prices are higher than their respective list prices. There continues to be a high demand for good quality, realistically priced inventory, and the market most definitely favors sellers right now.
Historically, the strongest segment in our South County market has been from $1 million to $1.5 million. The past two years have shifted that activity, with a push towards the $1.7 million-$2.2 million segment. Buyers seem to be stretching to jump into the next price bracket simply because they have no choice! Unfortunately, the lack of inventory spans across all price points, and all buyers are feeling the crunch.
Condo Market Strengthened
This year so far we've seen the sale of 43 condos in Montecito, priced from $849,000 to $5.3 million. This is on par with what we saw last year in the same time period: 46 condos sold in a very similar price range. In 2019, there were only 20 condos that sold. Many of the luxury condo purchasers this year and last are second home buyers from out of town: buyers seeking solace in our area, near the beach. There were 16 sales at Bonnymede and Montecito Shores, five on Coast Village Road, and nine in the Upper Village. Two record sales happened at Coast Village Gardens (1220 Coast Village Road). A lower level 2/2 unit sold in early August for $1,375,000, and a third-floor penthouse (2/2) sold for $1.7 million later in the same month. There was a time not long ago when the building had multiple units for sale under $1 million, which sat on the market for months. Again, proof of our unprecedented sellers' market right now.
What's Next for Our Market
As we head into December, it's likely that the lack of inventory will continue, as it's not typical for most sellers to list their homes around the holidays. Listing in December could be a solid strategy for sellers looking to get the absolute best price, as less competition usually means more eyes on your listing.
That being said, many buyers may put a pause on their search in December, in an effort to hold out for the spring, which we all hope will bring a much-needed bump in inventory. But let's be honest: if a home comes on the market that greatly appeals to a buyer, they are most likely going to go for it, even if the holidays are right around the corner. Buyers will continue to enjoy low interest rates, and with last week's news of a significant increase in conforming loan limits, qualifying – and buying – just got easier for a lot of people.
In Montecito and in the South County in general, it's likely that price appreciation will continue to climb, but, dependent on the number of new listings that come to market, appreciation could occur at a slower pace than we've seen this year and last. Some price segments – not necessarily in Montecito – are susceptible to the slight rise in interest rates we are expecting next summer. We are also seeing a lot of buyer fatigue, which could impact activity. In order to appease all the buyers in our market and shift from a sellers' market to a buyers' market, we would need to flood the market with dozens, if not hundreds, of listings, which I just don't see happening anytime soon.
You might also be interested in...