Fabulous Flowerpots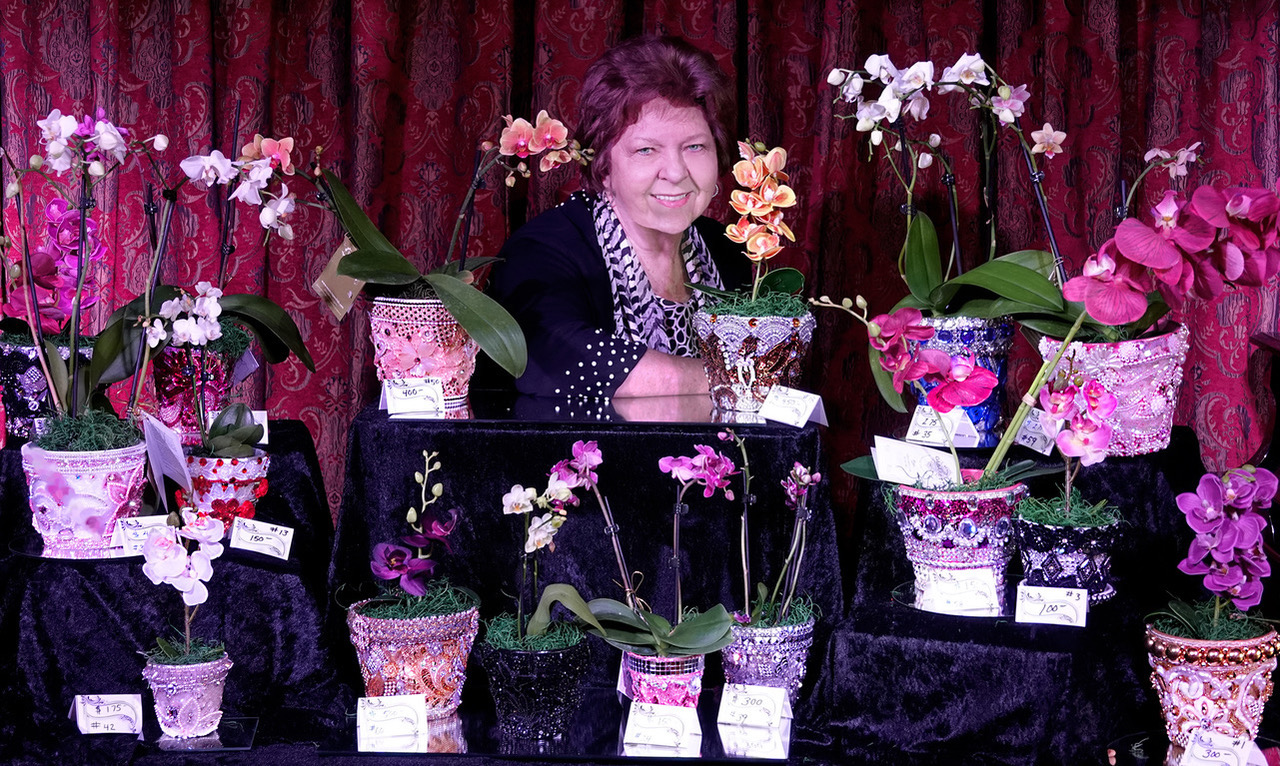 Arlene Larsen, co-owner of Montecito's Magic Castle with her husband, Milt, is going to pot!
During the downturn caused by the pandemic, Arlene has been busy making one-of-a-kind flowerpots from trim, fabric, and jewelry she has been collecting over the past six decades.
"I've been making and selling costumes since I was 15 years old," says Arlene. "I started in the theater and collected broken jewelry and scraps anyone would discard. To them it was trash, to me it was beautiful.
"The very best leftovers were from costumes made for Carol Burnett, The Dean Martin Gold Diggers, and all the big production numbers the networks produced in the 80s."
All the pots, as extravagantly decorated as a Faberge egg, feature silk or fresh flowers, and retail from $100 to $1,000, depending on their ornateness.
"I started making these four months ago and I spend many hours on each one," adds Arlene. "It is like putting a jigsaw together. They are quite magical!"
While I was interviewing her at the old Cafe del Sol location, she received the good news that the city had now issued her a permit which will enable the Magic Castle to reopen in the New Year after innumerable planning delays, which even made the dynamic duo consider selling the property a few months back.
The pots, of which only 61 have been made, are available at zamagic@aol.com.
Crying Roses?
Maroon Five rocker Adam Levine, known for his colorful collection of tattoos, has showcased new artwork in a completely new area.
The 42-year-old Montecito-based musician debuted a rose on his face near his left eye when he attended a boffo bash at the Art Basel in Miami.
People's 2013 Sexiest Man Alive was joined by his Namibian model wife, Behati Prinsloo, 33, on the red carpet.
The tony twosome live just a tiara's toss from the estate of Santa Barbara warbler Katy Perry and her British actor fiancé Orlando Bloom.
Wreaks of Positivity
Montecito's Michael J. Fox has managed to stay upbeat over the last 30 years famously battling Parkinson's Disease.
The longtime actor says he has found purpose and joy despite living with the disease.
Michael, 60, is married to actress Tracy Pollan, 60, who played his girlfriend in Family Ties. They have four children — Sam, 32, twin daughters, Aquinnah and Shuyler, 26, and daughter Esme, 20.
The Back to the Future actor tells AARP magazine he has stayed positive through all the tough times.
"Gratitude makes optimism sustainable," he says profoundly. "If you don't think you have anything to be grateful for, keep looking!"
On the Market
Oscar winning actress Gwyneth Paltrow is now a California girl after buying her estate in our rarefied enclave.
But now, I hear, her old home on Manhattan's oh-so tony Upper Eastside is on the market for $14.5 million.
The 19th century, seven-bedroom, eight-bath residence was bought in 1984 by Paltrow's parents, the late director-producer Bruce Paltrow, and actress wife Blythe Danner.
At the time, Gwyneth, then 12 years old, was attending the elite Spence School nearby.
The sprawling 7,205 square-foot, 20-foot-wide townhouse was sold in 1992 when she was 20.
RIP, Arlene
On a personal note, I remember actress Arlene Dahl who died at her New York home aged 96.
Dahl, mother of actor Lorenzo Lamas, 63, starred in the 1955 film Journey to the Center of the Earth with James Mason and Pat Boone.
A charming, always elegantly attired lady who I would see often on Manhattan's society circuit with her husband of 37 years, Marc Rosen, she was married six times, including screen star Fernando Lamas and Lex Barker.
She was known for her striking red coiffure.
Sightings
Former CBS talk show host David Letterman with a TV crew on Miramar Beach… Actress Eva Mendes checking out the vintage stores in Carpinteria… Zooey Deschanel and beau Jonathan Scott at the Rosewood Miramar
Pip! Pip! Be safe, wear a mask when needed, and get vaccinated.
You might also be interested in...