Paying it Forward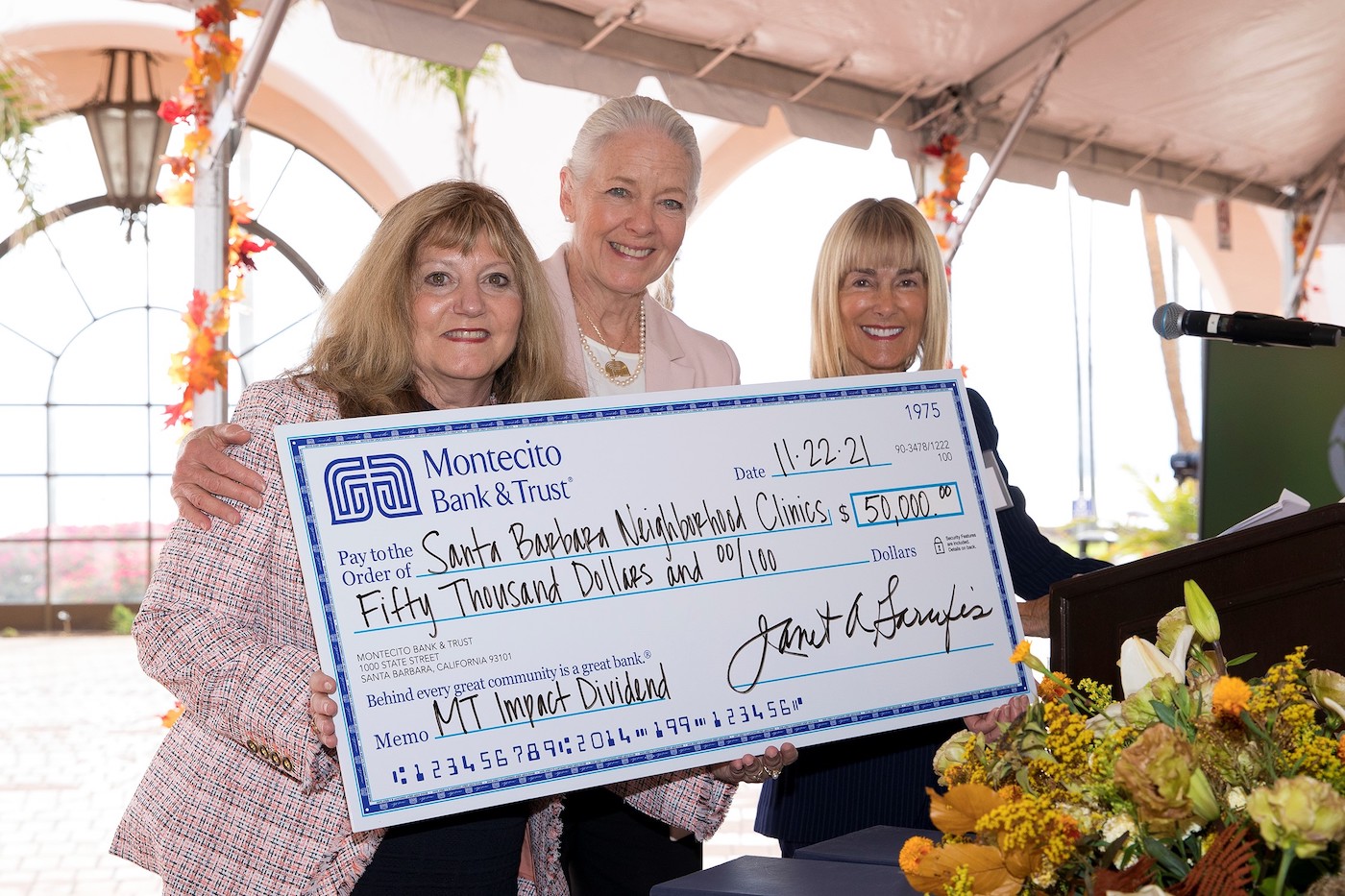 It was a very in-tents occasion when Montecito Bank & Trust erected a giant marquee in the rotunda at the Hilton for its 17th annual Community Dividends lunch when $1 million was given to 179 worthy organizations from the local community.
The late Mike Towbes, founder of the bank, always described the event as his favorite of the year, and no wonder with hefty additional checks totaling $150,000 being handed out by bank chairman Janet Garufis and Anne Towbes, Mike's widow — $50,000 to Santa Barbara Neighborhood Clinics to support its collaboration with Cottage Health Systems, and $100,000 to the Housing Trust Fund of Santa Barbara for its new 3D-printed affordable home project.
Many of the nonprofits in the room were also recipients of Paycheck Protection Program (PPP) loans organized by the bank's relief center during the peak of the COVID crisis, which provided a hefty $115 million through 1,732 loans, a median loan amount of $20.7 thousand, ranking it the number four lender on the Central Coast.
"The lessons of the last 20 months inspire us to keep looking forward to what's possible," said Janet. "We have learned a lot – about ourselves, our communities and how a business or an organization can adapt at critical moments, reinvent themselves, and persevere through change."
Legacy awards were presented to Linda Johansen for outstanding community service and Maria McCall for outstanding customer service. The bank, which normally throws the event at the currently closed Coral Casino, now boasts assets of $2.29 billion, with associates putting in an impressive 4,675 hours of volunteer work.
Among the 200 guests turning out in the 80-plus degree weather to nosh on the traditional Thanksgiving fare were Rona Barrett, George Leis, Greg Gorga, Michael Baker, former mayor Helene Schneider, Tom Reed, Roger Durling, Dean Noble, Luke Swetland, Peter Jordano, Caren Rager, and Carrie Towbes.
You might also be interested in...