Literary Gift Ideas
We love good books, and we cannot lie!
Choosing which books to give beloved friends and family, however, is not an easy task. With the holidays coming up, here are some staff picks for books that might be worthy of your consideration. For older kids and teens, it's much more difficult to throw out titles without knowing more about them.
You can always be a grinch, though, and wrap up library books to put under the tree. The kids are so excited to unwrap them and then it's a solid chuckle every year for the giver. Surprise!
Board Books, Age 0-2:
How Do You Dance? by Thyra Heder 
Beautiful drawings and goofy dance moves, dancing is for everyone
Swallow the Leader by Danna Smith and Kevin Sherry
Library kid favorite, early math, and a dark end for fish who get swallowed (eek!)
My Friends by Taro Gomi 
A teacher favorite, the word patterns and bright colors are great for pre-readers
Little Kids First Board Book: Weather by Ruth Musgrave
Science basics about the weather lead to conversations and discovery
Picture Books, Age 3-6:
If Kids Could Drive by Marisa Kollmeier
Cartoonish graphics and wildly imaginative, kids will enjoy this clever fantasy
Mr. Complain Takes the Train by Wade Bradford
A grumpy guy (picture Humpty Dumpty) goes on an unexpectedly wild train ride
Escargot by Dashka Slater
A snail with a French accent slowly races to a salad, enticing you to adore him
Monster and Mouse Go Camping by Deborah Underwood and Jared Chapman 
Friends go camping, forgetting or eating key supplies to our amusement
Books for Adults:
All the Colors of Life by Lisa Aisato
Gorgeous illustrations depict life stages in a comforting way, a picture book for grownups who appreciate a little tug of the heartstrings this time of year
Home: A Celebration by Charlotte Moss
A design-inspired collection of 122 contributors' personal accounts about the meaning and importance of home, benefiting No Kid Hungry
Knit 'n' Needle is Back!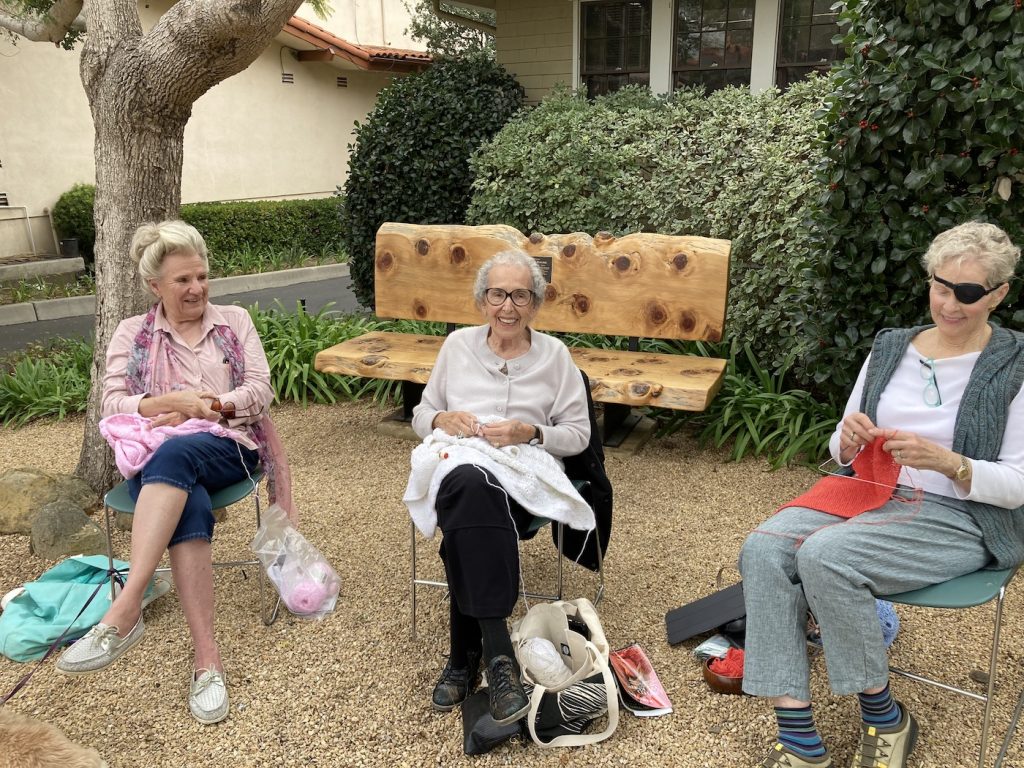 After a long pandemic hiatus, our fiber artists are back for our weekly knitting group. All levels and types are welcome (knit, crochet, embroidery, needlepoint, you name it). The group is led by volunteer Sue Kritz who kept the group going, meeting via Zoom before resuming at the library last month. Many thanks to Sue!
Currently Knit 'n' Needle meets outside every Friday from 1-2:30 pm. Bring a project and enjoy lively conversation with this creative and talented group.
Evening with U.S. Poet Laureate Joy Harjo
Join us December 9 for a virtual poetry reading and short discussion with Poet Laureate of the United States, Joy Harjo. Please register on the library website for the link to join and to submit questions ahead of time at SBPLibrary.org.
Discussing Harjo's An American Sunrise at our Poetry Club last month, the group was quite moved by her powerful and song-like quality of her work. Some of the poems that we read were "Granddaughters," "Falling from the Night Sky," "Bourbon and Blues," "Desire's Dog," and "I'm Nobody! Who Are You?"
Copies of An American Sunrise by Joy Harjo are still available at the library and were supported by NEA Big Read, a program of the National Endowment for the Arts in partnership with Arts Midwest.
December Events
—Library Van at Cold Spring School: Thursday, December 2, 3:30-5:30 pm
—Knit 'n' Needle: Fridays (December 3, 10, 17), 1-2:30 pm
—Storywalk at Lower Manning Park: Wednesday, December 8, 2-3:30 pm
—An Evening with U.S. Poet Laureate Joy Harjo (Zoom): Thursday, December 9, 6 pm
—Montecito Book Club, The Japanese Lover: Tuesday, December 14, Noon-1 pm
—Poetry Club, Margaret Singer: Thursday, December 16, 2-3:30 pm
Winter Closure Dates
—Friday, December 24 – Monday, January 3
Montecito Library Hours
—Tuesday and Thursday,
10 am-5 pm
— Wednesday and Friday, 1-5 pm 
You might also be interested in...