A Place to Celebrate the Lives of Those We've Lost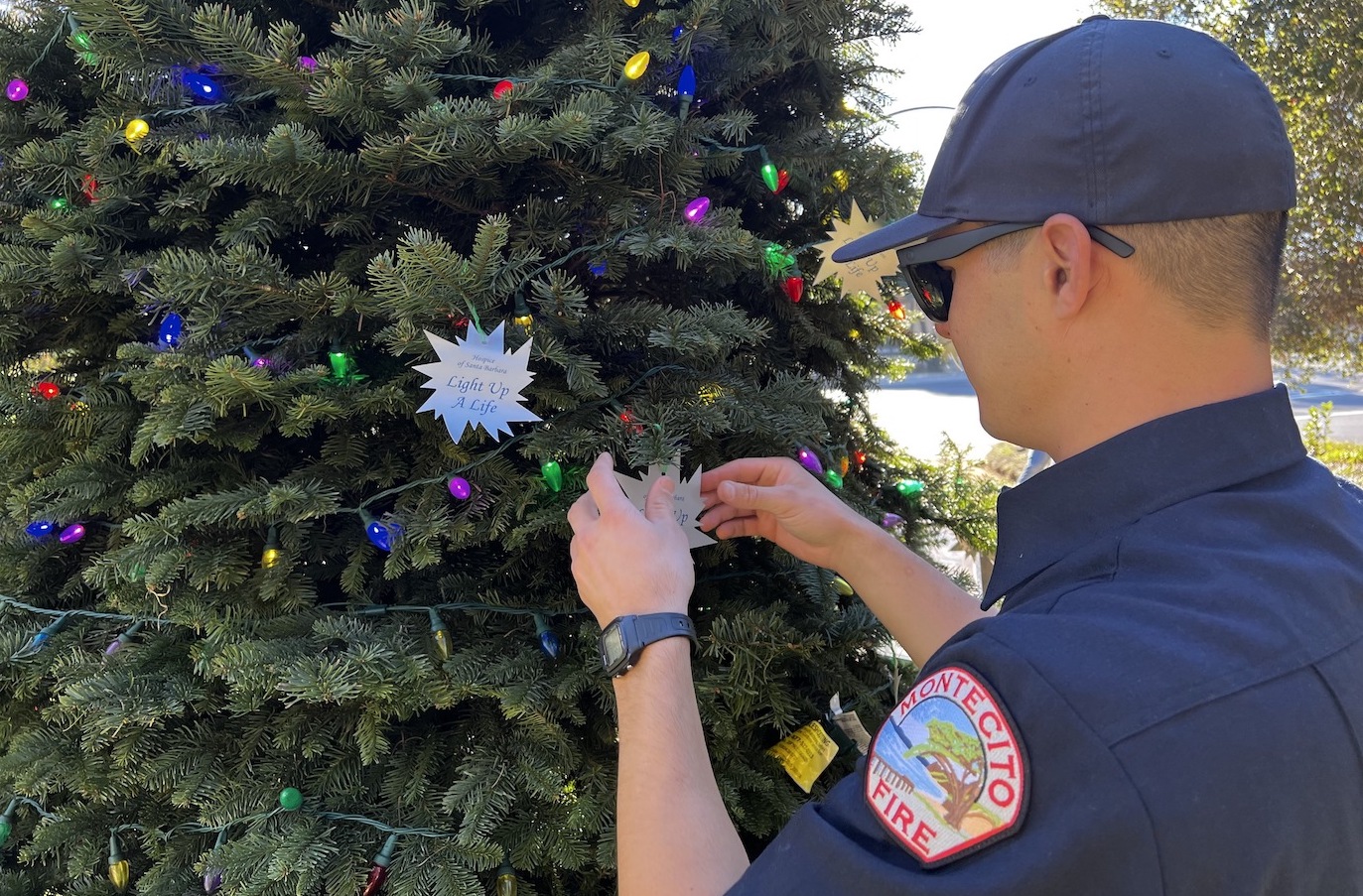 For Sharon Byrne, gazing at the 15-foot tree that stands in the grassy knoll in front of Pierre Lafond in the Upper Village has a new significance in 2021.
For the first time, a silver star will have the name of a loved one on it for Byrne — for her father, who passed away in February. Her mom and daughter will also be putting up stars in his honor, a small token of appreciation as the family experiences their holiday season without him.
It's all part of Hospice of Santa Barbara's 38th annual Light Up A Life (LUAL) event, set to kick off virtually for the second consecutive year on December 15.
"Many people lost so many loved ones this year, both because of the pandemic, and other causes. People need a space and a container, a ritual, if you like, for reconnecting with that missed loved one, for honoring them, and being able to do it in a community of people who really care the way Montecito does, because they have been through so much," said Byrne, who leads the LUAL committee in Montecito.
"Grief is something you can't escape from, and it hits us all. So, gathering with others, and creating that shared space to remember, to love, and open your heart, it's a huge opportunity for more healing."
In the years prior to the pandemic, the LUAL would bring out throngs of people to join in helping each other remember loved ones, a collective community hug, of sorts.
Byrne, also the executive director at the Montecito Association, says that the support of the event has always been stellar, with this year no exception, including the Montecito tree being donated by Clay Tedeschi.
"Pre-pandemic, the Montecito Light Up A Life event was packed and lovely with remembrances and tenderness. The Montecito Association requested sponsorships and support for the event, and people gave generously," Byrne said. "Like many things, it needs wider support and embrace, but it's clear the community tree on the green in front of Lafond's is a nice gift to this community. I remember the first year we did it, in 2018, and Andi at Lafond's said, 'I've been wanting to put a tree there for ages.' She got one!"
The free, virtual event on December 15 will run from 6-7 pm, with Hospice of Santa Barbara holding its traditional celebration of reflection with speakers, music, and the lighting of the Tree of Remembrance. Pre-registration is required for the event.
You can order a digital star for a loved one on HSB's Virtual Tree of Remembrance.
There are four physical trees erected along the South Coast, including one in Montecito (corner of San Ysidro and East Valley roads), Carpinteria (Seal Fountain), Santa Barbara (Lobero Theatre's front lawn), and Goleta (Calle Real Marketplace).
Volunteers will take those digital dedications and put them on the trees throughout the season.
"It's a beautiful blending of making the holidays brighter with a community and remembering those we have loved and lost, by honoring them with a star on the tree," Byrne said. "It's lighting up a life, in every sense, and at a time when you might be missing them most."
411
Website: https://www.hospiceofsb.org/lual
You might also be interested in...