Sunset Soirée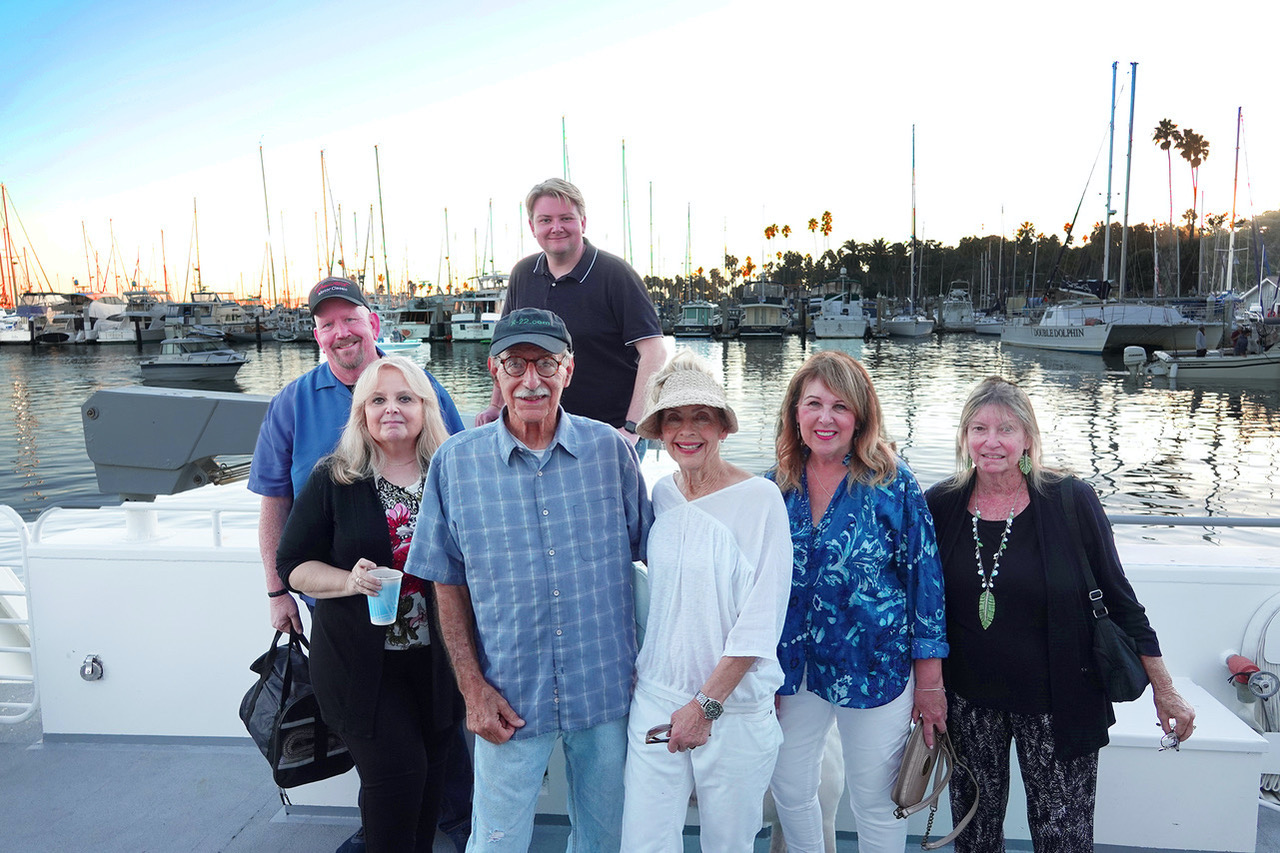 Condor Express owner Hiroko Benko made sure everyone had a whale of a time when she hosted a sunset cruise for her good friend Dolores Johnson, organizer of the Montecito Motor Classic at the Santa Barbara Polo Club, which attracted more than 200 exotic and luxury cars.
"It was a truly wonderful event," gushed Hiroko, "And I wanted to thank Dolores, a longtime friend, and her fellow organizers for all the hard work they put in to organize such a glamorous and well-attended occasion."
Next year the show is honoring automotive designer Pete Brock for his lifetime contributions working on the Stingray Corvette, Shelby Cobra Daytona Coupe, and other auto designs, championship race teams, and photojournalism.
Organizers are planning a special Peter Brock tribute class with its own corral in the center of the show to be judged by Brock and his wife, Gayle, who live in Henderson, Nevada. Awards will be given for any Brock originally designed race or street cars entered.
Among those turning out for a delightful evening on the ocean waves were Terry and Kelley Pillow, Dana Hansen, John and Robin Hurley, Roy and Betty Miller, Brenda Blalock, Monte and Maria Wilson, KEYT-TV anchors C.J. Ward and Beth Farnsworth, Dana Newquist, Mark Stehrenberger, and Gary, Harlene, and William Conlin.
What A Delight
Camerata Pacifica, the chamber music ensemble founded by Irishman Adrian Spence, artistic director, was in fine form at the Music Academy of the West's Hahn Hall with the second concert of its 31st season.
Featuring the tony triumvirate of flutist Emi Ferguson, bassoonist William Short, and Paolo Bordignon on harpsichord, playing baroque works by Leonarda, Blavet, Tartini, and Rameau, the hugely entertaining 90-minute show wrapped with pianist Gilles Vonsattel performing Beethoven's "Sonata No. 21 in C Major."
A delightful evening.
Simply Electric
Following up on his first "faux folk" album, between, circa 2002, Santa Barbara arts writer Joe Woodard is poised for flight again in folk-ish mode with the pending release of Goleta Electric.
Joe, a regular feature in the Santa Barbara Independent and a former contributor to the Santa Barbara News-Press, is also a songwriter-guitarist for such bands as Headless Household, flapping Flapping, Dudley, and more. He hunkered down in his home studio during the pandemic lockdown to produce the 18-track album on Household Ink Records.
A healthy list of musical guests join the party, mostly flying in from remote locations, including Jim Connolly, Julie Christensen, Ellen Turner, Allegra Heidelinde, Shelley Rudolph, Jesse Rhodes, Bill Flores, Brian Mann, and Chris Symer.
The electrifying album is released this week, just in time for Christmas.
You might also be interested in...