Slower Market? Sure. But the Prices That are Being Fetched…
Lovely warm days mixed with overcast mornings and a couple of very chilly nights tells us that we are heading into winter (more rain please). Daylight saving time has kicked in, which is great for the early birds and surfers, bringing light before 6 am. That said, I'm still getting used to darkness in the afternoon and seem to be eating dinner earlier — or is that me just heading into my senior years and looking for early bird specials? (Are you listening local restaurants? 55-and-older discounts with dinner seating before 6 pm!)
Here is a mid-month, turkey day update on the Montecito real estate market. Much like I predicted last month after seeing a trend toward fewer pendings (homes going into escrow), we are now seeing a slower month of closed sales accordingly, with only 13 closed homes in the first 19 days of November. This is an average number or slightly better than a typical year, but certainly down from the recent market mania. Prices are still at all-time highs, with closing prices still shocking even the most seasoned locals and agents.
As of November 19, there were 40 current listings (still very low inventory but a few new listings to consider). There were eight homes pending into escrow in 19 days (slower for even normal times, foreshadowing a slower month of closings for December most likely). Of the 13 sold homes thus far in November, we saw a broad price range of sales, from a nearly $20 million dollar topper on East Mountain Drive with tennis court, big ocean views and 11,500+/- square feet, down to the lowest priced sale for the month so far, a good-sized home with upside opportunity that closed for $3,275,000 at the end of a lane, near the upper village.
After a four-month-long trend toward a more average number of sales per month (roughly 20 homes moving per month), we can start to feel confident in saying, that for many possible and over discussed reasons, the market is slower. Not less expensive, just fewer sales, yet still delivering huge numbers and value on the way out for sellers. Homes in the $3-$8 million range see big upside for owner/sellers and an estate or a few over $10 million sell every month still, when normal years would see homes priced over $10 million selling only one per month or even one every other month in the greater 93108 zip code.
On that highest end trend, this year to date we have seen 36 homes/estates/works in progress sell at more than $10 million. Many of these were in the $20 million range and a dozen or more hovering in the $15 million range, so it's more than a "just barely more than $10 million" statistic. Granted these are only sales numbers that are documented in the Multiple Listing Service (MLS), but this does include many of the off-market sales that were transacted. Perhaps this number is closer to 40 sales if including the "very off market and off radar" sales on Picacho and other top streets.
So, if you are still looking for your dream home, here are four options between $2.895 million and $33.5 million for you to consider. And just remember, while your home or condo may only be in the $2 million range, you still walk the same streets and beaches here as the person who paid $25 million for their home. The deal is in the eye of the beholder. Whether you buy a fixer, a new home, or grand estate, it's all in the 93108 and that's nothing to shake a stick at, no matter how much bigger your neighbor's home may be than yours. Enjoy!
180 Hermosillo Road – $2,895,000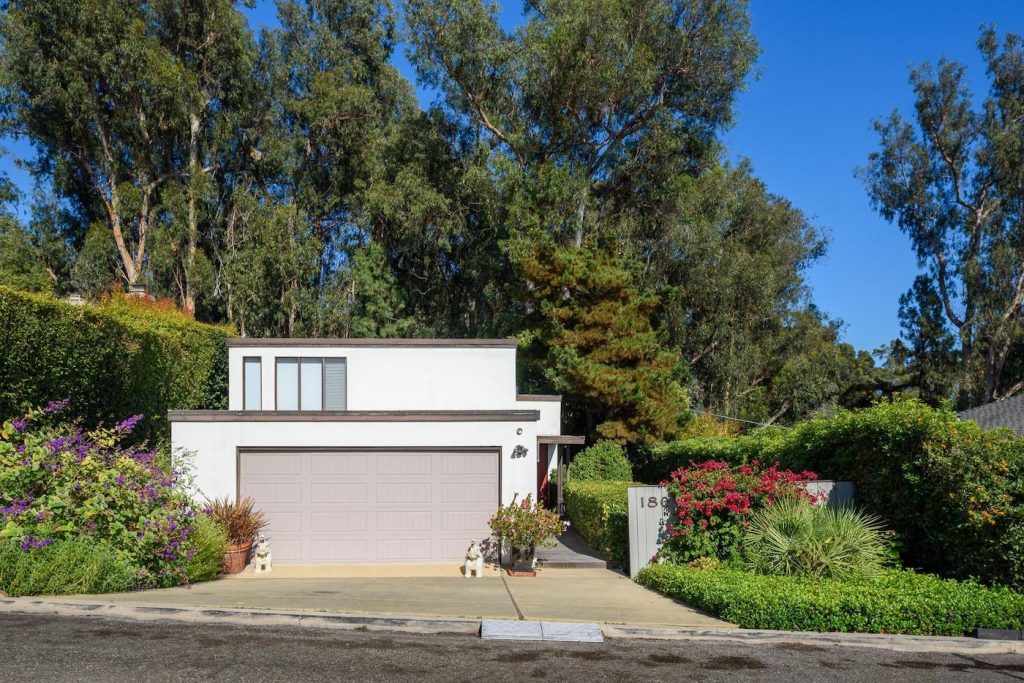 Just one block to the shops and restaurants along Coast Village Road, and one more block to the beach at Butterfly Lane, find this unique Montecito opportunity within the Cold Spring School District. The mid-century modern designed home offers a mix of wood and glass, blending into the surrounding landscape of Montecito's highly sought-after Lower Village. Featuring high ceilings and a contemporary ambiance that is distinctive of Big Sur's style, this split-level home has an open floor plan with modern touches throughout, featuring two living rooms and extensive decking on both levels, a primary suite on the top level, and two bedrooms with bathroom on the lower level. A two-car attached garage and roughly 2,250 square feet of living space, all just blocks from the beach, shopping, dining, and the more popular than ever Montecito Club.
1040 Ladera Lane – $3,850,000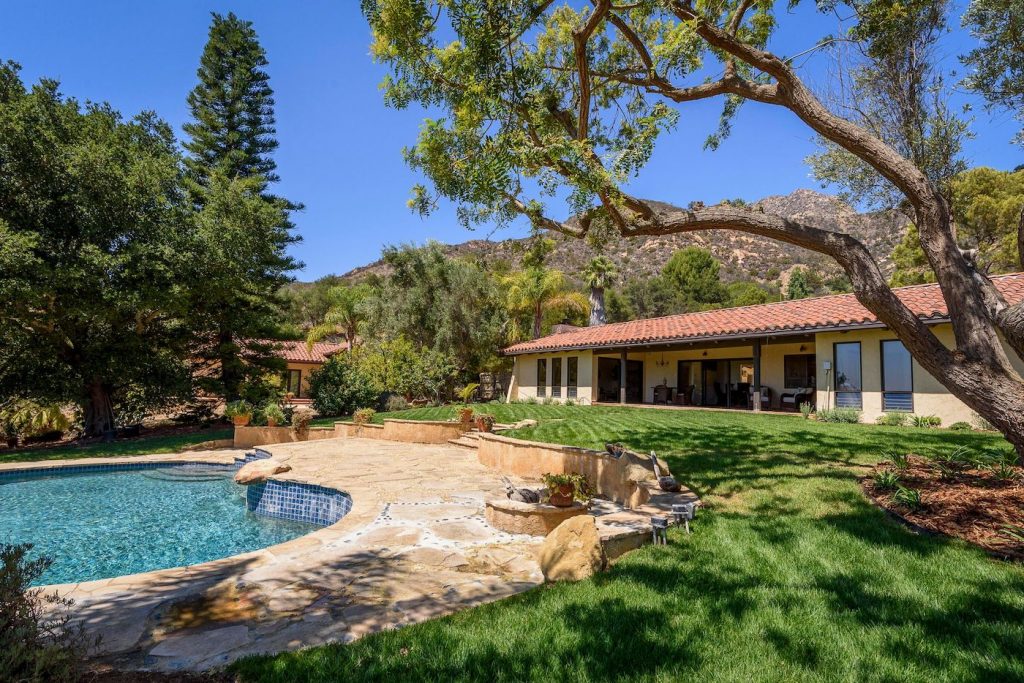 Private, secluded, and surrounded by a variety of fruit trees and majestic oaks, this Spanish-style, single-level three-bedroom, two-bathroom home (plus a detached guest apartment) is a great opportunity under $4 million. The home is situated on five usable acres with inspiring ocean and island views and is surprisingly still on the market. Light and bright, the living room features a high-vaulted, wood-beamed ceiling with fireplace, and ample windows. Ideal for indoor and outdoor living, the kitchen has an island and breakfast bar, upgraded appliances and direct access to the pool and gardens. Spacious and bright with peaks of the mountain views, the primary bedroom provides tranquil seclusion for relaxation. A guest apartment, complete with a kitchen, fireplace, full bathroom, and large patio adds to the functional charm of this listing.
1190 East Mountain Drive – $8,950,000
This sleek Montecito Contemporary home was designed by renowned architects Warner & Gray. The architectural gem offered here is set on 4.31 private acres with ocean, island, and mountain views. The single-level home features an open living and dining room perfect for entertaining. The clean simple lines develop a luxurious atmosphere with high ceilings and large glass walls to grand verandas. The two-bedroom, two-and-a-half-bathroom home has a stylish kitchen, library, guest suite and the primary suite opens up to a spectacular view veranda and features a spa-like bath. The lush gardens, Koi pond, grassy areas, and pool create a peaceful harmony and help to emphasize the enjoyment of year-round indoor/outdoor living. The one-bedroom, one-bathroom guest house provides a comfortable living room and fireplace. Additionally, there is a two-car garage, basement, and wine cellar, all within the Cold Spring School District.
888 Lilac Drive – $33,500,000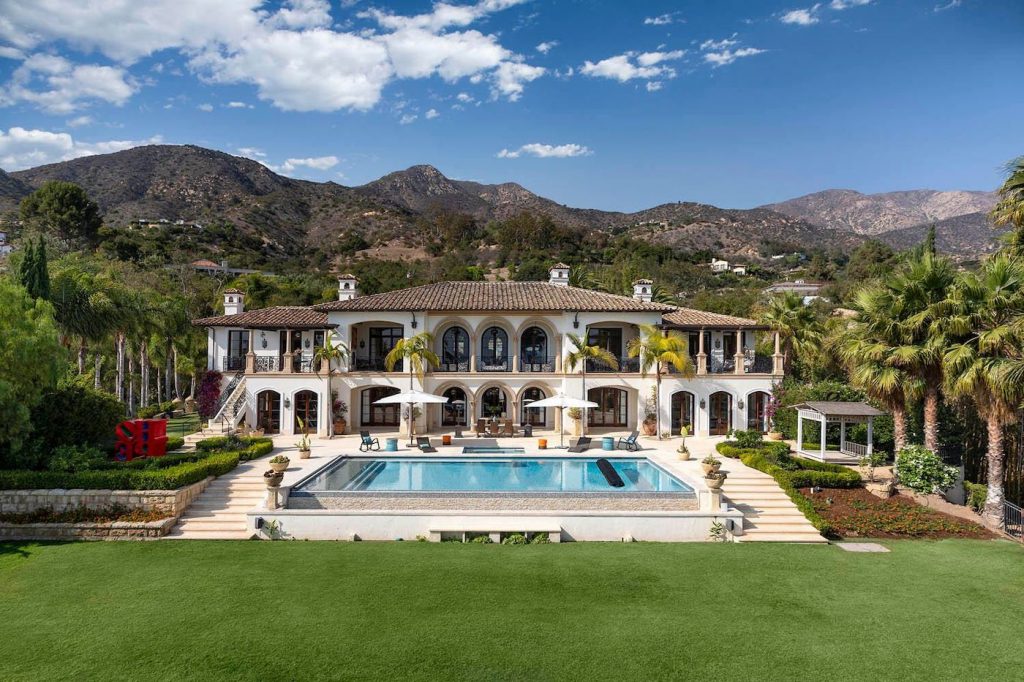 Vast ocean views, level grounds, luxe amenities, and incredible design coalesce at this iconic Montecito property on one of the most desirable streets in the area. Flexible spaces both inside and out make this an intimate home for two yet can easily accommodate crowds of more than 200. With 13,500 square feet of living space in total, public spaces blend seamlessly and open to the view and lush grounds beyond. A main level primary suite offers the potential for single level living, while five additional bedroom suites are perfect for loved ones and guests. A gym, theater, bar, game room, pool, guest house, and five-car garage allow you the freedom to choose when you want to leave home, if ever. Living off the grid has never been more chic, as this estate comes complete with solar power, a generator, greywater irrigation system, private well, organic vegetable beds, citrus orchards, chicken coops, and secret gardens that define sustainable sensibility and all within the Montecito Union School District.
You might also be interested in...