Cuba to California: Hope and Faith Carry Sisters Safely to College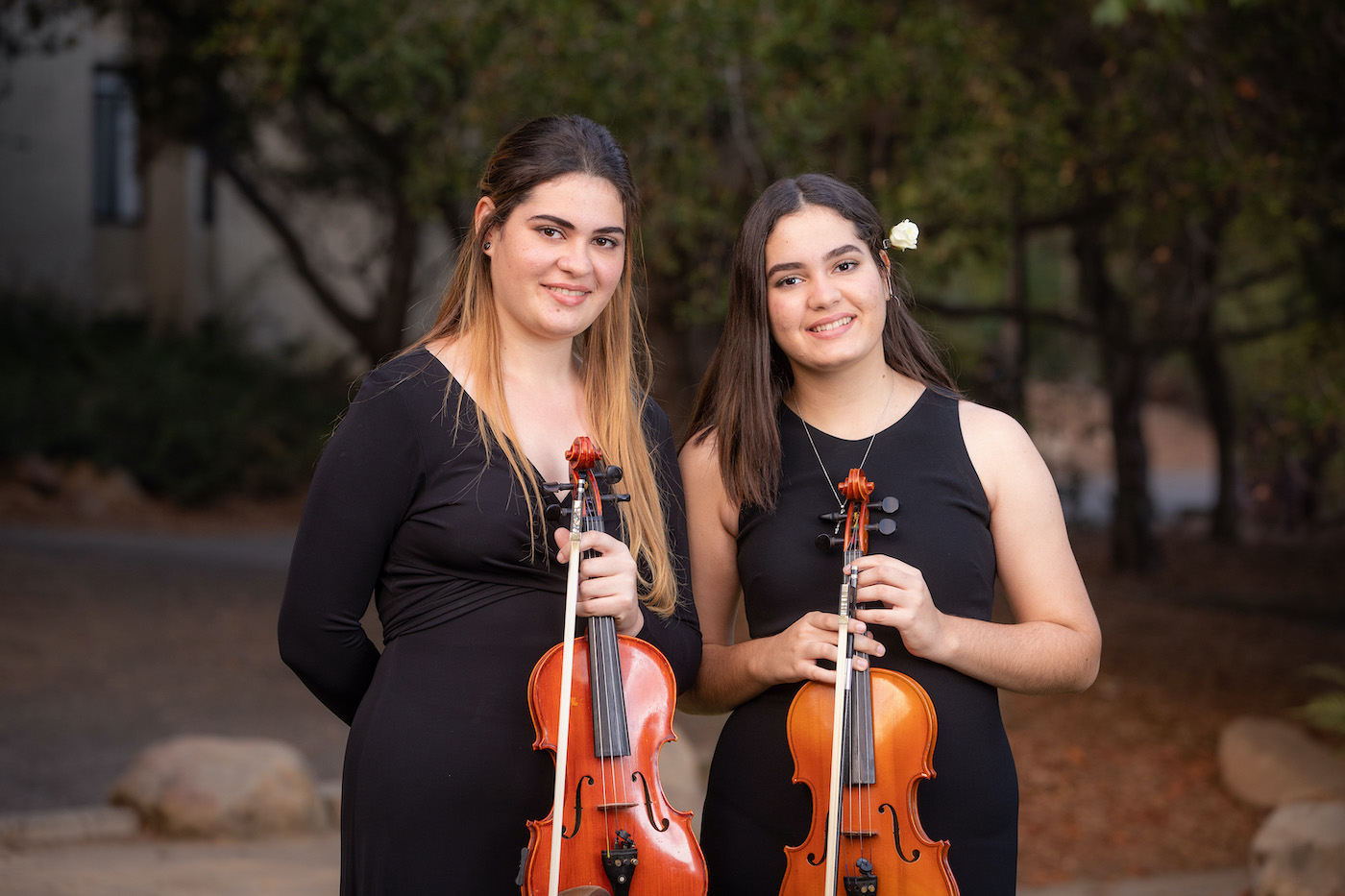 Two first-year students encountered setbacks and obstacles on their journey to Westmont. But as sisters Roxana and Rosario Montané traveled to Southern California from Havana, Cuba, they witnessed God's provision. 
"It's important to always have faith, believe that you can do whatever you want to do and know that God is with you and is going to help you," Roxana says.
"A lot of times we felt we couldn't go on," Rosario says. "When we lost hope, we prayed and prayed, and sometimes we gained hope. That's why we're here. Have faith. You can do it if we can do it."
Roxana, 22, and Rosario, 20, both talented violinists who started playing at the age of 8, heard about Westmont several years ago from their cousin, alumna Liz Macias '21.
"She encouraged us to apply and made us fall in love with the idea of coming here," Rosario says. "She was experiencing Westmont, and she loved it."
The two could only dream of studying music at a Christian college.
"There are no Christian colleges or institutions in Cuba," Roxana says. "So, attending an accomplished music program at a place where we could grow in our faith would be special for us."
Even applying to Westmont was difficult. School administrators in Cuba were unwilling to provide transcripts. "Some professors sent scores, grades, and letters of recommendation," Roxana says. "But the institutions didn't want to help us."
Their biggest hurdle was finding a way to get to the United States from Cuba legally in the midst of political tension and the pandemic. The U.S. embassy in Cuba has closed, and few commercial flights leave the country.
"We were lost about where to go," Rosario says. After a moment of prayer, she remembered she had a phone number for a consultation with a lawyer.
"She was supposed to help with the paperwork, which we already had," Rosario says. "But I just decided to call. It was free."
The lawyer advised the sisters to fly to the Dominican Republic with courtesy visas and, once there, to apply and interview for a visa to study in the United States. They followed this advice, and their courtesy visas were approved.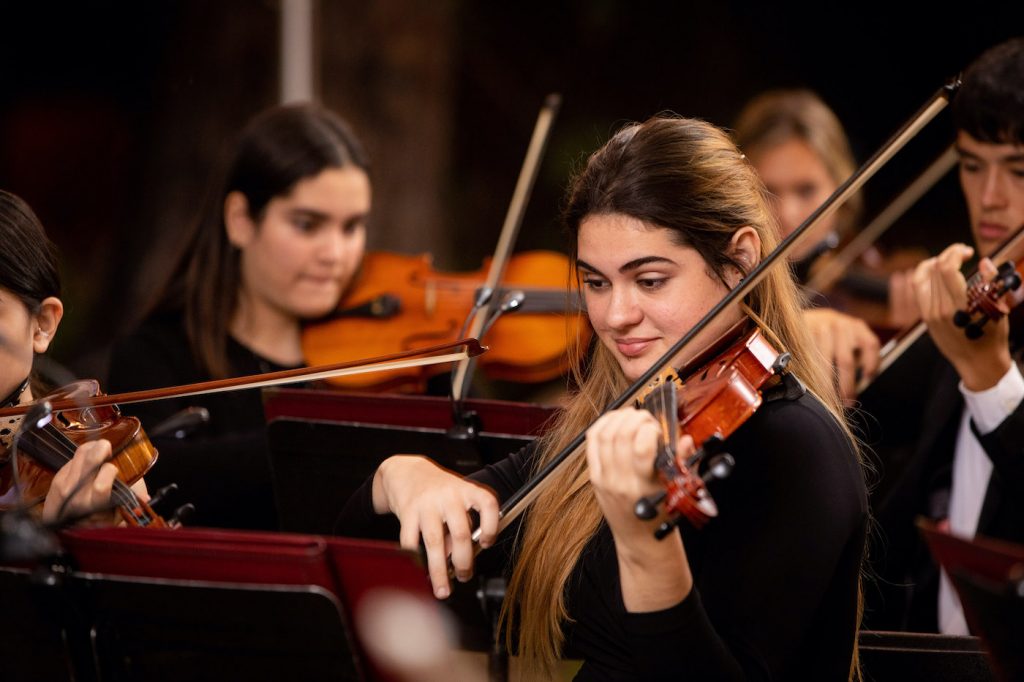 The sisters had never left the island. Before their 10-hour cab drive to the international airport, they had to say goodbye to their entire family.
"They were all there: my grandmas, cousins, and uncles," Rosario says. "It was powerful seeing that. I thought I was really tough until that moment. I realized that my life was about to change drastically."
The sisters arrived in the Dominican Republic not knowing anyone there. "We went to a friend of a friend of a friend's house — and they received us like family," Rosario says. "Every door that God has opened, he has made sure we knew it was him."
The friend was a pastor, and he and his family shared testimonies and prayed with the Montanés, strengthening their faith. The sisters prepared for their interviews at the U.S. Embassy, rehearsing answers to potential questions.
"The pastor said to me, 'What are you doing? Just quiet down. It will be the easiest thing ever. This is already decided. They will be the silliest questions,'" Rosario says. "And it was exactly like that. They were the silliest questions, 'What instrument do you play? What do your parents do for a living?' I was hoping for 'Where are you going to apply after you graduate?' or 'What do you want to do with your life?' Our F1 visas were approved, exactly like the pastor said."
The sisters finally arrived in California. "Everything is so different in the United States," Rosario says. "Our cousins asked us what we wanted to eat for dinner, and I said, 'Oh, we can choose?'"
"We really like being in class and saying exactly what we think," Roxana says. "It doesn't matter if it's history or politics. That's weird for us because we couldn't do that [in Cuba]."
Michael Shasberger, Adams professor of music and worship, says the Montané sisters have blessed the college.
"These delightful young people and superbly trained musicians come from a rigorous conservatory, and they've had good professional-level experiences in their native Cuba," he says. "Both tested into our third level of music theory and played in the orchestra's first violin section for our opening concert. Their seriousness of purpose and great appreciation for the opportunity to attend Westmont makes them marvelous students and great contributors to our community."
The sisters love classical music but are open to performing other genres.
"We want to expand our knowledge and better ourselves," Roxana says. "We have the independence to dedicate our lives to the things we love, and that is enough. We can do whatever we're passionate about and have a decent life. We'll have the chance to do and plan everything we want to do and study with great professors in a great environment with freedom."
Roxana and Rosario will be performing with the Westmont Orchestra in the 17th annual Westmont Christmas Festival Saturday, December 4, at 7 pm and Sunday, December 5, at 3 pm in Santa Barbara's famed Granada Theatre. Tickets, which cost $20 each, may be purchased at westmont.edu/festival.
You might also be interested in...