Well Done, Jackie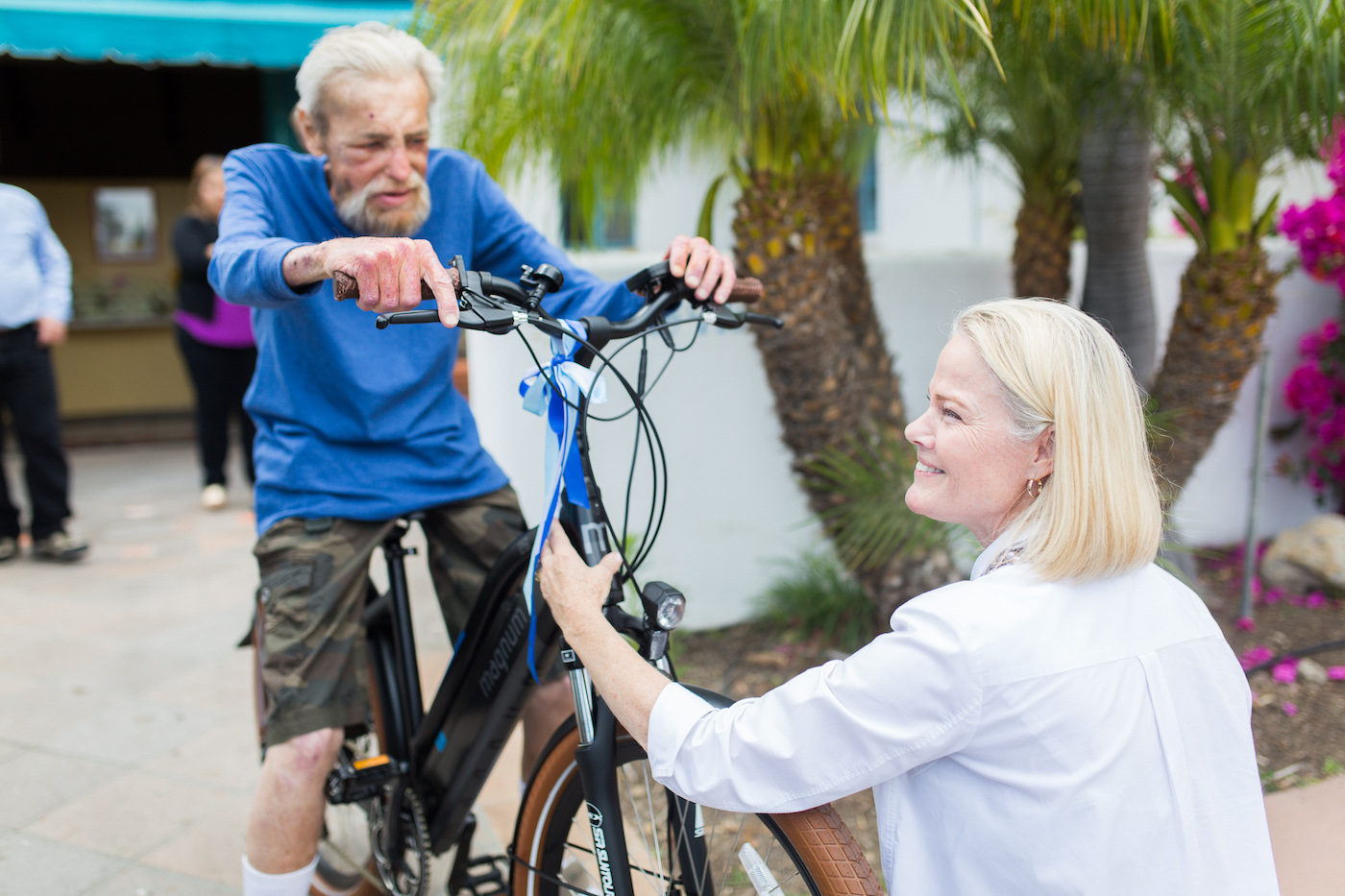 Jackie Waddill, who has served Dream Foundation recipients, their families, and the organization's family of supporters for the last 23 years, has announced her retirement.
"In my career with the foundation I've seen the delight and pure joy a final dream can bring," says Jackie. "I've felt the short distance between hello and goodbye. I have heard the urgency of need and voices from those willing to help. Above all, I have witnessed the power of the human spirit."
Over the course of her tenure, she served in a variety of roles including resource coordinator, volunteer network manager, programs manager, and today, donor relations manager. But her unofficial title and that for which she is best known is "Director of Love."
"Jackie is an incomparable and dedicated dream advocate," says foundation chief executive Kisa Heyer. "She will always be remembered for the kindness and enthusiasm she showed our recipients and donors."
That's Rich
Not surprisingly, our rarefied enclave is ranked as the seventh richest zip code in the U.S.A.
The 93108 Montecito postal area has a median house sales of $4,103,000, a hefty 40 percent year on year pricing jump.
PropertyShark, a major real estate data provider, ranks the Bay Area community of Atherton at number one for the fifth consecutive year, with a median figure of nearly $7.5 million and Boston at number two with $5.5 million.
Sagaponack on Long Island in New York, where I spent many a Hamptons summer, is at number three with $5,000,000, while Beverly Hills is ranked sixth with $4,125,000.
The Left Coast claimed six of the top 10 slots.
Back on the Market
Hedge fund billionaire Bruce Kovner has re-listed his dramatic promontory estate in Carpinteria for $160 million.
On its ocean side, the property's land concludes dramatically with more than half a mile of bluff overlooking the water.
Kovner, who founded CAM Capital, is sticking to his guns for the re-list. He originally asked for $160 million in the summer and continues to do so as 2022 looms.
The Sanctuary at Loon Point, as the property is known, was a 14-year labor of love with five parcels slowly accumulated to make up 22 acres of grounds. The main house is a sprawling South of France-style villa.
Kovner, 75, has a net worth of $6.2 billion, according to Forbes.
Familiar Faces
To Campbell Hall at UCSB when the popular Arts & Lectures program hosted Chinese pianist Yuja Wang and Greek violinist Leonidas Kavakos, its first live performance in the venue in two years.
The tony twosome, who I've been lucky enough to see perform a number of times, including the Granada and Hahn Hall at the Music Academy of the West, played to a sell-out crowd of 860 fans, as they performed works by Bach ("Sonata No.3 in E major" and "Sonata No. 1 in B minor"), Busoni ("Sonata No. 2 in E minor"), and Shostakovich ("Sonata for violin and piano in G major").
Kavakos, known for his virtuosity, musicianship, and the integrity of his playing, was on top form with his 1734 Willemotte Stradivarius, while Wang on keyboard played sublimely, dressed in a shimmering bright red silk gown wearing vertiginous Louboutin-style heels.
A captivating stage presence in innumerable ways.
Sorry, Sis
Thomas Markle has apologized to his half-sister, Meghan Markle, and husband, Prince Harry, for his correspondence three years ago to the Duke of Sussex warning him against marrying her.
Thomas, 55, described Meghan as "jaded, shallow, and conceited."
But in a new episode of Big Brother VIP Australia, he revealed his harsh words "came from a very dark and hurt" part of his heart, and insisted he's not "a very mean person."
"She's my sister and she's my blood … I love the hell out of her," he said on air.
In his letter, Thomas wrote: "The last several years of my life, I have grown and learned a lot more of myself and I must say that what I did to you with that letter is quite possibly the biggest mistake of my life."
Stay tuned…
Wheeling & Dealing
Singer Ariana Grande, who bought her Tudor-style home, The Porter House, in Montecito from TV talk show host Ellen DeGeneres for $6.8 million, has just sold her 11,000-square-foot contemporary home in the achingly trendy Bird streets in the Big Orange, for $14 million.
The house has four bedrooms, seven bathrooms, as well as a gym, sauna, and theater.
Grande, 28, has sold more than 85 million records worldwide.
Too 'Woke'
Former Montecito funnyman John Cleese has blacklisted himself from a Cambridge Union event after the debating society banned a historian from performing an impression of Adolf Hitler.
John, 82, who famously impersonated the Nazi dictator in a Monty Python sketch, and again in Fawlty Towers, says he is "blacklisting himself" before someone else does.
The comedian, who studied at Cambridge, added: "I apologize to anyone at Cambridge who was hoping to talk with me, but, perhaps, some of you can find a venue where woke rules do not apply."
Sightings
Actor Billy Baldwin at Lama Dog in the Funk Zone… Lost actor Josh Holloway noshing at Olio e Limone… Transformers actress Megan Fox perusing the shelves at Costco.
Pip! Pip! Be safe, wear a mask when needed, and get vaccinated.
You might also be interested in...