Get Ready for the First Annual Montecito Magical Nights Holiday Parade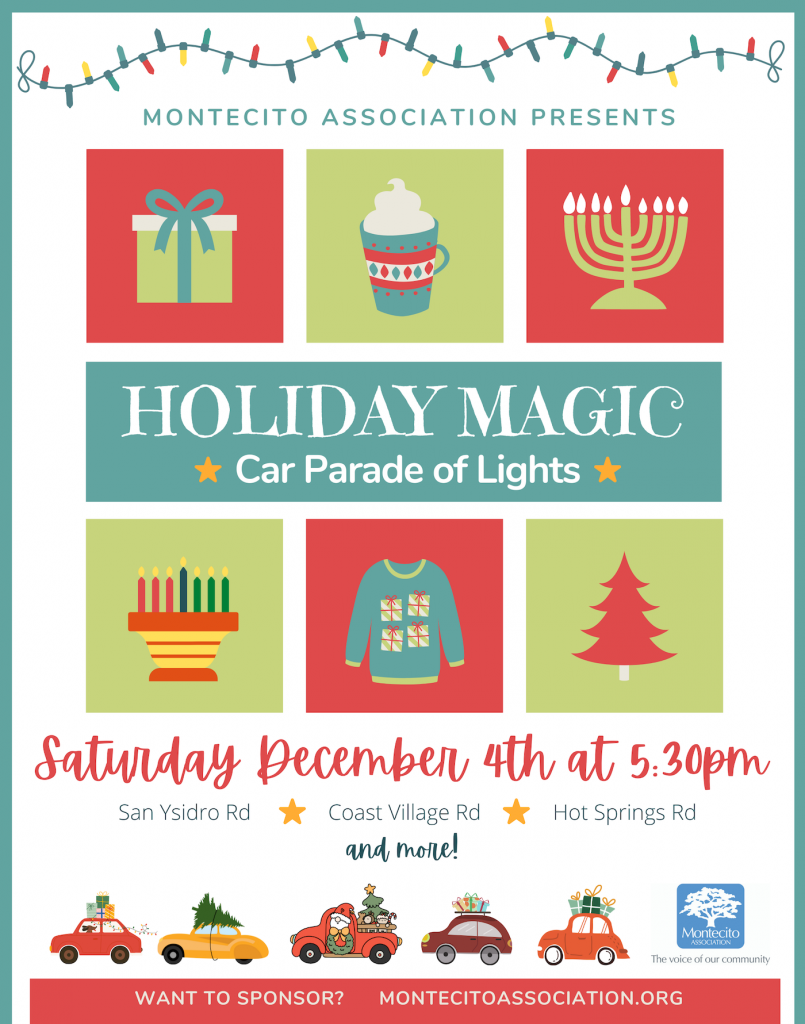 Yes, we're going to do it: a nighttime holiday motor parade through Montecito on Saturday, December 4 at 5:30 pm. It's been a tough few years for Montecito, and we could all use more light, love, and magic in our lives, particularly as we head into the time of year at the Winter Solstice when the nights are long, and we're already feeling that with the time change, right? So, we're going to roll a parade through the community for you that's lit up like a power plant, is musical, and delivers a bunch of magic and holiday cheer all over the neighborhood. 
But wait, it gets better: The Montecito Magic Elves are also planning to decorate the Hathaway Tree at Upper Manning that same day! (We know you have your calendar out now — write it down — December 4 at 4 pm in Upper Manning Park.) Bring the kids, the dog, your family and friends, your most fun-loving self and squad, and let's create a community tree for everyone. You'll be done just in time with that community-building event to turn around and watch the First Montecito Magical Nights Holiday Parade depart from Lower Manning Park.
It will circle the neighborhood and end up in the Upper Village. More fun is coming: merchants and restaurants in the Upper Village will be so happy to see you, they'll have treats to welcome you to visit with them and each other. You might find some holiday treats for loved ones there, too.
This is your invitation for a night of fun, family, friends, magic, and community to greet the holidays with joy, love, and connection. We welcome your sponsorship and your entries (we're limited to 25 vehicles) and you can learn more at our website montecitoassociation.org. Two of our newer neighbors, who've been just darned good, solid community supporters since their high-profile arrival last summer, were the first to sponsor – thank you Harry and Meghan! We're glad to have you in our community.
So, get ready, get your lights and jingle on, and come enjoy the tree decorating, holiday parade, and fun in the Village on December 4! 
You might also be interested in...