Simply Authentic Argentinian Fare
Buena Onda, a family-run eatery on the Eastside, serves Argentinian wine alongside empanadas, chimi papas, and canoncitos.
Whenever someone mentions Argentinian food, I immediately think of Nacho Figueras, the Argentinian polo star who dips in and out of Santa Barbara during summer's polo season. Thinking of Nacho and his swashbuckling polo conjures up images in my mind of wild horses racing against the wind, gauchos laughing and smoking cigars by a rancho firepit, and hot and juicy strips of grilled beef being doused with garlicky chimichurri sauce.
I spent years admiring Nacho's glowing portraits in Vanity Fair's Ralph Lauren Polo ads and getting a glimpse of his unpretentious personality on daytime TV shows Oprah and Ellen. And then one summer I had the good fortune of bumping into Nacho himself at the Hilton Santa Barbara Hotel and Resort.
"Nacho, what are you doing here?!" I exclaimed, surprised to see him wandering around in the lobby.
"I am here with my wife, Delfina," he said, pointing over to a beautiful woman standing in line. "We are returning our rental car."
"Wow," I exclaimed. "It's so nice to meet you in person!" (Think: Brady Bunch episode when The Monkees' lead singer Davy Jones surprises Marcia Brady with a visit to her home!)
We chatted about polo and then he offered to take an Instagram photo with me.
I was sure that I'd never enjoy such Argentinian warmth again until I recently dined at Buena Onda Empanadas, a family-run eatery that serves handmade, freshly baked, authentic Argentinian pastries out of its kitchen on Haley Street.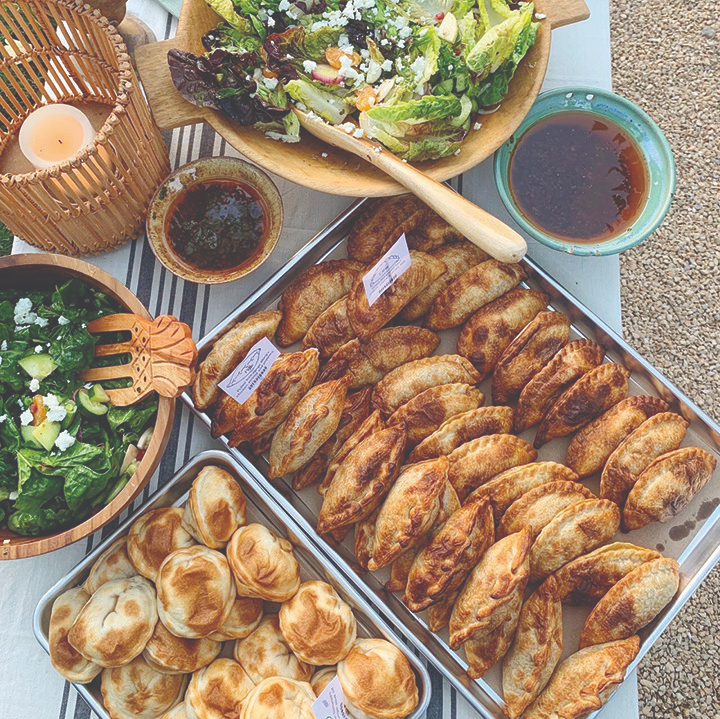 Indeed, the restaurant's name roughly translates to "Good Vibes" in English. The eatery's welcoming, bougainvillea-lined courtyard tucked into an industrial neighborhood on the city's eastside is renowned for its savory and delicious empanadas, half-moon shaped meat pies, usually baked around cheese and other fillings, with decorative impressions around the edges. Here, diners come to experience Argentinian cuisine in its purest and simplest form.
"We are about bringing people together, to share a good time, to gather with family and friends, and to celebrate life," said Matias Requena-Mackinlay, Buena Onda's co-owner and founder. "What better way than to have empanadas on the table?"
Inside the kitchen, staff members busily work around a prep table while a young woman works the register. Just a few feet away there is a small section of yerba mate and other Argentinian food products on shelves for sale. While Mackinlay oversees business operations, Buena Onda's menu is a labor of Lupe Don Juan, the kitchen manager and Mackinlay's mother, who moved to Santa Barbara in 2002. A close family friend, Dino Quarleri, joined the restaurant as guest chef and oversees baking the pastries and crafting authentic dishes for catering.
Outside the kitchen there is an intimate courtyard where diners feast on a wide variety of empanadas and other hand-crafted tapas. Creating empanadas is a production line process that churns out more than a thousand pastries each week. Cooking the filling begins on Monday, the dough is produced on Tuesday, and on Wednesday the pastries are filled and closed with signature pinch marks to identify the contents of each empanada.
Customers can purchase freshly made tapas "dough discs" for $6 per dozen to make their own creations at home.
Buena Onda uses fresh produce and meats from local purveyors to create a variety of empanadas that represent a range of regional styles from across Argentina. Options include grass-fed ground beef, pulled free-range chicken stewed with sweet white onions and bell peppers; vegetarian pastries feature potatoes, kale, tomatoes, shallots, thyme and vegan mozzarella, cremini mushrooms, spinach, peppers, red onions, and mozzarella.
Regional favorites include the humita empanada, made with shaved local white corn, caramelized onions, green onions, which is typical of the north of Argentina like the province of Tucumán, while the carne empanada with Sunfed Ranch grass-fed ground beef, onions, bell peppers, green olives, and free-range hard-boiled egg hails from the Salteñas (province of Salta), Mackinlay said.
Empanadas are $3.95 each, $23 per half dozen and $42 per dozen. Each dish is served with a side of smokey chimichurri sauce made with olive oil, fresh cilantro, garlic, parsley, red pepper, Spanish paprika, and oregano.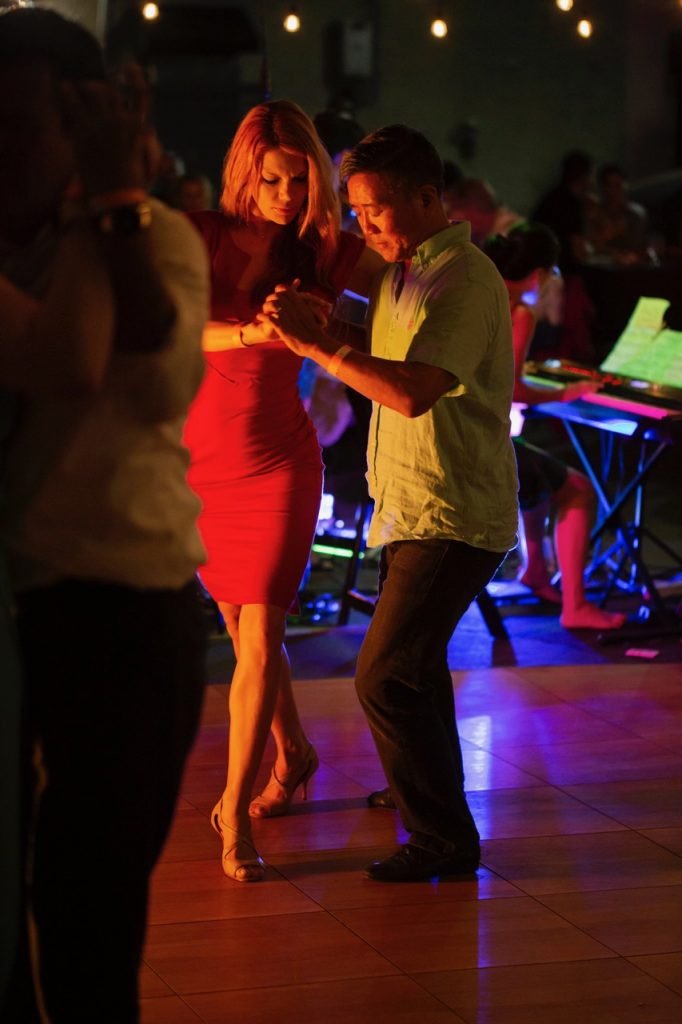 Other standout dishes include chimi papas, which are wedged potatoes marinated in chimichurri sauces and baked until soft and lightly crispy around the edges and served with a spicy aioli sauce ($7); pascualina, a South American-style veggie pot pie made with spinach, kale, ricotta, and egg ($8); and tossed mixed greens with halved heirloom cherry tomatoes, cucumber, pickled red onion, feta, and vinaigrette ($9).
The bar menu offers a unique selection of red and white wine from Argentina and Chile as well as local craft beers ($6-$12).
Buena Onda's take-and-bake menu was borne out of the pandemic and continues to be a popular option for customers. In addition to packaged frozen empanadas and fresh tossed salads, the menu also pays homage to Italy's culinary influence in Argentina with items such as lasagna bolognese ($22, feeds 3), veggie lasagna ($19, serves 3), and eggplant parmigiana ($18, serves 2).
For some Argentine expats, no offering is more comforting than the Cañoncito, a "little canon" shaped flaky pastry filled with dulce de leche or homemade chocolate hazelnut ($3) and Alfajores de Maicena, buttery shortbread cookies sandwiched with dulce de leche and then rolled in fresh coconut ($1.50). Both are popular desserts in Buenos Aires but have fans throughout Latin America.
"We get the Argentinian travelers coming through California and a lot of South Americans visit as well and then we have a very strong local support," Mackinlay said.
Recently, Buena Onda began hosting intimate gatherings called milonga, with live music and tango dancing. In the last few months, thanks to vaccines and relaxed regulations around indoor gatherings, the event has drawn attendance from locals and out-of-towners. (Per California guidelines, the restaurant requests proof of COVID-19 vaccination for participants.)
La LoCA Milonga, the tango event co-hosted by Alejandra Folguera and Geraldine Freitag at Buena Onda will return on Thursday, November 4 with live music by El Cachivache.
"Milonga is a place to gather with friends and strangers, usually with food and wine where people can dance tango no matter their level. We are trying to imitate what we have experienced in Buenos Aires, but of course it's never the same," he said.
Buena Onda offers two Santa Barbara locations, including The Kitchen at 724 East Haley Street and Mosaic Locale at 1131 State Street. For more information, call (805) 679-3320 or visit buenaon dasb.com.
Buena Onda Chimichurri Recipe
Ingredients
1 bunch of finely chopped parsley (remove the stems) 
6-8 large garlic cloves, minced (depends on garlic tolerance)
2 tablespoons oregano leaves
2 teaspoons crushed red pepper
1 teaspoon of paprika
Kosher salt and freshly ground pepper
4 tablespoons red wine vinegar (or white)
1/4 cup of water
1/2 cup extra-virgin olive oil (or a 50/50 Canola-Olive Oil)
Chop the parsley as fine as possible as well as the garlic. You can use a food processor but ONLY for those two ingredients. Once you have that, put in a bowl and add everything besides the oil, salt, and pepper. Mix really well, let it sit for 5 minutes and then add olive oil to the mix. Salt and pepper to taste. For best taste, let it sit for a few hours in the refrigerator. Serve at room temp. Enjoy!
If You Go: La Loca Milonga at Buena Onda

WHAT: La LoCA Milonga at Buena Onda, featuring El Cachivache, Vito Venturino, Achi Deuz, Adriano DeVita, and Pacha 
WHEN: Thursday, November 4 from 6:30 pm to 10:30 pm (The public is invited to learn and enjoy the tango on Monday Practica from 7 pm to 9 pm. Donation of $5.)
COST: Tickets are $35; food by Buena Onda is sold separately
If You Go: Monday Practica
WHAT: The public is invited to learn and enjoy the tango on Monday Practica
WHEN: 7 pm to 9 pm
COST: Donation of $5
INFO: All levels are welcome. To sign up, contact: info@nomadtango.org
If You Go: Tango Wednesdays with Marlon & Geraldine
WHAT: Beginners class, 6:30 pm to 7:30 pm; Intermediate/Advanced 7:30 pm to 8:30 pm.
COST: $22 per class
INFO: To sign up, email info@abrazosur.com
You might also be interested in...