Breaking Bread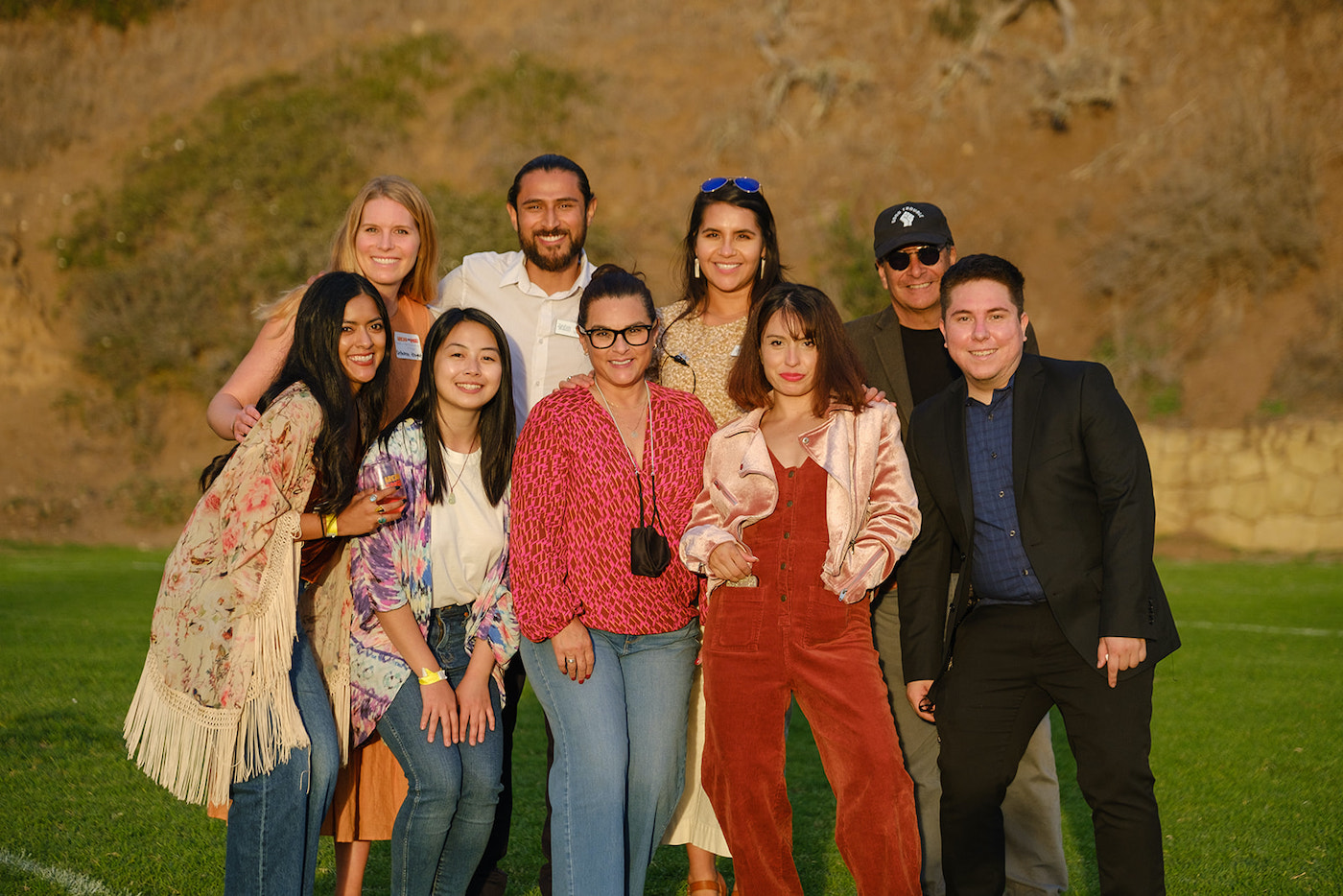 Gourmands and oenophiles were out in force when the Fund for Santa Barbara hosted its 28th Annual Bread and Roses event for 500 guests at Elings Park, a new venue after years at the QAD headquarters in Summerland.
The bountiful bash, co-chaired by Gloria Soto and David Moore, raised $165,000 for the 41-year-old nonprofit that supports organizations for progressive social change.
"It's so good to be back after the pandemic lockdown," gushed executive director Marcos Vargas. "Last year we did the event virtually, but nothing beats meeting people face to face!"
The Firebrand Award went to Juliana Neel and the Founder's Award to Nancy Weiss and Marc Chytilo.
The ubiquitous Geoff Green of the SBCC Foundation was auctioneer with lots including a week in Austin, Texas.
Spencer the Gardener supplied the music.
A blooming good show that raised a lot of dough!
This One's For You, Pops
Santa Barbara resident Maranee McDonald is paying homage to her late father, Kenneth Landau, who was a top animation artist for Walt Disney in the 1950s, doing background work on many of his films, and then worked for Hanna-Barbera drawing the Flintstones and Scooby Doo, among many others.
"I discovered he was one of the top comic book artists in the same era for the American Comic Group in New York," says Maranee. "He had more than 300 stories published including Forbidden Worlds, Adventures into the Unknown, Commando Sub, and Creeper Comics to name a few."
Nine years ago, she inherited his archive of comic books, journals, paintings, and original comic strips and has now created a T-shirt line with several of his popular drawings which is being sold by Santa Barbara Arts in the La Arcada Mall and Farmer & The Flea in Summerland.
"I recently crossed paths with a movie producer who loved my father's story and is currently writing a non-fiction film with animation combined with real life," adds Maranee. "I am also currently working on a coffee table book with my father's artwork to be part of that adventure.
"I am so proud to put my father's artwork on my T-shirt designs and carrying on his legacy. I've chosen a few favorites such as Rocket Ships, a Beatnik-cat, Pin-up girl, and other cartoon characters."
Her website is KennethLandau.com.
Real-Life Monopoly?
Her eponymous TV talk show may be ending, but there seems to be no stopping Ellen DeGeneres and actress wife Portia de Rossi when it comes to real estate.
In the last month alone, the dynamic duo have completed three more multi-million dollar real estate transfers, all of them in our rarefied enclave.
This includes their priciest house ever, an epic Cape Dutch-style estate for $55 million. Although the buyer has not yet been identified, the transfer ranks as the second biggest residential deal ever inked in Santa Barbara County, behind only the $63 million paid last year by billionaire Riley Bechtel for a much larger estate of 237 acres.
Ellen's property was "only" 4.3 acres.
Ellen, 63, and Portia, 48, bought the Montecito property less than a year ago, paying $49 million in late 2020. The village-like compound was built over several years and completed in 2012 by political pundit Dennis Miller and his wife, Slim Paley.
It comprises five separate structures, including a 9,000-square-foot mansion, a total of 16,000 square feet of living space, and parking for 30-plus cars.
The twosome has moved to the 1850s property, Rancho San Leandro, an historic adobe house, which they owned from 2017-18 and bought back earlier this year for $14.3 million.
They've now expanded the property's acreage by paying $12 million for a house directly across the street.
The couple also paid $3 million for another local property, a two-bed, two-bath cottage with 1,400 square feet of living space.
A 70-Hour Ordeal
Montecito actress Gwyneth Paltrow nearly died while giving birth to her nine-pound, 11-ounce daughter, Apple, by Coldplay rocker Chris Martin after being rushed to hospital for an emergency caesarian.
The Oscar winner, 49, spoke about her "crazy" 70-hour labor while discussing social media's impact on body positivity.
Gwyneth, whose eldest child is now 17, says the procedure left her with a "huge scar" across her body as she criticized social media for creating unrealistic expectations of how women are "supposed to look" after giving birth.
Speaking on Dax Shepard and Monica Padman's podcast, Armchair Expert, she revealed she'd had two caesarians, including her 15-year-old son, Moses.
Bringing Out the Bling
Meghan Markle has appeared on a children's YouTube channel reading her book The Bench at her $14 million Riven Rock mansion.
The Duchess of Sussex, 40, heaped on the bling for the video on the Brightly Storytime Channel, run by Penguin Random House, which published her book and has a $25 million book deal with her husband Prince Harry, 37.
Meghan wore a Cartier Tank Française watch that belonged to Princess Diana, a Cartier love bracelet designed by an old Italian friend, the late Aldo Cipullo, and a mini gold tennis bracelet.
A performance as polished as her jewelry.
You might also be interested in...