While Unofficial, Rowse Likely Next Mayor; Council Incumbents Well Ahead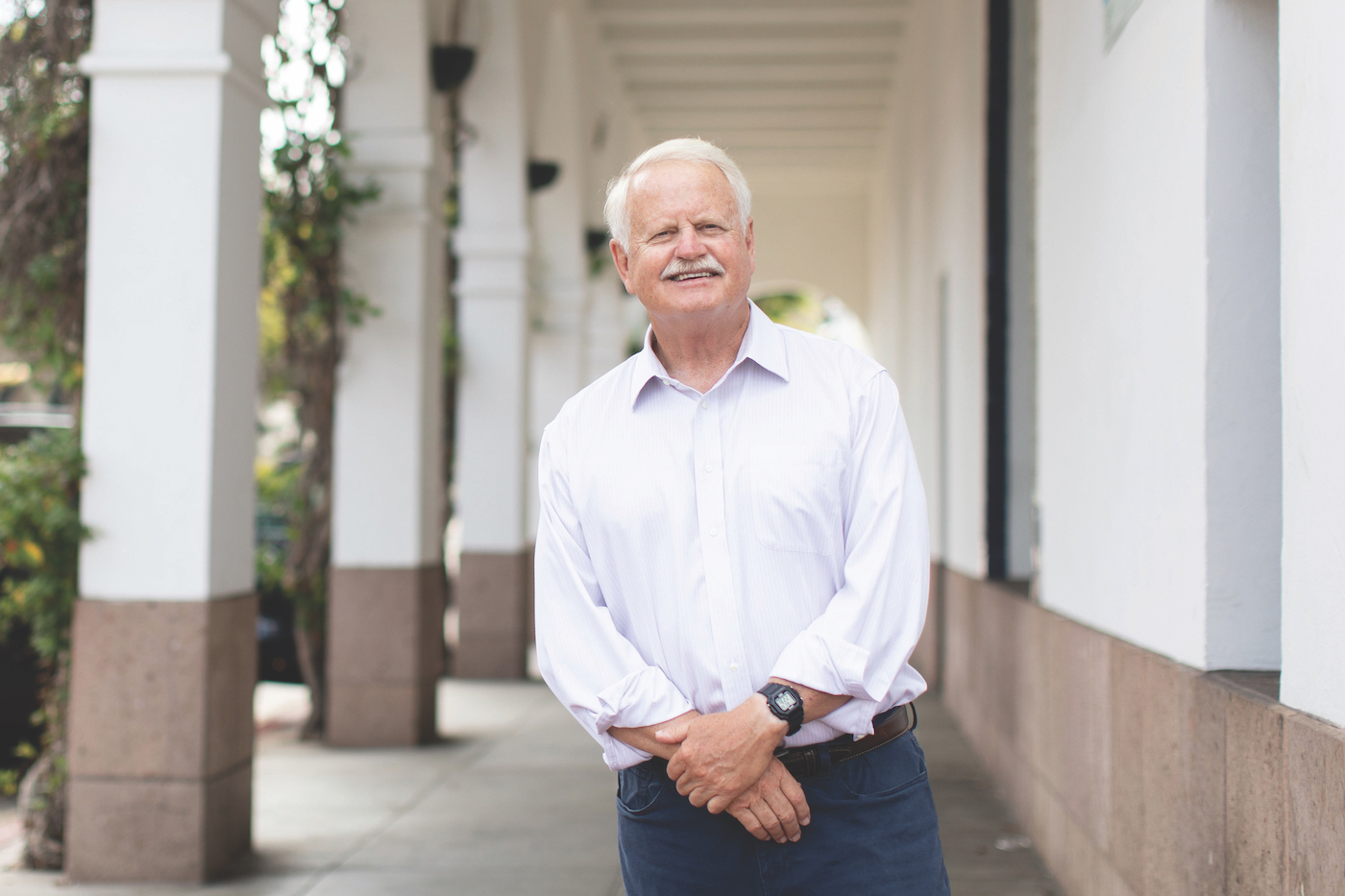 A familiar face will likely be returning to City Hall, as former Santa Barbara City Council member Randy Rowse has unofficially won the six-candidate mayoral race, with final and confirmed results expected late Thursday.
Rowse would be the city's first male mayor in almost 30 years, while also taking office as a no-party candidate, moving the city away from the Democratic stronghold it has been for nearly three decades.
Rowse, who came out of retirement to run for mayor, says he's happy the sprint to the finish line paid off.
"It's kind of like when you have a long drive, and you say you're really tired but you're just kind of road wired. That's kind of the way I feel right now," Rowse said. "I get a text or a call every five seconds from all over the place. It's good, I had a lot of support. I'm still kind of buzzed by the whole thing."
Rowse outpaced his competition by a large margin (nearly 2,800 votes), receiving 40.4% of the initial vote, with James Joyce well behind at 25.9% and incumbent Cathy Murillo third at 24.4%. Deborah Schwartz was fourth at 6.75%, while Mark Whitehurst and Matt Kilrain both had less than 2% of the vote.
The Santa Barbara County Elections Office says there are more than 4,600 ballots still to be counted, but it is unlikely that they will impact the outcome of the election.
Rowse was impressed by how strongly Joyce came on, as he expected Murillo to be his primary competition.
"I always assumed that Cathy would be my closest competitor and she still may be after it's all said and done; who knows what all these last little numbers are going to bring out," Rowse said. "But James showed very well. [The results] just tell me that people were concerned about how the city was being run, and they were tired of it and that they couldn't frankly see doing another five years at the same. That's why I got in, and now it's time to get to work."
What Rowse inherits is a City Council that has shown disdain for each other at times, something that Rowse says he heard about with voters. He plans to utilize skills as a small business owner to help mend fences and get the council to work together.
"Having been an employer all those years and serving on boards and chairing different commissions, I've been there and done that with people with disparate personalities," Rowse said. "We need to see if we can find some consensus and then bring it together so we can work as a team."
City Council: District 4
Meanwhile, in three Santa Barbara City Council races, the incumbents were well on their way to a five-year term — one year longer due to Santa Barbara adopting even-year elections in 2024 and 2026.
In District 4, which represents Coast Village Road, Kristen Sneddon was well ahead of challenger Barrett Reed, with Sneddon sitting at 60.77% of the vote to Reed's 38.96%. Voter turnout rate in District 4 was the highest in the city at 45.2%.
Sneddon says campaigning can give a candidate valuable insight as to what needs to be done in the next term.
"I've had such a great opportunity to hear from the public, and the public is dissatisfied," Sneddon said. "I mean people are wanting change and wanting us to do better. And I received that message loud and clear."
Sneddon also had nothing but praise for the new council leader in Rowse.
"He runs meetings with decorum, he hears everybody, but also moves meetings forward," Sneddon said. "He's not coming in not knowing how to get things done. And I think we've all heard the message from voters about what the priorities are and I'm confident that he will take that seriously and lead us to some proactive results."
City Council: District 6
Just down the road in District 6, incumbent Meagan Harmon received 52.9% of the vote to Nina Johnson's 33.96%, with Jason Carlton and Zac Pike well behind. The downtown district's turnout rate was the worst in this election at 29.3% thus far.
Johnson presented an unexpected challenge to Harmon by jumping into the race at the last second, which pushed the incumbent to further her efforts to knock on doors and continue to develop a rapport with a district that is mainly made up of renters, which means there can be significant turnover.
"One of the things that I'm very focused on is really trying to build community within District 6 for those of us that live here, and it's certainly a different lifestyle than some of the other districts where there's very, very long-term residents," Harmon said. "There's just sort of a different focus. And, I think it's imperative that I communicate to our working families just how important it is that we all stay involved in city government, because the policies that we put in place are going to impact their lives in very real, tangible ways, as we've seen over the last two and a half years."
Harmon considers Rowse a mentor, as he worked with her when she was appointed to council in 2019. She admits that they don't agree often on policy, but that the process to finding a solution is one that she can always count on with the former owner of Paradise Cafe.
"What I have always deeply respected about Randy is his sincere excitement and willingness to debate ideas and focus on policy that serves our residents best," Harmon said. "We've had many long conversations where we've gone back and forth about whatever ordinance might be in front of us, having the opportunity to really have respectful, fulsome debates has made me better and so I really look forward to working with him."
Eric Friedman ran unopposed in District 5 and will retain his seat.
You might also be interested in...