DCC Puts Thumbs on the Scale for its Curated Cadre of Candidates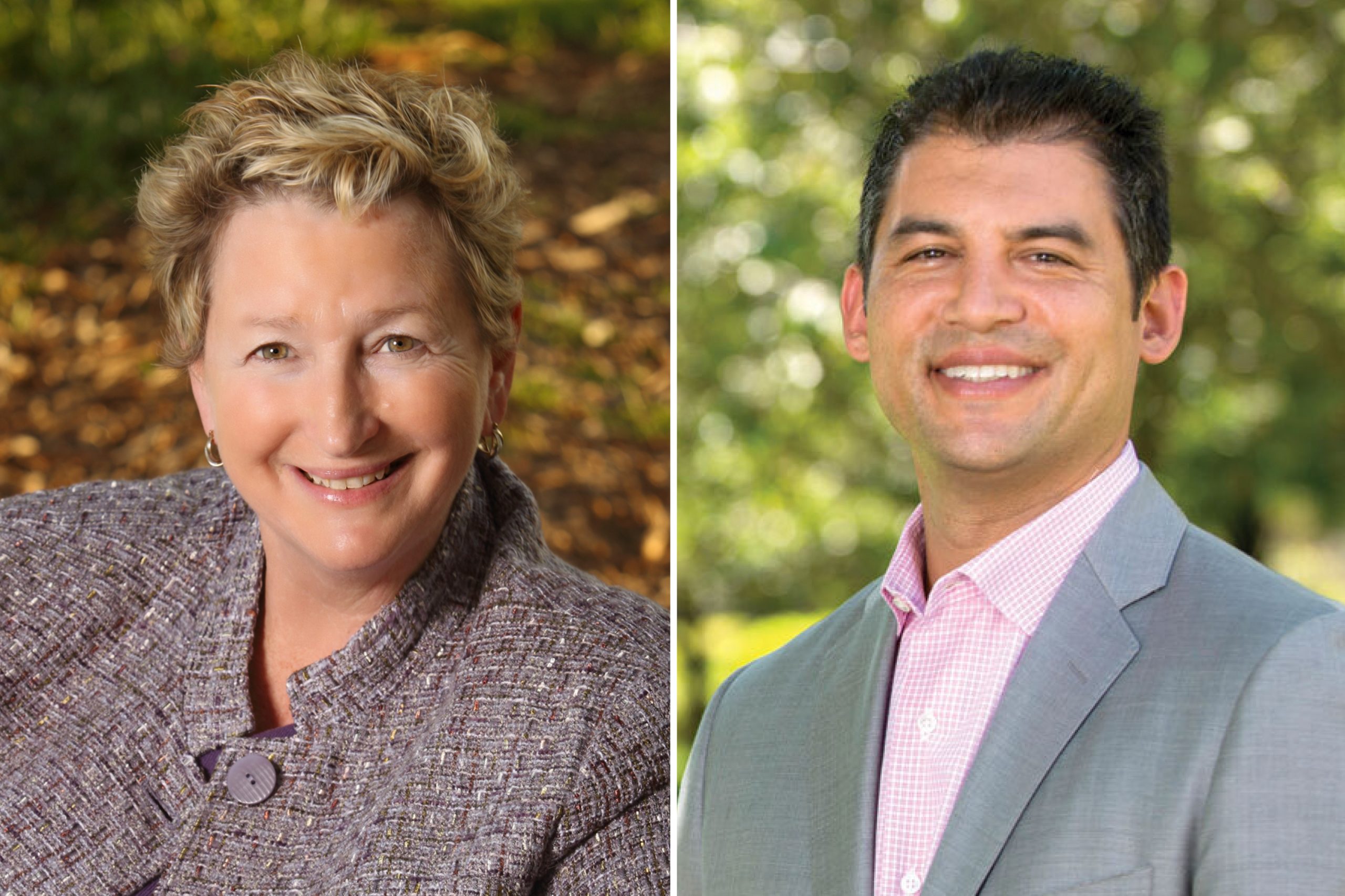 When back room deals and influence peddling are discussed, certain places come to mind. Chicago. New Orleans. Atlantic City. Could "sleepy" Santa Barbara be headed in that same direction?
With Election Day looming, political posturing is expected. Less expected was Santa Barbara County First District Supervisor Das Williams' recent meeting with mayoral candidate Deborah Schwartz, wherein he encouraged her to drop out of Santa Barbara's six-candidate race with the promise of an opportunity to "get back into the good graces" with the ever-powerful Democratic Central Committee (DCC), which has endorsed incumbent Cathy Murillo for mayor.
In exchange for possible "reconciliation," Williams told the Montecito Journal that he would have asked Schwartz to throw her support to Murillo — but Schwartz is not in fact stepping aside and told the Journal that one of the reasons she couldn't consider doing so was because she simply can't support Murillo.
"When I decided to run for mayor, it was truly after much consideration. It was because I deeply and genuinely feel that there's been a failure in city leadership on many levels," said Schwartz.
"I'm no newcomer to politics or to races, and I understand the difficulties of prevailing in a crowded field. If I believed that one of the other candidates, whether the incumbent mayor or anyone else, could really come close to fulfilling what I am hearing from voters they need in a new mayor, I might have discussed with my supporters the possibility of pulling out of the race.
"I don't see that in this field. I don't have that kind of confidence. I want someone to prevail who I think can lead us through and out of these dark and fragile times. I would not be backing the incumbent mayor in that regard."
After Schwartz made it known to Williams and the DCC she would not bow out, she has also had to file an official report with the Santa Barbara Police Department after receiving a threatening text message. Authorities couldn't trace its origins due to advanced technology being utilized, but Schwartz has been told by a police lieutenant that she can call him any time if more threats occur. She's also been encouraged by her supporters to not venture out at night due to the threat, which Schwartz feels is politically motivated.
"Any aggressive tactics or behaviors aimed at me will be promptly investigated by the SBPD to identify and halt the perpetrators," Schwartz said. "I can't believe this is what Santa Barbara politics has come to."
It is not clear under whose direction Williams approached Schwartz about bowing out of the race, though Schwartz was led to believe it was on behalf of the DCC.
"I can tell you that I can confirm for you that the party approached me with that request," Schwartz said.
Meanwhile, Darcel Elliott, the chair of the Democratic Party of Santa Barbara, told the Journal that she was aware that Williams would be approaching Schwartz about dropping out, but that the meeting was not executed as an official request of the DCC.
She also said she did not try to stop Williams from moving forward with the meeting.
Elliott is employed by Williams as his Chief of Staff.
When questioned on what getting "back into the good graces" meant to the DCC, Elliott explained that in any race that involves multiple Democrats on the ticket, there can be "fences to mend," she said.
"When there's a Democrat that runs against another Democrat, there are people who get upset about that," Elliott said. "As Democrats, we get concerned that we'll split the vote and a conservative will win the election — and I'm concerned about that, especially this time."
When asked to expand on her concerns, Elliott was direct about a growing sentiment within the party.
"There's a lot of concern that [conservative] Randy [Rowse] will get elected," Elliott said.
Thus, operatives within the Democratic Party may have wanted to consolidate the field (and their own power) by getting Schwartz to drop out and throw her highly respected family name behind the incumbent.
The DCC's organization angst over the direction of the campaign spilled over in an email communication sent to supporters on Monday, stating the party "was under attack," and that Santa Barbara was "at risk of history repeating itself" in reference to its endorsees for mayor and Santa Barbara City Council "being challenged by special interests and Trump Republican donors, who have waged a campaign of misinformation to unseat them, because they have stood up for Democratic values."
Those values have seemingly been put on hold when it comes to Schwartz, a lifelong Democrat, as Elliott says it will "take work" for Schwartz to regain the support of the DCC — leaving the unanswered question: Was Williams' last-minute push done to swing votes toward Murillo, or showcase the perception of unified support for the incumbent?
Elliott reiterated that the DCC did not call for the meeting, but did say any future support of Schwartz will depend on the position she is looking to fill.
"I personally don't really feel like this has been one of the most acrimonious elections we've ever had here," Elliott said. "The party endorsed her previously when she ran for city council. And the Democratic Party not endorsing Deborah wasn't a slight against her. We just believe in Cathy, and we believe that she's done a good job as mayor.
"It'll depend on what race she wants to run for in the future, or if she even does want to run for anything in the future."
Both Elliott and Williams pointed to a long-term relationship between the supervisor and Schwartz as the impetus to the conversation. According to Elliott, both Williams and the DCC previously attempted to help Schwartz win a seat on Santa Barbara City Council, to no avail.
Some rumors had swirled in political circles that Williams and Schwartz discussed potential alternative positions with the city that could be available to Schwartz if she stepped aside — including the city manager role that comes with an annual financial package of $362,000. That scuttlebutt was quickly squashed by both parties.
"First, she's staying in the race. I didn't offer her anything except for my help in creating reconciliation [with the DCC]," Williams said.
Schwartz concurred.
"It was said in jest," Schwartz said, referring to the city manager role.
The Democratic Central Committee is not the only player in the field, and Williams approaching Schwartz to drop out and throw her support behind Murillo created concern for Christina Pizarro, the president of the Democratic Women of Santa Barbara County (DWSBC), an organization that endorsed Schwartz for the mayor's seat.
For Pizarro, it comes down to undue influence over the Democratic process.
"Das is a county supervisor, and this specific election, I don't think any part of it is in his purview," Pizarro said. "It is alarming. I don't think someone with his stature and influence should be jumping into this lane."
Sounding off on the DCC
While Schwartz ultimately was not swayed to bow out of the mayoral race, she did not hold back on the current frayed state of her relationship with the DCC.
The Schwartz family has a long history with the local Democratic Party, going back decades to Schwartz's mother, Naomi, who served as a Santa Barbara County supervisor for almost 15 years from 1992-2005; and before that as the chief of staff for State Senator Gary Hart.
Schwartz remembers family discussions about being a part of the "big tent party," with all opinions and views welcomed. The only requirement was to come together at the end of the day and embrace the differences.
Instead, in Schwartz's view, the DCC has instead taken a "narrow set of objectives with a narrow set of conditions that are acceptable."
"They've really strayed from true core applications of the Democratic Party values that I grew up with," Schwartz said. "I don't recognize this and talking to my mom up in heaven the other day about this, I think she'd be heartbroken."
Schwartz has been outspoken about the endorsement process and the need for reform when it comes to how organizations are able to influence election outcomes based on personality and money, rather than the issues facing the community.
She went as far to say that the party itself has become a "special interest," with what she described as a "small, consolidated group within the Democratic Central Committee that is circling the wagons around their endorsees in a way that is not becoming."
Schwartz ultimately believes this election cycle has shown that certain portions of the DCC have failed the party — including an endorsement process that began before the official filing period to run for mayor began.
"I have significant concerns about the Democratic Central Committee's activity and actions in the course of this. They have appeared to go to great lengths to influence control over city leadership," Schwartz said. "These are not values that the Democratic Party espouses, nor does it really honor the democratic process.
"It's so disappointing to me. Not surprising, but disappointing."
Pizarro admits that the DWSBC and DCC have generally differed in their respective endorsements in recent elections, with the DWSBC waiting until filing deadlines have passed to then host interviews and make an "informed decision" on who best represents the interests of the group.
Pizarro says that while being registered with the state Democratic Party, the DWSBC's autonomy is crucial in maintaining transparency and trust with the community.
The difference in methodology between the DWSBC and DCC could end up being costly for the overall party, says Pizarro.
"We don't clear the field. If the party is doing that, trying to convince people to bow out or drop off, that's very undemocratic," Pizarro said. "And I hear that this type of behavior is actually pushing people to re-register as 'Independent' or 'declined to state.' And we can't have that. There's a polarization and we need to come together and be a community.
"I think the DCC needs to reevaluate its priorities."
The DWSBC has also frequently been asked to reconsider its endorsements during this election cycle, including that of Nina Johnson for the District 6 seat on Santa Barbara City Council, with a DWSBC board member receiving a note from a prominent local Democrat with prior connections to the DCC attempting to convince the organization to swing its support to incumbent Meagan Harmon — all in the name of being a "good Democrat."
The Montecito Journal acquired an email sent on October 11 by Lee Heller, a well-known local Democrat, to DWSBC board member EJ Borah attempting to convince her to rethink the DWSBC's endorsement of Johnson in an attempt to ensure victory of the DCC-endorsed incumbent, Harmon.
Heller's email, in its entirety:
"I'm reaching out to you because you are such a long-time good Democrat and I'm thinking you'd be the right person to take this on!
I'm wondering if Dem Women wants to consider withdrawing their endorsement of Nina.
I'm sure you know that she violated both local and state campaign finance disclosure laws. She's facing nearly $7,000 in fines from the city alone and will have much larger ones from the state once they process the complaint that was filed. We know that this is not because she is ignorant as a new candidate. Her treasurer is Tony Vallejo, who committed the same offenses in 2014 for Roger Aceves and was fined by the FPPC. I read the complaint recently. So, this was a deliberate effort to circumvent the kind of transparent disclosures that Democrats have been advocating for against Republican dark money.
When asked to comment on this for a news story, Nina's response was to turn the attack on Meagan for taking 'special interest' union money. Democrats are pro union because we understand the importance of collective bargaining in the face of the power of business. If Nina is attacking unions, she is certainly not in alignment with Democratic Party values. Further, Meagan's union donations constitute a pretty small percentage of her campaign revenue. On the other hand, at least 40% of Nina's donors are big money special interest landlords, including Jim Knell. He has also violated campaign finance law by giving to her through multiple LLCs and exceeding campaign donation limits. This is another attempt to work around and hide special interest money.
At the forum last week, she opposed vaccine mandates. She also opposed a vacancy tax on long-term unoccupied commercial buildings, another linchpin in efforts to revive State Street.
When Nina first started running, she came across as blandly and inoffensively Democratic. So, I understand why some of your members might have thought she was the better option. But now Nina is actively against the very things that we as a party stand for. And the only other endorsement she has gotten is from the Police Officers Association which is endorsing only the conservative challengers.
I'm just thinking y'all might want to revisit this endorsement because it certainly doesn't reflect well on the group to be supporting someone whose positions are anti-Democratic."
Harmon told the Journal that she was unaware of the note.
When reached by the MJ, Heller says she acted on her own with this note, indicating that she is "currently" registered with the Green Party and does not participate in strategy discussions with the DCC.
"I did not consult or coordinate with anyone else when I decided to email her," Heller said. "After the [Santa Barbara] Independent's forum, when Nina's positions were so clearly not aligned with Democratic Party values, I reached out, thinking that she and at least some of the other Democratic Women Board members must be feeling very uncomfortable having an endorsed candidate who has publicly attacked labor unions, rejected vaccine mandates, opposed a vacancy tax on downtown commercial buildings, and taken so much money from special interest donors who have long opposed tenant protections and affordable/inclusionary housing requirements."
Whether or not Heller's actions were coordinated with the DCC, it does seem coincidental that Williams' approach of Schwartz, Heller's approach of Borah, and former DCC chair Daraka Larimore-Hall taking to the airwaves on Josh Molina's Santa Barbara Talks podcast, throwing shade at Johnson and mayoral candidate James Joyce – "James Joyce winning will not bring any dead people at the hands of cops back to life," Larimore-Hall said — all came on the heels of Joyce being endorsed by the Montecito Journal and the Santa Barbara Independent.
Pizarro stands by the DWSB's process, and will remain in staunch support of city council candidate Nina Johnson, despite the attempts made by Heller to influence and change Pizarro's endorsement.
"[Nina Johnson's] mistakes were classic rookie mistakes. She's not a politician, and the community has forgiven her for that because they were just rookie mistakes. For anyone else to try to hold her feet to the fire, I think that they have been unsuccessful," Pizarro said. "The Democratic Women have chosen Nina because she has what it takes with 25 years of experience. We will rely more on practice than theory."
Experience is also what drew the DWSBC to Schwartz, with more than 10 years on Santa Barbara's Planning Commission. But Pizarro said the DWSBC was also won over by Schwartz's quest to have all candidates receive a fair shake and not be minimized by special interests.
And that's a concern for Schwartz as November 2 approaches, specifically from the DCC.
"With less than two weeks to go, I hope [the DCC] stays in their lane and helps their candidate do whatever they need to do, ethically and professionally, and not try to sling, or get down into the gutter," Schwartz said. "The people of Santa Barbara don't want political guerrilla warfare. We're not that kind of city."
You might also be interested in...