A Sidecar Infused With Eucalyptus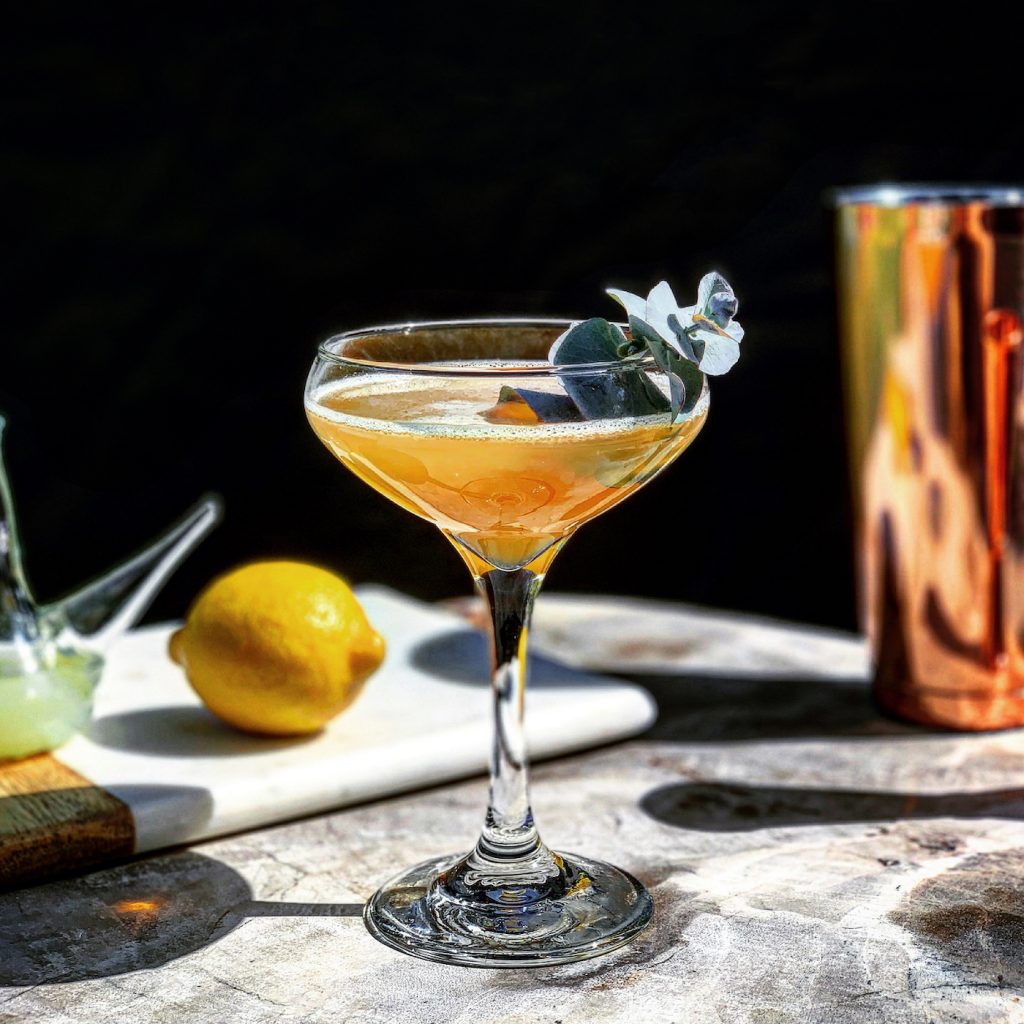 Hello and welcome to Mixing It Up! My name is Ian Wickman. I will be your host in this column about all things cocktail. I am lucky to be a fellow Montecito resident and have lived here with my wife and two daughters for the last eight years. I am a cocktail creator and cook, a student of flavor, a seeker of stories, a host of parties, and a lover of beautiful ingredients. I want to inspire and enable you to sip and savor, gather with friends, and fill your cup with small moments.
The beauty of cocktails is that they bring us together. The intimacy of sitting and being present with another human is something that we all need more. We get to talk, laugh, and look each other in the eyes. All that communication creates a connection. That is the reason I do this.
In the coming weeks, I will be going through tools, techniques, ingredients, exquisite recipes, and a bit of history. Hopefully, removing barriers so that you can fall in love with making craft cocktails as I have. Learning the ground rules for making cocktails allows you to use them to your advantage. It will help you to create or adjust cocktails precisely the way you and your friends like them.
To that point, and my first rule, the best cocktail is the one that tastes the best to you. We are all different, which is what makes it fun. I only ask you to keep an open mind, stay curious, and seek out what makes you happy.
I have two goals for any cocktail I make: To be more than the sum of its parts and for it to have a story. Whether that story is the inspiration for the cocktail, the ingredients, the people who produced them, or the one you make while sharing it with friends. I will always gravitate towards a simple cocktail made with beautiful ingredients from the surrounding area. It imparts that intangible notion of time and place, of terroir, the flavor of the land.
Here, in Montecito, we are surrounded by inspiration from the sea to the mountains. We are also fortunate enough to have some of the best farmers and produce found anywhere. It's what makes this community so vibrant. So, for our first shared cocktail, I want to mix something inspired locally that imparts a sense of the incredible place we live.
Hiking the hills that we nestle up against, I am constantly bumping into things that spark ideas. Sometimes literally. If you've ever brushed up against eucalyptus, you understand. The aroma released is the scent of our mountains. I've also been loving cognac, a spirit that brings lovely layers of dried fruits, apricot, and brown sugar that are nearly irresistible. Combining these, with fresh citrus from my backyard, in a classic template evokes everything that I love about Montecito.
The fresh scent of eucalyptus, lemon, and orange oils mingle with the beautiful depth of cognac. A sip. A smile. The Montecito Sidecar is to be savored, ice cold to the touch, exquisite notes weaving throughout, and more complexity unleashed with each taste. Cheers Montecito. Now, let's mix it up!
Montecito Sidecar
—2 oz VSOP cognac (Park Cognac Borderies Single Vineyard)
— 1 oz fresh lemon juice
—3/4 oz eucalyptus simple syrup (see below)
—1 dash Eucalyptus Bitters (The Bitter Queens)
—Garnish: 1 piece each of lemon peel, orange peel, and a sprig of fresh eucalyptus
Directions
Add all ingredients except citrus peels and garnish to a shaking tin filled with ice. Shake about 10 to 15 seconds to chill and dilute. Strain through a fine-mesh strainer into a chilled coupe. Gently squeeze the lemon and orange peels over the drink to express the oils. Lightly smack the sprig of eucalyptus against the back of your hand and garnish your drink with it to incorporate the fresh aroma.
Simple Syrup Directions
Mix eight ounces of boiling water with four eucalyptus tea bags. Let them steep for about 10 minutes. Remove tea bags and mix with an equal volume of sugar, about a cup. Stir until the sugar dissolves completely and store in the refrigerator for up to a week.
Not to worry if this is all foreign right now. I will be going through all of the nuances in future articles. Please reach out if you have any questions. Also, I've been chatting with Brian and Jason at The Liquor and Wine Grotto and they're working on getting the i ngredients and would be happy to help! •MJ
Follow Ian on Instagram (@idealist foods), visit his website at https://idealist foods.com, and you can email him at ian@idealistfoods.com
You might also be interested in...