Students Shine at Summer Research Event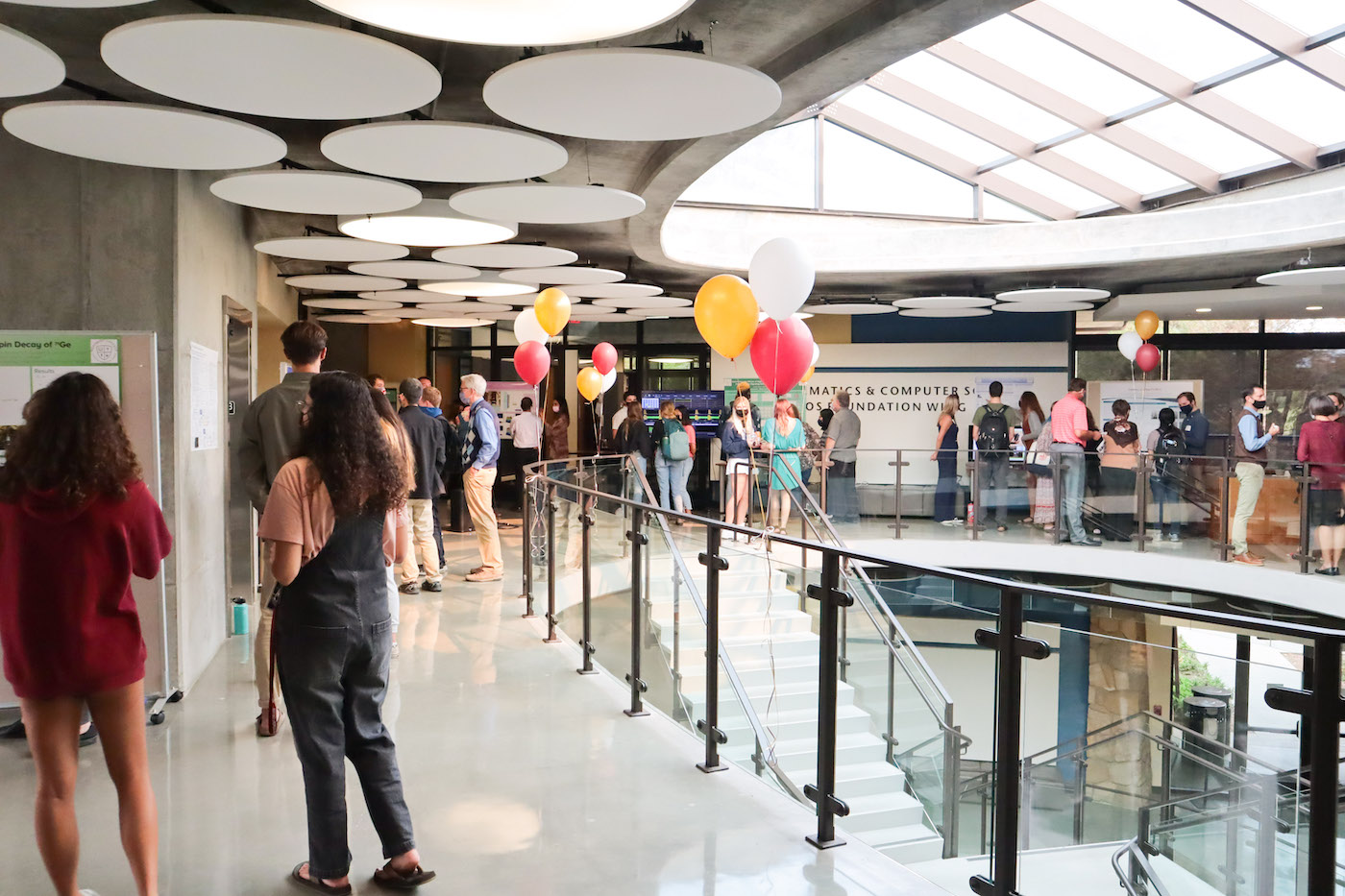 More than 30 Westmont students presented their findings on 21 posters at the 2021 Celebration of Summer Research on Sept. 24 around the Winter Hall third floor atrium.
Topics included "Firewise Plants for a Flammable World," "Palms and Oaks Predict Urban Acorn Woodpecker Occupancy Across the California Coast," "Mental Strength Training Improves Running Performance While Fatigued," and "The Effect of Antipsychotics on Processing Speed in Geriatric Neurology Patients."
A hallmark of Westmont's academic program is the opportunity for undergraduate students to work directly with faculty on research projects. Most of the students who conduct research for eight to 10 weeks over the summer earn research and housing stipends.
One research project was particularly timely, coming on the heels of national news reports that fire ecologists, realizing that forests are too large to manage, suggest communities focus on protecting the urban wildlife interface. Laura Dagg, Isabelle Hugoniot, and Laura Schultheis, assistant professor of biology, analyzed the structural and functional traits that contribute to the flammability of 20 Santa Barbara native plant species. "There are no standardized methods for testing plant flammability," Hugoniot says. "So, we are analyzing which traits will be the most helpful for future studies on a larger scale. In the meantime, this research may be used by homeowners to know which plants to put in their yards to help prevent fires."
The five least flammable plants that were studied are: narrowleaf milkweed, California goldenrod, common yarrow, California poppy, and hummingbird sage.
Other student researchers included Alison Thomas, Allison M. Nobles, Braden Chaffin, Caleb Courson, Daniel Yugeun Jang, Danny Rubin, Ethan Walker, Francesca Montemurro, Jared Lush, Jenna M. Peterson, Jessica Wright, John Baker, John Corbett, Jonathan Reitinger, Joseph Hemry, Karly L. Kingsley, Kaylee Ivie, Kirsten Potts, Luke Perrin, Marliss Neal, Mercy Milliken, Rachel M. Lorson, Riley Johnson, Siena Verdon, Sophia McRae, Theo Patterson, Tiffany Gong, Wesley Brown, William J. Grubbs, and Winston C. Gee.
You might also be interested in...