Shaping the Future of Water for California's Central Coast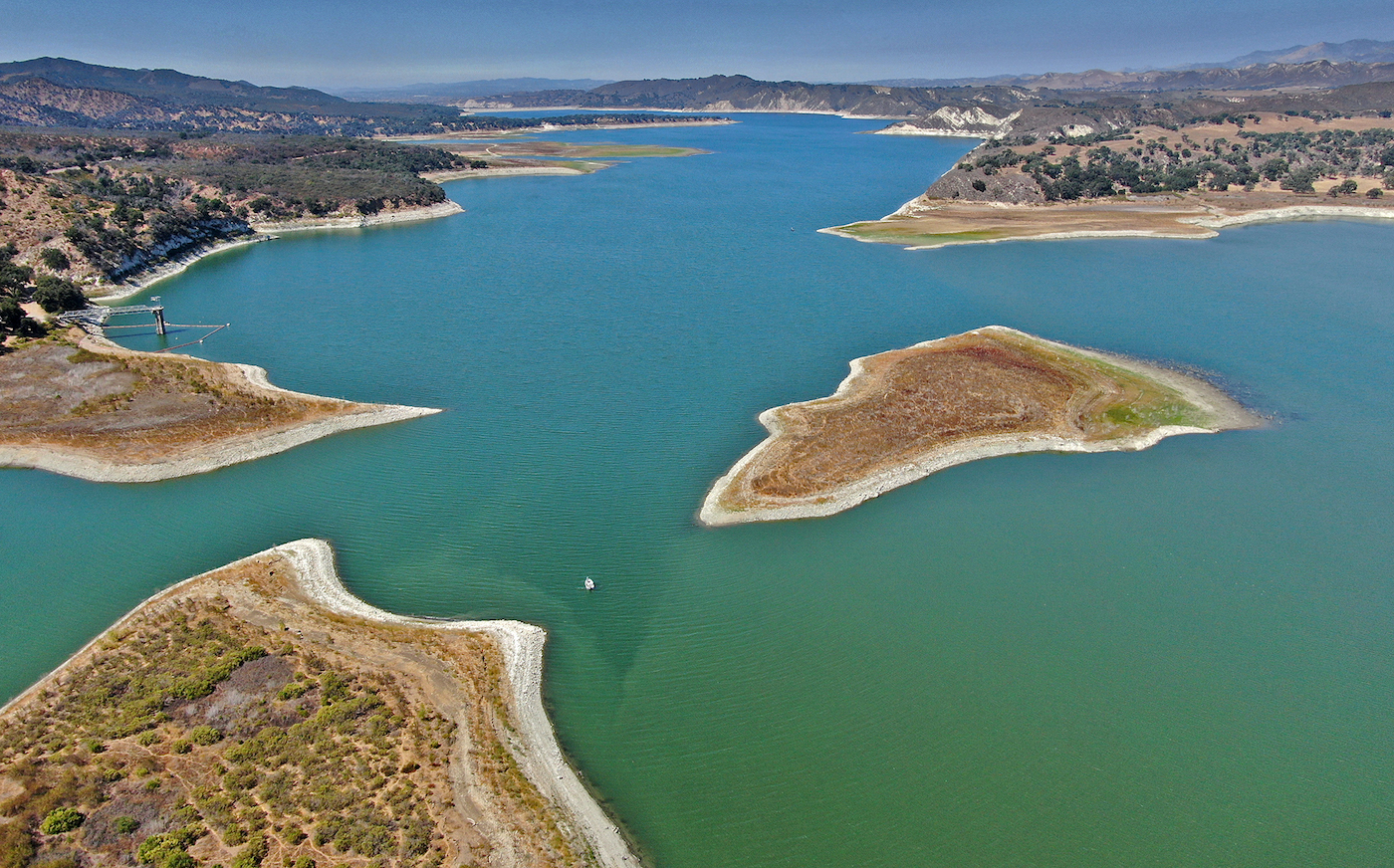 Bringing an end to California's cycle of dependence on imported water and surface reservoirs will require that we increase reliable local supplies of potable water that are independent of rainfall, and that we decrease our demand for water through continued conservation.
In order to drought-proof California's Central Coast over the long term, we need to gain agreement on a series of sensible, cost-efficient strategies that will unite our independent water districts, sanitary districts, county supervisors, state water agencies, the environmental community and the governor of California.
Here is a checklist of changes that need to be happen in the next decade:
1. Commit California's Central Coast to the pursuit of low-cost desalination of seawater. Consider public-private partnerships to design, engineer, finance, build,
and operate desal plants.
California needs to take a page from Israel's playbook. Tiny Israel, with 8.8 million people, fewer residents than Los Angeles County with 10.2 million, has warmly embraced and invested in both seawater desalination and wastewater recycling to increase their supply of potable water. Today it has five desal plants with two more under construction. The goal is to get 90% of its water from desal.
Meanwhile, California's principal strategy to end drought has been to ask its 40 million thirsty residents to take shorter showers; install low-flush toilets; replace lawns, trees, and plants with desert landscaping; and turn off their fountains. In the last 20 years, California has built only one desal plant in Carlsbad. After 23 years, it has yet to win regulatory approval for a second plant in Huntington Beach.
For the last 50 years, California has relied on an aging, outdated State Water Project (SWP) that consistently over-promises and under-delivers its allocations of potable water.Establishing a regional desal program would provide a reliable source of water to California's Central Coast, regardless of our drought status.
Despite the popular criticism that desal water is just too expensive to produce, Israel has shown us how to cut the cost of desal water from $6.00 per hundred cubic feet (HCF) at Carlsbad down to $0.41 per HCF, the bid price at Israel's newer plants at Sorek II and Western Galilee.
What could California do to get the price of desal down to an acceptable level? Follow Israel's lead while reducing the time and cost of California's regulatory approval process.
Throughout Israel's desal development program, the government of Israel has taken the risk off of the ratepayers by relying upon private investors to design, engineer, finance, build, operate and maintain the desal plants. These plants operate under private industry for the first 30 years of their existence, at which point ownership is surrendered to a local or regional government entity.
This public–private partnership (PPP) model has been 100% supported by Israeli water agencies and the Israeli government. All joined the effort to open the plants at the least cost to ratepayers. The PPP model included Israeli government guarantees and subsidies that allowed the private sector to bid low prices for desalinated water. In addition, the commitment to purchase desal water was maintained regardless of whether a drought emergency existed in any given year.
2. Commit California's Central Coast to low-cost
regional recycling of wastewater for indirect potable
or direct potable re-use.
Shamefully,California's 43 wastewater treatment facilities along the Pacific coast continue to discharge approximately one billion gallons a day, equivalent to 1.3 million acre feet per year (AFY), of treated wastewater directly into the Pacific Ocean, according to a report from Hillary Hauser's Heal the Ocean.
From Goleta to Carpinteria, some 11 million precious gallons per day of treated Central Coast wastewater, equivalent to 12,000 AFY – enough water to serve Montecito for three years – is still being released into the Pacific Ocean. This is environmentally irresponsible and frankly, quite short-sighted, given today's availability of advanced recycling technology.
In San Jose and Orange County, recycled water treated to the "gold standard" is currently being converted to indirect potable water and is awaiting the passage of state regulation that will provide for the use of direct potable drinking water. Updated state legislation for direct potable reuse is expected to be released in 2022.
The Montecito Sanitary District (MSD) alone discharges some 500,000 gallons per day of tertiary treated wastewater into the Pacific Ocean – 1,500 feet off Butterfly Beach – equivalent to more than 600 AFY of wastewater that could be treated to potable standards and re-used. To date, feasibility studies have shown that treating MSD wastewater to a potable standard is more costly than either desal water or SWP water. What's missing are "economies of scale."
In 2018, a Recycled Water Facilities Plan (RWFP) was completed that identified numerous opportunities to use recycled water in the Montecito community. The $150,000 study was 50% funded by a planning grant from the State Water Recycling Funding program.
In 2019, a Groundwater Augmentation Feasibility Study was completed, to evaluate the potential for groundwater injection of treated wastewater into the Montecito groundwater basin for recharge. The study revealed that the opportunity for storage of treated recycled water in Montecito is very limited due to the insufficient basin hydrology, the density of private wells and routinely low quantities of available storage capacity. This $110,000 study was again 50% funded by a planning grant from the State Water Recycling Funding program.
Currently, MSD and the Montecito Water District (MWD) have jointly embraced the pursuit of potable reuse rather than relying on the outdated and less flexible purple pipe as the best recycling option for this community. The two districts have agreed to work with world-renown Carollo Engineers to refine the proposed scope of work and cost estimates for both direct potable reuse and indirect potable reuse for groundwater recharge.
Meanwhile, the Central Coast from Goleta to Carpinteria is currently operating five separate mini-wastewater treatment plants, with each one treating and discharging its own wastewater into the ocean. Joining forces and funneling all the work through two larger facilities would certainly do the job more efficiently, but fiefdom exclusivity, once created, is difficult to surrender, even if the result would be lower costs to ratepayers.
Potential regional partnerships might include the city of Goleta and/or the Carpinteria Valley Water District. Both bookends, unlike the city of Santa Barbara, Montecito and Summerland, have mammoth underground storage basins which could provide low-cost storage banks for centrally treated wastewater injected into those basins.
Both the Montecito Water District and Montecito Sanitary District are pursuing that recycling and reuse option with regional partners.
3. Commit California's Central Coast to an inter-regional conveyance system that would allow water and wastewater
to be exchanged and sold between water districts,
sanitary districts, and municipalities.
Water, coming out of either a seaside desal plant, or a wastewater recycling plant, is worthless unless there is an efficient conveyance system to take it to where it is needed the most, or to store water, preferably in underground storage basins, free from evaporation. Investment in local water conveyance systems of pipes and pumps between districts to allow shared use of "banked" water and exchange water between districts is a necessary investment in infrastructure.
4. Develop a Regional Groundwater Banking Plan
Recent experience has taught South Coast water agencies that banking water in state or federally controlled surface reservoirs such as Lake Cachuma or the San Luis Reservoir can be unreliable, vulnerable to mandatory administrative spills, evaporation losses, wildfire ash, fish releases, inadequate pipes and pumps and layers of intolerable bureaucratic regulations and added expenses.
Both desalination and wastewater reuse produce potable water at a constant volume each month while water demand fluctuates wildly between high-use drier summer seasons and low-use wetter winter seasons. Therefore, it is essential to bank excess water in wet years or low-use months in regional underground water banks for groundwater recharge and withdrawals when needed for drought insurance. It is not unreasonable for each district to aspire to maintaining at least a five-year supply of banked water for protection against a prolonged drought.
5. Reform the California Approval and Permitting Process
California's environmental permitting system was created to prevent harm from traditional development projects. Unfortunately, it now hinders efficient, cost-effective planning and production of water systems that could eliminate the challenges associated with California's frequent drought conditions.
Sadly, delays in permit approvals have become a destructive tactic that raises development costs and adds complexity, often to the point of halting the project altogether or discouraging stakeholders from moving forward. Combined with litigation and environmental lawsuits, approvals are often measured in decades, not years.
The California Department of Water Resources currently works in concert with the State Water Control Board, the California Natural Resources Agency, the California Environmental Protection Agency, Fish & Wildlife, the California Coastal Commission, the Integrated Waste Management Board, the Air Resources Board, the California Department of Food & Agriculture, the Department of Finance, the U.S. Bureau of Reclamation and multiple Regional Water Quality Control Boards, each with a different agenda regarding water infrastructure.
In 1930, the Empire State Building was built in one year and 45 days. The Golden Gate Bridge was built in four years and opened in 1933. Today, in California, those projects could take more than 20 years to receive necessary construction approvals.
6. Voluntary Conservation
Conservation is always the first line of defense in protecting water resources because it costs the least. As responsible citizens, most of us have cut our green lawn space to a bare minimum; installed drip irrigation; reduced the hours and amount of irrigation water; installed three inches of mulch as groundcover; replaced landscaping with drought tolerant plants – and still seen our water bills skyrocket up to new highs. Meanwhile, I have lost four of my native coast oak trees to lack of water.
Governor Gavin Newsom on July 4, 2021, asked for a voluntary cut in water consumption of 15% over last year; so far, in three months, Californians have cut water consumption by a mere 1.8% statewide, according to the State Water Resources Control Board. Cutbacks, voluntary so far, may soon become mandatory, banning watering of lawns, ripping out water hungry plants and being asked to accept a new arid norm. California deserves a smarter and better fate.
Conclusion
We now have the technical knowhow to become rainfall independent. What's missing is the political will to break our dependence on the State Water Project (SWP); to commit to a single set of strategies that promise to increase water supply and lower demand; and to convince regulators and entrenched bureaucracies in the California water world to work together for a drought-free future. The challenge will be to collectively convince leaders of parochial community water fiefdoms to supersede the interests of any one district to achieve permanent drought-free protection at an affordable cost for themselves and their nearby neighbors. •MJ
Editor's note: This is the final story in a five-part series on the future of water in Montecito and across California.
You might also be interested in...