101 Widening – Fasten Your Seatbelts!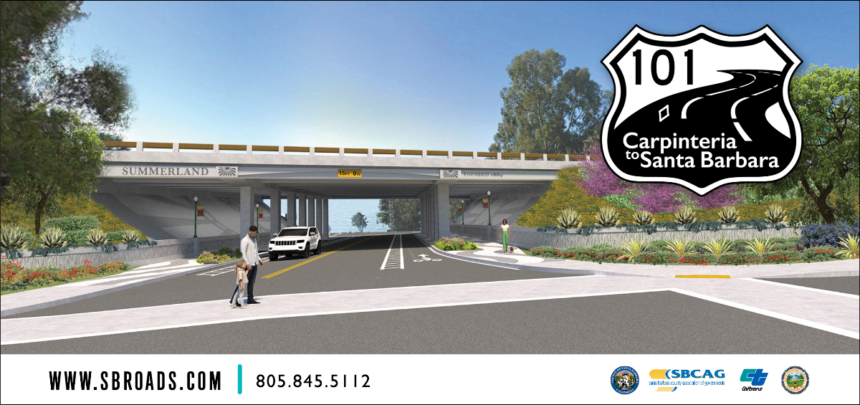 Will freeway noise be louder or quieter, during construction and/or when it is finished? How long will the construction take (spoiler alert: asteroid Bennu)? Will commuters take a short cut on the "Banner Avenue freeway" instead of the 101 or Lillie Avenue?
All these questions and more were answered during an informative 1.5-hour presentation by several well-prepared and cheerful representatives of the Santa Barbara County Association of Governments – Kristen Ayers, Lauren Bianchi Klemann, Dave Emerson,and Fred Luna – during the October meeting of the Summerland Citizens Association. By now, you should have received the color pamphlet mailed out to those who will be impacted by the upcoming construction, which is scheduled to begin on November 1.
One word you might adopt for your mantra should be "patience" and remember that "all good things come to those who wait." Wait we will, for the widening and improvements scheduled to begin next week will continue until… well, if I had a crystal ball. I will tell you what's "projected" by the powers that be, so don't freak out yet.
Phase 4 of the project has Summerland smack dab in the middle and will extend northbound to Montecito and incorporate a complete interchange reconstruction at Sheffield Drive and improved ramps (especially at Sheffield). High-occupancy vehicle (HOV) third carpool lanes (peak period carpooling will run 1.7 miles in each direction) will be added as well as a median bridge at Evans.
What's in Store? The Good News
The project has five segments:
•A state-of-the-art super-duper new highway surface that is said to reduce noise by four decibels. Dave Emerson said, "Three decibels is just about perceptible, but not by a great deal." The freeway noise is approximately 67 decibels, and while there will be a reduction there will also be two more lanes of cars. For comparison, a running dishwasher is 60-80 decibels. The "cream of the crop" highway material is a "big deal" – the quietest and longest lasting surface for the project.
•Sounds walls that have "vine holes" so vines can grow to cover them.
•Plexi-panels above sound walls so ocean views are not lost along Lillie Avenue.
•An attractive new pedestrian underpass at Evans leading to Lookout Park – with "community inspired designs" of waves, kelp, and suns; no street parking and a sidewalk behind the columns holding up the new bridge over the 101. There will also be bike lanes and lighting – with a place for banners! My favorite aspect? A wave pattern in the sidewalk that reminds me of Rio de Janeiro.
•More lanes could equate with more traffic, but hopefully less congestion.
• Enhanced drainage at Greenwell Creek.
•Finney Road will see improvements in the form of picnic tables and trash cans near the beach access as well as parking improvements. Greenwell to North Padaro will see expansion of sidewalks to Loon Point for important coastal access.
•For commuters, the Coastal Express bus that runs Ventura-Santa Barbara will be able to use the HOV lanes.
The Montecito/Santa Barbara section of the project still needs to be funded for 2023 construction, which the team hopes will occur.
If you want to get an idea of what's in store, look no further than the improvements including sound walls, creek bridges, and widening on the 101 that run through and around Carpinteria.
Now for the Bad News
The entire project will run from 2020 to fall of 2023, with the following forecasts:
• The northbound sound wall construction will take place until 2022.
•The Ortega Ridge sound wall, finishing the median, and bridge construction will end in 2023 – the same year the spacecraft OSIRIS-REX is scheduled to return to planet earth with rock and dust samples from the asteroid Bennu. Like I said, patience, man. And drive very, very cautiously, for the next couple of years.
And if the entire project gets funded? Expect a 2027 end date.
For more info, SBRoads.com.
Be a Good Citizen
On October 14, the Summerland Citizens Association meeting provided updates and insights into the future. The citizen volunteer group is searching for two new board members. Participants meet monthly via Zoom (during COVID). Contact Leslie Person Ryan, of Sweet Wheel Farms, who is chairing the nominating committee, if interested in participating in civic duty (personryan@aol.com).
Next year will be interesting with the Highway 101 widening and improvements, as well as ongoing concerns. It was also announced that there will not be an SCA Holiday Party this year, cancelled obviously because of the pandemic.
BOO… Hoo! School is Back, but Halloween Isn't!
Over the years, one of my favorite events has been when the Summerland Elementary School students dress up as characters from their favorite books (lots of Harry Potters!) and paraded through town collecting treats from shopkeepers. Alas, due to COVID, the parade is not on the docket for this year, although students went back to school on October 13.
You might also be interested in...