Real Estate Basks in the Glory That is Santa Barbara's Secret Summer
Well, it looks like our Santa Barbara summer is finally here. OK, not the commonly thought of summer – Memorial Day to Labor Day – but the secret summer that we locals know, the October summer that often brings the best weather of the year. The islands are clear, the ocean glistens from a lower sun that backlights the early fall area surf, the offshore breezes blow in the evenings (gently, please), shows at the Santa Barbara Bowl at night, and lighter crowds in general than those of summer. That said, there was no parking on Coast Village Road tonight, so folks are certainly in town and out and about. 
It has been quite interesting to me over the past few years and mostly since COVID interrupted our norms, to see how many people we know from the Los Angeles and Bay Area, who have embraced Montecito with a new level of reverence. Whether coming here for dinner at Lucky's or a lunch at Tre Lune, an anniversary at the San Ysidro Ranch or drinks on the ocean front patio at the Rosewood Miramar for a big birthday, we see posts, and run into friends and acquaintances from out of town on the beach randomly more now than ever, indicating to me that Montecito has never been more "in" than she is right now.
On the real estate front, sales have been staying consistent the past few months, closing between 25-35 homes per month as recorded in the Multiple Listing Service (MLS). September chalked up an impressive 27 sales in Montecito's 93108 with a lowest priced sale of $1,475,000 for a smaller home on 10 acres near the top of Toro Canyon, and the highest price of the month going to a Spanish style home with sprawling grounds near the San Ysidro Ranch, closing at $13,250,000.
Of those 27 September sales, approximately nine sales were "off market," meaning the homes were not for sale at the time, but a buyer found a seller (most often through an agent) and a deal was done. This is a significant percentage of total sales that were accomplished off market. More plainly stated, approximately one third of all homes that sold in Montecito in September were not even on the market at the time. Of additional significance, three of the top four priced sales were off market.
We continue to see sales in the more than $10 million range each month. And for those looking in this price range, there are still several homes to choose from in the $10 million-plus range. Here are three estate properties between $10-$20 million for those who can dream big and make those dreams come true.
1010 Hot Springs Lane – $10,500,000
This home was recently reduced in price and overlooks all of Montecito from this prestigious location just above East Mountain Drive and Picacho Lane. The upgraded 7,700 square-foot Island-Zen home is nestled on a three-acre bluff, boasting jaw-dropping ocean and island views and is within the Montecito Union School District. While you are living in the hills, ensconced in privacy and surrounded by nature and other estates, the home is situated just a few long blocks from the Upper Village area and the San Ysidro Ranch.
Enjoy sunsets by the grotto pool, a croquet and volleyball court, a soak in the mountainside copper hot tub and more. Windows offer panoramic and sweeping ocean and island views. Twenty-foot ceilings crown expansive entertainment spaces. A designer kitchen, three en-suite bedrooms, an en-suite home office, theatre, gym, 850-bottle wine cellar, music studio, and an 800 square-foot one-bedroom Balinese guest house with fireplace and projection screen round out this "why-would-you-ever-leave?" compound.
985 Park Lane – $12,875,000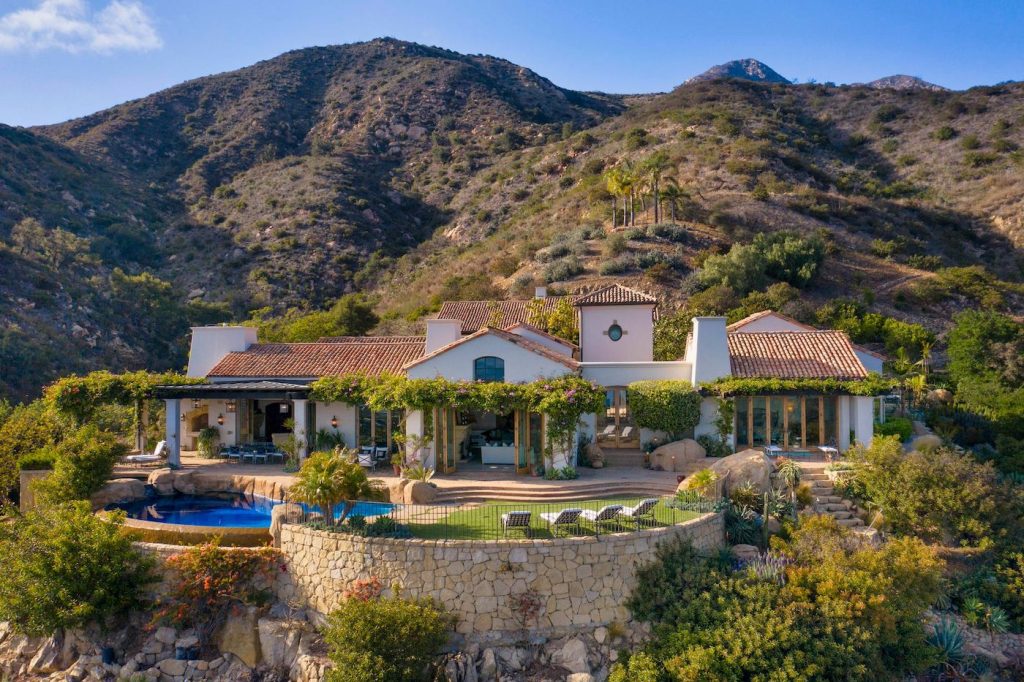 Perched in the foothills of Montecito, this French Mediterranean-style estate consists of a gated five-bedroom, six full (plus two half-bathrooms) main residence and a one-bedroom, one-bathroom guest house with separate gated entry. The home and grounds showcase the ocean, island, mountain, and coastline views, covering more than 20 acres with many improvements – all within the Montecito Union School District.
The estate offers an infinity-edge pool and spa, outdoor shower, multiple patios, built-in fire pit, bocce court, meandering pathways, private well for landscaping, and more. The spacious and bright residence features white oak and limestone floors, a main floor primary suite with large walk-in closet, luxurious en-suite dual baths, and ocean views. There are four lavish guest suites, a centrally located bar, multiple fireplaces, formal and informal dining spaces, a chef's kitchen, versatile media room, and a four-car garage. The property also features a diesel generator.
1475 East Mountain Drive – $19,995,000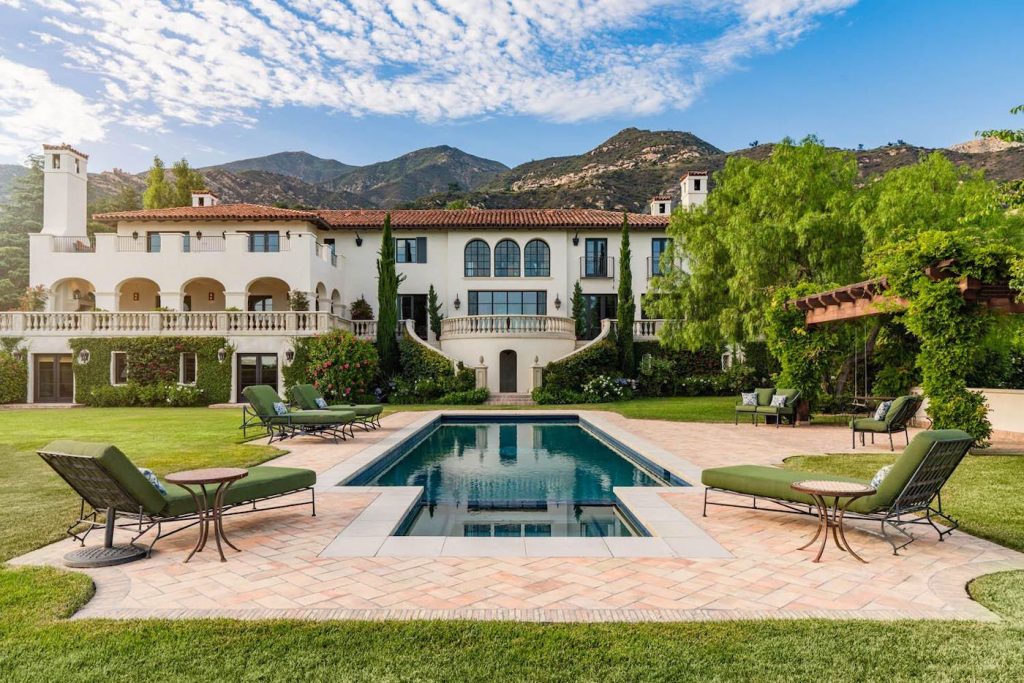 Nestled on nearly two lush acres in the heart of the Golden Quadrangle just two short blocks from the San Ysidro Ranch, rests this quintessential Montecito estate offering unparalleled quality and estate level living at every turn. Solid ocean, island, and mountain views create an ever-evolving organic backdrop for day-to-day enjoyment.
Divinely rebuilt in 2014 by Giffin and Crane, and perfected by Harrison Design, this 11,000-plus-square-foot Mediterranean estate is a thesis on beauty, luxury, design, and indoor-outdoor living. Only the finest of artisan materials grace this stunning estate featuring vast verandas, covered terraces, pool, north-south tennis court, organic orchard and gardens, level lawn areas for sports and enjoyment, a media room, wine cellar, gym, five-car garage, and luxury guest accommodations, all within the Montecito Union School District.
You might also be interested in...