Parachuting in With a Brilliant Idea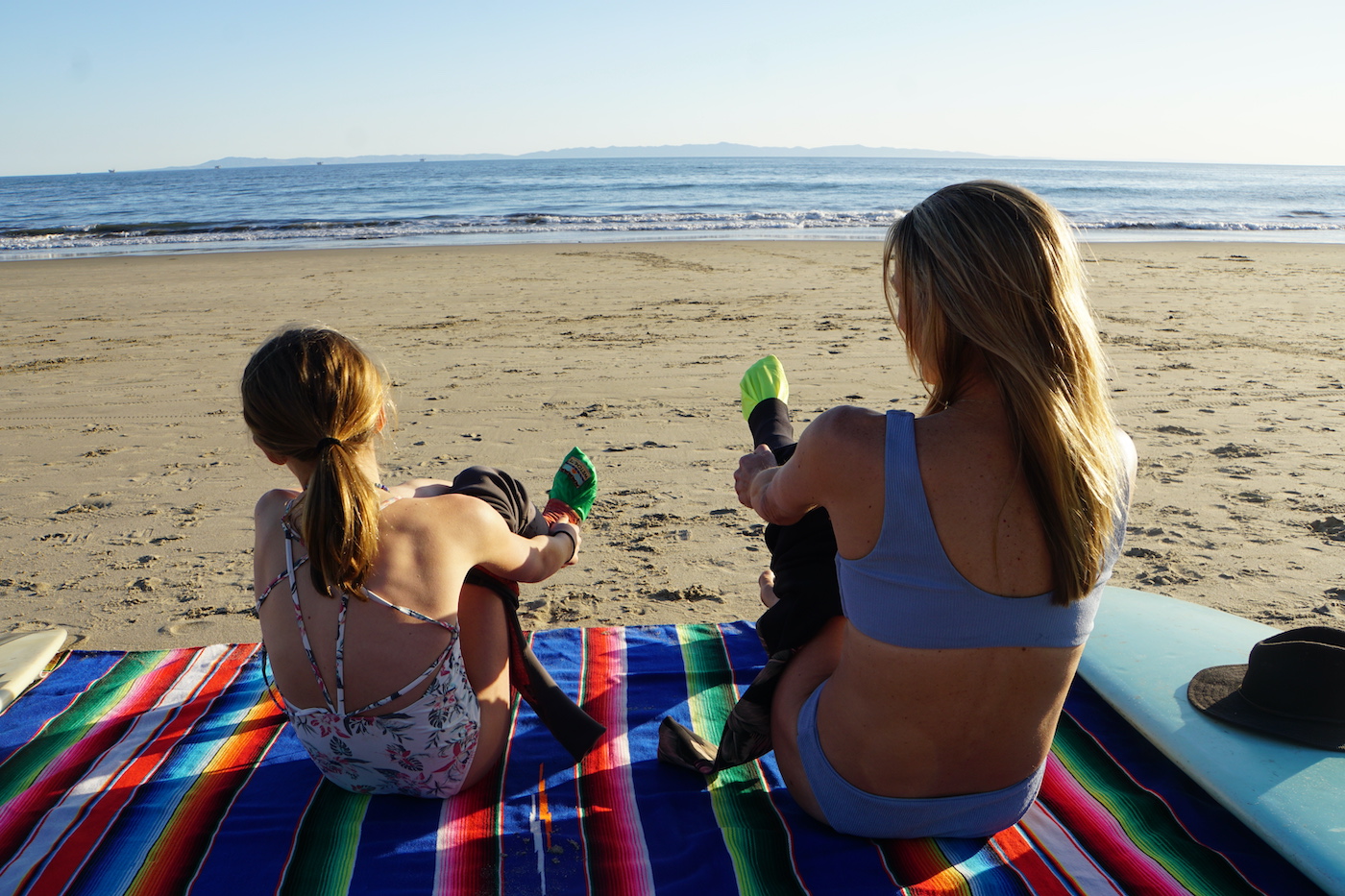 From wet bags to wetchutes — one mom is on a mission to make it easy to put on a wetsuit.
If you have ever tried to slip a slippery and sandy surfer kid into a wetsuit, you know it ain't easy. The wetsuit has to fit snugly, so it's a fine dance of pulling, tugging, twisting and wrestling to wrangle a young grom into the proper attire.
Meet Montecito Mama, Lauren McDermott. She knew there was a better mousetrap to getting her three surfing babes (Liliana, 11, and twin 13-year-olds, Jackson and Aiden) into their outfits.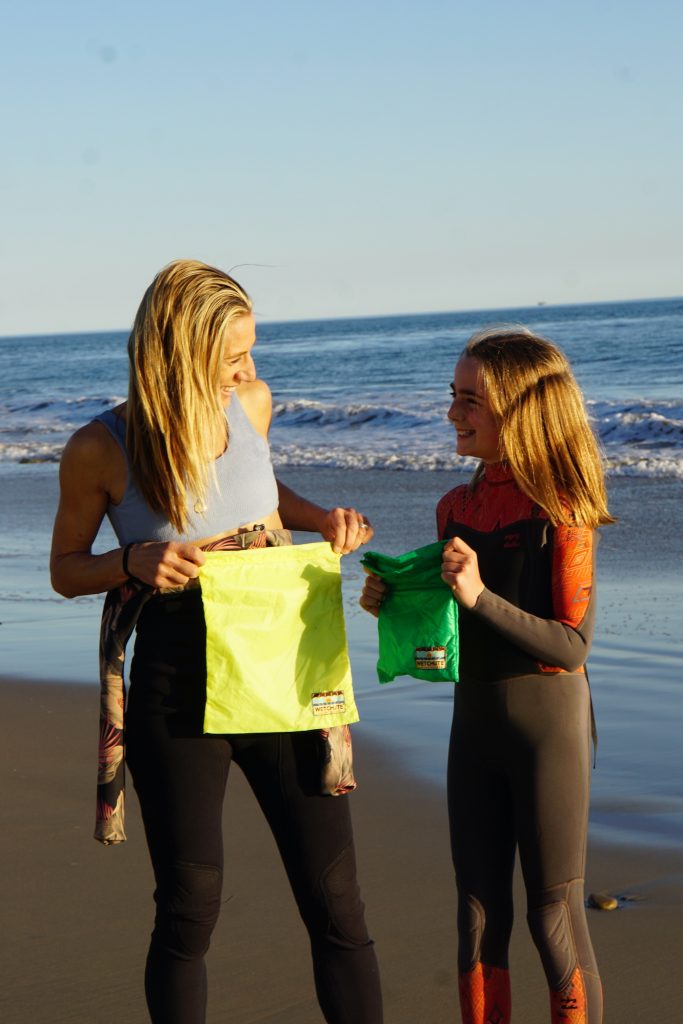 "My husband, Patrick, and I are surfers, and putting on our wetsuits was always a drag. But then, after we had kids, helping all three of them put on their wetsuits was an even bigger struggle. It literally had us sweating and cursing to ourselves and wondering why we were putting so much effort into this. It certainly took the fun out of the first part of our beach excursions."
They have called Montecito home for the past 10 years and are true ocean lovers in every sense of the word. Says McDermott, "We hit the beach almost every day. If it isn't to surf, or swim, it's to hang out with friends or take a beach walk. We love our ocean."
McDermott and her family took off on a huge family trip in January 2018 (they left Montecito the day before the debris flow), where they traveled all over the world and home-schooled their kids.
"It was a great adventure for our family to connect; we were gone for seven months and we only planned the first two weeks of the trip," Lauren explained.
Now, with the kids all settled back in school for the fall, McDermott is excited to begin a new adventure by creating her new company — one borne out of necessity.
"When we would get the kids ready to surf, and as a way to make our lives easier, we started using plastic grocery bags to slide our feet through our wetsuits," Lauren said. "That worked for a little while, but then we would have to throw out the used, ripped bags after each use. We were concerned about the impact of our plastic waste, so we knew there had to be a better way."
They started thinking about alternative materials that we could use instead of the plastic bag trick. One of those ideas was to use the silky but tough material that parachutes are made of.
"A friend of ours had recently retired from BASE jumping and gave us an old parachute to experiment with – and it worked far better than we had even hoped," Lauren said. "The parachute fabric allows your foot to slide right through the neoprene wetsuit. So now we had the material, we had a great name and we now needed to actually make them."
 Knowing how much waste was created in making new products, they chose the much harder (and more expensive path) of upcycling non-air-worthy parachutes instead of sourcing rolls of new material from overseas.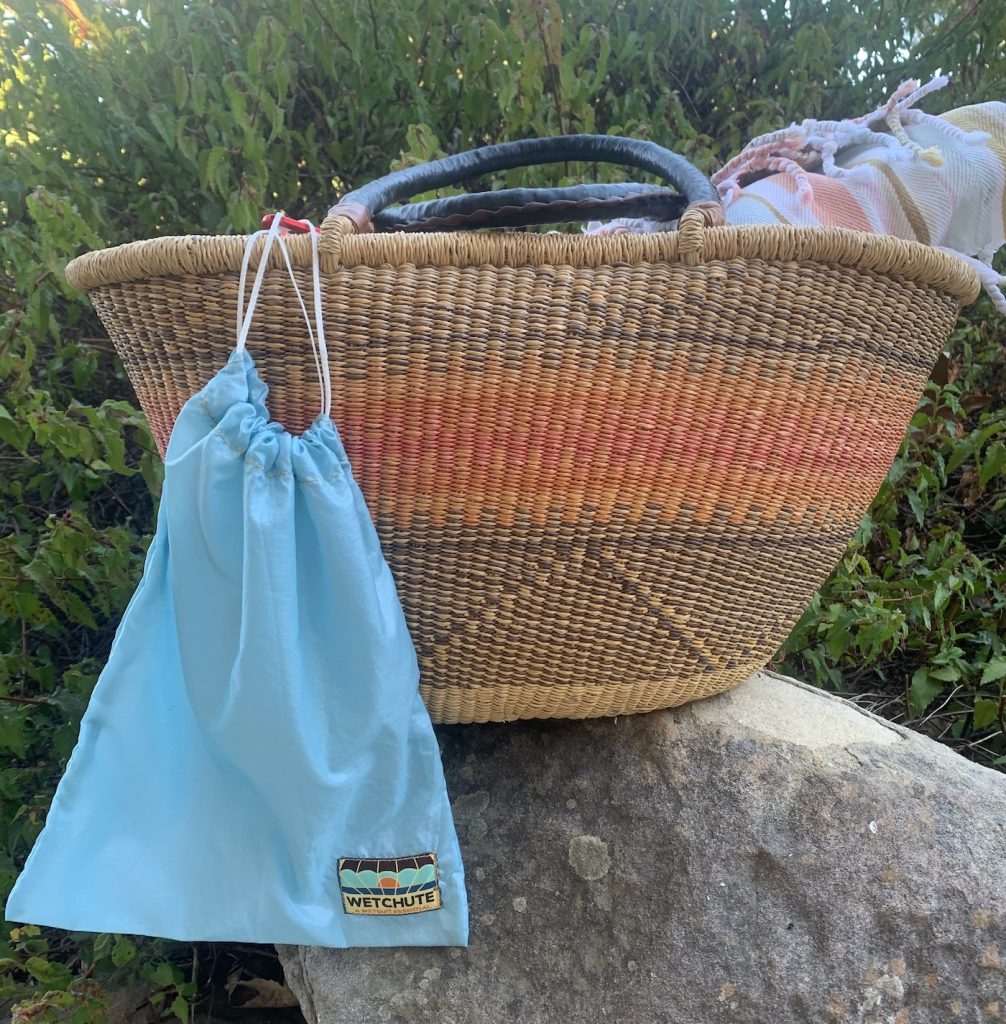 "It would have been so much easier and so much cheaper for us to source roles of new material but that just doesn't align with what I'm trying to do," Lauren said. "Apart from making it super easy to put on a wetsuit, I want my brand and products to align with my goal of reducing our impact on the planet, not making it worse."
So, McDermott turned her garage into the landing pad for her parachute-sourcing.
"I learned that sport and military parachutes are created to last thousands of jumps or up to 20 years. However, at the end of their life cycle, the hundreds of thousands of square feet of fabric end up in landfills," Lauren said. "My goal was to get a hold of them before they ended up being thrown away. I was slowly filling my garage with parachutes from sky divers and base jumpers. From there, I started my manufacturing adventure.
"I quickly learned that most factories did not want to work with used fabric because they came in all sorts of shapes and sizes making it very time consuming to cut and sew. It was definitely going to be more costly to do it this way, but I eventually found a local factory that would work with the parachute fabric."
Now, with a local factory on board, and a vision for the future, McDermott is excited to share "WetChute" with other water enthusiasts.
"The WetChute is a simple product that solves a problem for any water adventurer who wears a full wetsuit," Lauren said. "No matter if you surf, boogie board, dive, swim, or just want to walk around looking like a penguin, our bag is for you. Great for kids and adults, wet sandy feet, thick hard to put on wetsuits, and wetsuits that haven't dried off. The WetChute bag helps the neoprene to slide easily over your skin. Getting your wetsuit on doesn't have to be hard. And, the WetChute can be used as a tote to hold your beach essentials too."
You can buy WetChutes locally at The Beach House, Surf Happens, Channel Island, and Jules By the Sea. You can also find them online at www.wetchute.com.
You might also be interested in...