A Force To Be Reckoned With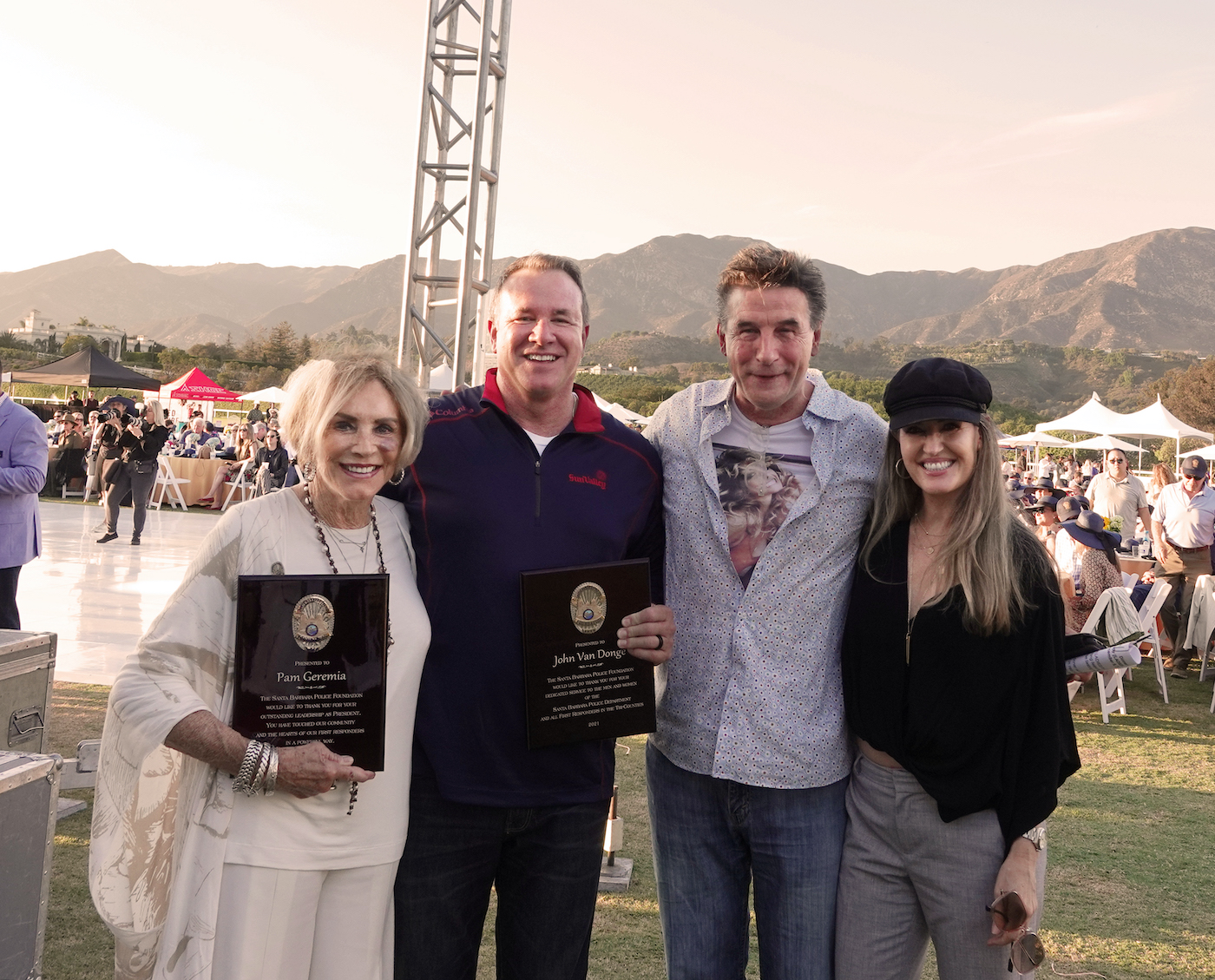 A sea of blue swept over Bella Vista, the sprawling Summerland estate of hotelier Pat Nesbitt and his wife, Ursula, when they hosted the seventh annual Fun with the Force, with a record 1,000 guests raising a record $2 million for the 12-year-old Santa Barbara Police Foundation.
The popular organization provides financial support for injured and ill police department personnel and their families, and funds from the 911 At Ease program, which provides counseling services to first responders and equipment that is not in the budget.
The boffo bash, chaired by James Nigro, featured K-9 members and their officer handlers, a SWAT equipment trucks and even a four-plane flyover by pilots from the Condor Aero Squadron, as well as trying out unloaded shotguns and multi-launchers.
Actor Billy Baldwin and KEYT anchor-reporter John Palminteri conducted the auction, which featured a SWAT team training day; a private cooking class and dinner for 10 couples on Miramar Beach with Massimo Falsini, executive chef at Caruso's at the Rosewood Miramar; a private 10-course dinner party for 10 twosomes at Bella Vista; a Methuselah of Louis Roederer Cristal vintage 2004 champagne — equivalent to eight bottles of bubbly — donated by English wine dealer Richard Torin; a social media shoutout and follow on Twitter from Paris Hilton; and a dinner for five couples at the Armand Hammer Foundation in Carpinteria, including a viewing of Michael Hammer's extensive car collection. In addition, two guitars signed by Katy Perry went to $16,000 each and the bottle of Roederer Cristal champagne went for $150,000.
Food, wine, and beer was provided from two dozen purveyors, including Los Arroyos, Ca'Dario, Loquita, Los Agaves, Lucky's, Pane e Vino, and Tre Lune.
Awards were also sent to Michael and Misty Hammer of the Armand Hammer Foundation, Tom Parker of the Hutton Parker Foundation, the David Anduri Memorial Award went to retired Santa Barbara firefighter Tony Pighetti, and Montecito resident Cassie Wright.
After a welcome by Mike McGrew, former 911 At Ease program director, and executive director Greg Hons, ballroom dancers showed off their talents and the innumerable supporters, including Larry Koppelman, Terry Ryken, Stephanie Petlow, district attorney Joyce Dudley, Bilo Zarif, Miles Hartfeld and Gretchen Lieff, Keith and Mary Hudson, Kim and Tammy Hughes, Ginni Dreier, sheriff Bill Brown, Das Williams, Mara Abboud, Alan and Lisa Parsons, Bob and Patty Bryant, and Barry and Jelinda DeVorzon danced the night away to "Boogie Knights."
A swellegant fête for a great cause…
The Future is Now
Montecito actor Christopher Lloyd, 82, famously portrayed Dr. Emmett 'Doc' Brown in the Back to the Future trilogy.
And he led the stars at a musical adaptation of his hit films at London's Adelphi Theatre last week.
The two-time Emmy winner, who captivated audiences with his portrayal of the quirky, eccentric professor from 1985 to 1990, was joined for the premiere of Back to the Future: The Musical by his wife, Lisa, on the red carpet.
You might also be interested in...