James Joyce: Challenger, Mayor, Santa Barbara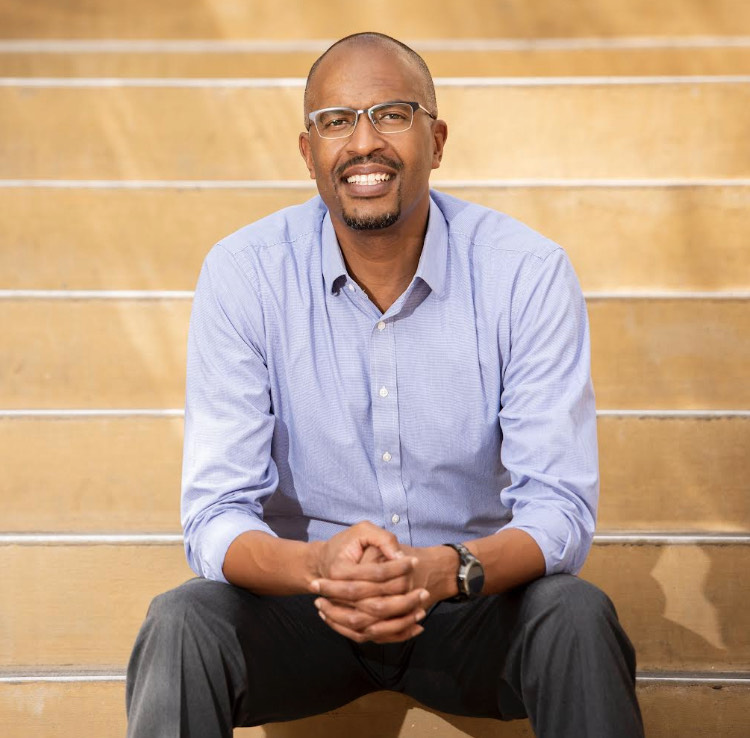 James Joyce has been the ultimate guy behind the scenes, working with a California State Senator on a daily basis, guiding Hannah Beth Jackson's attention toward what was needed.
A key contributor to a beloved senator.
And now it's his time to step out front, although many in the community already know him from Coffee with a Black Guy, a series of conversations that has prompted discussions rooted in equality and transparency.
These are two qualities he wants to demand as the next mayor of Santa Barbara, as he has thrown his proverbial hat into the ring to take on incumbent Cathy Murillo, as well as fellow challengers Matt Kilrain, Randy Rowse, Deborah Schwartz, and Mark Whitehurst.
And Joyce says he looks at the position of mayor a bit differently than others.
"Is it a top position or is it a position that requires a certain skill set?" Joyce said. "I think I would argue that it's the latter. I think it's particularly given the way that district elections have kind of made the city council a little bit different over the past five or so years."
While his time with Jackson proved fruitful for himself personally, he is also aware of his detractors that say he doesn't have enough experience to take on the job.
But he feels his communication skills will allow him to band together a city council that has outwardly been critical of one another, particularly during the pandemic.
"So, we've been rehearsed in these things and so we can have conversations, and the fact that we disagree is part of it. Right, it's that disagreement that's going to get you to the best compromise," Joyce said. "And I think that this may be an area where we could grow as a city council, but when you're in a disagreement, really, voicing your position, and then listening to where the other person – really listening – to help truly understand where they're coming from. That's how you really learn, and I think that's where our biggest opportunities are as a city."
Each of the six candidates were asked six key questions facing the city, with the Montecito Journal and Sonos partnering to expand upon this with a debate on September 29 that is available on demand at montecitojournal.net.
Here are Joyce's responses:
What is the most important issue facing the city?
Workforce housing. We see the effects of the lack of workforce housing in our economy, our tax base, and our quality of life. We need to ensure that folks who work here can live here, which will ensure that local dollars stay in the local economy.
This city acts like a seven-headed hydra… how will you cut through this dysfunction and bring the council together in order to build some consensus?
I want to be a mayor who empowers my fellow councilmembers. I will continuously meet with my colleagues, keep careful track of their priorities, and match them with the priorities of other councilmembers. I know that there are things we could easily be getting done that we are not because of a lack of communication, a lack of humility, and a lack of compassion for our fellow councilmembers. I want to change the tone of our council, remove the bickering and negativity that has been a staple of this council for the last four years, and build on the good ideas and positive energy of each district representative.
The Santa Barbara area is heavily reliant upon tourism; what is your plan to supplement that in case of other natural disasters or lack of travel? What are you going to do about bringing in good businesses that pay good wages?
First, we need to be more aggressive about targeting state and federal funds. We also need to do a better job at embracing the growing diversity of our local economy and create a tax base beyond the tourism-based TOT that we currently have.
Climate change will lead to changes in our weather and likely, changes in our floodplains. We need to explore sea wall options today, not wait for the next disaster. We need to severely limit housing development in high fire areas, and we need to spend our reserves earlier and more effectively to keep our local economy afloat.
Do you think Santa Barbara would be better served as a city manager-run city, or a mayor-run city?
We don't need to change how we run our city, we simply need to change who runs our city. Our current mayor lacks the leadership skills, experience, and visions to direct our city. We need leaders who are bold, open-minded, and level-headed. As mayor, I would bring a new approach and a different tone to City Council: one that works for the people, not for the special interests around City Hall. Our job is to raise the quality of life here in Santa Barbara. That job simply isn't getting done today.
Tell us one thing about you that most people don't know.
I used to play semi-professional football and that was the first time I had played organized, full-contact football – I was 26 years old. After not being allowed to play football while growing up in my mother's house, I decided to try out for the local team when I was living in Yakima, Washington. I made the team and worked my way into the starting lineup as a wide receiver. I played for the Yakima Mavericks for two years.
We believe that one must be willing to lose in order to win. Can you give us an example of a brave position you have taken on principle that cost you politically or personally?
It was politically and socially risky for me to launch a community conversation called Coffee with a Black Guy in Santa Barbara. The concept was, and continues to be, to have authentic and uncomfortable conversations about race and perspective to build a better community.
Please list all endorsements to date.
I've received numerous endorsements from individuals including Hannah-Beth Jackson, Kate Ford, Joyce Howerton, Lori Brown, Warner McGrew, and former Superintendent Bill Cirone. I am in the process of seeking out and adding endorsements every day.
You might also be interested in...