History Made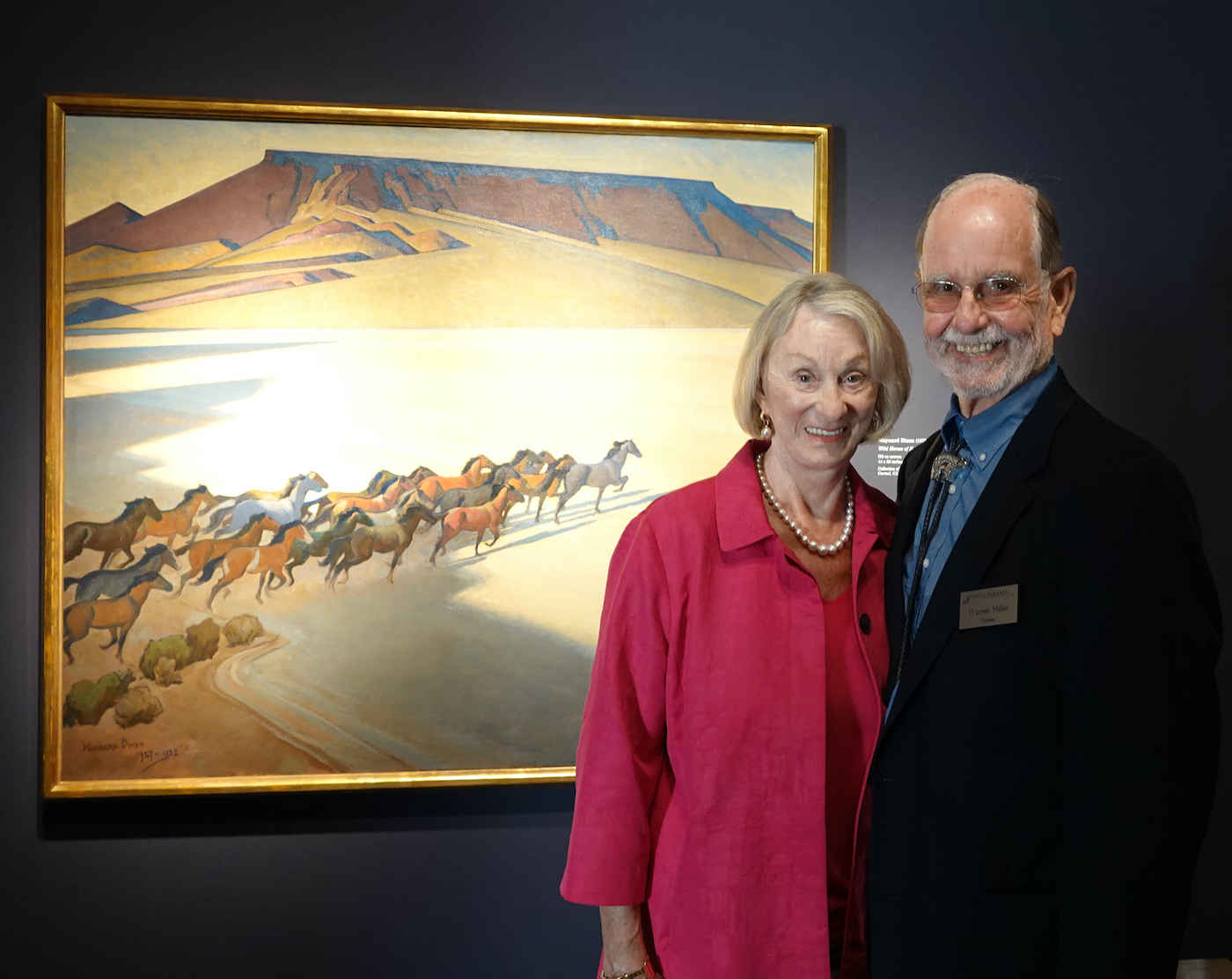 Social gridlock reigned at the Santa Barbara Historical Museum when it opened its latest exhibition "Borein and His Circle of Friends," which runs through January 22.
More than 50 works by Borein, who died in our Eden by the Beach in 1945, are on display over three galleries, including 25 watercolors loaned anonymously by a Santa Barbara family, curated by Marlene Miller.
During Borein's colorful life, beginning with his brief time as an art student in San Francisco, continuing through his years in New York to his 1921 arrival in our tony town, he developed enduring friendships with a number of important artists, including Fernand Lungren, John Gamble, Alexander Harmer, Thomas Moran, and Carl Oscar Borg.
The exhibition coincides with the publication of the 320-page tome Edward Borein: Etched by the West by Byron Price, former director of the National Cowboy Hall of Fame, to which Borein was elected posthumously in 1971. He is giving a talk at the museum on October 20.
Among the guests celebrating and listening to the guitar music of Chris Fossek were George and Laurie Leis, Luke Swetland, Greg Gorga, Lynn Kirst, Fritz Olenberger, Dacia Harwood, Sybil Rosen, Montecito Journal history writer Hattie Beresford, Frank Schipper, and Thomas Van Stein.
Granting a Wish
Montecito's Troy Aikman, former quarterback with the Dallas Cowboys, brought joy to 25-year-old Mark Melchiore from Philadelphia, Pennsylvania, who had long admired the Hall of Famer.
After Mark had been diagnosed with Glioblastoma and given a life expectancy of just one month, his family reached out to Santa Barbara's Dream Foundation, the only national dream granting organization for terminally ill adults, to help him meet Aikman.
Mark started playing football at just five years old and continued to play through high school.
When he learned he was facing the end of his life, he had only one dream – to meet Aikman, who he'd never had the opportunity to see play in person.
With the help of its new Ambassador of Sports, five-time NBA All-Star Brad Daugherty, and although the pandemic made an in-person meeting difficult, the twosome connected via Zoom with Mark expressing happiness and joy at seeing his hero.
Just three days later Mark died and his sister, Amanda, wrote: "It was the first time I've seen him smile in a while, and the last."
Heroic Effort
My congratulations to Montecito dynamic duo Bill and Sandi Nicholson, whose Nurse Heroes Choir, featuring 18 nurses from Northwell Health, one of the largest healthcare providers in the U.S. – which started with an all-star concert broadcast worldwide on Thanksgiving Day, 2020 – reached the finale of NBC's America's Got Talent.
Unfortunately, the choir was one of five acts eliminated early in the finale with the eventual winner being magician Dustin Tavella, 35.
"We believe all the finalists are winners and are so grateful our nurses made it all the way to the finale," says Sandi. "We chose Northwell nurses because they were the first hospital in America to be ambushed by this deadly COVID. We knew we had to do something for these selfless caregivers."
Sightings
Mega director Steven Spielberg noshing on breakfast at The Pharmacy coffee shop… Oscar winner Michael Keaton at the Stonehouse at the San Ysidro Ranch… TV talk show host James Corden and wife, Julia, at the Rosewood Miramar.
Pip! Pip! Be safe – wear a mask when needed and get vaccinated.
You might also be interested in...