It's a Dog's Day: Local Chefs Tout Four-Legged Diners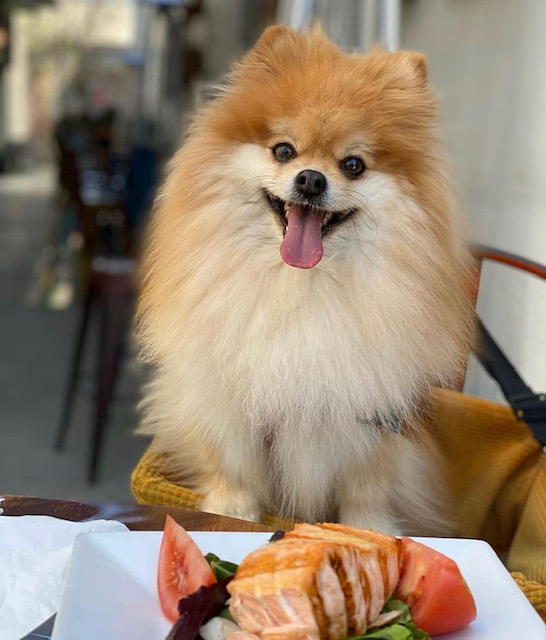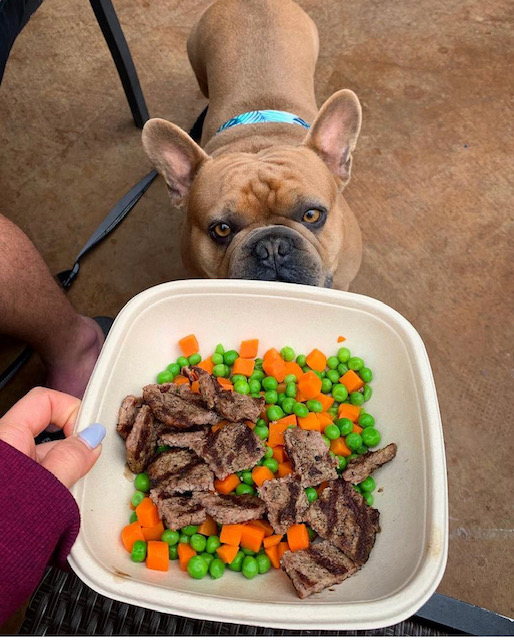 Although National Dog Day came and went on August 26, it's never too late to celebrate your furry canine companion. Which leads to a question: when is the last time you took your favorite tail-wagger out for a tasty meal?
Downtown, Coast Village Road, and the Funk Zone are chockfull of outdoor eateries that cater to our canine pals. Public Market, Louie's Bistro, Lama Dog Tap Room + Bottle Shop, Tre Lune, and Coast & Olive offer ambient patio space to be enjoyed by pets and owners.
If your adorable little ball of fur is hungry for a night on the town, just look at a menu.
The canine fare is inspired by gourmet human cuisine like Wagyu beef and offers Santa Barbara area sourced farm staples such as carrots and peas that are essential to a dog's diet.
Now, just add a little imagination and a "canine mindset," as San Ysidro Ranch Executive Chef Matthew Johnson puts it, and you're ready to dig into dog menus in town.
Several chefs are experimenting with dog-inspired dishes, including Domingo Rodriguez, chef of The Brewhouse Santa Barbara. His menu includes such dishes as chicken strips prepared with half of a warm chicken breast cut in strips ($4.25), all-beef patty served on whole wheat toast points ($4.50), quarter-pound hot dog cut in bite size portions ($3.50), vegetable patty ($3.50), and frozen marrow bone ($4.50).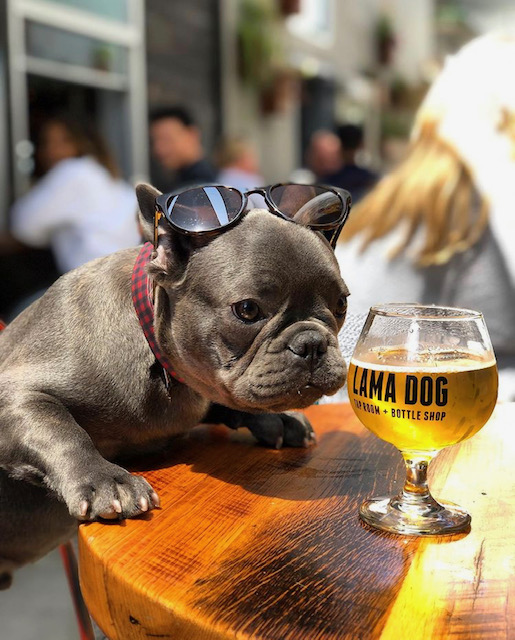 Rodriguez said he sources his meats from Shalhoob Meat Company.
"We love dogs," Rodriguez said. "Some of our canine friends have been coming here for years and they bring their owners. We prepare healthy food for dogs that is human quality and delicious."
The Brewhouse serves All-American fare on two large patios. Canine guests are greeted with a doggie bowl with clean water and (when available) their selection of a squeak toy keepsake to bring home.
Burger night is especially popular with pets and humans. While diners at Third Window Brewery nosh on mouthwatering Wagyu and cheese smash burgers, their canine pals chow down on unseasoned Wagyu "puppy patties" ($4 each), according to owners Michelline and Kristopher Parker.
San Ysidro Ranch Chef Matthew Johnson creates cuisine worth panting for; he uses a combination of short rib, brisket, and top sirloin for his pet-friendly patties.
"Dog menus are pretty simple," Johnson explained. "Mine consists of a high-quality protein, a grain, and sometimes vegetables. I have two labs, so I have a good idea what dogs like."
At Stonehouse Restaurant, Johnson uses the same high standard and sustainable approach for his dog menu as he does for his menu for humans. His menu consists of eight-ounce natural sirloin burger served on a bed of steamed rice ($12), organic free-range chicken and rice ($14), New Zealand farm raised Scottish salmon filet with rice ($16) and savory house-made dog biscuits, made with rice flour, wheat flour, eggs, and freshly-made chicken stock.
The Ranch's dog menu is served in-room only, although pets are welcome to relax alongside their owners on the Stonehouse's cozy and regal tree-lined patio.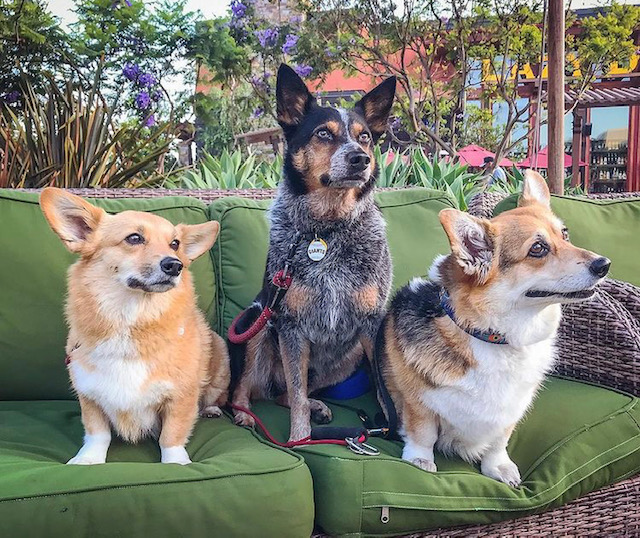 Helena Avenue Bakery offers "Barkery Bones" house-made from scratch baked treats ($2 each). Simple, healthy, and tasty, the biscuits are made with organic whole wheat flour, pureed squash, smooth peanut butter, and eggs. Barkery Bones are available daily at the counter.
For fall, Pastry Chef Claudia Silva has devised a special treat for canines: pumpkin biscuits.
"Fall is the time everyone thinks of pumpkins: pumpkin pie, pumpkin spice, pumpkin everything," she said. "Pumpkin is a natural, healthy treat for our dogs and baking homemade treats is a great way to include our furry companions during this festive season."
Silva's recipe is a combination of peanut butter, pumpkin, and whole wheat flour.
In nearby Oxnard, Lazy Dog Café serves grilled hamburger patty bowls with brown rice and veggies ($5) and grilled chicken breast bowls with brown rice and veggies ($5).
Dogs are not allowed inside the restaurant (with the exception of service dogs).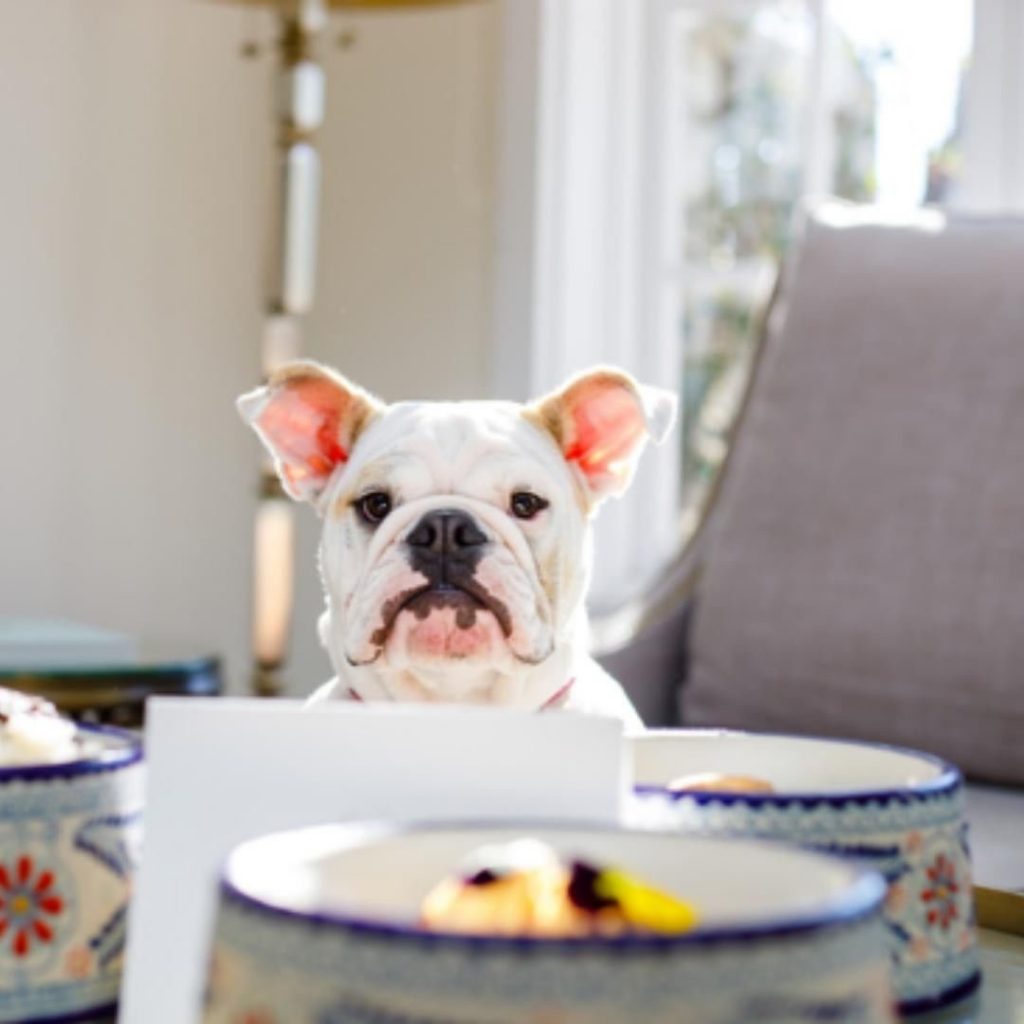 There, management kindly reminds guests to abide by doggie dining etiquette (also mandated by the health department): Four-legged diners must be kept on a leash and be with each of their owners at all times. Your dinner companion (big or small) is not allowed on the table, in your lap, or on a chair. Nor is he/she permitted to eat off your plate or drink from your glass; the restaurant provides special bowls just for them.
All diners — human and canine — are advised to avoid the "three B's": Begging, Barking & Biting.
For pet owners who want to enjoy a quiet evening with fine cuisine, look no further than El Encanto. Executive chef Bruno Lopez has introduced numerous dishes for in-room dining only.
House favorites include seasonal salmon served with carrots and peas ($15), organic chicken accompanied by kale and rice ($15), a braised beef and quinoa bowl ($15). Gluten-free kibble is also available ($8). For dessert: lavender and lemon mint dog treats ($8), a peanut butter puppy sundae ($8), or pupcakes topped with whipped cream ($4).
Beverage-wise, El Encanto offers a calming, caffeine-free dog tea. Served iced or warm, Ruff Day is a soothing, herbal tea blend of chamomile, hawthorn berry, Echinacea, and ginger with hints of blueberry, beef, and maple ($5).
"El Encanto should be a tranquil and restorative escape for all guests," Lopez said.
You might also be interested in...