All About the Famiglia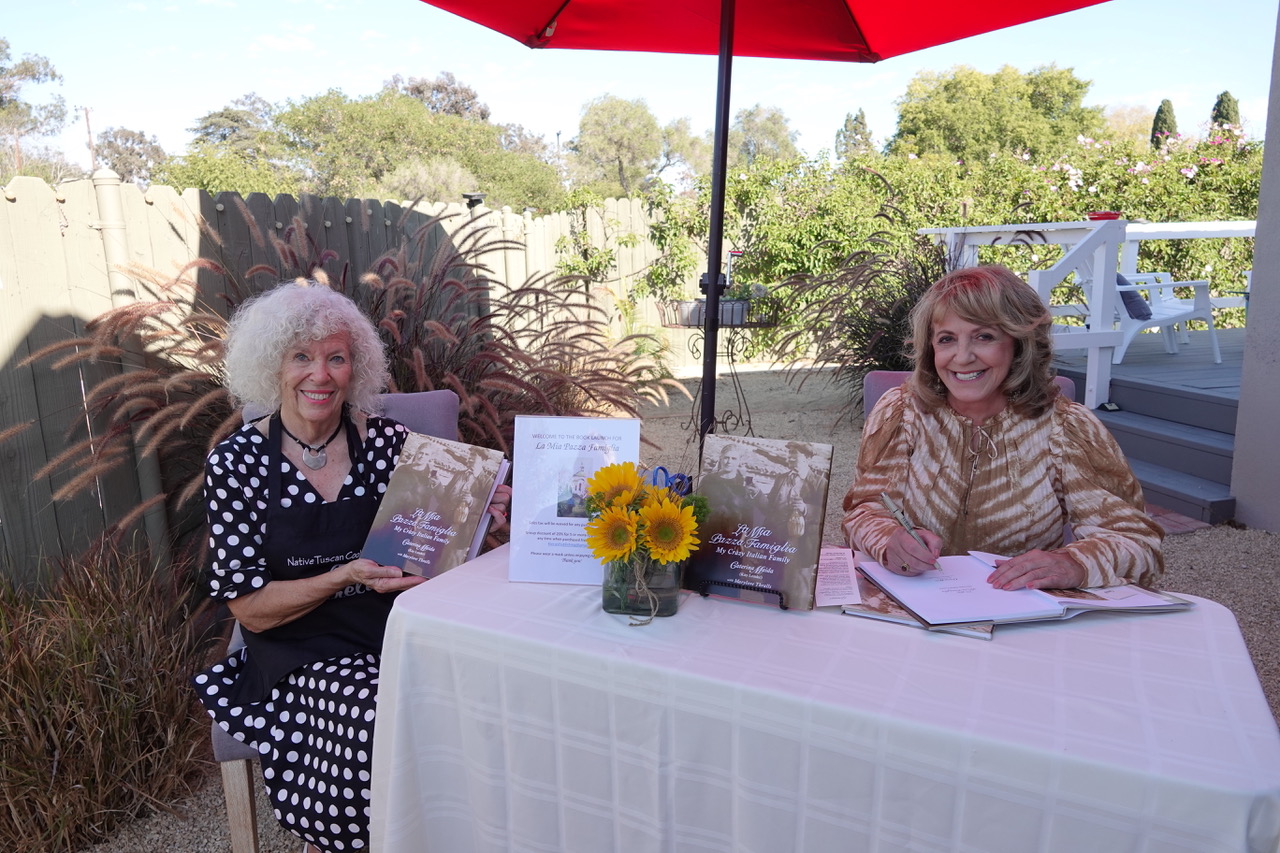 Everybody was in the right aria when Opera Santa Barbara's Marylove Thralls hosted a sunset soirée to launch an entertaining new book, La Mia Pazza Famiglia by Kay Lemke.
The dynamic duo met when Lemke, who hails from a small community, San Fior di Sopra, north of Venice, volunteered to help the opera and the pair would take daily walks together on Hendry's Beach, with Kay regaling Marylove with the quirky characters she grew up with and the provincial customs that were part of her early life before moving to Minneapolis, Minnesota.
As an artist, Lemke, who was known as Caterina Maida as a youngster, has worked primarily in oil expression, with her work being featured in exhibits in Santa Fe and the University of Minnesota. She was also the co-owner of the Pollock Fine Art Gallery in Summerland.
The 104-page book is packed with family photos and recipes from Lemke's homeland. A fun "autobiography" told with droll wit and an eye for the ironic.
Turning out for the boffo bash were Kostis Protopapas, Kate Rees, Larry Williams, Barry and Pam Enticknap, Polly Clement, Nancy Golden, Christina McKean, and Nina Dunbar.
Dropping Millions . . .
Former Google CEO Eric Schmidt has just added yet another property to his burgeoning real estate portfolio.
The new property is a four-bedroom, 6,400-square-foot pad in Manhattan's oh-so trendy NoHo — north of Houston — with an additional 2,500 square feet of terrace with sweeping views of the New York City skyline.
Schmidt, 66, who is worth about $20 billion according to Forbes, has been on a considerable bi-coastal buying spree of late, having bought the late hotel magnate Barron Hilton's Holmby Hills, Los Angeles, estate for $61.5 million.
Last year he also bought Solana, the 11-acre Montecito estate of Bill and Sandi Nicholson, for $30.8 million.
The 22,000-square-foot home was once the Center for the Study of Democratic Institutions, a think tank attended by President John F. Kennedy, Martin Luther King and Henry Kissinger.
Surf's Up!
To the historic Lobero Theatre for the first time in two years to take a trip back in time to see Jan & Dean's Beach Party, featuring Dean Torrence, 81, who together with his late partner Jan Berry, who died in 2004, pioneered the California sound with hits like "Little Old Lady from Pasadena" and 1963's "Surf City," the first surf song to hit the Billboard 100, which earned them an impressive 14 gold records.
The delightful locale, founded in 1873 and the state's oldest continuously operating theater, was more than half full with suitably masked and vaccination "passport" carrying fans, who were urged to "ditch their walkers and dance in the aisles" by Torrence.
The two-hour concert featured the duo's hits as well as those of the Beach Boys with the six-man group made up of current and former singers and players of the Brian Wilson Band and The Beach Boys.
It gave everyone good vibrations!
Dynastic Debut
TV talk show titan Oprah Winfrey debuted 35 years ago this week.
A former news anchor in Nashville and Baltimore, Oprah relocated to the Windy City in 1984 to host the failing AM Chicago.
Her candor and compassion caused ratings to rocket, and she was invited to sign a production deal and rename the series in 1986.
The same year, Oprah founded her TV production company, Harpo Productions. By retaining ownership of her show — and securing a major stake in her syndicator — she became one of America's wealthiest women, with her media conglomerate including a magazine and a TV network.
At the end of her 25-year run, the program was being broadcast in 150 countries and spun off innumerable other shows from regular contributors, including Dr. Phil McGraw, chef Rachael Ray, surgeon Mehmet Oz, and financial adviser Suze Orman.
I also appeared on the show flying in from my Manhattan home to talk about the Royal Family with other guests including Lord Piers Wedgwood, whose ancestor founded the pottery empire, an old friend Prince Egon von Furstenberg, and his ex-wife, fashion designer Diane, and Princess Elizabeth of Yugoslavia, mother of Dynasty actress Catherine Oxenberg.
Still a precious memory.
You might also be interested in...