Hats Off to You!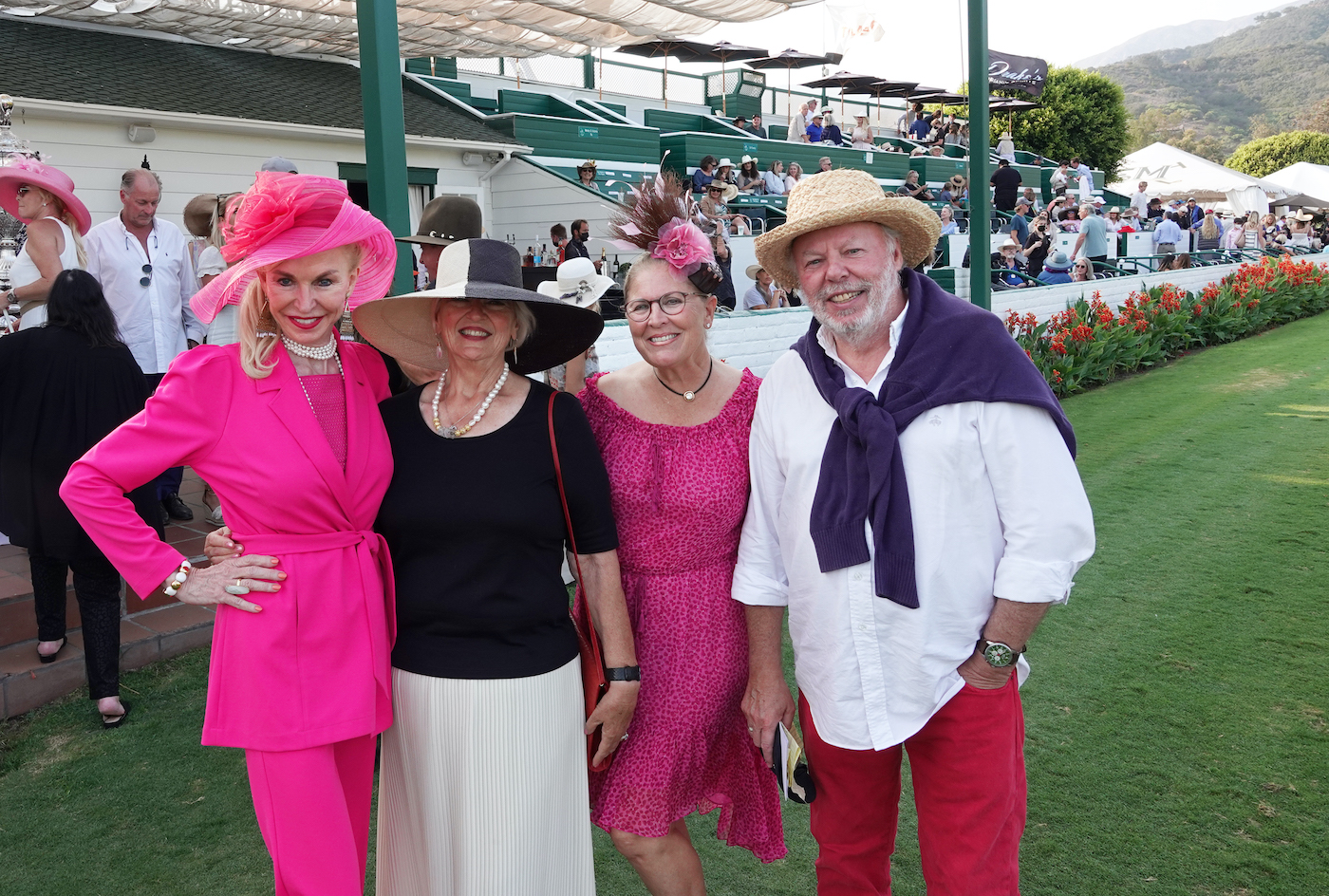 For the 15th year my millinery skills, garnered from attending the Royal Enclosure at Ascot, England, where outrageous hats are de rigueur for ladies attending the centuries' old races attended by Queen Elizabeth, for more than four decades, were called on by the Santa Barbara Polo Club to judge the annual hat contest during the Pacific Coast Open playoffs.
A torrent of tony tête toppers descended on the club's hallowed Holden Field for the closely fought match between Texan club president John Muse's Lucchese team and the Santa Clara team, featuring the full complement of the Escobar family from Wellington, Florida, with Muse winning 11-10 in the closing minutes.
It was not the easiest of tasks choosing from the mélange of magnificent millinery, but Palm Springs realtor, Jan Ray, a previous prize winner, won with a frothy concoction she purchased to wear at the Kentucky Derby three years ago, where she was pictured with Prince Albert of Monaco.
"I've had it tweaked since then and thought it perfect for today's contest," she explained. "I just love hats. They are creative, but also practical."
Another winner was Suzanne Savoy, a resident at the polo club, with her two-tone monochromatic bell-shaped number, which she bought at a boutique in Summerland, with the final category going to Margarita Lande, who recycled a fab fascinator, appropriately made with horsehair, which was designed by Arturo Rios of Beverly Hills, and worn at the lunch for the visit of Prince William and his wife, Kate, to the club for its centennial 10 years ago.
"It just never dates," she purred.
Winners received vouchers for the club's new eatery, The Fieldside Grill.
And at the weekend more than 3,500 turned out to watch the final of the PCO, the biggest tournament on the Left Coast, with local patron Justin Klentner's Klentner Ranch team beating Ben Soleimani 11-9 in a closely fought game.
Quite the Addition
Mary Dwyer, a former professor and administrator who led the renowned Institute for the International Education of Students through a period of extraordinary growth, has joined the board of directors of the Scholarship Foundation of Santa Barbara.
After earning both a master's degree in education and a doctorate in public policy analysis at the University of Illinois in Chicago, she went on to serve as faculty member and executive associate vice chancellor for research at the institution.
Dwyer has worked as a consultant and teacher with an array of U.S. and international organizations across 20 countries.
As president and chief executive for the Institute for International Education of Students from 1996 to 2020, she increased annual revenue from $9.8 million to nearly $150 million and expanded annual scholarship outlays from $200,000 to more than $6.5 million.
Remembering Charlie Watts
On a personal note, I remember Rolling Stones drummer Charlie Watts, who has died at the age of 80 in London.
I fondly remember sitting next to him at dinner when he and the rest of the band were promoting Hal Ashby's film, Let's Spend the Night Together, documenting their 1981 North American tour at Tavern on the Green in Manhattan's Central Park in 1983 when I toiled on the gossip column of New York Magazine.
Watts at the time lived in Gloucestershire with his equestrian wife, Shirley, and said they were moving to Devon, further southwest, because of the influx of royals, including Prince Charles at Highgrove and Princess Anne at Gatcombe Park.
It was a great story for a London newspaper I corresponded for at the time.
I saw Watts in action many times, including Madison Square Garden and the legendary free concert the Stones gave in London's Hyde Park in 1969.
One of the greatest drummers of all time, he was a quiet and self-deprecating rocker, the opposite of the group's lead singer Mick Jagger.
Sightings
An old acquaintance from sailing days in Dark Harbor, Maine, NCIS: L.A. actor Chris O'Donnell picking up his Java jolt at Pierre Lafond… Ben Affleck and Jennifer Lopez at Milt Larsen's Magic Castle in Hollywood… Actress Laura Dern at Merci Montecito
Pip! Pip! Be safe — wear a mask when needed and get vaccinated. •MJ
You might also be interested in...