Healing Art: A Visit with Pamela Larsson-Toscher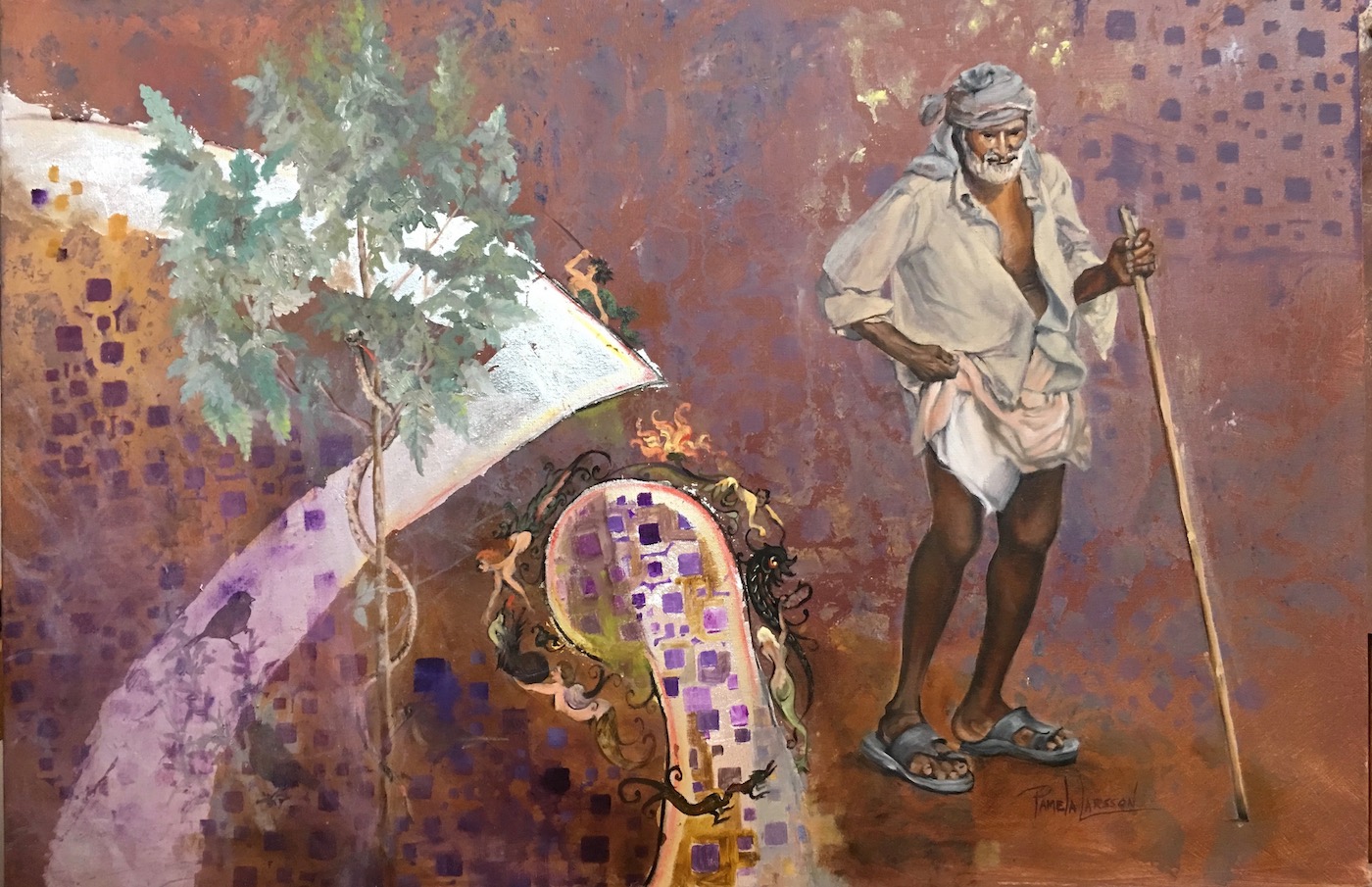 Living in a community that appreciates art adds to quality of life in more ways than aesthetics. Research has shown that simply browsing through an art gallery has the potential to decrease stress and increase our sense of wellbeing.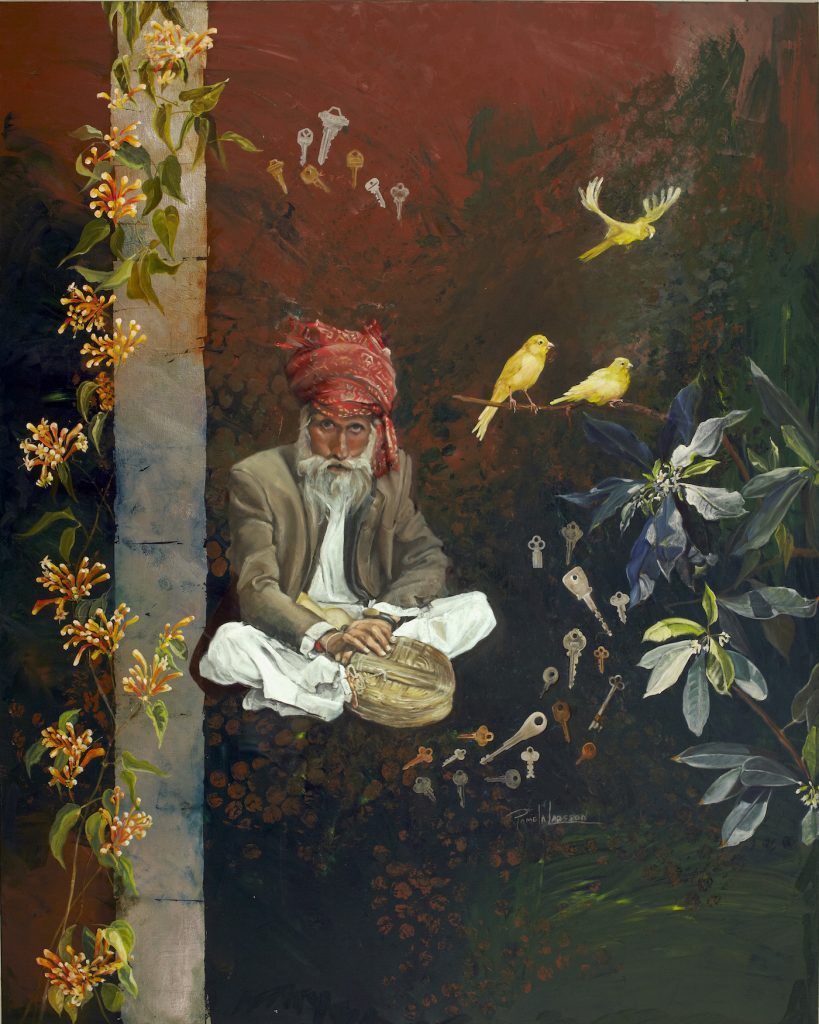 Including an element of visual art in a healthcare setting eases anxiety, stress, and depression for patients, staff, and visitors alike. We experience this each time we slow down to notice the art offerings in Cottage Hospital or the waiting rooms of our healthcare practitioners. The truth is: anytime, anywhere we stand in front of a work of art, there's an invitation to be in present time, see what we see, feel what we feel. Affecting both mind and body, this interface with art can be a catalyst for healing — true for both viewer and artist.
Recently, I sat with Pamela Larsson-Toscher in her studio on Butterfly Lane to talk about how art has played a role in her healing. Though being an artist is an integral part of who she is, Pamela believes her artistic expression was directly influenced by a unique personal history. Because she grew up in Jamaica with deaf parents, it was necessary to translate the gestures and emotional resonance of what she heard in order to communicate.
Later, as one of the foremost interpreters for the deaf, she became well-known for her ability to bridge the gap between linear English and a spatially oriented American Sign Language. Moving on to interpret her experience with image and paint on canvas just felt like a natural progression. It's not a surprise, then, that Pamela's paintings seem to be telling an intricate story in the language of life. She calls such artistic interpretation "Realism Re-imagined."
Realism Re-Imagined in Real Life
Although classically trained and a skillful draft person, Pamela makes no preliminary drawings. She simply puts color on canvas and sees what emerges. As described by Jungian art therapist Edith Wallace, such an approach invites inspiration to come from the imagination – with the artist following wherever it may lead. As Pamela says, "I'm so involved with the work that it tells me where it needs to go."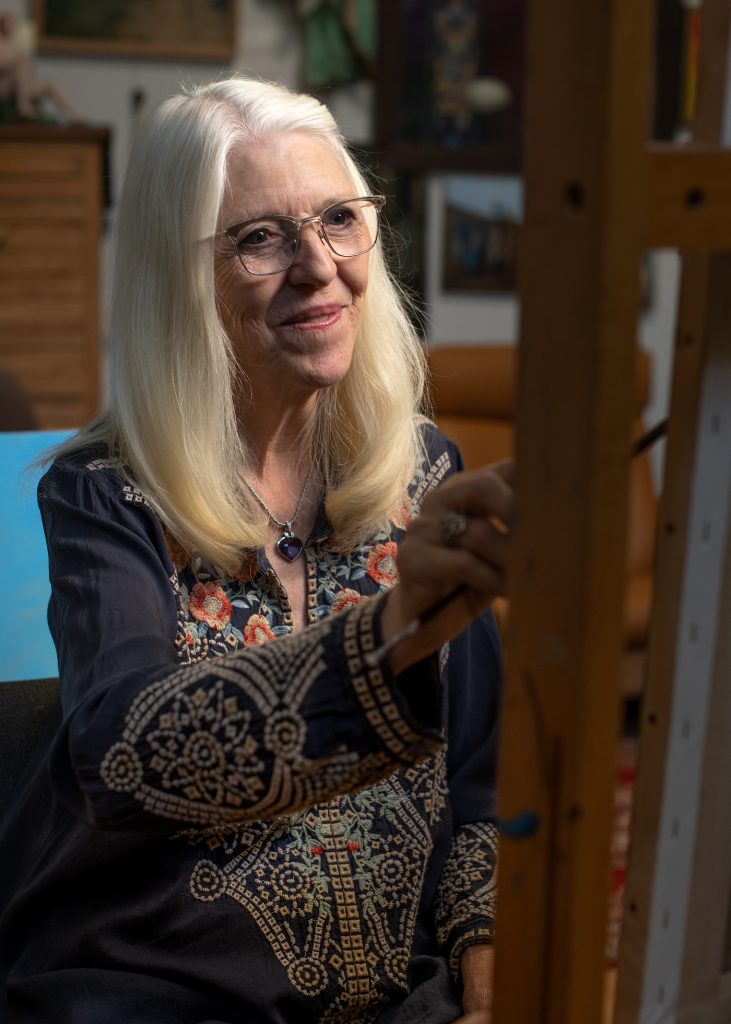 Once a bit is revealed, she steps back in order to see the underlying message and listen to her own voice. Often, this includes an epiphany or insight that tells her where to go next. It also gives her a glimpse of what's happening in her personal life and healing process. For instance, recently she observed that there were many keys on a particular painting and wondered if they were telling her about new opportunities. And perhaps the canaries on another canvas were suggesting that it was time to let her voice be heard. If you or I were standing in front of one of her paintings, we might zero in on a snake charmer, open pomegranate, or pensive harlequin to find our own meaning. For viewers, realism re-imagined is especially good at evoking the symbolic language of the unconscious. The therapeutic potential lies in opening to the art and letting your own imagination go to work.
Being in Pamela's studio with her art is like witnessing a rich and fascinating journey. Her most recent paintings evoke a feeling of moving from restriction to transformation to liberation. Being curious, I asked her to tell me a bit about the work and how it had helped her heal during the pandemic. In response, Pamela said that initially the social isolation brought back childhood fears of being alone and lonely. When she remembered the support of friends and community, it helped her let go of the past and be present for her art.
And, because the lockdown eliminated a lot of external distraction, she was able to get in the studio to paint — all day, every day with zest and joy. In her words: "All of a sudden, I had this imposed focus, and my work grew."
She also had more time to cultivate her imagination. Often, she'd go to bed thinking about what she'd done that day and dream images would appear to illuminate what her painting wanted to say. Tuning in periodically to her wise body, she was reminded to take a break from total immersion, release tension and breathe fully. This timeout was an especially good way to recoup energy and quiet her mind so the paint brush could follow intuition.
Over the past year, Pamela found opportunities to heal and grow both in her studio and in her career. As some galleries closed, others opened their doors. Today she is showing at 10 West Gallery and Gallery Los Olivos. With the help of Brad Nack, she moved forward on a proposal for a group show of "Realism Re-Imagined," featuring her paintings along with the work of Santa Ynez artist Masha Keating, Westmont's Nathan Huff, and Cal Poly's Guy Kinnear. Though no solid dates have been set, a show will be announced in the near future. In the meantime, you can celebrate Pam and other accomplished local artists in the annual SB Studio Artists Tour over Labor Day Weekend. This is the perfect opportunity to meet the artists where they work, feel the good vibes, and engage in a bit of healing art.
If You Go Santa Barbara Studio Artists Tour
WHEN: 5 pm to 8 pm, September 3

Individual Studios Open for Touring 
WHEN: 11 am to 5 pm,
September 4-6
WHERE: Community Arts Workshop, 631 Garden Street
TICKETS: Buy in advance at www.santabarbarastudioartists.com or at opening reception

For More Information — To learn more about Pamela Larsson-Toscher and her art, go to www.plarsson2.artspan.com
You might also be interested in...