Housing Bills Facing Serious Heat
Turning a corner is both a huge endeavor, and a welcome relief. We may have turned the corner on the dreaded Senate Bills 9 and 10. A little recap:
The bills have seen a third and fourth time, respectively, through the legislature. Former Sen. Hannah-Beth Jackson single-handedly torpedoed SB-10's predecessor, put forth by San Francisco Sen. Scott Wiener. She's now advising the Montecito Association on how to defeat them. These bills are draped in rhetoric decrying single-family homes as racist. The authors believe the way to get more housing built is to smash local controls, ignore CEQA, and don't bother with providing any infrastructure, including schools, water, roads, sewers, etc.
Building on the back of the ADU (Accessory Dwelling Unit) law that requires only a building permit and no reviews, these laws aim to densify communities across the state. SB-9 allows by-right lot splits, and four to six units where one home now stands. SB-10 allows up to 14 units on a single-family home lot as long as you're near a transit corridor, defined as within half-mile of a bus stop.
These bills are touted by Senate leadership as necessary to create more housing in California. Their thinking: if we just create more of it, it will magically become affordable.
Um, no. Opponents say this makes single family homes, already being snatched up by Blackstone and other large institutional investors, even hotter targets for purchase and development. The bill rewards developers by dropping zoning barriers and planning oversight to next to nothing. Housing justice advocates feel the bills will push out diverse communities and make it even harder for families seeking to buy homes as both a place to lay their heads, and a way to build intergenerational wealth. Our Hands Across Montecito Homeless Outreach team can tell you that we don't need more market rate or luxury homes to solve homelessness. We need affordable housing — and SB-9 and SB-10 do not provide affordability.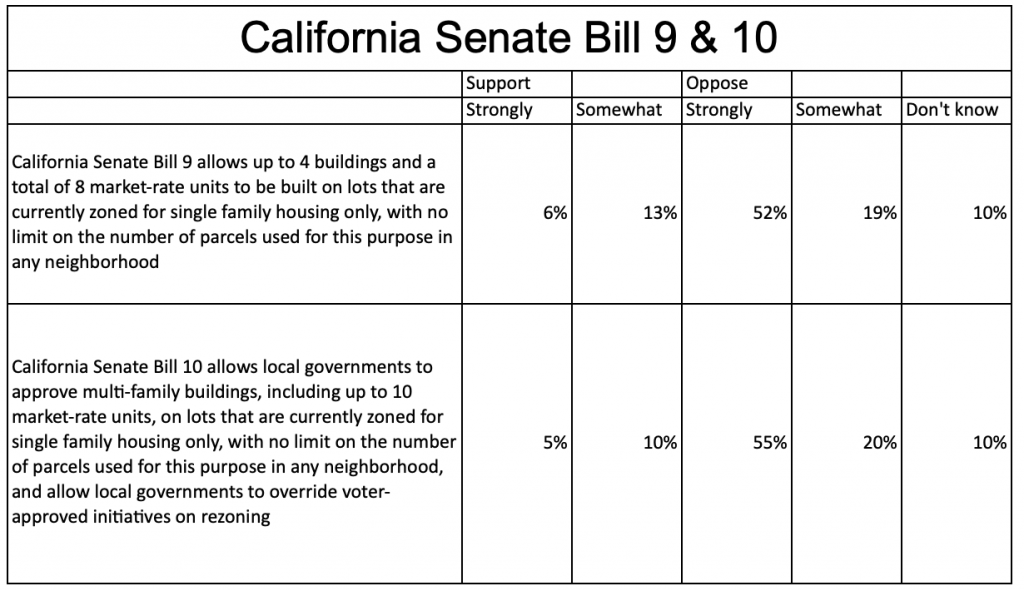 You may have also noticed our drought and wildfire problem. California Insurance Commissioner Ricardo Lara said he can't support pushing more people into the high wildfire zones. As the Dixie Fire consumes towns to the north of us, SB-9 actively promotes building in high wildfire zones.
The bills already passed the Senate and are in the Assembly. The legislature is on summer recess, at home. So, we thought it was the perfect time to launch an army of California voters to flood their offices with emails, phone calls, and Town Hall requests pushing back on these bills. The bills only need 41 votes (out of 80) to pass, and the votes were there for SB-9 last year. Only a technicality kept it from passing at 2 am on the last day of the legislative session.
This past Saturday, the Montecito Association and multiple statewide partners hosted an Organizing For Action session on Zoom to educate people on the bills and train them on how to contact their legislators and the governor. More than 1,800 people registered from across the state, and 1,100 turned up for two hours of discussion. We gave them these jobs:
1. Contact your legislator at their district office. Call and/or email.
2. Do the same for the governor.
3. Write letters to the editor in the local paper about these bills.
4. Use social media to tag legislators, the governor, and educate others.
5. Hold press conferences to apply pressure to your legislator.
The recall of Gov. Gavin Newsom plays into this. The Governor needs to know people are watching these bills and may vote against him if he supports this legislation.
The legislature reconvenes August 16, so this week is key for Californians to swarm Assembly members and the Governor on these bills.
Our Assembly representative, Steve Bennett, has given statements that indicate he won't support these bills. Our Senator, Monique Limón, did not support them in the Senate.
Monday, a huge bomb landed — polling from Housing is a Human Right showed voters strongly opposed SB-9 and SB-10.
A Timeline of Upcoming Activity
August 16: Legislature reconvenes. Bills could be voted on.
September 10: Last day to vote on the bills in the respective houses. Expect to be up late for this one. You can watch it online. Passed bills go to the Governor for signing.
September 14: Recall election.
October 10: Last day the Governor can either sign or veto the bills.
You might also be interested in...