Finishing with a Flurry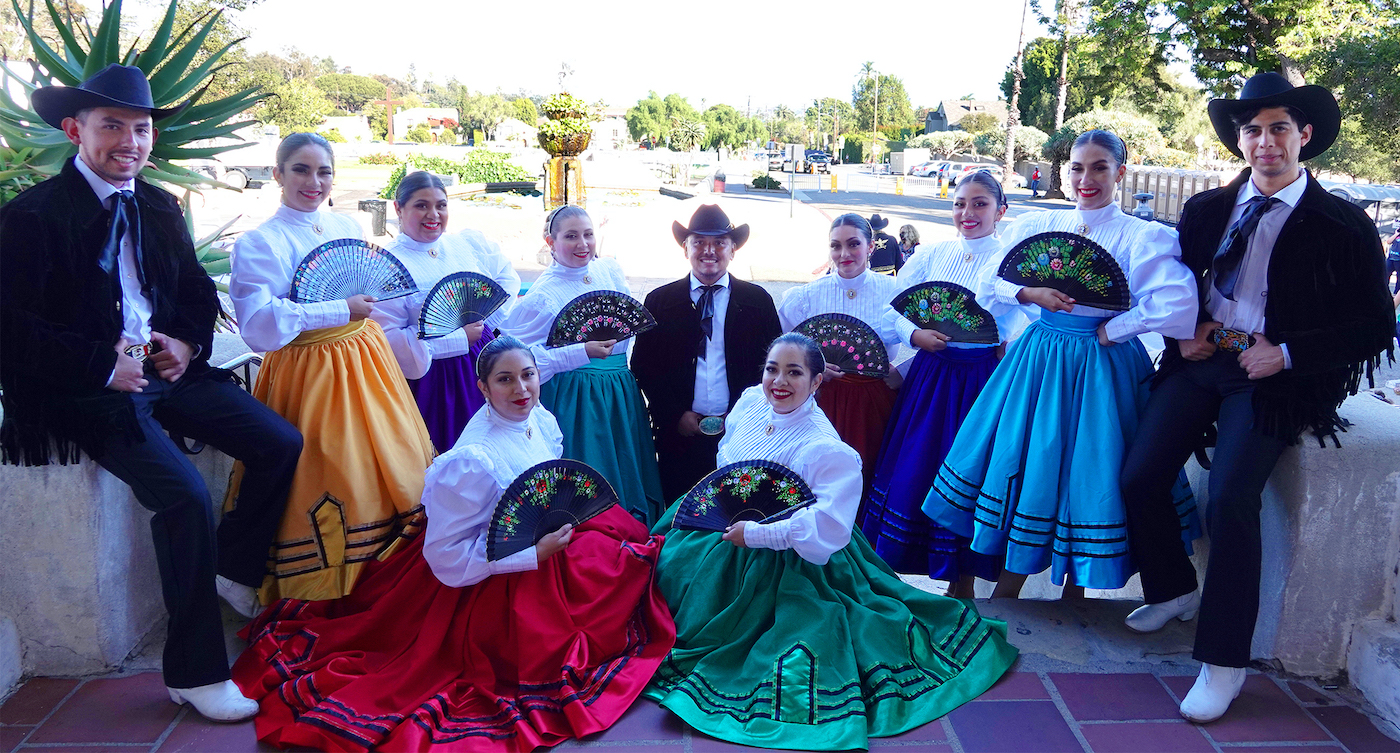 While Fiesta Pequeña at the Mission and Noches de Ronda at the Courthouse Sunken Gardens were cancelled after the significant uptick in coronavirus infections, La Recepcion del Presidente at the Carriage & Western Museum with 200 guests went ahead as planned, raising nearly $50,000 for Old Spanish Days.
Drew Wakefield served as emcee and auctioneer, while the band Elements entertained with Josue Hernandez singing, while the colorfully costumed crowd noshed on dinner from Catering Connection after a reception featuring empanadas, quesadillas, wine, and margaritas.
Supporters turning out to watch the dancers perform, including the Spirit and Junior Spirit of Fiesta, were sheriff Bill and Donna Brown, Riley and Dacia Harwood, Josiah Jenkins, La Presidenta Stephanie Petlow, David Bolton, George Leis, KEYT-TV reporter John Palminteri and Tara Zanecki, Craig Case, Kelly Hoover, Rebecca Brand and Rick O'Shay.
Just four days later the party animals were out in force at the Santa Barbara Zoo for the popular Celebracion de los Dignatarios bash, which attracted almost 400 guests and raised nearly $60,000, split equally between the popular menagerie and Old Spanish Days.
The fun fête, known as DIGS!, normally attracts between 1,200 to 1,800 guests, but the pandemic uptick undoubtedly deterred the normal crowds.
Kevin Nuss, the Zoo's new director of marketing, said that normally vendors provided food for the event, but given the current hard times being faced by the catering industry and restaurants, it felt unfair to impose on them, so Rincon Catering furnished the food and that was reflected in the ticket price ($250, normally $100), with six wineries, five breweries, and one distillery providing drinks.
Still a wonderful boffo bash.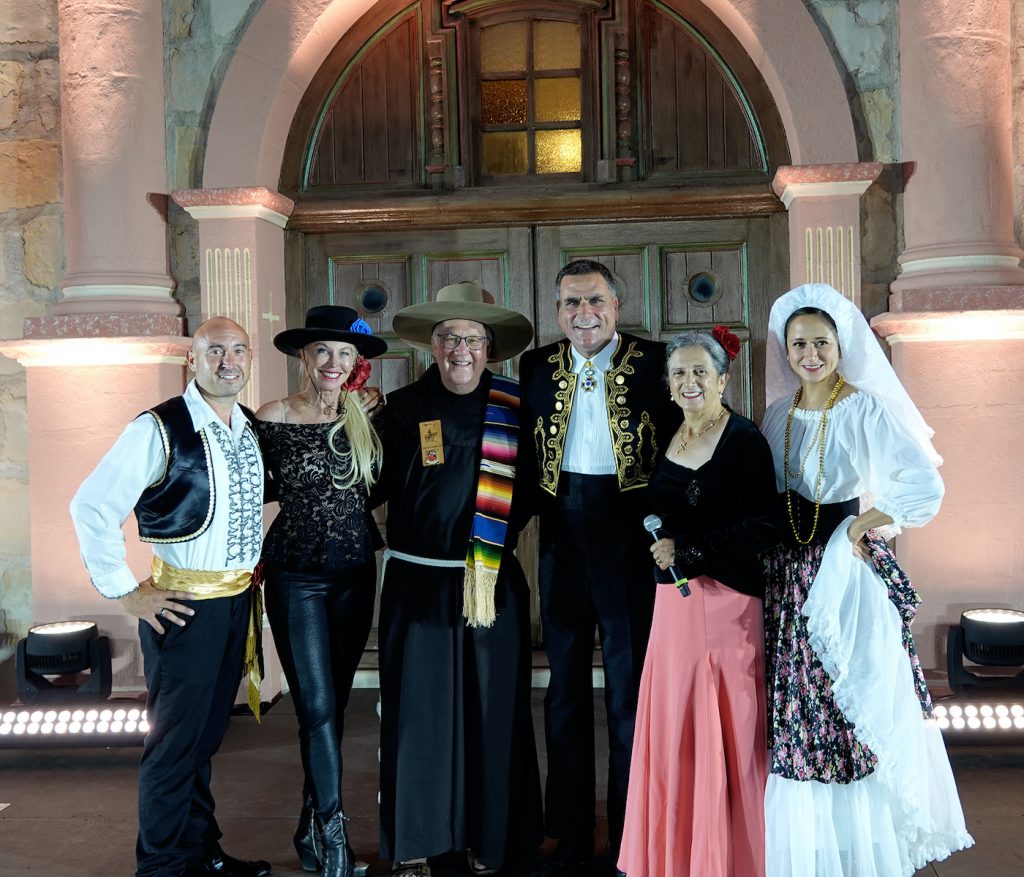 55 Years Later, Unearthing the Truth?
Santa Barbara author Peter Lance's meticulous reporting for his book Homicide at Rough Point detailing the killing of designer Eduardo Tirella by wealthy tobacco heiress Doris Duke at her Newport, Rhode Island, estate in 1966 has led to the case being reopened by local law authorities who initially ruled it an accident after just 96 hours of investigation.
Lance, 73, a graduate of Columbia Journalism School and a former reporter for ABC Network News, including 20/20 and Nightline, had the book excerpted in Vanity Fair. Afterwards a former paper boy, Bob Walker, a 68-year-old Marine Corps veteran, came forward saying he witnessed Duke — who died in 1993 in Beverly Hills aged 80 — murdering Tirella by deliberately driving into him twice with a heavy station wagon.
Duke claimed she had inadvertently hit the gas pedal instead of the brake.
Walker, who was 13 at the time, had previously only shared his story with close family, having been warned not to talk about it by his father, who feared he would be killed to silence him.
Lance, a multi-Emmy winner, is also a Visiting Scholar at the Orfalea Center for Global & International Studies at UCSB.
Markle's Sparkle
Former actress Meghan Markle used her 40th birthday at her $14 million Riven Rock estate, which she shares with Prince Harry, 36, to launch a new 40×40 mentoring project.
The Duchess of Sussex was joined in the project by Prince Andrew's daughter, Princess Eugenie, 31.
Markle made the video with actress friend Melissa McCarthy on the Archewell website. It encourages women to give 40 minutes of their time to mentor a woman in their community.
British singer Adele, fashion designer Stella McCartney, poet Amanda Gorman, Facebook COO Sheryl Sandberg, Gloria Steinem, TV anchor Katie Couric, and former First Lady Hillary Clinton have all signed up.
Queen Elizabeth's grandson, Harry, appeared at the end of the video showing his juggling skills with tennis balls, which made Meghan and Melissa laugh.
"Over two million in the U.S. alone and tens of millions across the world have lost their jobs due to COVID," says Markle. "And I think if we all do it and commit 40 minutes to some sort of active service, we can create a ripple effect."
What About Your Knickers?
British executive producer and writer Richard Weston-Smith has just launched his latest book Some Items May Have Shifted in Flight, an amusing travel memoir of 18 stories involving unusual journeys in 12 countries.
From hitching a lift for 2,000 miles on a road-train across Australia, a surreal encounter with an old friend Virgin Atlantic tycoon Sir Richard Branson, traveling across India by steam train, and even rescuing a friend from an African jail.
"I am pleased to say one of the stories 'Knickerless on the Night Train in Madras' recently won a Solas award in the travel-humor category," says Richard. "I guess this makes it a slightly award-winning book!"
Well worth a read.
Knot Tied
Actor John Corbett, 60, has revealed he tied the knot with longtime love actress Bo Derek, 64, eight months ago.
"It was around Christmas time," he told the CBS TV show The Talk as he promoted his new ABC show Rebel.
"This is probably the first time I've revealed this. We're pretty private people and didn't make an announcement. All of our friends and family knew.
"After 20 years we decided to get married. We didn't want 2020 to be a year that everyone looked back on and hated."
I wish the couple, whom I first met at a dinner party thrown by the late actor Kirk Douglas and his wife, Anne, at their Montecito home some years back, all the best for the future.
Back to Paradise?
After living in Sydney, Australia, for almost a year, it looks like actress Natalie Portman will be returning home to Montecito soon after pulling out of her upcoming movie, Days of Abandonment.
The Oscar winner, 40, has resigned from the HBO project, which was scheduled to start filming at the Fox Studios last month.
"Unfortunately, the production will not move forward," says HBO. "We are very sorry we won't be able to bring this beautiful story to the screen."
Portman was also set to executive produce the film based on the best-selling novel by Elena Ferrante.
She and her director husband, Benjamin Millepied, moved to the antipodes last September to film Thor: Love and Thunder in Sydney.
The couple bought their 10-acre Montecito estate for $6.5 million in June 2017. The 3,991-square-foot contemporary property has four bedrooms and five bathrooms with panoramic views of the Pacific.
Quite the Haul
Alma Rosa Winery, a leading wine producer from Santa Rita Hills, raised a hefty $177,896 from its second annual "Peace of Mind: 10,000 Steps in the Right Direction" fundraiser.
More than 150 participants gathered at the base of the 628-acre wine estate to hike to the top of the property and back, approximately 4.5 miles.
Participants raised funds online prior to completing the 10,000-step walk.
Funds were dispersed to two beneficiaries, One Mind and the Mental Wellness Center in Santa Barbara. Alma Rosa's owners Bob and Barb Zorich launched Peace of Mind last year to support community services for mental health and research.
Leaving an Impression
The Music Academy of the West's summer festival featured its final live performance at the Granada when the Academy Chamber Orchestra, under conductor Marin Alsop, showed its talents to the full.
The program featured Joan Tower's "Fanfare for the Uncommon Woman," Ginastera's "Variaciones Concertantes," and Beethoven's glorious "Symphony No.7 in A Major."
Alsop, who also conducts the Chicago and Baltimore symphony orchestras, was at the top of her game.
Interest Abounds
International media continues to bombard Maison Mineards Montecito for interviews on my royal neighbors of the last year, the Duke and Duchess of Sussex.
The other day I was interviewed by Le Figaro, one of France's most historic daily newspapers founded in Paris in 1826, and, more recently, by Marc Pitzke, the U.S. correspondent for Der Spiegel, the weekly German magazine, which has a circulation of 840,000 copies.
And at the weekend I was interviewed by Hadley Hall Meares of the Conde Nast celebrity glossy Vanity Fair.
Stay tuned…
Sightings
TV talk show host Ellen DeGeneres and wife, Portia de Rossi, noshing at the Plow & Angel at the San Ysidro Ranch… Dawn Jones, wife of Oscar winner Tommy Lee Jones, at the Santa Barbara Polo Club… Comedian Steve Martin masticating at Ca'Dario on Coast Village Road
Pip! Pip! Be safe — and get vaccinated.
You might also be interested in...