Worried About Drought? Wells? We Are Too. Come To Our Next Board Meeting.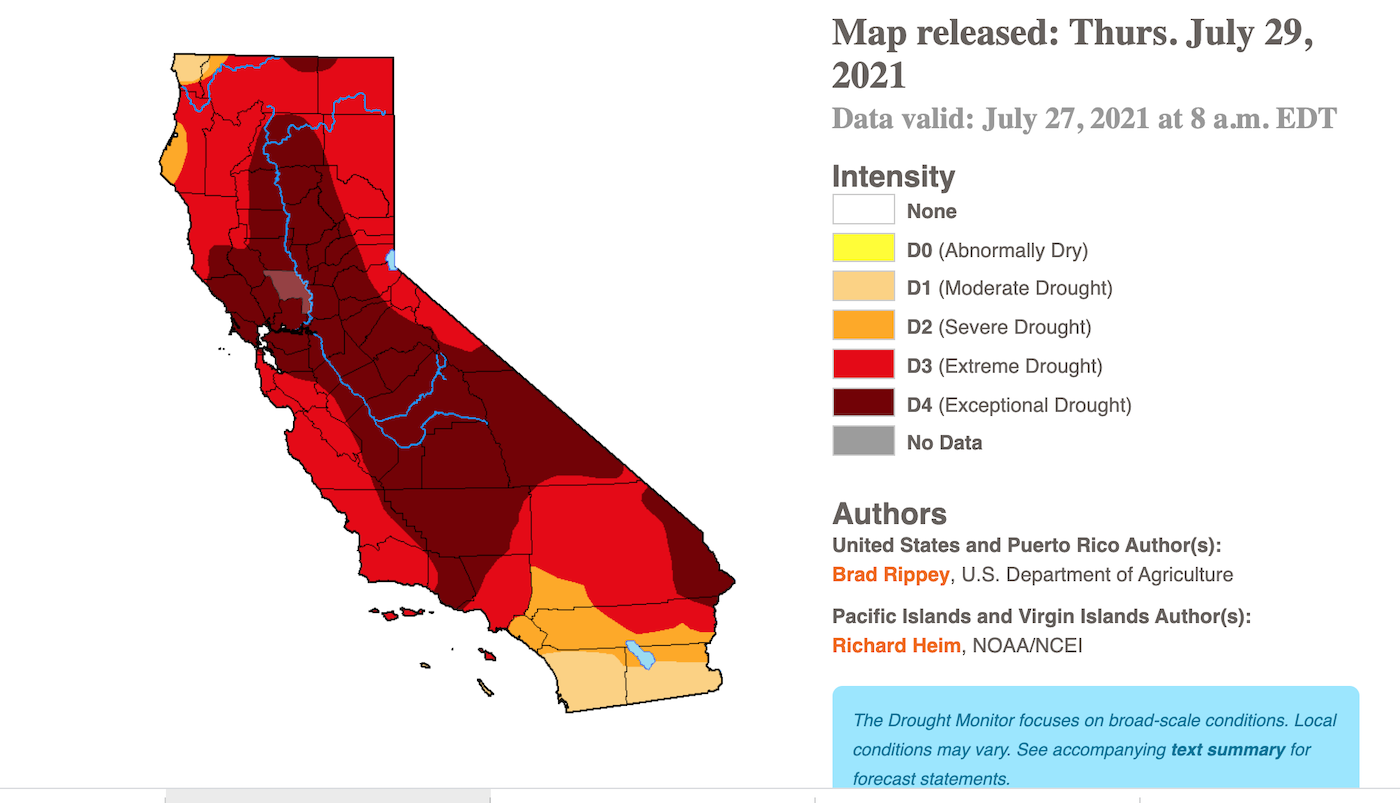 If you're new to Montecito and California, you'll want to pay extra attention right now.
Wildfires are burning presently in Greece, Italy, Turkey, British Columbia, and of course, here in California. The Dixie Fire has now burned 249,000 acres. It ranks No. 11, as of today, in largest California wildfires in history. The Thomas Fire, that burned from Ventura to Montecito in December 2017, was the biggest wildfire in California history. It now ranks No. 7, with some of the bigger blazes of last year vaulting into the top spots.
Experts are expecting a really bad fire season as hotter-than-normal weather is exacerbating drought conditions. The drought is serious business across the U.S. Western states. Take a look at the U.S. Drought Monitor map for California:
Notice how many counties are in "exceptional drought." We have been here before, back in 2014. Is "exceptional drought" going to be the new normal for California?
On May 10 of this year, Gov. Gavin Newsom issued an emergency drought declaration for 41 California counties.
On July 9, the governor issued a call to reduce water consumption by 15% statewide. He issued that call from a San Luis Obispo County reservoir (just to the north of us) that was down to 35% full. The drought emergency proclamation of a few weeks prior was expanded to 50 of California's 58 counties — with Santa Barbara County added to the drought emergency proclamation.
On July 14, the Santa Barbara County Board of Supervisors approved a proclamation of local emergency due to drought conditions, as we're a county in extreme drought.
The California State Water Resources Control Board has begun compiling a list of water systems that it says "are likely to have critical water supply issues by the end of August." Utilities that rely on water to function, like the Hoover Dam at Lake Mead, are finding that the serious drop in water levels from the drought pose enormous problems for power generation.
Is Montecito one of those water systems at risk? The Montecito Water District has been very focused on securing sustainable supply. They've completed a deal with the city for desalinization of water, which will meet one-third of our annual needs, but that hasn't gone into effect yet — it starts in January 2022. So, we're living off our existing supplies now, which include state water. That's already pretty much evaporated (pun absolutely intended) down to 5% of projected deliveries, or less, with a Sierra snowpack that failed to materialize substantially this year. We also have the Jameson Reservoir at 69% of capacity, among other sources of water for Montecito.
However, we're consuming more than we used to as a community. That's going to be a problem.
People are also very concerned about wells, understandably. Groundwater rights come with property, but it's also a communal resource. When a few big users drain the groundwater, it becomes a tragedy of the commons. Some people are concerned as to whether they can have a well, or they're mad theirs is dry, while other neighbors are upset that people are digging them. The permitting process is controlled by an arm of the county that has a one-size-fits-all policy. If you're digging a well in the Santa Maria or Carpinteria basin or Montecito – it's all the same to them, apparently. Our Montecito Water District created a Groundwater Services Agency to monitor and manage groundwater. It's still in its early stages.
With all that in mind, the Montecito Water District will be presenting at our next board meeting on Tuesday, August 10 at 4 pm. Come learn more about our water supply, and the forecast. You're welcome to join us, as there's plenty of free parking on Zoom. To get meeting details, email info@montecitoassociation.org.
You might also be interested in...