More Electric Bike Stations Slated for Coast Village Road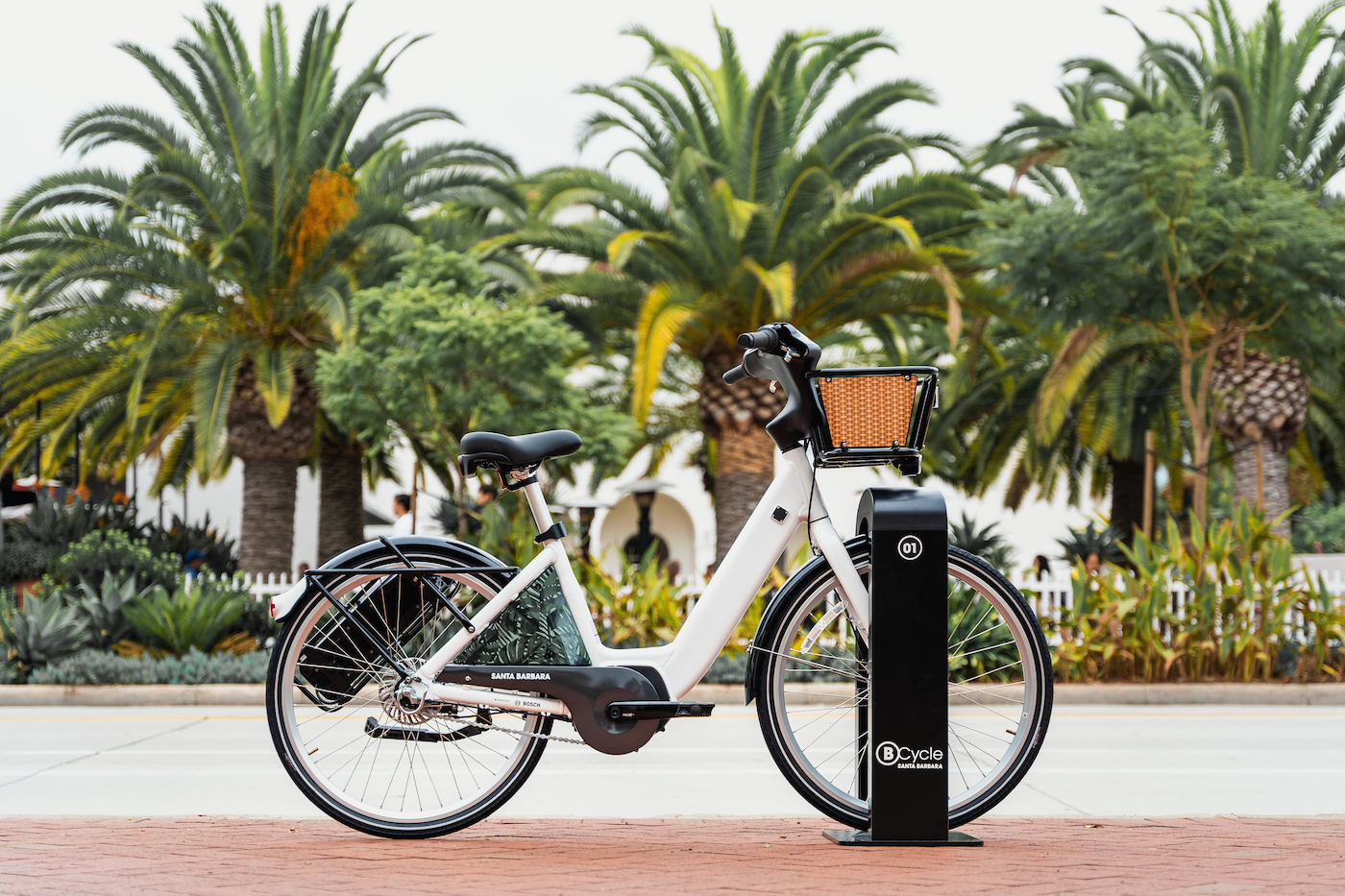 In March, we reported on a plan to install electric bikes and docking stations on Coast Village Road by BCycle Santa Barbara, a private bike share company. Now, the company is seeking three additional docking stations in the area.
"In order for us to be successful on Coast Village Road, we realized we needed more than two stations," said BCycle General Manager Jesse Rosenberg, who is currently working with the Coast Village Association on garnering support for the project.
BCycle, which is a subsidiary of Trek Bikes, has been working with the city of Santa Barbara for the last year and a half on bringing an electric bicycle share program to Santa Barbara; the first phase of docking stations, which included 192 stations and 96 bikes, were installed on State Street and surrounding streets on the east and west sides of the city, as well as near Cottage Hospital and on upper State Street earlier this year.
"We've just achieved our first month of profitability, and that is because of all the stations we've installed, and hope to continue to install this year," Rosenberg said. She told the CVA earlier this year that adding e-bike ridership to commercial areas brings more people to local businesses where docks are located, and that there has been quite a lot of demand for the bikes in Montecito. The company's goal is to provide accessibility for all, offer a viable transit option to vehicles which helps to alleviate parking and traffic issues, and connect different areas of the city.
The Santa Barbara City Council and City Planning Commission gave the project a blanket approval for a pilot program including up to 500 docks and 250 bikes, with the understanding that the company would work with local business owners and business groups regarding placement of the docking stations. Appeals were filed to the City Council and the California Coastal Commission by city watchdog Anna Marie Gott in the spring, who argued that the docks and two membership kiosks approved on Santa Barbara's waterfront would intrude upon the public's enjoyment of the existing ocean views. At its June hearing, the Coastal Commission voted 12-0 within a short 10-minute period to deny Gott's appeal.
Two previously approved docking locations on Coast Village Road include one in front of 1255 Coast Village Road (Plaza Montecito, home to Berkshire Hathaway and the Honor Market), and around the corner at 1284 Coast Village Circle. The first location will have two docks and the second will have four, all located in the public right-of-way. A third location with room for three to four docks has subsequently been approved, located in front of 1187 Coast Village Road (near Renaud's Bakery). That location already had a bike rack installed, which was removed once the parklets came about following the pandemic emergency. Now, two more locations are being considered, one near the Chevron station on Coast Village Circle and one at 1269 Coast Village Road, near an already existing stone bench in front of Allora by Laura. There are 14 docks total slated for Coast Village Road.
The docks have their own electric battery, which lasts about four to six months before needing replacement. The bikes' batteries last about 30 miles before needing to be recharged; they feature a Bosch system that provides support up to 17 MPH. Riders can also choose to ride unassisted, or, if the battery dies, the bike will work without the assist. Riders are encouraged to wear helmets, although helmets are not provided by the company. Riders assume all liability, and membership options include an annual membership of $150, a monthly membership of $30 (both options offer unlimited 30-minute trips), or daily use riders who can pay $7 for a 30-minute ride. Riders can also apply for a low-income option if they qualify. Memberships can be purchased on a smart phone or via the kiosks. The company has already sold over 15,000 trips since launching in January of this year.
Rosenberg tells us the company is looking into adding bike locks to the e-bikes, to allow them to be left elsewhere than the docking stations. She says the biggest problem thus far is theft; nearly 20 bikes have been stolen, but the vast majority of them have been recovered thanks to the Bluetooth tracking devices installed on them.
Currently, the Coast Village Association is polling its membership to gain feedback on the additional docking locations proposed for Coast Village Road. The advocacy group is generally in favor of the ride share project, believing that it will encourage tourism to the business district.
Rosenberg tells us the stations will likely be installed in the fall of this year, following installation of docks in the Funk Zone and on the Mesa.
You might also be interested in...