Catching Some Fiesta Fever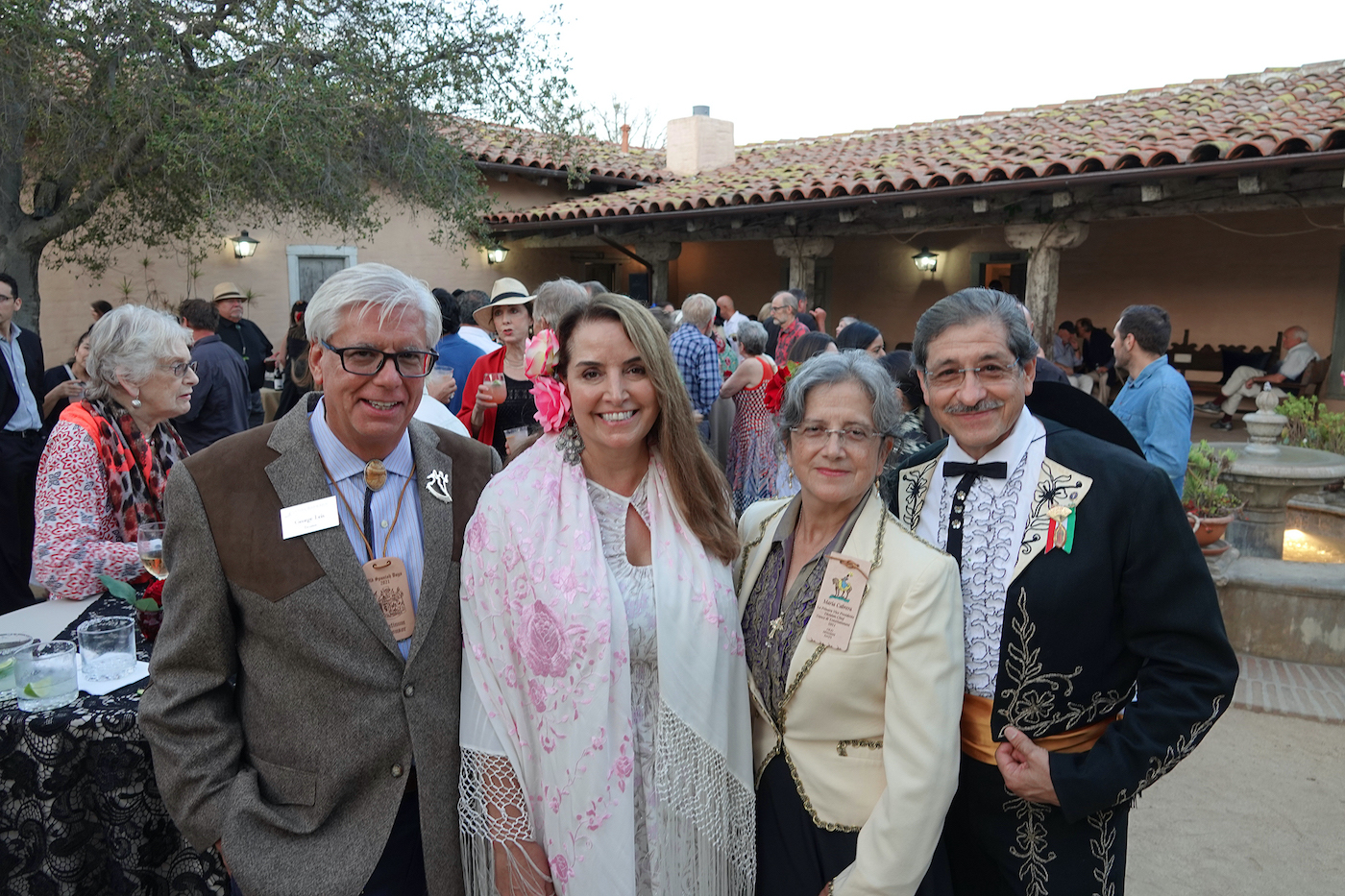 Fiesta fever was palpable at the Santa Barbara Historical Museum when Tablao Museo, an energized flamenco show for 230 guests, took place under the stars.
The pulsating event on a sultry summer night was organized by museum director Dacia Harwood and featured musicians and dancers from our Eden by the Beach to Spain who shared their passion for the traditional art form, including Manuel Gutierrez, Gerardo Morales, Andres Vadin, Maria "La Chacha" Bermudez, Timo Nunez, Talia Ortega Vestal, and the local dance company, Flamenco Santa Barbara.
Prior to the highly entertaining show in the main courtyard, guests enjoyed a socially gridlocked reception with tacos, wine, and margaritas, and had the opportunity to view the museum's latest installation "Project Fiesta: A History of Old Spanish Days is back!" which features historic posters, ornate costumes, ephemera, and decades of film footage.
It centers on the community's largest civic celebration, El Desfile Historico, which has been part of the annual celebration since its founding in 1924. The parade, which features floats, bands, dancers, and, especially horses, is one of the largest equestrian parades in the U.S.
Not only does the parade salute Santa Barbara's colorful past, but it also stands in a long line of community celebrations dating back 130 years in which parades always figured prominently. The show runs through August 28.
Among those attending the boffo bash, which sold out in just three days, were George Schoellkopf, Gerald Incandela, Sharon Bradford, David Bolton, Rhonda Henderson, Paula Lopez Ochoa, Janet Garufis, George and Laurie Leis, Joanna Kerns, Amanda Payatt, Stephanie Petlow, and former mayor Helene Schneider.
This Book is Fire
Former aerospace expert Peter Martin has released his first children's book, Dragons on the Purple Moon.
The Santa Barbara-based writer says the tome aims to take children and their parents on a unique visual adventure together using creativity and imagination to help youngsters bond with moms and dads and develop a love for reading from a very young age.
The book takes its inspiration from a spoken bedtime story Peter, husband of Santa Barbara Symphony interim director Kathryn Martin, told his children, Gavin and Hannah.
Another motivation behind the book was Gavin's diagnosis with cancer in 2017.
"It was the power of imagination, storytelling, and make-believe that kept the family's spirits high and helped get through the toughest of times," says Peter, who is donating a percentage of proceeds to the Teddy Bear Cancer Foundation.
Oprah the House Flipper?
Media mogul Oprah Winfrey has sold her rustic 43-acre Washington estate for $14 million after three years, making a handsome $6 million profit on the waterfront property on Orcas Island.
Oprah, 67, says she is "too busy" to use the four-bedroom, three-bath 7,303-square-foot house situated between Seattle and Vancouver she bought in 2018 for $8.275 million.
She also owns property in Maui, Hawaii; Telluride, Colorado; and her sprawling East Valley Road estate in our rarefied enclave.
A Royal Quandary
Will Prince Harry and Meghan Markle have their daughter, Lilibet Diana, follow in brother Archie's footsteps with a royal christening with Queen Elizabeth, the Duke of Sussex's grandmother present?
British royal observers are already deciding it would be a decidedly "awkward reunion" with tensions still running high within the Royal Family, not to mention the mounting anger of the British public over their behavior.
Archie was christened two years ago in a private chapel at Windsor Castle using the historic lily font commissioned by Queen Victoria and her husband Prince Albert in 1841.
I'm told the royal couple are willing to wait for the right moment for the baptism given the pandemic restrictions.
Stay tuned…
You might also be interested in...