A Hippie Throwback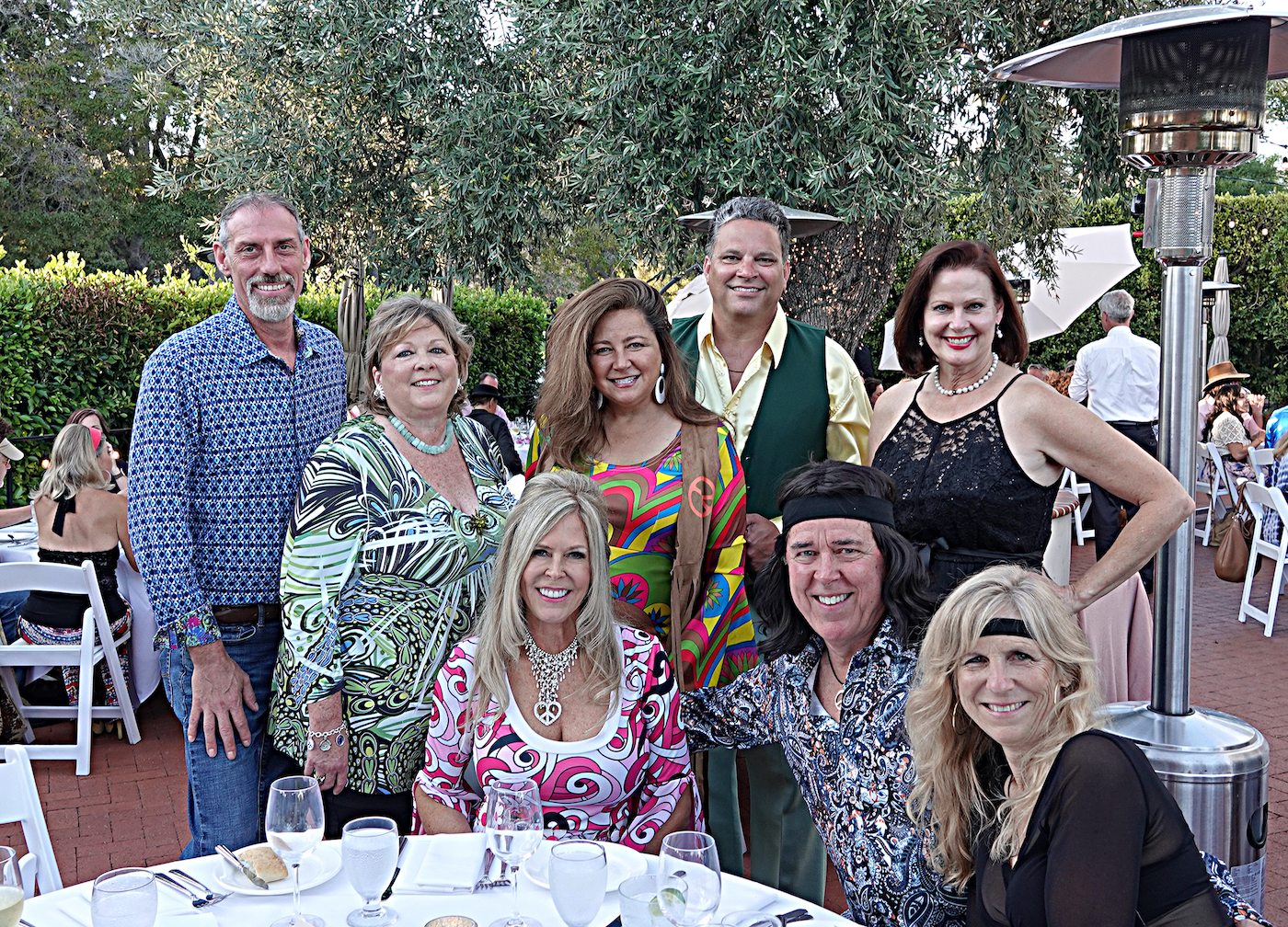 It was Pucci, Gucci, and a dash of Fiorucci when YouTube influencer Rebecca Brand celebrated the 10th anniversary of her half-century with a '60s-themed bash at the historic University Club.
Tie-dye reigned, along with Mary Quant miniskirts and white plastic go-go boots, as hits from that swinging decade that spawned The Beatles and The Rolling Stones played over the club's sound system.
Many of the 100 guests were clearly still looking for Woodstock as they evoked the hippie era with flowing kaftans, John Lennon spectacles, and outrageous wigs.
Pucci-clad Rebecca, who I've known for many years, hosted the fab fête with her beau Rick O'Shay in the club's sun-soaked courtyard. A TV show producer, known for her digital videos for YouTube, including the reality dating show Dinner Party Art Class and Iron Cook, she was recognized two years ago as a leading influencer for the popular website.
Music was played by K-LITE radio DJ, Scott Topper.
Among those traveling back in time at the boffo beano were Chris and Mindy Denson dressed in vintage Chanel, David Bolton, Peter and Deborah Bertling, fun-loving Franciscan friar Larry Gosselin, Fritz and Gretchen Olenberger, Dario Furlatti, John Hillis, Deb Richards, and Richard Auhll.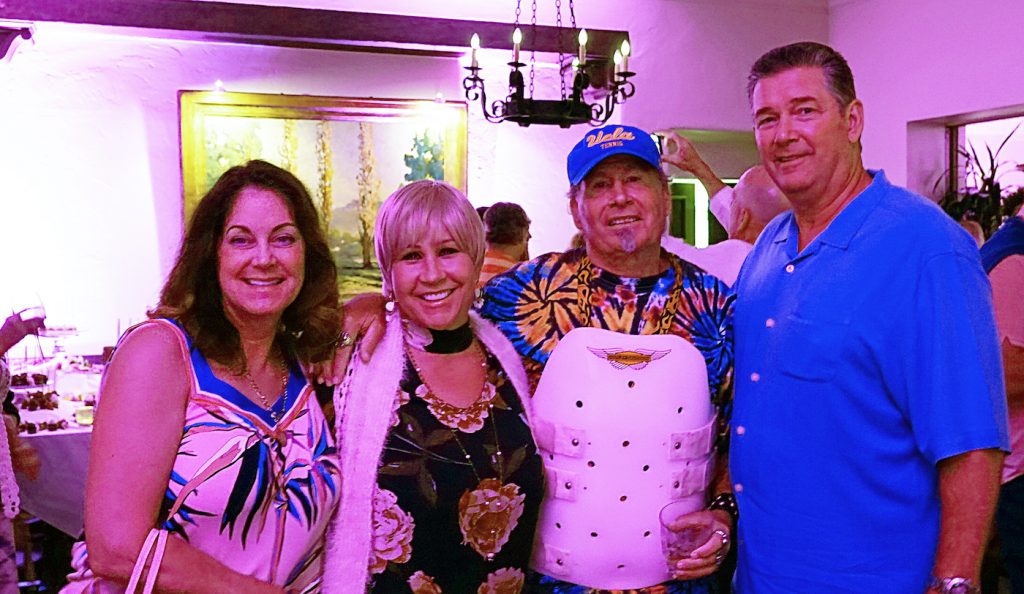 Putting Polo Grounds to Good Use
A gleaming red firetruck from the Carpinteria Fire Department stood guard when Teddy Ru, son of former Santa Barbara Polo Club president Wes Ru and his wife, Victoria, celebrated his third birthday.
The event also coincided with Firefighter Appreciation Day for the Montecito and Summerland stations, who utilized the sprawling Carpinteria polo fields as staging grounds for the Thomas Fire three years ago.
Among those helping Teddy celebrate were Robert and Robin Fell, Joel and Doreen Ladin, Margarita Lande, Ken and Denise Berry, Toby Mayer, Linda Ru, Paige Beard, and fire inspector Mike Lomanaco.
Just days later, the giant marquee was used for the first annual Fiesta President Polo Party when Teresa Kuskey Nowak's La Boheme dancers performed at the halftime divot stomp, as well as in front of the giant tent.
Fiesta presidenta Stephanie Petlow, KEYT's ubiquitous reporter John Palminteri, and Erik Davis, last year's presidente, were among those watching current Spirits of Fiesta Ysabella Yturralde and Savannah Hoover perform.
A Birthday Bonanza
TV talk show titan Oprah Winfrey will no doubt be winging to former President Barack Obama's 60th birthday bash at his $11.75 million 30-acre Martha's Vineyard estate on August 4.
All guests have been asked to provide a negative COVID-19 test to attend the fab fête, according to reports.
Actor George Clooney is also expected at the 7,000-square-foot property which the Obamas purchased in 2019, while Steven Spielberg will be joining as well, according to The Hill. Pearl Jam is expected to perform.
Rising Up
Independent financial consultant and accountant Jennifer Weisman has joined the board of directors of the Santa Barbara Maritime Museum.
Born and raised in our Eden by the Beach, Weisman, who attended Marymount and Dos Pueblos schools, was the museum's membership coordinator for two years, and is currently affiliated with Berkshire Hathaway Home Services California Properties.
She is also active in the community as an academic tutor and youth mentor for Schools on Wheels.
RIP, Ron
On a personal note, I remember creative TV inventor Ron Popeil, who has died in Los Angeles at age 86.
Popeil, who sold his 150-acre Santa Barbara ranch last year for $4.9 million after purchasing it for $2.1 million in 2007, was known for his commercial catchphrases like "set it and forget it" and "but there's more" as he touted products under his Ronco brand, including the Chop-a-Matic, which he launched in 1959 and sold more than two-million units.
Other products included his chicken rotisserie which had $1 billion in sales, the pocket fisherman, and even Hair in a Can.
Popeil, who I would see on occasion at Pierre Lafond in the Upper Village, sold Ronco 16 years ago for $55 million, but continued as a spokesman and inventor.
A true pioneer…
Sightings
Larry David and wife, Ashley, checking out the Rosewood Miramar… Golden Girls producer Barry Fanaro at Montecito Village Grocery… Oprah Winfrey's beau Stedman Graham picking up his Financial Times at Pierre Lafond.
Pip! Pip! Be safe — and get vaccinated.
You might also be interested in...