Where Art Thou? Museum is Baaaaaaaack!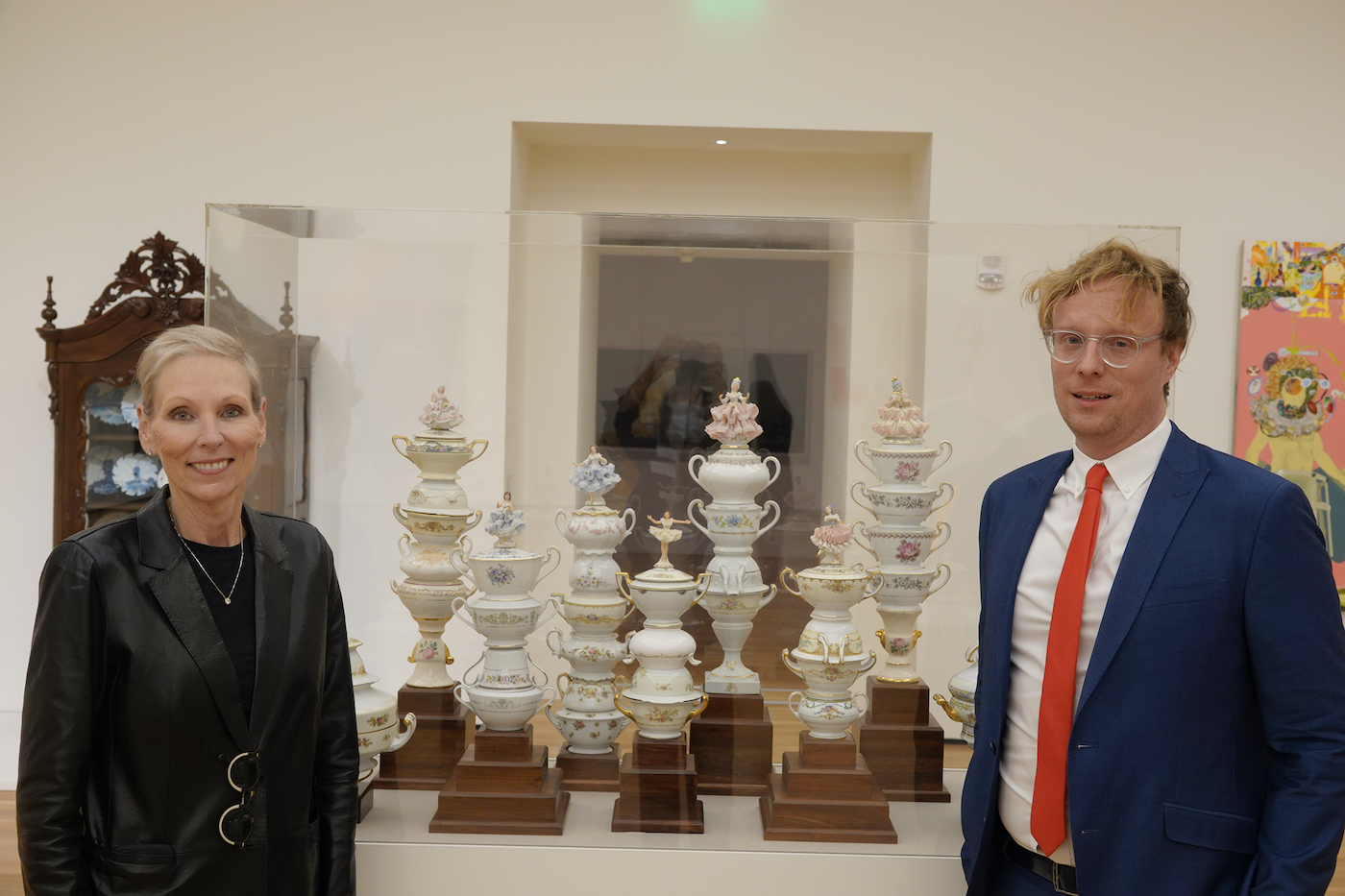 Santa Barbara Museum of Art is back in business!
As the venerable 60,000-square-foot institution, a former Post Office, celebrates its 80th anniversary and its reopening on August 15 after the lengthy pandemic lockdown, not to mention a $50 million, six-year renovation expanding exhibition space enormously making it possible to show more of the 27,000 works from the permanent collection.
Newly created galleries dedicated to contemporary art, photography and new media, with new LED lighting, are gloriously on display.
Other work included seismic retrofitting, replacement of mechanical, air handling and climate control systems, replacement of aging roofs, improved ventilation, and the creation of new storage and conservation areas to safeguard the growing collection.
"We are thrilled once again to open our historic main entrance on State Street and welcome the community into a re-envisioned museum," said Larry Feinberg, as the Robert and Mercedes Eichholz director and CEO addressed the 150 VIP guests at a sneak peek reception. "We can't wait to share old favorites from the collection after years in storage and to present new exhibitions and installations that will help visitors understand the collection in a new light."
Among the art lovers lucky enough to get an advance look were George Schoellkopf, Gerald Incandela, Henry and Gwen Baker, Peter and Linda Beuret, Edward and Sue Birch, John and Jill Bishop, Scott and Ella Brittingham, David and Anne Gersh, Allan Glaser, Gail Wasserman, Palmer and Joan Jackson, Bob and Val Montgomery, Starr Siegele, Nicholas and Rosemary Mutton, and Beno and Kandy Luria-Budgor.
This Should be Interesting . . .
The news that Prince Harry, 36, has signed a four-book, multi-million-dollar mega deal with Penguin Random House, has landed like a lead balloon at Buckingham Palace.
The first book is due to be published next year which marks his grandmother Queen Elizabeth's Platinum Jubilee, with an astounding 70 years on the British throne.
The timing could not be worse for the Royal Family, particularly for Harry's beleaguered father, Prince Charles, who is trying to establish his credentials as the next monarch and his wife, Camilla's, as the next queen.
In 1951, the Duke of Windsor also published a ghost-written memoir, A King's Story, a year before his brother Bertie, who succeeded him as King George VI, died at Sandringham. But as a former monarch, his revelatory tome had infinitely more gravitas.
I can only wonder what the publishers are expecting for the reported contract worth more than $20 million.
Harry, who lives with wife Meghan Markle in Riven Rock, says: "I am writing this not as the prince I was born, but as the man I have become."
Many at the Palace are questioning his motives, given his incendiary interview with Montecito neighbor Oprah Winfrey.
The clarion call for the couple to lose their titles and no longer be styled royal highnesses gets louder across the Atlantic.
Stay tuned…
Nott Your Ordinary Honor
Julian Nott, the late Santa Barbara balloon and experimental test pilot, has been posthumously inducted into the Ballooning Hall of Fame at the National Balloon Museum in Indianola, Iowa.
The Hall of Fame enshrines exceptional figures in sport and professional ballooning and is designed to highlight the achievements and recognize those individuals who have made exemplary contributions and development to the growth of hot air and gas ballooning.
The exclusive award has only been received by 43 balloon pilots, including publisher Malcolm Forbes, Steve Fossett, Don Piccard, and Maxie Anderson.
Julian, a fellow Brit and good friend, was known for his scientific approach to ballooning. In 1972, he piloted the first hot air balloon crossing of the Sahara. It was the start of an illustrious career resulting in 96 British world records and 79 international ones.
In 1979, using a pressurized cabin he designed to facilitate high-altitude flights, he broke the altitude record for piloted balloons, reaching more than 55,000 ft. The aircraft and related documents are permanently displayed at the Smithsonian National Air and Space Museum.
He received innumerable prestigious awards, but one of his proudest achievements was to be the only balloon pilot ever elected to the Society of Experimental Test Pilots. In 2017, at age 72, he set his own world record for the highest tandem skydiving jump from 31,916 feet.
Two years ago, following a successful test flight and landing of an experimental pressurized high-altitude balloon over Warner Springs, his aircraft became unstable and crashed down a mountainside, with Julian dying days later from his injuries.
Let the 'Hunt' Begin
A Montecito property listing, represented by Riskin Partners Estate Group of Village Properties, has been selected as a finalist in the HGTV Ultimate House Hunt 2021.
The hunt is a month-long online promotion held on the cable network annually, showcasing extraordinary homes for sale in eight categories, including amazing kitchen, beachfront homes, countryside retreats, curb appeal, downtown dwellings, homes with a history, outdoor escapes, and waterside homes.
The popular awards generated more than 1.5 million votes last year, with consumers selecting their favorite among the featured listings.
The Village Properties listing at 1395 Oak Creek Canyon was selected in the outdoor escapes category. It was designed by local architect Peter Becker, international designer Rosie Feinberg, and built by Giffin and Crane. The Italian-style property, Villa Bella Vista, features walls of glass and steel doors open to a south-facing loggia, pool terrace, and guest house, all with panoramic ocean and island views.
Consumers can tour the 66 homes selected as finalists by viewing photos galleries on HGTV.com/househunt before casting a vote for their favorite properties.
A New Chief 'Keeper'
With more than 25 years of experience in ocean conservation, Ted Morton is Channelkeeper's new executive director.
His experience spans programmatic work in fisheries management and water quality, operational leadership, and policy development at the federal level.
Morton holds a bachelor's degree in political science from Furman University and a Juris Doctor from the University of Georgia School of Law. He grew up in Atlanta and has worked in Washington D.C., Los Angeles, and New York.
RIP, Jackie
On a personal note, I remember Borscht Belt comic Jackie Mason, who has died in New York aged 93.
I would often meet him at Manhattan's CBS TV studios on West 57th Street when I was gossip on The Joan Rivers Show, as well at the airport in Toronto where I would fly regularly to appear on CBC's Dini Petty Show.
In the tradition of Don Rickles and Rodney Dangerfield, Mason's brand of comedy was biting and acerbic, helping him establish himself as a cultural touchstone for those who followed, including Jerry Seinfeld and Larry David.
An ordained rabbi, he was a regular on the Ed Sullivan Show and garnered a Tony and two Emmys.
An absolutely delightful mensch.
Sightings
Singer Jimmy Buffett at George's Pet Boutique at Montecito Country Mart… Oscar winner Kevin Costner noshing at The Nugget in Summerland… Oscar winner Jeff Bridges checking out the Mesa Cafe.
Pip! Pip! Be safe, and get vaccinated!
You might also be interested in...