'Nothing Could be Finer' Than This Birthday Bash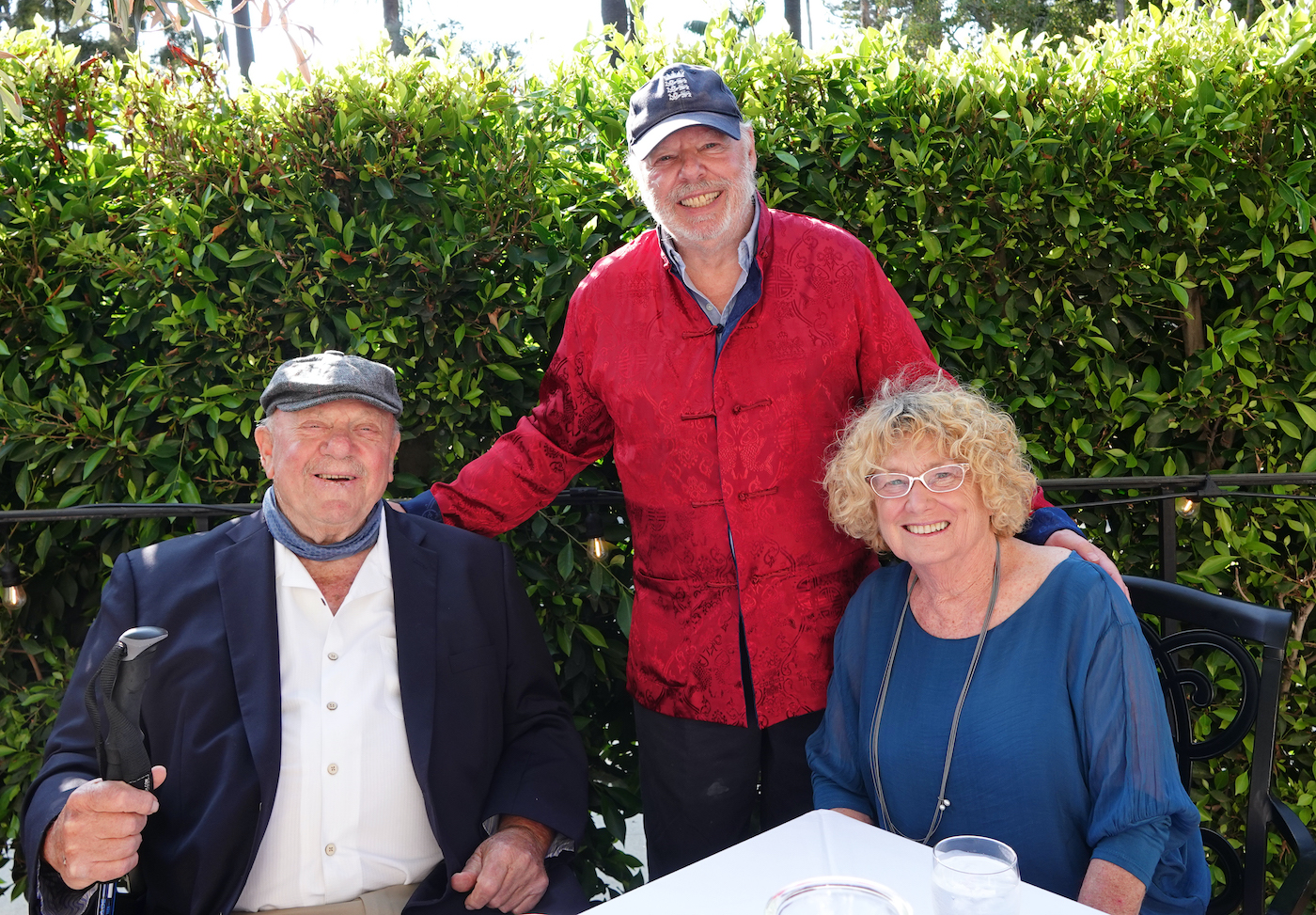 It was a super sunset birthday soirée by degrees when yours truly marked the 18th anniversary of his half-century with a boffo bash at the University Club hosted by Gretchen Lieff and her beau, Miles Hartfeld.
Having been scheduled to wing to an old friend Cat Pollon's home outside Marrakech for the past two years, only to have my plans well and truly derailed by pandemic restrictions at home and in Morocco, it was nice to see more than 30 e-maskulated guests in the gardens of the 102-year-old Santa Barbara Street institution.
Many were waxing lyrical, including philanthropist Anne Towbes who declared, to the tune of "Carolina in the Morning":
"Nothing could be finer than to be with Richard Mineards on his birthday. Nothing could be nicer than to read Richard's advice sir, on his birthday.
"When the Montecito Journal shows up at my door, full of Richard's stories, I want to read lots more. Bon vivant and punster, at the parties where there's fun sir, there's our Richard. No one is more loyal and knows more about the royals than our Richard.
"How he fills his evenings with so many events, always looking sharp — the perfect gent. Nothing could be finer than to be with Richard Mineards on his birthday!"
Judi Weisbart also waxed poetic, calling me "the scribe of Santa Barbara," and ending her charming recital, "From all your loyal readers. All devotees of humor, good taste, and wit."
Trusty shutterbug Priscilla emceed the bountiful beano with ubiquitous KEYT-TV reporter John Palminteri pointing out how my life has changed in the last year since Prince Harry and Meghan Markle moved to their $14 million estate in Riven Rock, just a minute's drive from Maison Mineards Montecito.
"After nearly half a century covering the Royal Family, who knew they would move almost next door!" he joked.
Among the tony throng celebrating my milestone were Alan and Lisa Parsons, Robyn Geddes, Nina Terzian, Kristi Newton, Lisa Osborn, Ariana Katovich, Joan Rutkowski, Ginni Dreier, Robert Adams, Nancy Caponi, Honey Pearcy, Wayne and Sharol Siemens, Tara Zanecki, Brian and Patti Herman, Das Williams, Dacia and Riley Harwood, and Harry Weisbart.
A swell-egant evening with a truly swell-egant crowd….
Controversial to Award-Winning?
Prince Harry and Meghan Markle's incendiary interview with Montecito neighbor Oprah Winfrey, which laid bare their rift with the Royal Family, has been nominated for an Emmy Award.
The Duke and Duchess of Sussex, who welcomed their second child, Lilibet Diana, last month, could take home a gong for their controversial two-hour tell-all, which aired in March and sent shock waves through The Firm.
"Oprah with Meghan and Harry: A CBS Primetime Special" is nominated in the Outstanding Hosted Nonfiction Series or Special category.
The winners will be announced at the 73rd Primetime Emmy Awards on September 19 with the tony twosome up against Stanley Tucci's "Searching For Italy," and "My Guest Needs No Introduction With David Letterman."
Unloading the Penthouse
Former Montecito resident and Oscar winner Michael Douglas and his actress wife, Catherine Zeta-Jones, have put their four-bedroom Manhattan penthouse on the market for $21.5 million.
The four-and-a-half bath aerie was designed by Thierry Despont and offers sweeping city views overlooking Central Park.
Situated atop the 1908 Kenilworth building, the property resembles a 12th Century English estate.
The 15-room apartment was made from nine other spaces and occupies the entire frontage of the historic building, wrapping round both north and south corner.
The dynamic duo also owns a mansion in Irvington, New York; a house in Catherine's hometown of Swansea, Wales; and have been attempting to unload his Majorca estate for seven years without success.
Michael and Catherine have been married since 2000 after meeting at the Deauville Film Festival in France in 1998. They have two children — Dylan, 20, and Carys, 18.
Getting Her Hands Dirty
Montecito actress Gwyneth Paltrow has been helping with demolition work on her longtime personal assistant's new home project.
The 48-year-old Oscar winner enlisted Jonathan and Drew Scott, both 43, to transform a West Hollywood condo for her assistant, Kevin Keating, on HGTV's Celebrity IOU.
Paltrow says she considers her employer family and wanted to help him redecorate his home, which was clearly in need of work.
She said Keating had never owned a home before and had been saving up "for a really long time."
"At some point, we formed something that seems really deeper than being colleagues. It really feels like family!"
The actress helped Keating find the property and was filmed in denim and goggles doing demolition work in the apartment.
She said it felt good to break walls and cabinets.
Meanwhile Paltrow, 48, and her TV producer husband, Brad Falchuk, 50, are nearing completion of their 14,000-square-foot, eco-friendly mansion in our rarefied enclave.
More than 60 solar panels have been installed on the property they bought in 2016 for nearly $5 million with two acres of land.
A New Boo?
Billionaire ex Google CEO Eric Schmidt, 66, reportedly has a new love interest.
Schmidt, who bought the 11.2-acre Montecito estate Solana for $30.8 million off Bill and Sandi Nicholson, was seen with 27-year-old Columbia law graduate Michelle Ritter in New Mexico watching Sir Richard Branson's blast off into space on his Virgin Galactic spaceship, VSS Unity, according to the New York Post's Page Six.
Schmidt, who also bought the late hotel tycoon Baron Hilton's 13-bedroom, 17-bathroom Holmby Hills estate for $61.5 million, has long been touted as New York's "hottest bachelor," despite being married to Wendy, his wife for more than 40 years, in what is said to be "an open marriage."
He has a reported fortune of $21.4 billion and was CEO of Google from 2001 to 2011 before serving as executive chairman of the company from 2011 to 2018.
Forbes ranked him at No. 84 on its world billionaire listing for 2020.
Exclusivity Comes to Town
Luxury French label Christian Dior has opened its first Dioriviera pop-up at the Rosewood Miramar.
The company has taken over the resort's cabana pool, bocce courts, and garden bungalow suites in celebration of its Dioriviera capsule collections.
The Montecito location is one of a series of exclusive Dioriviera global activities, including seven Dior boutiques, as well as 11 pop-up boutiques worldwide.
Upon entering the bungalows, guests are welcomed into a warm Dior oasis with Maria Grazia Chiuri's Toile de Jouy prints wrapping the walls in framboise pink and lime green.
The bungalows lead out to the ultimate Dior hangout haven, where guests are free to lounge under Dioriviera umbrellas in the Diorivera hammocks and fold-out chairs — all available for purchase on location.
The "takeover" will be open through September 6.
Another Taste
Local travel and food writer Bonnie Carroll is enjoying the sweet smell of success having been chosen as a judge for Taste TV's artisan fragrance salon awards.
Bonnie has been a judge for the Taste TV awards since its inception in 2010, which celebrates the best in food, fashion, and lifestyle programs on TV, film, online, and radio.
Santa Barbara's Iron Chef Cat Cora attended the gala as a presenter in 2012. She is currently owner of the Mesa Burger chain which has outlets on Coast Village Road and in Santa Barbara and Goleta.
Ummm, Hunny, How About You Don't?
Carpinteria actor Ashton Kutcher bought a ticket for the next Virgin Galactic flight into space — only to then sell it back.
Ashton, 43, says his actress wife Mila Kunis persuaded him not to go on account of their children, Wyatt, 6, and Dimitri, 4.
"My wife basically encouraged me that it was not a smart family decision to be heading into space when you have young children," he told Cheddar News.
"So, I ended up selling my ticket back to Virgin Galactic and I was supposed to be on the next flight, but I will not be on the next flight!
"But at some point, I'm going to space," he declared just days after Virgin Galactic founder Sir Richard Branson was on the company's first flight into orbit.
Sightings
Former Dallas Cowboys quarterback Troy Aikman checking out Charlie Munger's Channel Cat… Bob Meyer, general manager of the Golden State Warriors basketball team, outside Mesa Burger on CVR… Actor-comedian Larry David and wife, Ashley, strolling around the Rosewood Miramar
Pip! Pip! Be safe — and get vaccinated!
You might also be interested in...